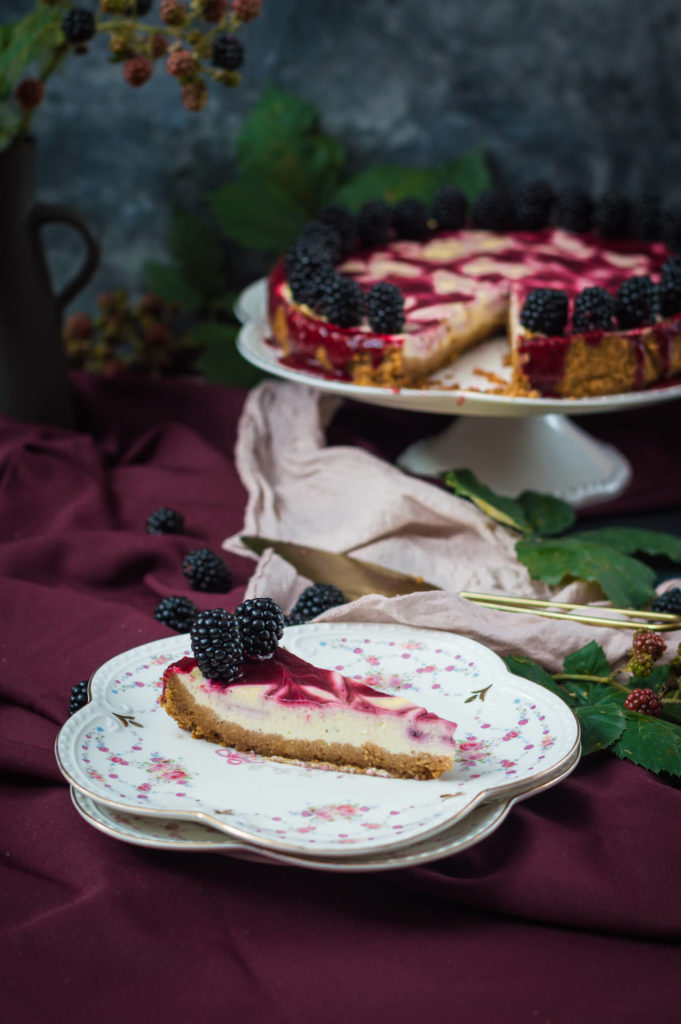 If you're looking for rich, amazing blackberry cheesecake which doesn't exactly looks perfect but tastes incredibly decadent, I can only congratulate you because my dear, you have just found it. This cheesecake proved to me that the cake can be both beautiful and little messy but still look and taste great.
How to make a cake for a person who actually doesn't like eating dessert? Moreover, it was a birthday cake.  Actually, this blackberry swirled cheesecake was also a kind of make-up exam because last year for my boyfriend's birthday I somehow managed to screw up one of the easiest cakes we make here in Croatia, and that was Boban's cake. I've chosen a waaaay too sweet blackberry jam which was a total sugar overdose even for me. And that was enough for a screw-up. But this cheesecake got me an A. That's what he said, not me. 🙂
The cheesecake was one of the first cakes I have ever made while I was back at the college and I certainly wouldn't refuse a slice of classic lemon cheesecake at any time of a day. Or night. A lot of people likes to eat cheesecake because it doesn't require a great amount of sugar and it can still be very delicious. And it is customizable in every possible way you can imagine. That's why you have to try this recipe; you can do it even with some frozen berries, which means you can make it all year long. Isn't that great?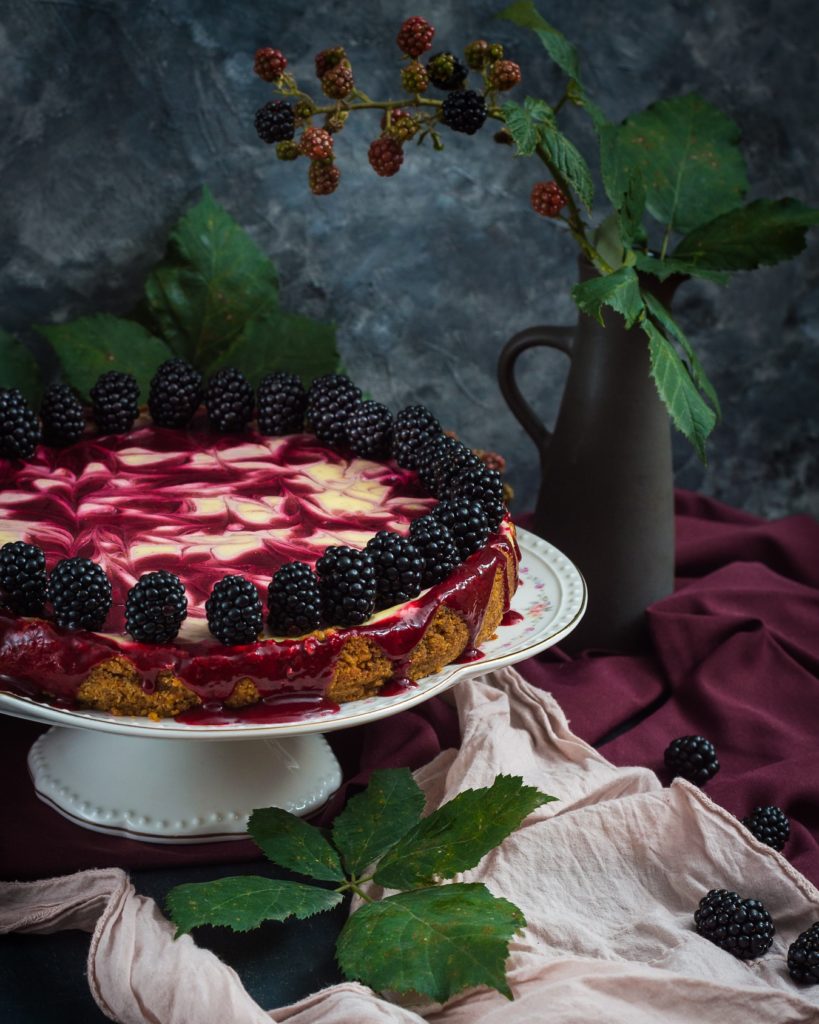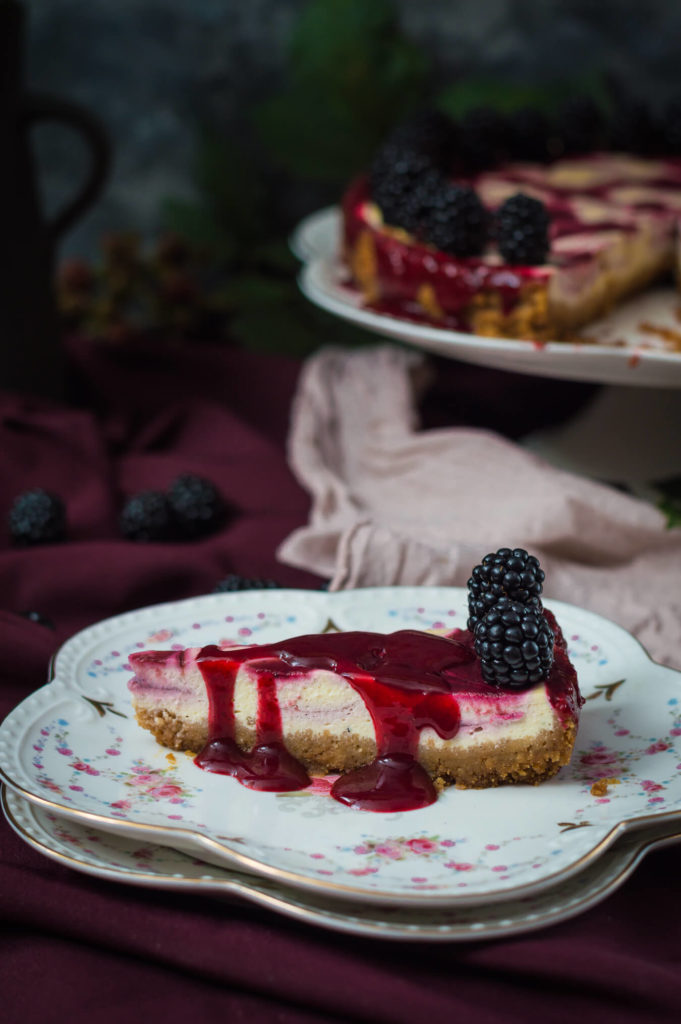 Do you like eating cheesecake? Which is your favorite cheesecake flavor combination? Do you have any pieces of advice on making the best cheesecake ever? If you do, please tell me all about that in comments here on my blog, on my Instagram profile or Facebook page.
If you have a sweet tooth like me, don't forget to check out my other desserts!
Happy baking!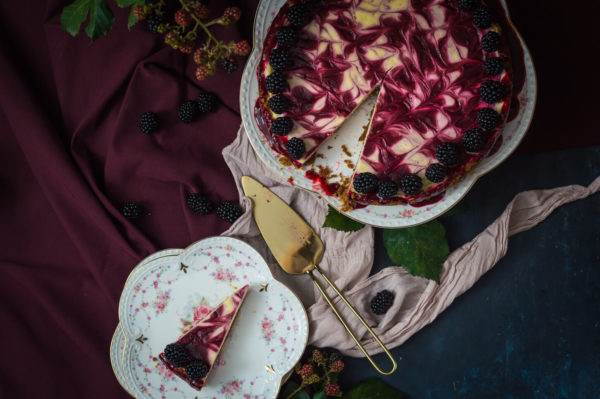 | | |
| --- | --- |
| | |
Few hours before making cheesecake, take out all ingredients for the filling from the fridge.
Preparation of blackberry topping
Put the blackberries in the food processor and mix them well until you get a thick fruit pulp. Strain it through a strainer. Try to squeeze out as much juice and throw away fruit stones.

Squeeze half of an orange, then strain the juice through a sieve and pour into the pan with the blackberries liquid, cinnamon, and sugar and bring to a boil.

Stir in the cornstarch (which you have previously mixed with a little water) and continue stirring until the juice thickens. Remove from the fire and let it cool until it becomes lukewarm.
Preparation of the crumb and the filling
Place baking paper in a springform pan and preheat the oven at 160°C and turn on the fan. Mix the biscuit crumb, sugar and cinnamon together in the food processor. Add melted butter and pulse again few times until combined.

Press the crumb mixture into the bottom of the springform pan and bake in the oven for a few minutes until you see that the biscuits are lightly golden. Get it out of the oven.

Increase the temperature of your oven to 180°C and turn off the fan. In the meantime, prepare the filling. Cream the cheese and sugar and then add orange juice and mix until combined. Add eggs, one by one at a time until incorporated.

Pour the filling over the crust. Drop a few spoons of blackberry sauce over the filling and make a swirled pattern with a toothpick. Bake about 30 minutes, or until you see that the center of the cake is still a little "shaky". Then the cheesecake is done.

Take it out of the oven to chill. Place the cheesecake and blackberry sauce in a fridge for cooling, preferably overnight. Before serving decorate it with fresh blackberries and serve it with the rest of the blackberry sauce.