Rhubarb, that mystical plant that I've been looking at all sort of food blogs and cookbooks for a long time has finally managed to find her way to my kitchen. And all of that thanks to this old lady on our local market Dolac here in Zagreb that's probably the only person who sells the rhubarb, as far as I know. Anyway, I've never tried rhubarb before and while searching for the inspiration what to prepare now when I finally have this beauty in my hands, I often stumbled upon many enticing rhubarb and strawberry pies.
However, the pie is put on hold because for my very first rhubarb recipe I wanted to preserve its unusual tartness. Still, strawberries remained as the perfect half of this magic duo because these two ingredients really fit together quite good. And after first salad recipe I presented you on this blog, it was time for me to write you a recipe for some fruit salad. In this case, I prepared you really easy and delicious rhubarb and strawberry salad recipe with fresh mint and almond flakes. Totally irresistible!
So, I bring the rhubarb home and admire this beautiful pinkish tones which fit so perfectly with the green ones. I even felt almost sad because I needed to cut her to pieces (I know, I know, it sounds crazy). I cut a piece and tried it. Even smelling it I instantly felt some bitter freshness. Or fresh bitterness. Did I just make this up? (Probably). I didn't have a clue what to expect and my feelings were mixed. The taste of rhubarb is a bit tart, even pungent but sour as green apples. For me, something quite unusual, but somehow masochistically good. It's like giving a baby a slice of lemon for the first time, causing it to frown and make all sorts of funny faces, but the baby still eats it. My first experience with rhubarb was kind of similar to that.
What do you need to know about rhubarb?
One of the first things you need to know about rhubarb is that you should never consume her leaves. Yes, they look stunning, I would personally like to put them in some soup or stew, but because of the amount of oxalic acid that rhubarb leaves contain, that's not a very good idea. Only the stalks are edible, and the leaves can be composted.
If you'd like to grow rhubarb in your garden, you should know that it is a perennial, long-life plant that prefers a cold climate and a shady position, and loooves organic matter. Some useful tips for rhubarb growing and harvesting can be found in this Youtube video.
Rhubarb is most often used in pies and cakes, in making jams, compotes and even wine. But did you know that rhubarb is actually a vegetable? Apart from desserts, rhubarb can also be used as a meat side dish for pork or lamb.
And what about you? Do you like rhubarb and what's your favorite rhubarb recipe? Do you know something important and interesting about rhubarb that I haven't mentioned here? Feel free to share it with me here in comments, on my Facebook page or Instagram.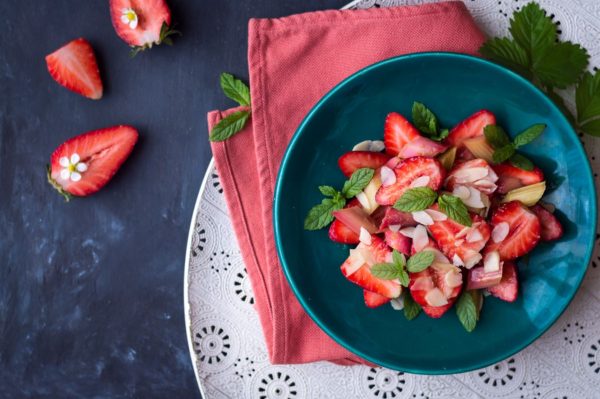 | | |
| --- | --- |
| | |
Remove the leaves from the rhubarb, wash the stems and cut them into pieces of about 2 cm long. In a small pan add water, lemon zest, vanilla extract, grated ginger and bring to a boil.

Add chopped rhubarb and let it cook for a few minutes. When it softens slightly, turn off the fire and let the rhubarb cool in the syrup, for about an hour or so.

Wash and cut the strawberries and place them on a plate or in a bowl in which you will serve the salad. Add the rhubarb, pour the syrup over fruit and garnish with fresh mint leaves and toasted almond flakes.Bon appetit! 🙂
If you find the rhubarb still too tart, you can cook it a little bit longer in the syrup, but bear in mind that it will also be quite softer.
Also, you can strain the syrup if you don't want to have tiny particles of lemon zest and ginger in your salad.