When I get the desire to eat some pancakes I become really serious about it. Something like Peter Stormare in Fargo. And Freddie Mercury would say: "I want it all and I want it now". And then I bake this whole wheat American pancakes. Although my favorite American pancakes are those with pumpkin purée, these will serve as a good consolation until fall.
I fell in love with American pancakes a few years ago during my college days when I first tried them in one coffee shop here in Zagreb. However, later I realized that there are much better variations of this type of pancakes and, well, I don't want to brag around, but these are one of those.
Whole wheat pancakes maybe don't sound quite tempting to you, huh? Well, I can assure you that this recipe will make you give them one more chance, especially if you like to experiment with different types of flour. My dear, these are pancakes with attitude. Whoever tried to bake anything from 100% whole wheat flour will know what I mean. Namely, this flour gives these pancakes special, rich, somewhat dominant taste that doesn't always fit everyone. But I dare you to try. Because, although baking with this flour can result with dry and sometimes hard bread/pancakes/muffins/etc (it happened to me before, I admit it), this is not the case here. These wholewheat American pancakes are soft and fluffy (remember Agnes?) like the softest cloud. And I also couldn't resist adding some spices to compliment this beautiful flour.
Although I tried to make them with milk and yogurt, buttermilk was a definite winner because of its sour taste and beautiful texture. Oh, and did I tell you that these pancakes will remain fresh longer than pancakes with white flour? You can keep them for later, just close them in a plastic box or cover them with plastic wrap.
Wait a minute, what should I put on my whole wheat American pancakes?
Anything you like. Whether you are a fan of classic American combination of butter and maple syrup, or maybe some marmalade or chia jam, you won't make a mistake. For a total contrast, you can spread some lemon curd on them as well, but my favorites are wild forest honey and ghee butter with some fresh fruit. D-E-L-I-C-I-O-U-S.
So, what are you waiting? Is your pan heated already? 🙂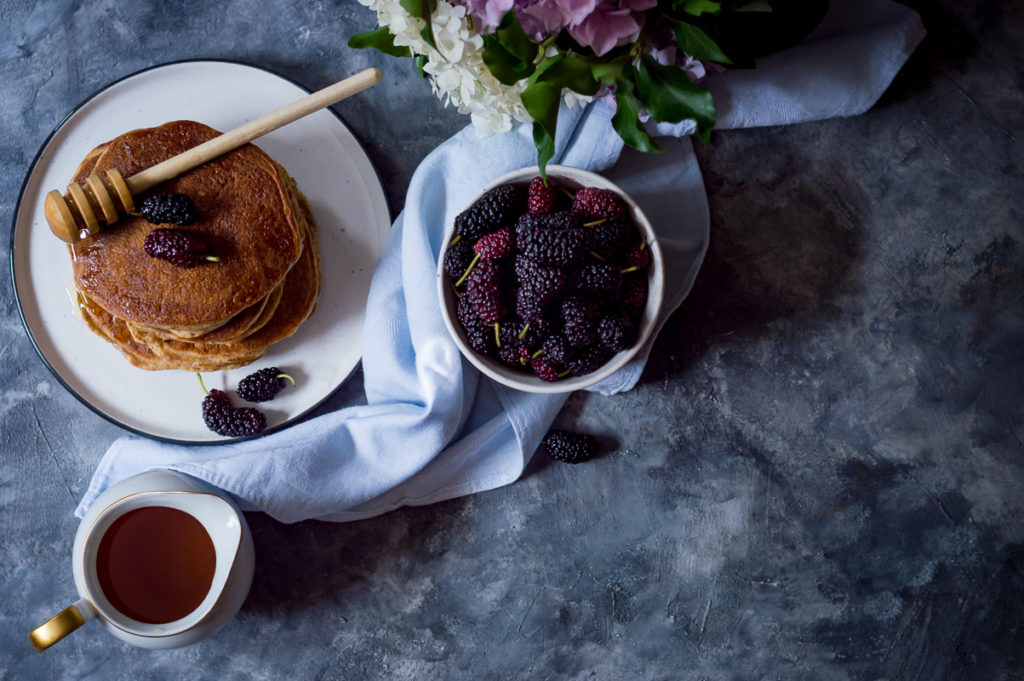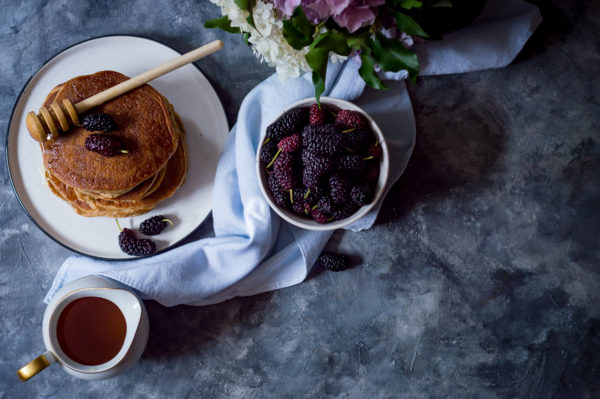 | | |
| --- | --- |
| | |
Mix all dry ingredients (flour, salt, spices, baking soda) in one bowl.

In another bowl mix the buttermilk, eggs, honey and lukewarm melted coconut oil. Add the wet ingredients to the dry ones just to combine. Don't over-mix the batter. Don't worry if you're left with some lumps. Allow the batter to rest for about 15-20 minutes.

Bake on a preheated pan on medium heat. I grease the pan with just a little bit of coconut oil before the first pancake and later I don't add oil anymore. Bake them for about minute and a half on one side, and less than a minute on the other side. Place them on a pile to keep them warm.
If you want to avoid dark spots on your pancakes, make sure you don't put too much oil.  Wipe away excess oil with some paper towel.
From this amount of batter, you should get 10-12 American pancakes, depending on how big you want them to be.