After a recipe for tasty, quick kefir banana bread, I'm bringing you a recipe for another sweet, but this time traditional, Croatian Easter bread. I don't know how is the weather in the place where you live, but here in Croatia we're all tired from the winter and we can't wait for warm sunny days. If I didn't know which date is today, I wouldn't say that the spring has already begun. But those grey clouds will not spoil my mood because I'm ready for Easter baking! 🙂
Due to the fact that Easter is getting closer, I have already begun to think about food I'll prepare for our Easter table. In Slavonian Easter basket, there are always cooked ham, sausages, boiled eggs, spring onions and one modest, homemade Easter bread. My grandmother always made it in a very simple way: from the big amount of dough that will be shaped in regular loaves of bread (she always bake at least 5-6 of them and put them in a freezer), she separates small amount of the dough, shapes it in a ball, brushes it with one beaten egg and bakes. Simple as that.
I believe that it is really important to preserve our family tradition, especially recipes that are so narrowly connected to traditional, religious holidays, but I also believe that every new generation brings something new and enriches already existing family customs. So, my grandma and I reached an agreement that this year I will take care of our Easter bread and I've decided that it's time to bake pinca. Luckily, I have a modern grandma who always likes to try out new things in the kitchen. 🙂
Pinca, in Croatia also known as sirnica or kvasnica, is a special Croatian Easter bread characteristic for regions of Istria, Dalmatia, and Croatian Littoral.  It's enriched with eggs, fat, sugar, liqueur, orange and lemon zest which all together give pinca rich, tender structure and incredible aroma.
Some people will say that pinca is not that easy to make, but believe me, with little effort and lots of love and patience, the result will follow. After many read recipes and variations, I've decided to combine the ingredients in the way I prefer it and I'm very pleased with the result! I must admit that the tips & tricks of our famous pastry chef Petra Jelenić were very helpful in this process.
How to succeed in making excellent pinca?
Before you start preparing pinca, make sure that all ingredients have the same, room temperature.
Don't bake it for too long or at too high temperature, otherwise, it will become dry inside.  Also, be careful that it doesn't brown too much.
If you can't get untreated, organic lemons and oranges, you can try this recipe with storebought flavors, but the best taste you'll certainly get with freshly grated lemon and orange zest.
Although most recipes for making pinca use fresh yeast, and, most often, a bigger amount of it than you would normally use for making bread, I've experimented with instant dry yeast for cakes and I was thrilled with the result! If you can't find that type of yeast in the place where you live, you can switch it with 50 g of fresh yeast or 10 g regular instant dry yeast.
If you haven't had the opportunity to experience the therapeutic effect of kneading the dough, you'll experience that feeling while making pinca. The dough should be well kneaded so that gluten could be developed. That will give pinca that beautiful velvety texture and smoothness.
You can enrich this sweet bread with dried fruit, like raisins, figs, apricots etc. You can also experiment with the alcohol; instead of rum, you can add some good liqueur, or rakija even. Just be creative 🙂
And what about you? Are you thinking about what you will be preparing for your Easter table? Do you have some traditional family recipes that you make especially for this occasion? Share it with me in comments, on my Facebook page or on Instagram.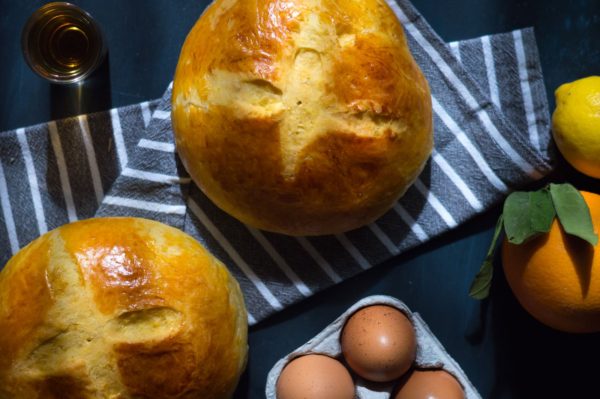 | | |
| --- | --- |
| | |
In a bowl with the electric mixer combine sifted flour, dry yeast, regular and vanilla sugar, salt, lard, and butter. While mixing, slowly add eggs, egg yolks, and milk. Add the rum and grated orange and lemon zest. Keep mixing the dough at least 5-6 minutes. Then transfer the dough to a lightly floured surface and knead until it becomes smooth.

Transfer the dough to a lightly floured bowl, cover it, and let it double the size. Depending on the temperature of the room, it may take up to an hour and a half or two hours.

Get the dough out of the bowl and transfer it to a lightly floured surface and knead it really well, for at least 10 minutes. Divide it into two or three parts, shape balls and transfer them to a baking sheet covered with parchment paper. Cover it again with plastic foil and let rise for an hour.

When the doughs have risen, take a sharp knife and make a cross. Brush the doughs with beaten egg yolk (avoiding the middle part where you've made the cross pattern) which will give them a nice shine. At this moment you can sprinkle it with a little bit of granulated sugar if you want.

Bake at 160 °C around 25-35 minutes. If you see that the doughs suddenly start to get too dark color, cover them with parchment paper. After 15 minutes of baking, you can turn your baking sheet in the oven so they get a nice color from every side. Let them cool down and then serve. Pinca can be kept in a plastic bag for 4-5 days max.