The very first bite of these coconut energy balls was enough for me to say: you go, girl, you did it! You've actually made raw vegan coconut balls which irresistibly remind of Raffaello,  but with real coconut products! This is one of those recipes after which you're a bit sad when you need to wash dishes because you don't want to waste any of these delicious ingredients. So what else you can do than run your finger around the mixing bowl to get every last bit of it? I admit it; guilty as charged.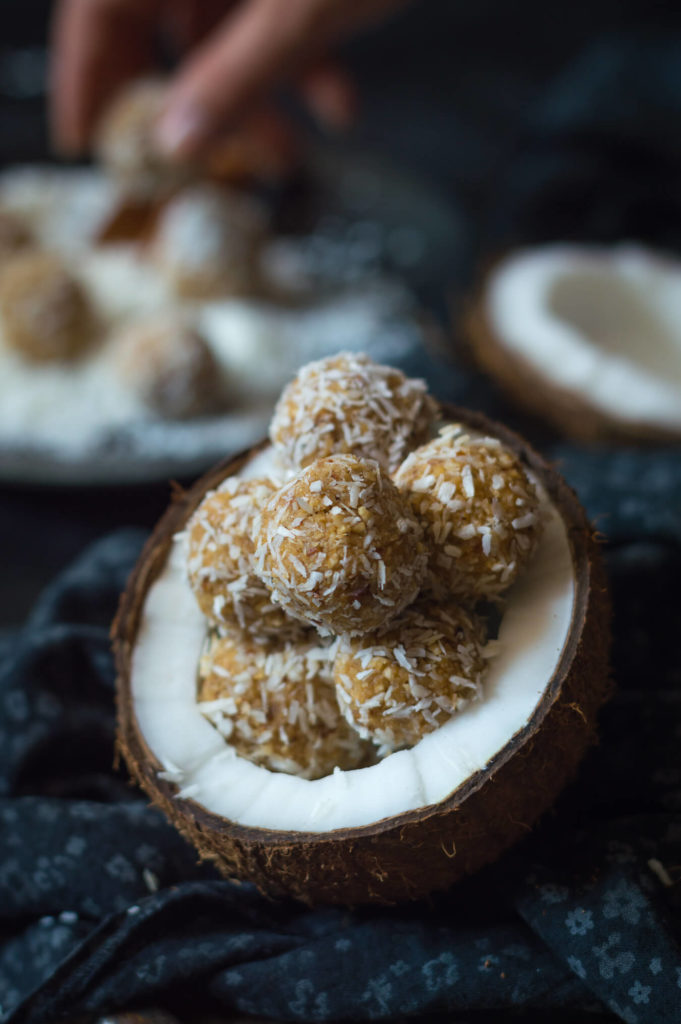 I kind of owe you this post for a quite some time, since my blog post about how to make homemade hazelnut milk. I see that there are many of you who are making plant-based milk lately so I think it's the right time for me to share my recipe on how to use the pulp that you're left with after making milk.
In my kitchen, I always try to use the maximum of my ingredients to minimize the food that goes to waste. Did you know that every year about 1/3 of food people produced worldwide has been wasted? I don't know about you, but for me, that sounds pretty terrifying. So buy responsibly, cook with imagination and remember: change always starts with you.
So, you made your nut milk following my recipe and you're left with raw nut pulp that you don't want to throw away. Fear not because I found a very delicious solution to this problem:  raw vegan coconut energy balls. Of course, there are other ways you can also use the pulp; in smoothies, crackers, cookies or your homemade granola. But this recipe is definitely my favorite way and I hope you'll share my opinion once you taste them! 🙂
But, I have to warn you: once you take a bite at this coconut balls, it will be so hard to eat only one. Don' say I didn't tell you!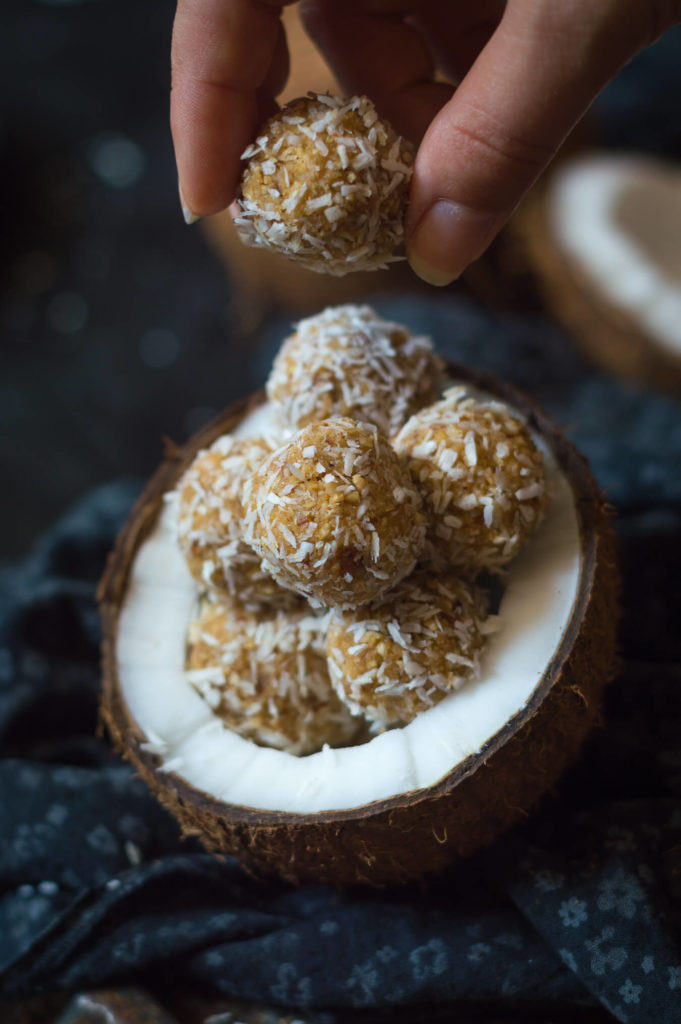 If you have a sweet tooth, don't forget to take a look my other dessert recipes and of course, follow me on my Instagram and Facebook page for a daily dose of food inspiration!

These are very tasty, raw coconut balls that irresistibly remind me of Raffaello balls, but the ones without white chocolate and powdered milk. They are really great treat for vegans and people with lactose intolerance, but every coconut lover will fall in love with the first bite.
| | |
| --- | --- |
| | |
Put the coconut cream in the refrigerator for several hours before the start of preparation because it will be easier for you to form the balls.

Pulse the oats in food processor until they are ground. Add the dry ingredients, pulse shortly to mix all ingredients. Add coconut cream, vanilla extract, and coconut oil. Pulse again a few times until all ingredients are incorporated.

Take a small amount of mixture and shape it into a ball and then coat with some more shredded coconut. You should approximately get 20 - 25 balls, depending on the size you want them to be.

Store them in the airtight plastic container in your fridge for a few hours before serving. Keep them in the fridge for 3-4 days. Enjoy!
In this recipe, I used almond pulp, but you can use any other raw nut pulp that you want.