This recipe is actually so simple, but believe me, after trying it out, you'll never want to eat beetroot at the same, old-fashioned way.
Do you usually eat the beetroot at one and the same way, as pickled? I believe you are, more or less, or at least that was always the case at my house. One autumn, a few years ago I've discovered all magic dishes you can make with pumpkin and this winter, similarly, I've become aware of the versatility of the beetroot. It can be eaten fresh, boiled or baked and there is even its dehydrated powder version with which I've made my shortbread cookies. However, for those who like to eat beetroot in their salads, but want to try it in a different way, this Turkish salad with beetroot, radish, and feta cheese is a must try.
I've found this recipe in the cookbook of chef Paul Gayler – Mediterranean Cook and was thrilled with the simplicity and flavor of this salad. I've only made some minor changes to some ingredients and spices and decided to share with you guys. As far as I'm concerned this vegetarian salad can totally stand on its own, but it is actually a variant of Turkish salad that is served as a part of mezze- the traditional ritual of socializing and enjoying the selection of different small dishes at the table. It's characteristic of the countries of the Balkans and the Middle East and this type of dishes are often accompanied by local bread and alcoholic beverages.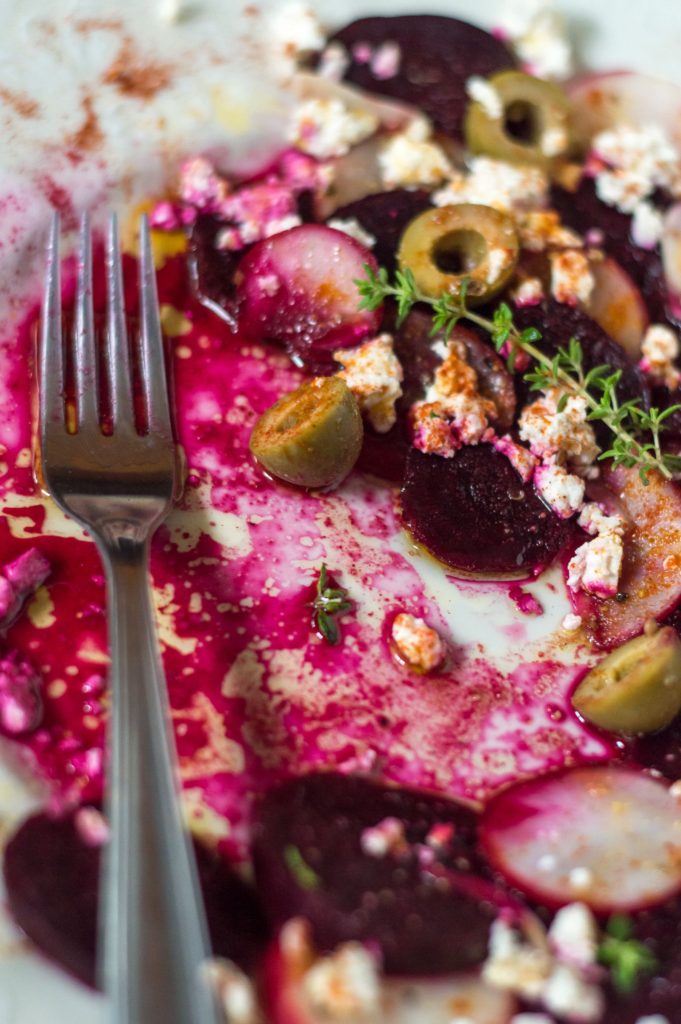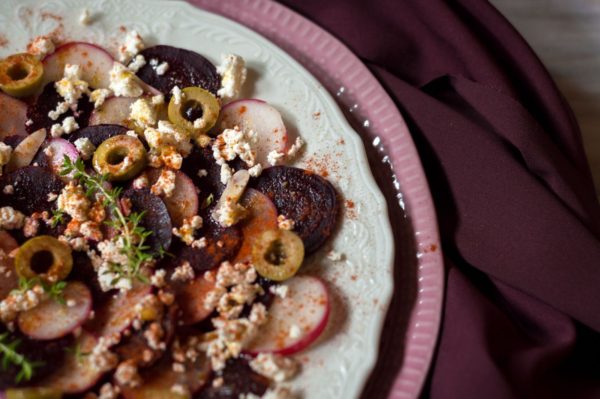 | | |
| --- | --- |
| | |
Wash the beetroot and cook it in salty water until tender. Drain and let it chill for a minute. Peel and cut it into smalls wedges or thin slices, whatever you prefer. Save 2 spoons of water in which the beetroot was cooked.

Mix the sliced beetroot, sliced radish, olives and thinly sliced pickled garlic. Add the dressing, mix well with ingredients and leave it for 30 minutes.

Then add the feta cheese, sprinkle with cayenne pepper and with fresh thyme. And you're ready to eat. 🙂
Grind the coriander seeds with a mortar and pestle. Mix it with 2 spoons of cooking liquid, lime juice, olive oil, ground anise and drizzle over the salad.
In the original recipe, instead of pickled garlic goes one small red onion. But, last year I've pickled two small jars of aromatic garlic and decided to put it in this salad instead of red onion and it works really well for me. However, you can use the red onion if you don't have pickled garlic.
As for the cooking beetroot, I like to add 1-2 star anise in the cooking liquid (depending on the amount of beetroot I'm cooking) because of better flavor, but you can skip this step if you don't have or don't prefer star anise.
Also, if you're going to eat this salad on its own, then this amount of ingredients would be enough for one person. But, if you're going to serve it as a part of a mezze platter, then it would be appropriate for 4-6 persons.