Wonderfully green, this creamy pea and mint soup is a wonderful way to celebrate late spring flavors. The young, oh-so-sweet peas are perfectly matched with the freshness of mint and combined with some cream and garlicky baguette.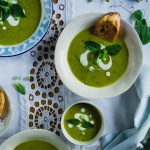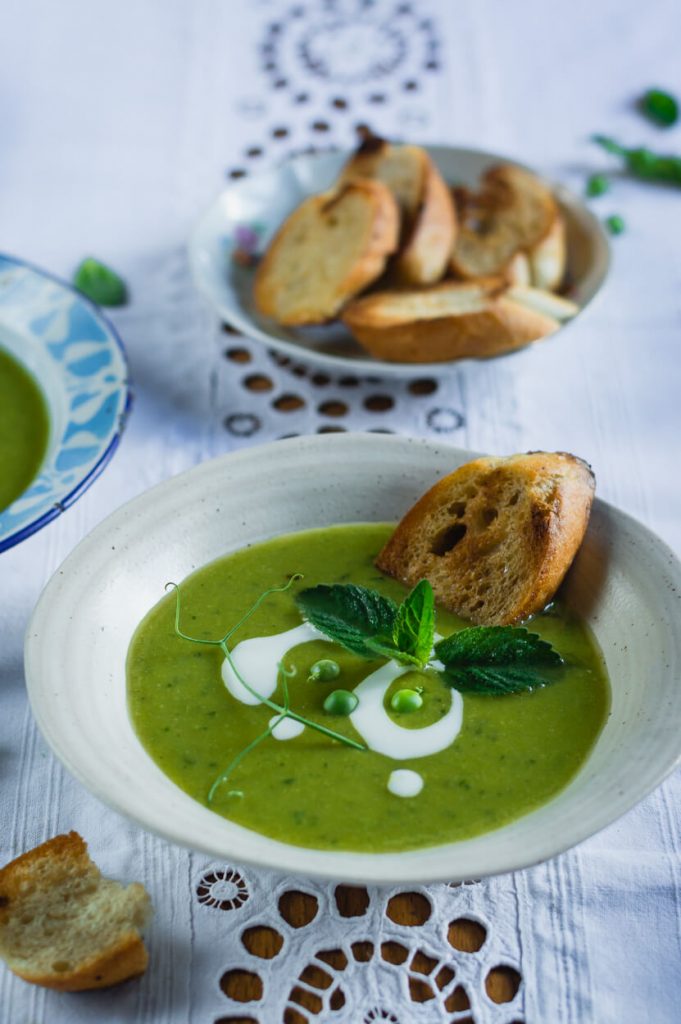 Story no 1
A few years ago, at the local book fair, I bought an interesting cookbook from Spanish chef Ferran Adrià, by the name: "The Family Meal: Home Cooking with Ferran Adrià". I liked it because of the interesting concept. Step by step, it describes rather simple dishes eaten daily by the award-winning El Bulli restaurant staff.
It wasn't until a few years later, watching Netflix's "Chef's Table" series, that I got a clearer picture of not only who Ferran Adria is, but also who his brother, the genius Albert Adrià, is. If you by any chance don't know what I'm talking about, go to Netflix to check Chef's Table, season 5, episode 4 and you'll understand everything I'm talking about.
In fact, watch all 6 seasons because they'll give you a unique opportunity to peek inside the heads of the world's most successful chefs.
One of the first recipes I've tried from that cookbook was a pea and prosciutto stew with the addition of fresh mint and cinnamon sticks.
WHAT A MEAL.
It remained sealed in my head and on my palate.
The Coexistence of Wild Mint and Grandma's Peas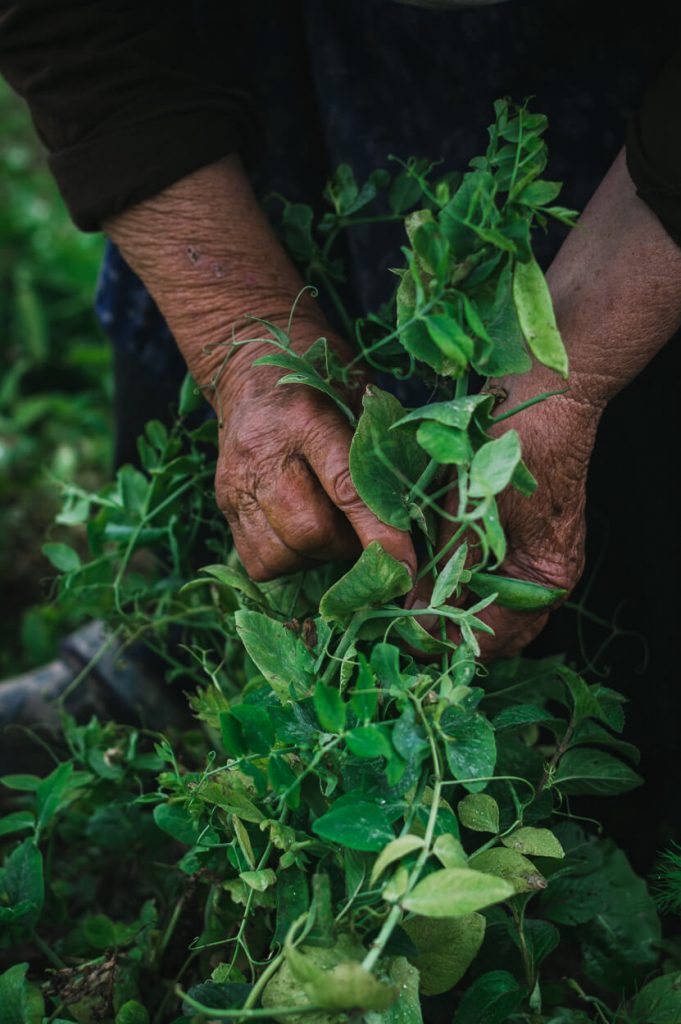 Story no 2
One of the most beautiful plants that grow in our family's garden is, no more and no less, pea. These soft, oval leaves, delicate twisted pea shoots, and lovely white flowers.
Who can remain immune to that beauty?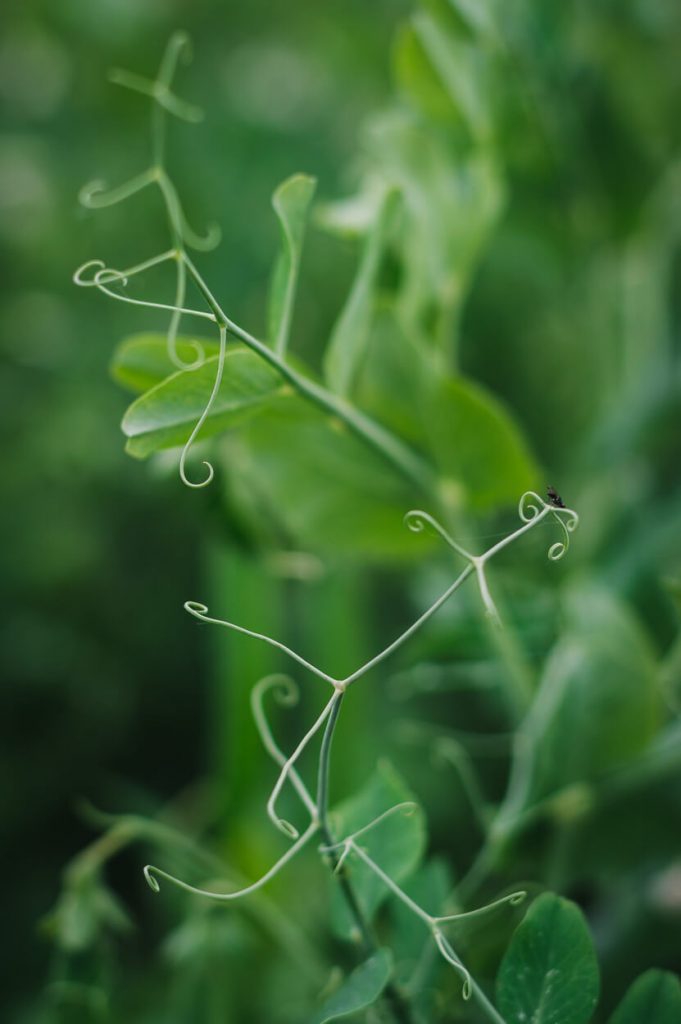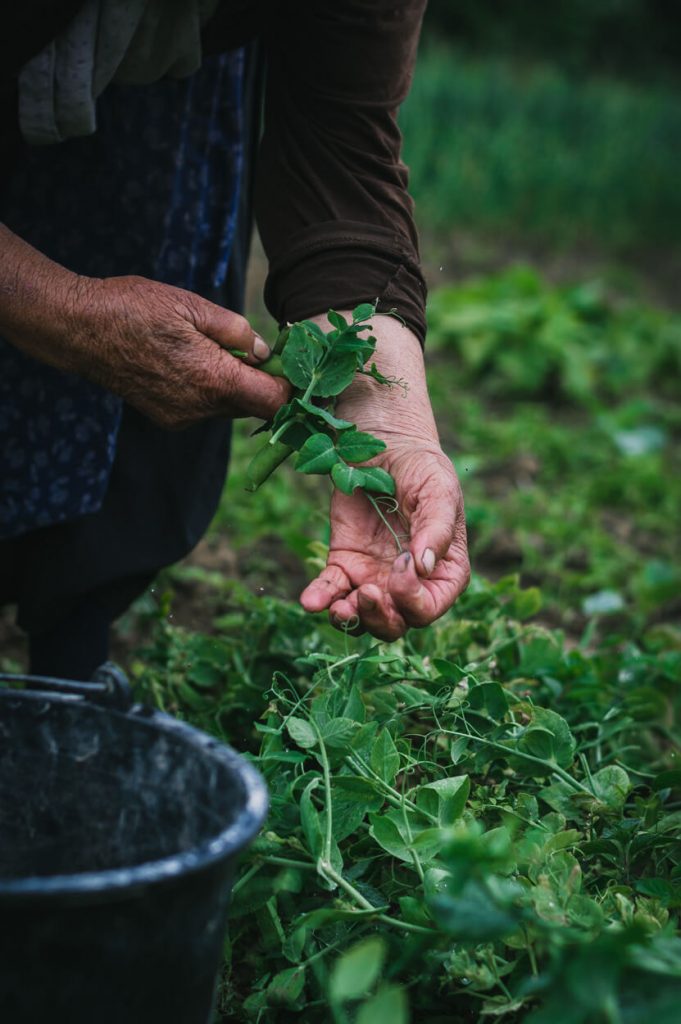 Somewhere in the middle of that green jungle, wild mint is looking for its place under the sun. Grandma keeps being angry when she sees it because it's spread all over the garden, but I look forward so much when I spot my eye on it. I usually dry it for making soothing herbal mixtures for tea.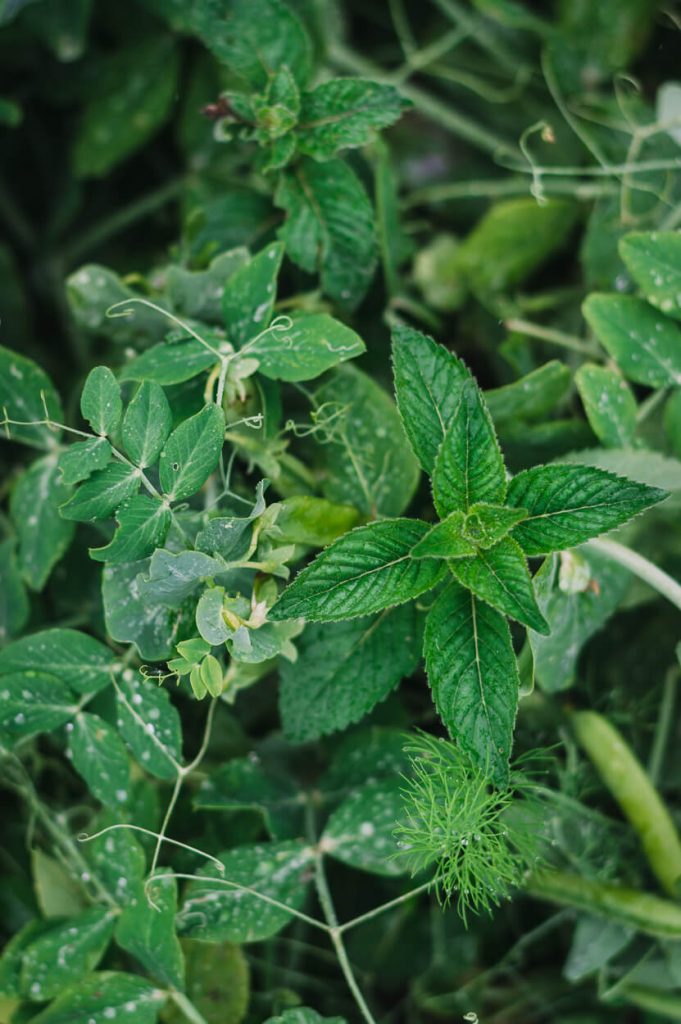 These two plants growing together and one interesting recipe from Ferran Adrià were the inspiration for this creamy and somewhat different pea and mint soup.
You can, of course, use other types of mint available to you. For me, this creamy pea and mint soup are best when I combine 2-3 types of mint which I grow in pots, and those are usually wild mint, spearmint, and peppermint.
However, I would avoid those with the taste of pineapple, chocolate, etc.
How to Fix Bland Soup
Let's be honest, it happened to all of us. It used to happen to me, too.
I would make a creamy veggie soup that, well, no one would be excited about.
Well, there are 3 ways to fix bland tasting soups:
1. You need a good stock
It's a total myth that for a good stock (broth) you need to spend hours in the kitchen or that it's hard to make. That's nonsense.
In addition to chicken, vegetable, or beef stock, which are most commonly used here where I live, there is also fish stock, seafood stock, and ham stock.
At least, those are the ones I know of.
I try, whenever possible, to have at least a liter of stock in the freezer which I then use as a base for making risotto, soups, or different sauces. Vegetable stock can easily be prepared from leftover veggies that you can collect and keep in the freezer until you have enough scrapes you can make stock.
If you add some leftover chicken bones, you then have chicken stock.
Good stock in the soup really makes a difference.
2. Serve with something crunchy
Ellen Brown said that there is nothing particularly dramatic in a plate of soup.
I really agree with that. That's why we need to add some to our soups and some umami. We can do this in many different ways: with croutons, toasted seeds, and nuts, pieces of bacon or ham, crackers, etc.
Oven-toasted garlic baguette or a piece of fresh focaccia will pair really well with this creamy pea and mint soup.
3. Add some acidity
OK, OK, things are under control. The soup is blended, smelling nice, and lookin' good.
You give it a taste. Hmm, needs more salt. Black pepper too.
You try again. Mhmm.
Hm.
There's something missing. But what? You just can't figure it out.
(I know!)
Soup usually lacks a bit of acidity to make it WOW. A teaspoon or so. You can add lemon juice, white or apple cider vinegar, that's what I use most often. Apply that advice and you'll see that everyone will fight over the table for a plate of your warm soup.
Now, let's cook some soup!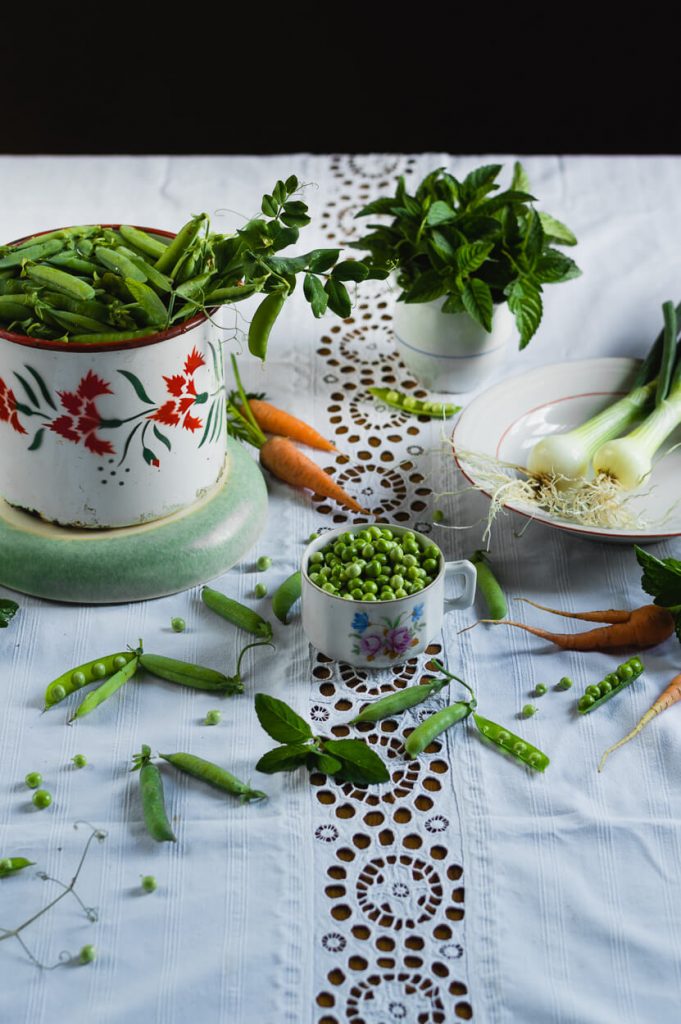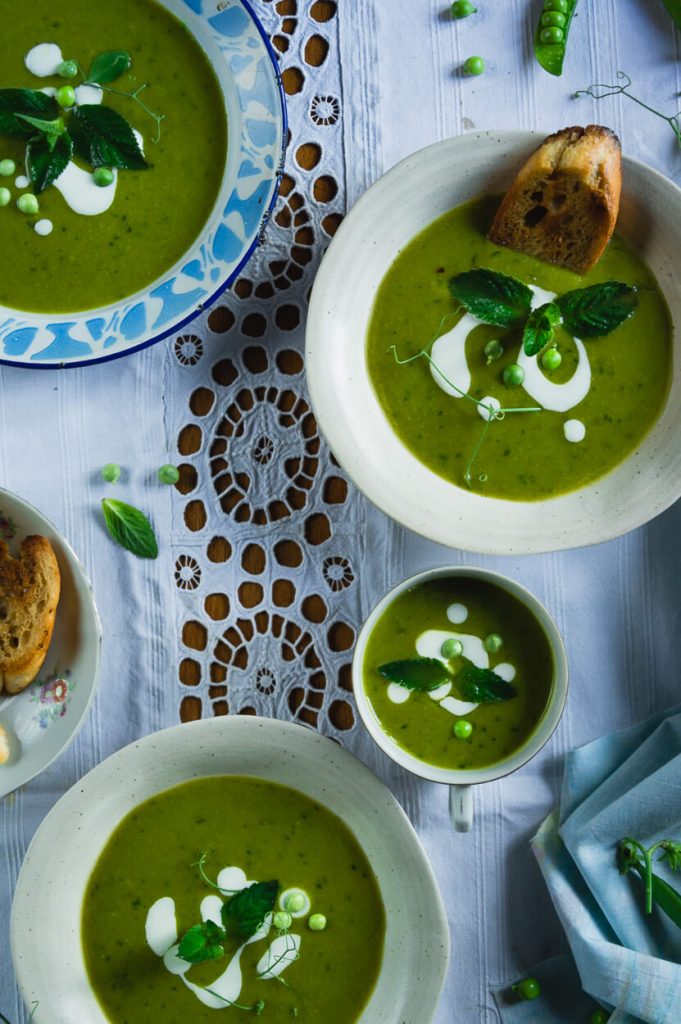 What is your favorite soup recipe? Do you have any extra advice for making the soups even better? I would love to hear from you!
If you try this recipe, don't forget to tag @foodandmoodblog on Instagram or Facebook or send me your photos of this recipe. They always make me happy! If you prefer video recipes, be sure to subscribe to my Youtube channel.
Cook with love,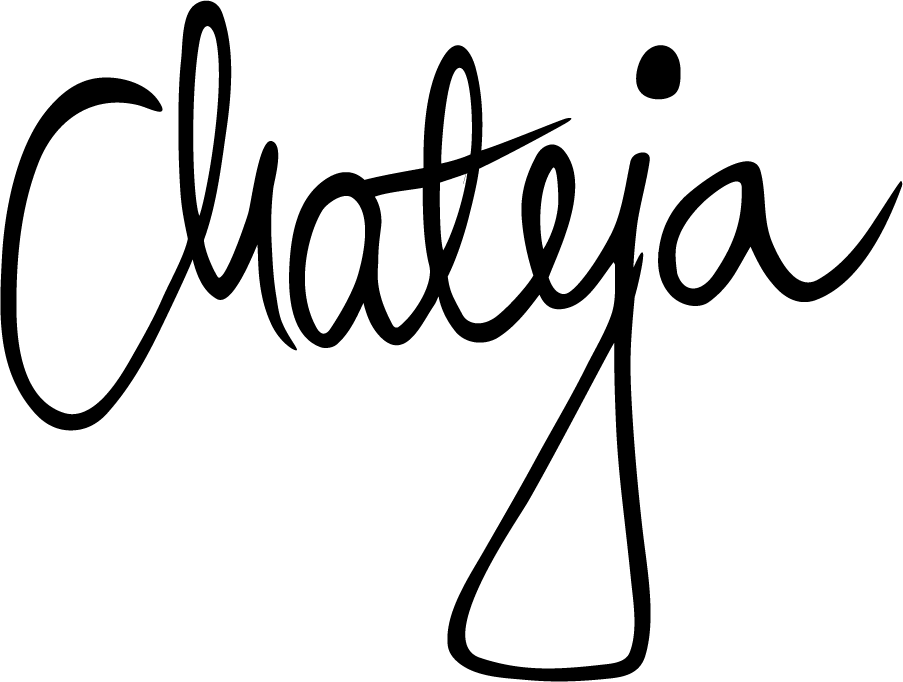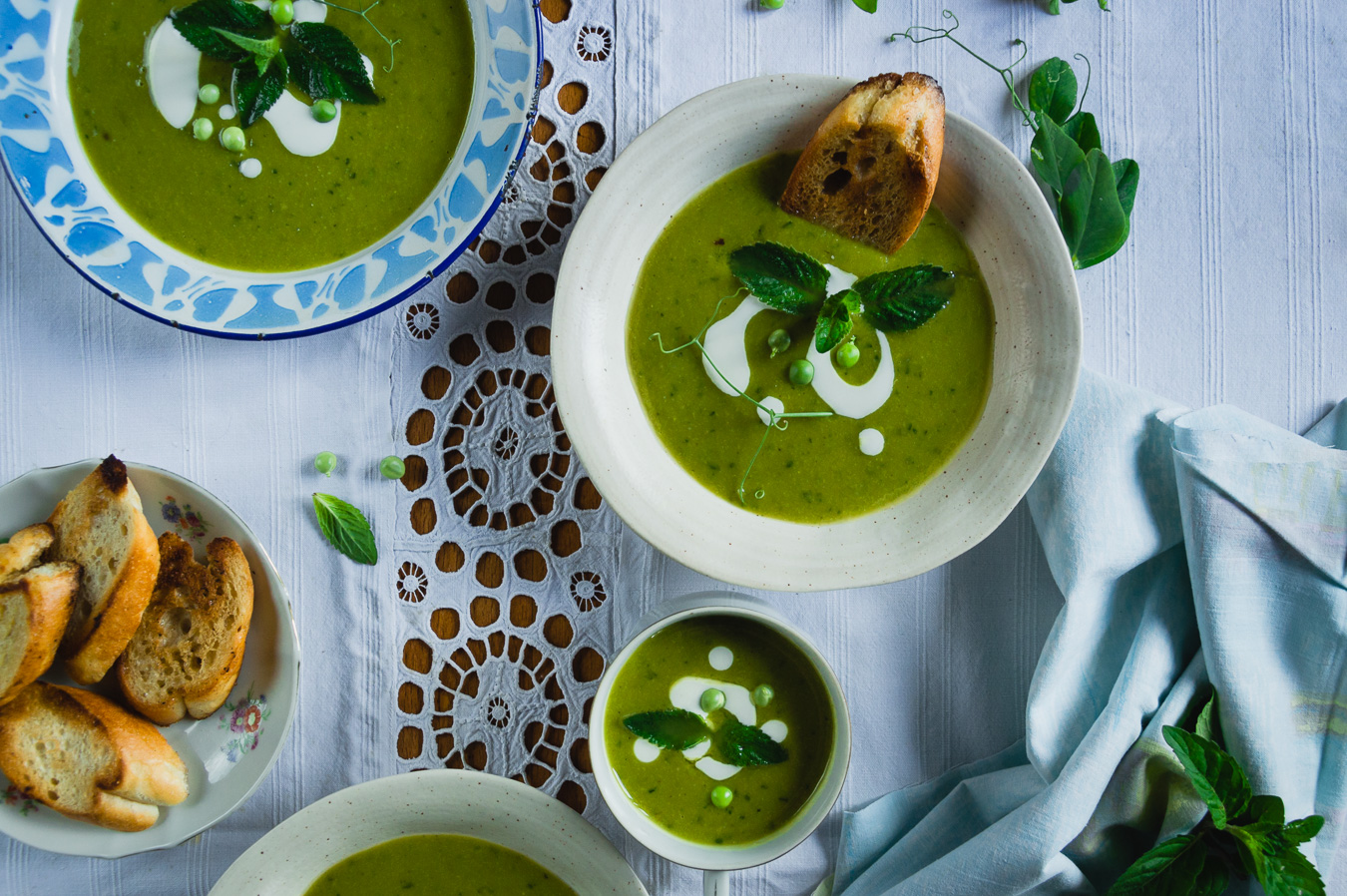 Pea And Mint Soup From My Grandma's Garden
Wonderfully green, this creamy pea and mint soup is a wonderful way to celebrate late spring flavors. The young, oh-so-sweet peas are perfectly matched with the freshness of mint and combined with some cream and garlicky baguette.
Print
Pin
Rate
Ingredients
40

g

butter

(unsalted)

150

g

spring onion

(white + green parts)

60

g

carrot

2

cloves

garlic

400

g

young peas

(shelled)

100

g

potato

1

l

chicken stock

3

tablespoon

mint

(chopped)

salt

black pepper

2

pinches

nutmeg

some

lemon juice

(freshly squeezed)

cooking or sour cream

(for serving)
Instructions
Melt the butter in a heavy-bottomed pot. When foaming, add chopped onions. Gently fry for a few minutes. Then add minced garlic and diced carrots and fry for another minute. Finally, add potatoes and peas.

Stir in the stock, bring to a boil and let it simmer until everything is tender, about 20 min or so.

Remove the pot from the heat, and add chopped mint and nutmeg. Season with salt and pepper to your taste and leave covered for 5 min.

Whizz with an immersion blender until smooth, adding more stock or water, if necessary. Finish off with some freshly squeezed lemon juice.

Serve with a tablespoon of cooking or sour cream and a toasted garlic baguette.
Notes
This pea and mint soup can easily be suitable for vegans. Replace the butter with olive oil, chicken stock with vegetable stock, and cow's cooking cream with soy or oat cream.
If you don't have fresh young peas, you can also use frozen ones.
Nutrition
Calories:
193
kcal
|
Carbohydrates:
22
g
|
Protein:
9
g
|
Fat:
8
g
|
Saturated Fat:
4
g
|
Polyunsaturated Fat:
1
g
|
Monounsaturated Fat:
2
g
|
Trans Fat:
0.2
g
|
Cholesterol:
19
mg
|
Sodium:
301
mg
|
Potassium:
532
mg
|
Fiber:
5
g
|
Sugar:
8
g
|
Vitamin A:
2708
IU
|
Vitamin C:
37
mg
|
Calcium:
55
mg
|
Iron:
2
mg