Romantic shortbread cookies dyed with natural beetroot powder and decorated with chocolate and dried rose petals.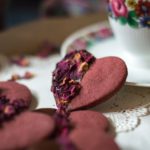 I think I could not have had a better start on this blog than with this lovely recipe for shortbread cookies for Valentine's day.
Shortbread cookies are famous Scottish cookies that originate in the 12th century. However, it is well known that the recipe for these cookies is perfected at the court of Mary Stuart, Queen of Scots in the 16th century, and the first printed recipe from 1736. we can say thank you to Mrs. McClintock. They are traditionally made with only three basic ingredients: white sugar, butter, and flour in a ratio of 1:2:3. Also, for achieving better texture, shortbread cookies are sometimes made with rice flour or cornstarch, but those ingredients are not obligatory. The history of shortbread cookies is definitely not boring, and if you want to learn more about it, interesting facts can be found here.
Interesting stuff about shortbread cookies
Shortbread cookies are traditionally made in three different shapes. The first one is called petticoat tails, which look like a big, decorated circle cut into triangles. One of the theories is that this name derives from undergarments that women wore at that time, which I find quite cute (regardless of whether this is true or not). Another shape is shortbread rounds – single, small, and round cookies and the third shape are shortbread fingers. While researching this topic, on the Internet I came across beautiful molds that are used for making shortbread cookies. It would be so nice to have one of these.
At traditional Scottish weddings, it's a custom that the groom breaks a shortbread cookie above the bride and if the cookie breaks into more parts, that means that the couple will have happy and fruitful marriage;
It's not a rule, but also it's not rare that Scottish producers pack these cookies in packaging decorated with famous Scottish tartan, also one of the symbols of Scotland.
After the short history lesson, it's time to start baking. 🙂 The recipe that follows represents my variation of shortbread cookies. With these cookies, you can really do wonders when it comes to enriching them with spices, aromas, etc. From the basic shortbread dough, you can even make an easy tart crust but I haven't tried it yet.  Although I certainly will give it a try soon.
When I was thinking about the look of these cookies, I was imagining them as romantic, dark pink, dipped in chocolate, and decorated with dried rose petals. As for the taste, I wanted them to smell of love and vanilla, crispy, not too sweet and yes, they should melt in your mouth. Mission accomplished!
In order to get the desired color, I used beetroot powder which worked very well! As well as being used as a natural dye, it is an excellent antioxidant, improves endurance during exercise, and helps the body in fighting fatigue. I just discovered it in the kitchen and I think I'll start using it very often.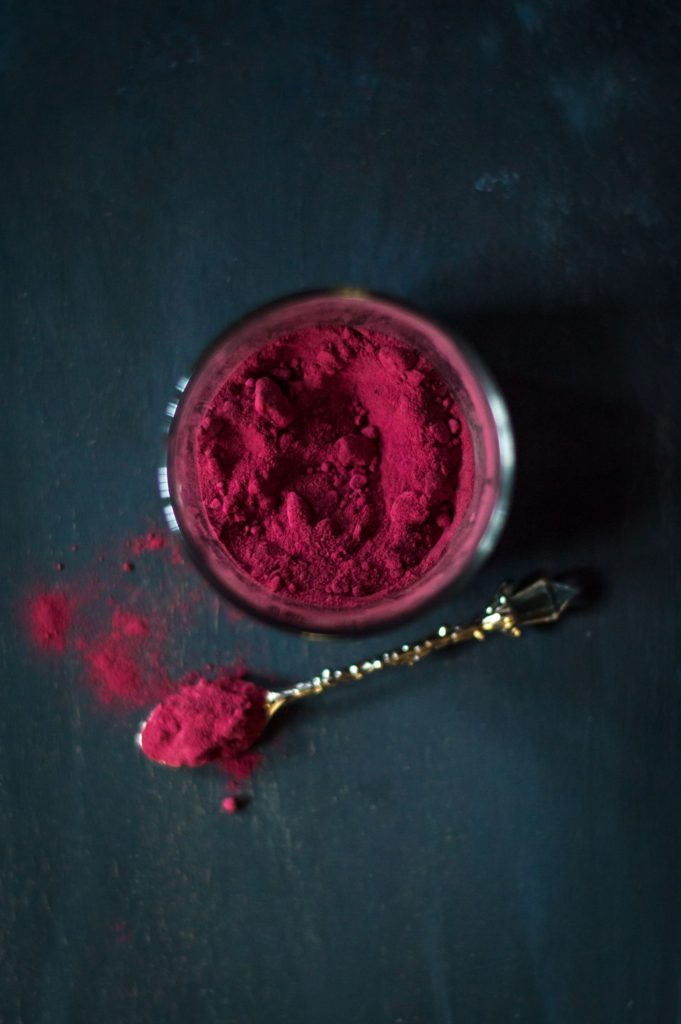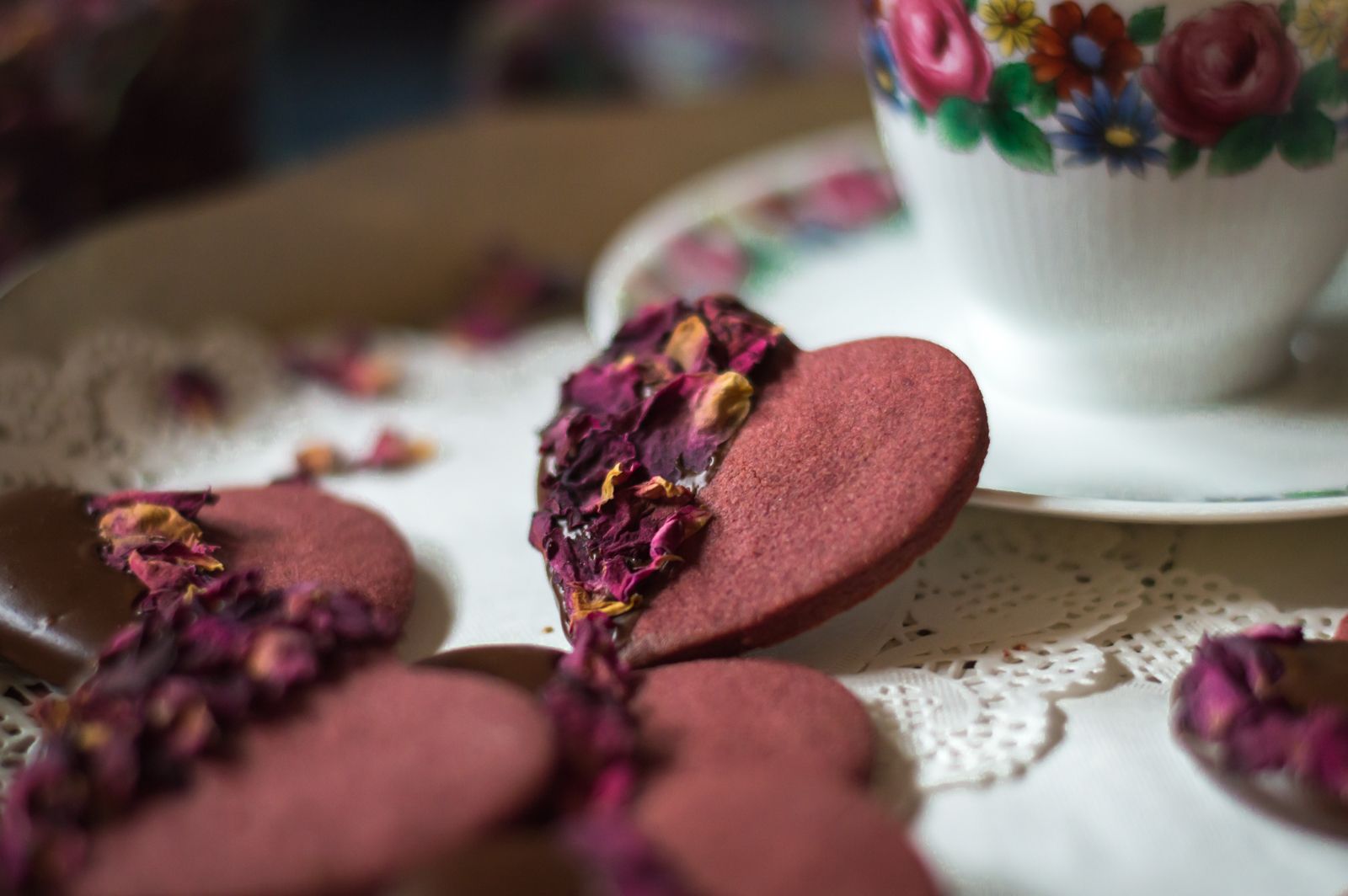 Valentine's day Shortbread Cookies
Romantic shortbread cookies dyed with natural beetroot powder and decorated with chocolate and dried rose petals.
Print
Pin
Rate
Servings:
25
cookies (depending on the size of the cookie cutter)
Ingredients
140

grams

all-purpose flour

15

grams

corn starch

20

grams

beetroot powder

3

grams

unsweetened cocoa powder

120

grams

room temperature butter

(cut in cubes)

10

drops

vanilla extract

1/2

teaspoon

anise

(ground)

60

grams

powdered sugar
Instructions
Cookie dough
Sift flour, cornstarch, beetroot powder, cocoa powder, and ground anise and mix in one bowl. I recommend you to sift these ingredients because of the possible bumps they may have.

Add the diced butter and vanilla extract to another bowl and cream them shortly. Then add the sifted powdered sugar and mix again. After that, add the dry ingredients from the first bowl and knead the dough with your hands.

When you have kneaded the dough, form it into a ball and wrap it up with plastic wrap and then put it in the refrigerator for about 30-45 minutes.

In the meantime preheat your oven to 180°C. Take your dough from the refrigerator and roll on a lightly floured surface to 0.5 cm thick. The dough may crack a little bit a the ends, but that's normal for this type of cookie. When you have rolled out the dough, start cutting shapes with your cookie cutter and transfer them to the baking sheet on which you've put baking paper.

Bake the cookies for around 12-13 minutes. After you get them out of the oven they may seem quite soft, but don't worry. They will harden when they cool completely. After they have chilled a little bit, transfer them to the cooling rack to cool completely. You can help yourself with the knife if they are still very hot.
Decorations
I've made these shortbread cookies in two shapes. From one part of the dough, I cut heart-shaped cookies, dipped them in 100 grams of melted chocolate, and then decorated them with dried rose petals. Be careful not to overdo with petals like those in this recipe serve primarily as (edible) decoration.

From another part of the dough, I made square shapes with a bigger cookie cutter. Here I also used letter cookie stamps. They are not perfect, it's obvious I need to practice a bit more, but nevertheless, I have decided to show them to see how cute they may look.
Notes
If you want, you can add 1/4 teaspoon of salt to this recipe to "boost" the flavor of shortbread cookies. If you decide to do so, I recommend that you add the salt when creaming the butter and vanilla extract. For me, they have a nice flavor even without salt.
Also, you can reduce or increase the amount of ground anise or add some other spices, it's really up to you.
Nutrition
Calories:
67
kcal
|
Carbohydrates:
7
g
|
Protein:
1
g
|
Fat:
4
g
|
Saturated Fat:
2
g
|
Polyunsaturated Fat:
0.2
g
|
Monounsaturated Fat:
1
g
|
Trans Fat:
0.2
g
|
Cholesterol:
10
mg
|
Sodium:
32
mg
|
Potassium:
12
mg
|
Fiber:
0.2
g
|
Sugar:
2
g
|
Vitamin A:
120
IU
|
Vitamin C:
0.05
mg
|
Calcium:
3
mg
|
Iron:
0.1
mg