Beetroot gnocchi - soft, silky, dark red pillows briefly sauteed in fragrant brown butter, with fresh lemon juice and crispy broccoli - what's not to love here? For me, this meal is complete only when I grate some good Parmigiano Reggiano and add some freshly ground pepper.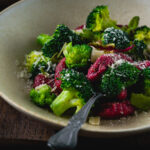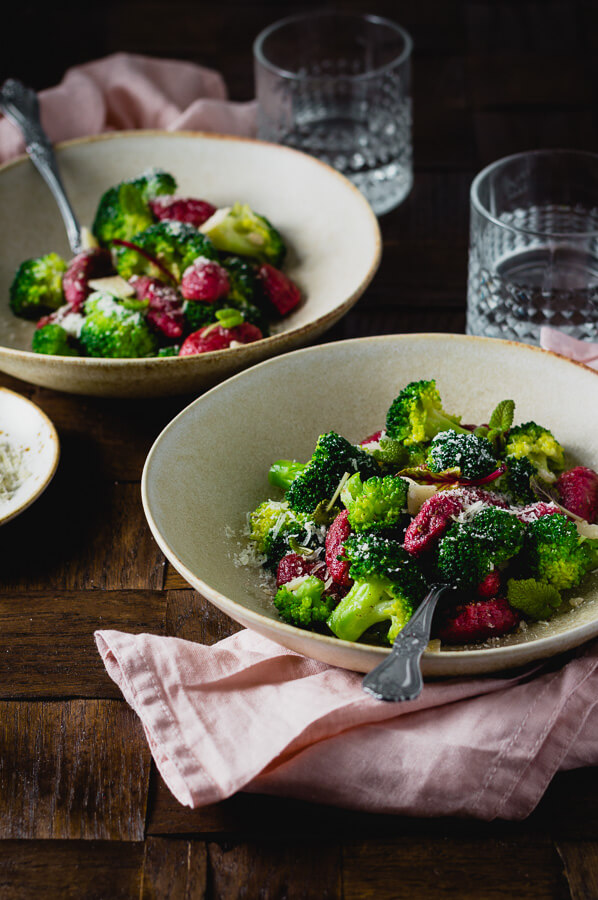 Gnocchi is one of the least attractive side dishes I've ever eaten. At least that's what I thought before.
God, how naive I was!
Listen to this: gnocchi can be the main star of your plate and they can taste so freakin' good! I've eaten bad gnocchi most of my life. You know, the ones from the store, because they are affordable and can be on your plate at no time.
That was a mistake. Now I know that homemade gnocchi is so much better!
What Do We (Do Not) Know About Gnocchi
Did you know that gnocchi are actually a forerunner of pasta?
As Marc Vetri and David Joachim wrote in their book "Mastering Pasta: The Art and Practice of Handmade Pasta, Gnocchi, and Risotto", in the beginning, the gnocchi was made only from flour and water. Although today, when we hear the word "gnocchi", we first think of potatoes as one of the main ingredients, they actually came into the recipe much later.
After all, when you're making gnocchi, you don't have to be limited to just potatoes. You can make these Italian dumplings from different types of vegetables like pumpkins, sweet potatoes, spinach, or beets, cheeses like ricotta or parmesan, and you can experiment with different types of flours too.
Unlike pasta, gnocchi requires gentle hands. They don't like to be kneaded very long like brioche or Croatian pinca bread. Have in mind that the flour is here only to bind the ingredients.
Which Flour is Best to Make Gnocchi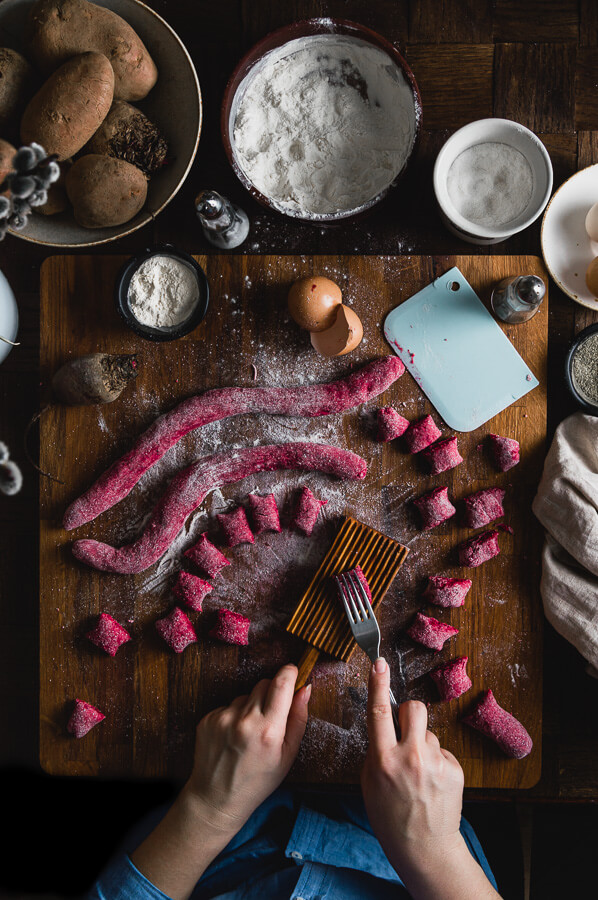 Making gnocchi from the scratch doesn't need to be hard.
The flour that we're going to use is a matter of personal choice and the results that we would like to achieve. Italians like to use 00 flour which is very fine. That enables the gnocchi to achieve that perfect silky texture.
Whatever type of flour you opt for, there are a few tricks you need to know to make really good homemade gnocchi. Beetroot gnocchi is somewhat more challenging to make than potato gnocchi but is worth every effort.
For making beetroot gnocchi, the combination of all-purpose and cake flour proved to be the best for me. Beetroots, unlike potatoes, have significantly different nutrients. They contain more water and less starch, which means that we need to add a bit more flour when we're making gnocchi than in the case when we use only potatoes.
Although I tried to make beetroot gnocchi only using beets, I wasn't happy with the result. The ratio 1:1 of potatoes vs beets proved to be the best in my experience.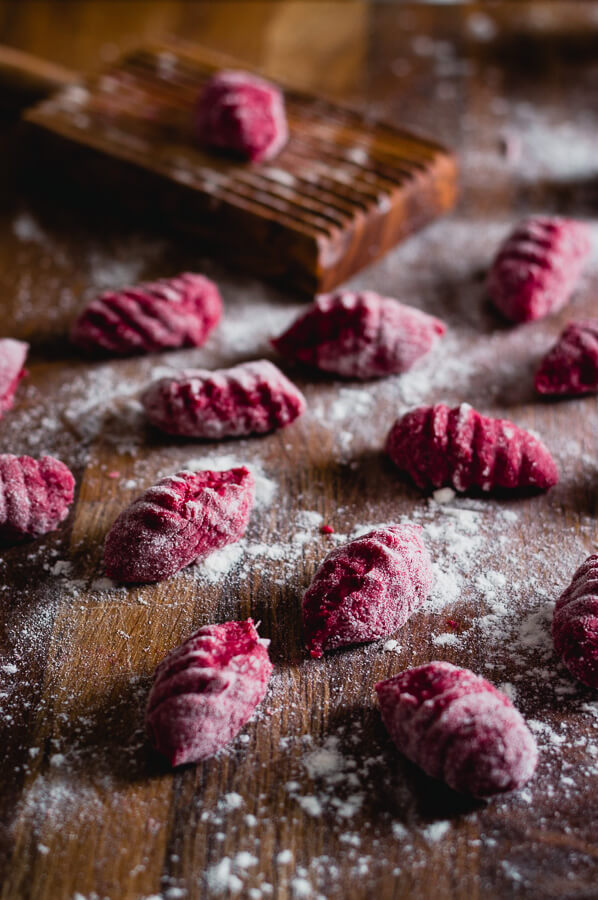 There are 3 main problems that can occur when you're making gnocchi at home:
Gnocchi becomes dissolved in water – your gnocchi started to fall apart when you put them in the boiling water. The gnocchi dough was probably too soft. Next time add some more flour.
Gnocchi is gummy and chewy – Reverse problem. You have too much flour in the dough or you kneaded the dough for too long. Gnocchi isn't pasta and we have to be careful not to develop too much gluten here.
Your gnocchi is tasteless – it's not seasoned properly. It probably lacks salt, either in the dough itself or in the cooking water.
How to freeze beetroot or any other homemade gnocchi?
Homemade beetroot gnocchi can be frozen if we want to. Always freeze them while they're fresh, ie uncooked. After you made them, place them on a tray lined with parchment paper and put them in the freezer.
When the gnocchi is completely frozen, transfer them to a zip bag and write the date of freezing. Trust me, you don't want to skip this step because in a few weeks you won't remember when you froze them.
And that's it!
When you want to cook them, you don't need to defrost them. Just put them in the salted, boiling water and wait for them to bob to the surface.

How long gnocchi can be stored in the freezer?
I don't like to keep beetroot gnocchi or any other homemade gnocchi in the freezer for more than 2 months.
How long does it take gnocchi to be cooked?
The cooking time depends on their size, the ingredients we used in the dough, and whether they have been previously frozen. Fresh gnocchi is done quickly and they are done when they float at the surface of the boiling water. That can take approximately 2-6 minutes.
Also, cook them in the bigger pot and don't put too much gnocchi at the same time, otherwise, it will take them longer to cook.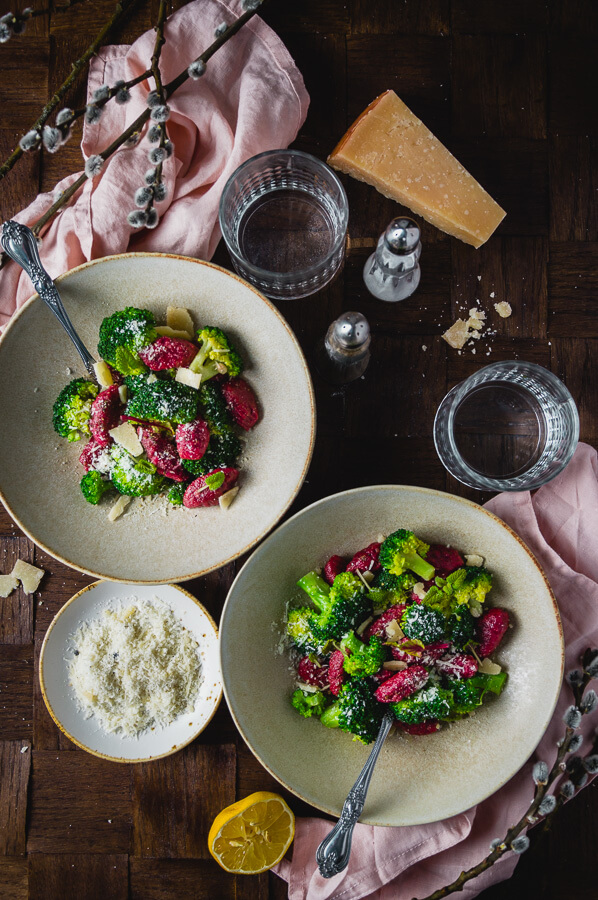 What is Brown Butter (beurre noisette)?
After I cooked beetroot gnocchi, I didn't want to drown them in some overpowering sauce. I wanted them to be the star of my plate. So I thought that my Herbes de Provence and brown butter would be the perfect pairing for them!
Brown butter (beurre noisette) is prepared by heating the unsalted butter in a pan until it changes color to golden brown and starts smelling like hazelnuts. It will give even the most neutral food a fantastic taste and is perfect for flavoring veggies and gnocchi.
So yes, brown butter sauce can completely change your perception of gnocchi! Although it's totally delicious on its own, I decided to add some blanched broccoli to this dish. Spinach, arugula, gorgonzola, or goat cheese would work great here too!
All I can say at the end of this post is that this beetroot gnocchi with brown butter sauce is out of this world so I hope you'll try making this at home!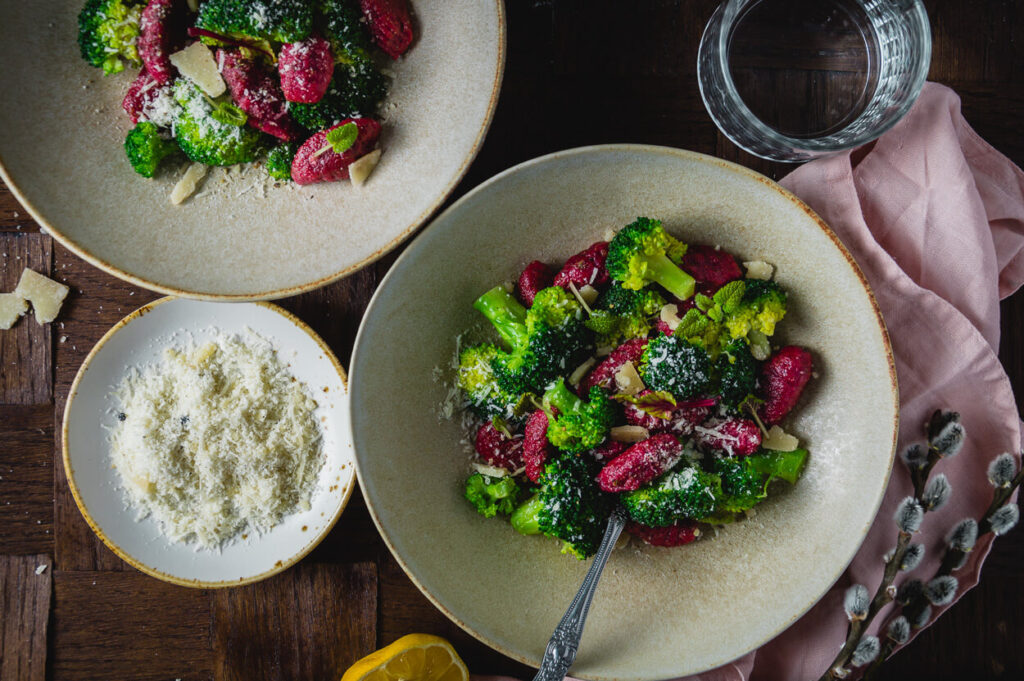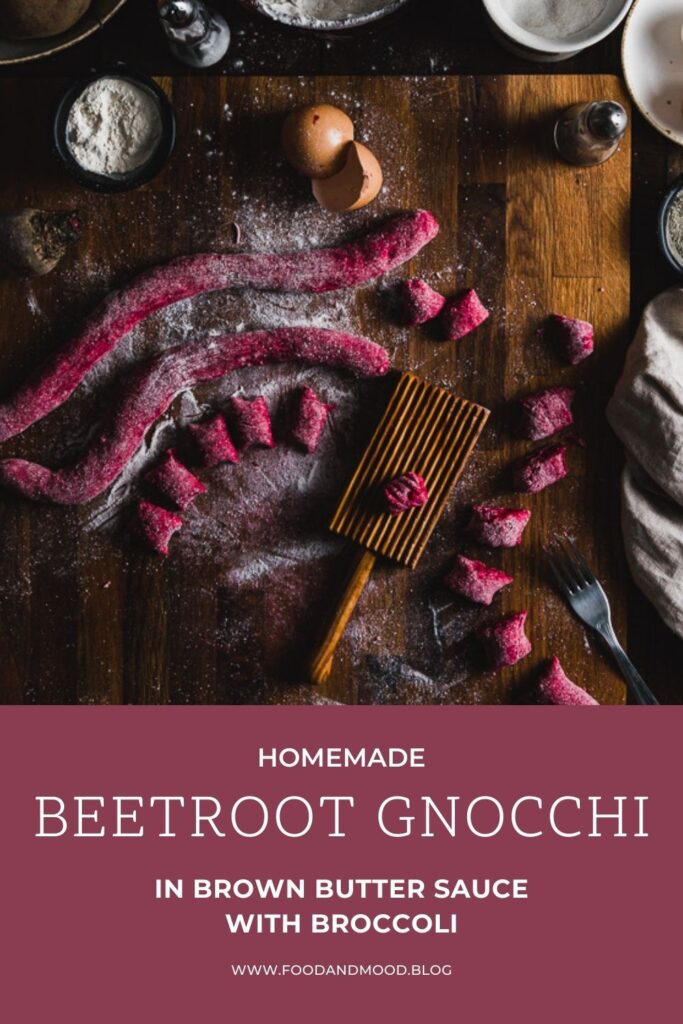 If you try this recipe, don't forget to tag @foodandmoodblog on my Instagram account or send me photos of your final dish! Your photos make me so happy! If you have any questions, feel free to send me a message on Instagram or contact me via my e-mail.
Cook with love,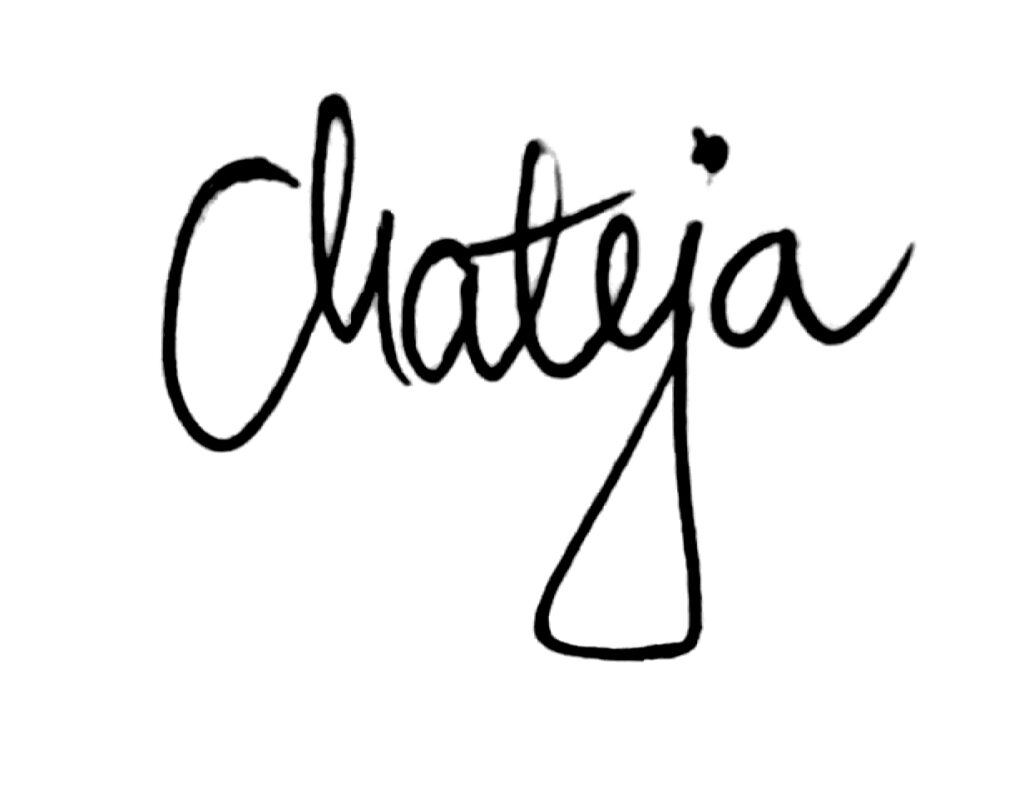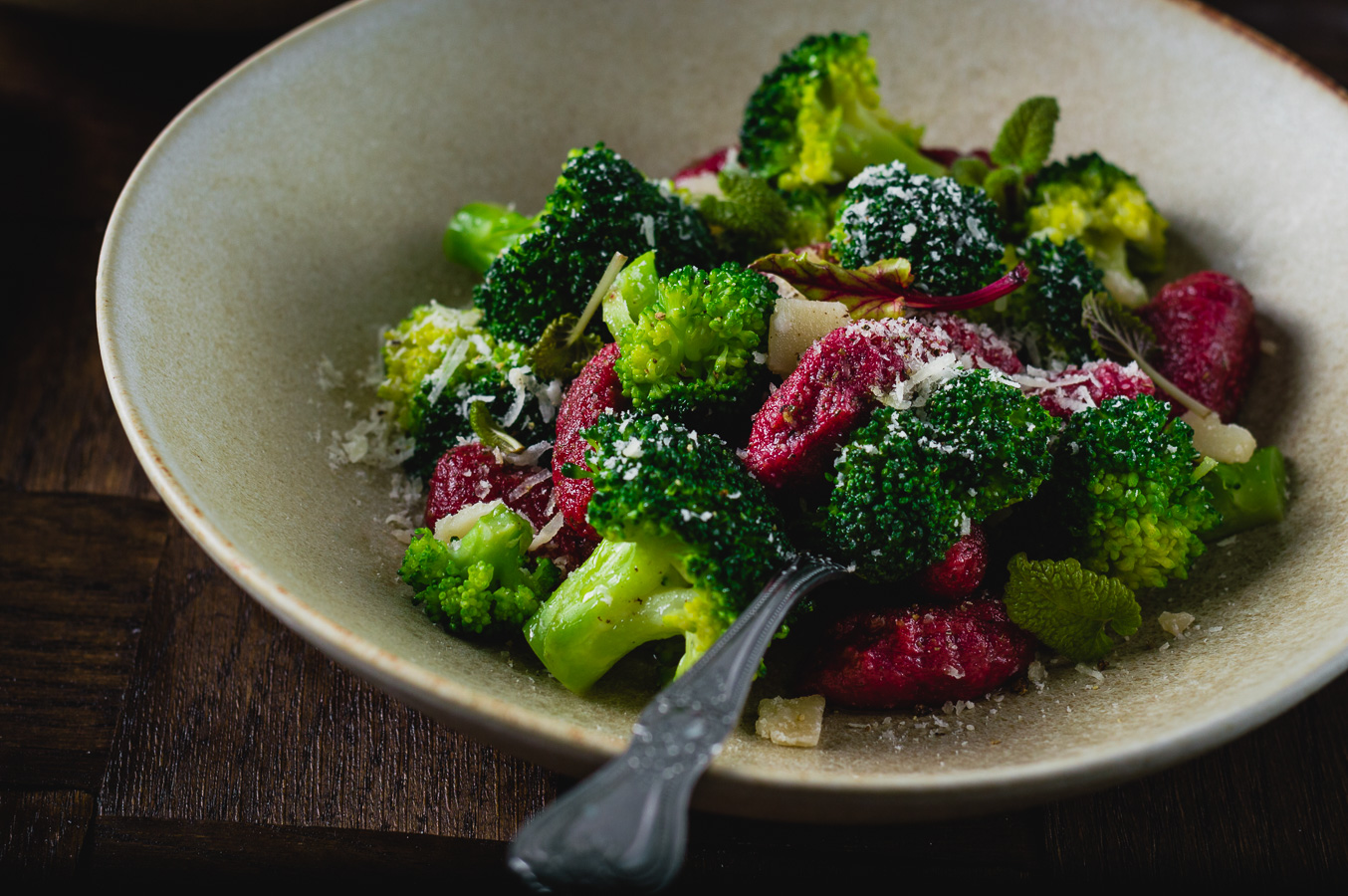 Beetroot Gnocchi with Brown Butter Sauce
Beetroot gnocchi - soft, silky, dark red pillows briefly sauteed in fragrant brown butter, with fresh lemon juice and crispy broccoli - what's not to love here? For me, this meal is complete only when I grate some good Parmigiano Reggiano and add some freshly ground pepper.
Print
Pin
Rate
Ingredients
For making beetroot gnocchi
150

g

beetroot

(roasted, peeled)

150

g

floury potatoes

(roasted, peeled)

1/4

teaspoon

sea salt

1

egg yolk

50

g

cake flour

50

g

all-purpose flour
For making beetroot gnocchi with brown butter sauce and broccoli
30

g

butter

(unsalted)

1/2

teaspoon

Herbes de Provence

120

g

beetroot gnocchi

1/3

broccoli

1/4

teaspoon

garlic powder

pinch of

sea salt

1

teaspoon

lemon juice

some

Parmesan cheese

(grated)
Instructions
Making beetroot gnocchi dough
Preheat the oven to 210°C (410°F). Wash the beets and potatoes well, season with salt and olive oil, prick with a fork, and wrap tightly each piece of vegetable in aluminum foil. Choose potatoes and beetroot similar in size. Roast the vegetables until the knife passes through them easily.

Take the vegetables out of the foil while they are still hot (watch your fingers), let them cool a bit, and peel the skin off. Grate both potatoes and beets on the grater, on the finest side. Then add the egg yolk and salt and mix everything together.

Slowly start adding flour. Don't add everything at once because you maybe won't need the whole amount. Dust the working surface with flour, shape the dough into a ball and divide it into 4 pieces.

Form each piece of dough into a rope that is 1 x 2 cm thick and cut each rope into 2 cm pieces. Transfer them to the prepared baking sheet covered with parchment paper and dusted with some more flour. If you're going to cook them right away, heat the water until it boils, season with salt, and add the gnocchi. Cook until they float to the surface.
Making beetroot gnocchi in brown butter sauce with broccoli
Drain cooked gnocchi from the water. Cut the broccoli into florets and blanch it.

Melt the butter until becomes frothy in the pan. Add Herbes de Provence. When it starts to get a light brown color and its beautiful nutty smell, add the gnocchi, broccoli, salt, and garlic powder. Shake the pan occasionally until everything is done, about 2-3 minutes. Transfer to a plate

Serve with some freshly squeezed lemon juice, grated parmesan, and freshly ground pepper.
Notes
For making the gnocchi preparation of potatoes (and beets in this case) is extremely important! It would be ideal to have a potato ricer, but if you don't have one (like me), you can use a grater. So far I have tried all sorts of methods and this proved to be the best for me. A food processor and immersion blender can turn everything into a very sticky mixture, which means you would need to add a lot more flour. More flour - tougher gnocchi.
The amount of flour can vary. 100 g should be enough, but if your potatoes or beets contain more water, maybe you'll need to add some more flour. If your flour contains more protein, then you'll maybe need to add less flour. In the end, this beetroot gnocchi should be on the softer side in comparison with regular potato gnocchi.
Since I've been living with my husband only, this recipe yields a smaller amount of gnocchi because I don't like to accumulate too much food. You are free to double or triple the ingredients if you are cooking for a bigger family. 🙂
The surface on which you'll be making the gnocchi need to be well floured. For this, you can use some rice flour or all-purpose flour.
The serving of beetroot gnocchi in brown butter with broccoli is predicted to be served to one person.
Nutrition
Calories:
15
kcal
|
Carbohydrates:
2
g
|
Protein:
0.4
g
|
Fat:
1
g
|
Saturated Fat:
0.3
g
|
Polyunsaturated Fat:
0.04
g
|
Monounsaturated Fat:
0.1
g
|
Trans Fat:
0.02
g
|
Cholesterol:
4
mg
|
Sodium:
16
mg
|
Potassium:
32
mg
|
Fiber:
0.3
g
|
Sugar:
0.3
g
|
Vitamin A:
39
IU
|
Vitamin C:
4
mg
|
Calcium:
3
mg
|
Iron:
0.1
mg