Crust made of toasted almonds and cookies, the combination of cream cheese and white chocolate with a layer of blueberry cream make this cheesecake a real summer treat! This no-bake blueberry cheesecake is so easy to prepare and you don't even need to turn your oven for making it!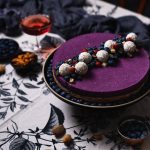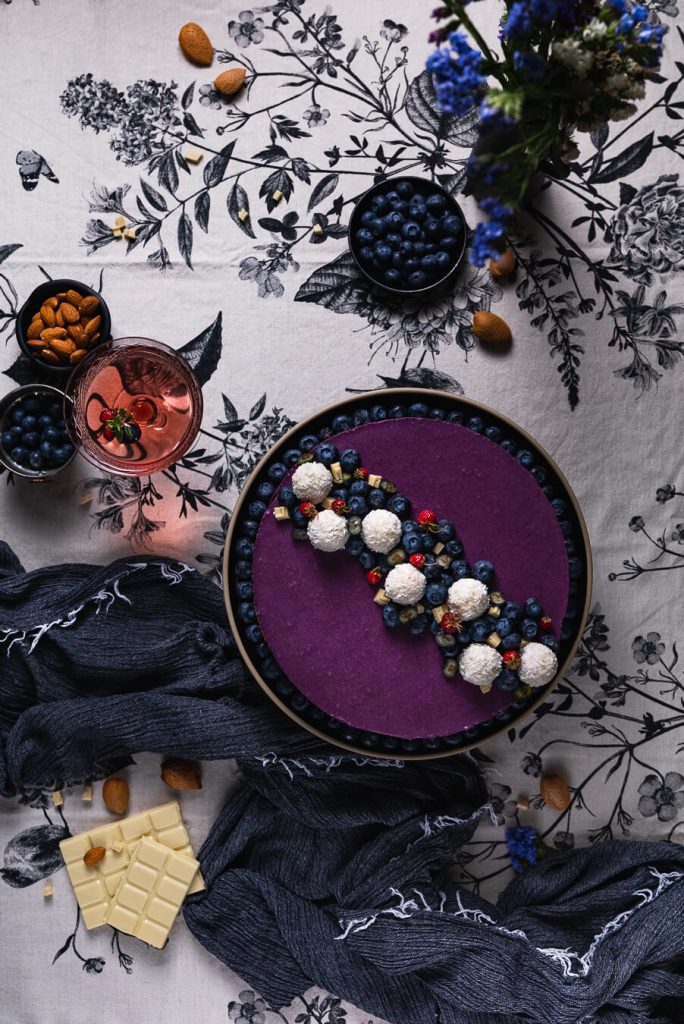 I don't know about you, but when summer temperatures start to increase above 35°C, my brain turns to chew gum (metaphorically speaking).
Goes to standby.
Or sails to the Caribbean to drink rum with Jack Sparrow. Dances hula dance somewhere under the palm trees in Hawaii.
It just refuses to cooperate.
That's why I'm looking for bit more practical and faster solutions for sweet and savory meals that won't leave me standing by my stove full of sweat and misery.
Since the blueberry season has started here, I decided to celebrate it with this no-bake blueberry cheesecake. While it still has been functioning at its full power, my brain came up with a cake in which we'll combine almonds, white chocolate, and blueberries. And I totally fell in love once I took the first bite!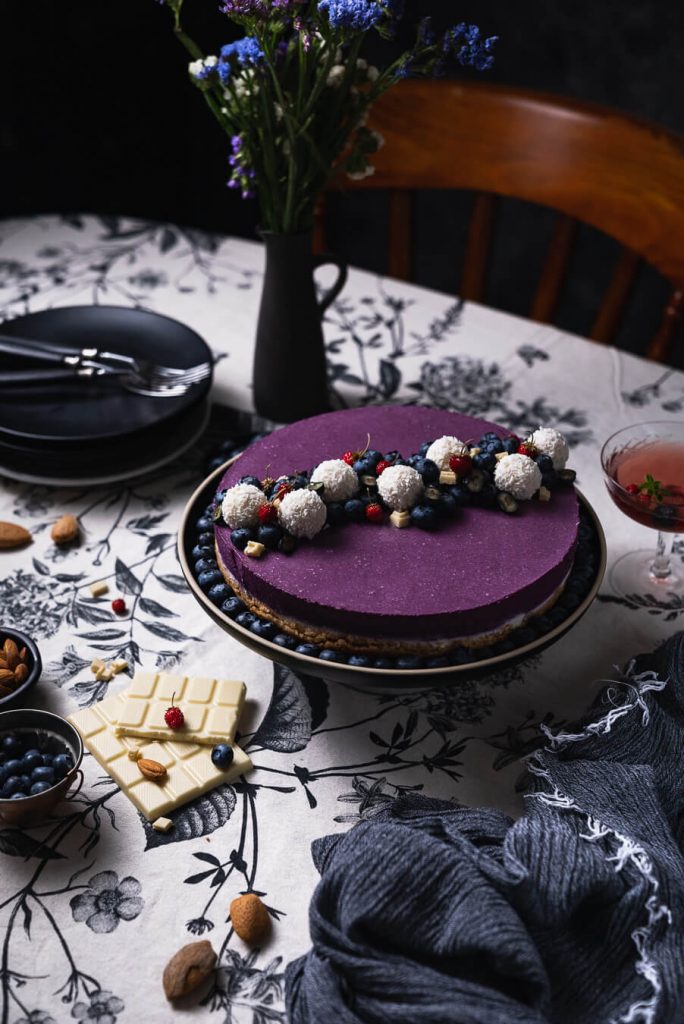 I previously toasted the almonds in a dry pan to get a more pronounced flavor and then added them to the crust together with cookies and butter.
Regarding white filling, I decided to combine cream cheese with sour cream and white chocolate which gave this no-bake cheesecake structure and firmness. Adding cremfix was an additional step that may not be necessary, depending on the type of cream cheese you'll use, but I just wanted to ensure the filling will stay firm enough while being sliced.
Now, I am aware that maybe not all of you can buy this product under the same name in your countries so I researched this topic. This product is just a whipped cream stabilizer. It can be found under different names, depending on the producer, but you should be able to find it at your local supermarket.
The blueberry filling turned out thinner because of the blueberry juice, so I stabilized it with gelatin. I know some people don't like desserts with gelatin in it, but the purple filling really needed something to firm it up so this no-bake blueberry cheesecake can be cut into slices. The texture turned out just right the way I like it so I hope you will like it too!
Instead of gelatin, you could probably use agar-agar, but since I didn't have the opportunity to work with this vegetarian gelatin substitute, I cannot tell you how and in what amount to use, sorry! If you would like me to make the version of this cheesecake with agar-agar, just let me know and I'll do it for you guys!
When we talk about decoration, I wanted something that would look nice and eye-capturing so that any of us can make it. I simply used some fresh blueberries and wild strawberries, Raffaello balls, and tiny pieces of white chocolate and I was really happy with how it turned out!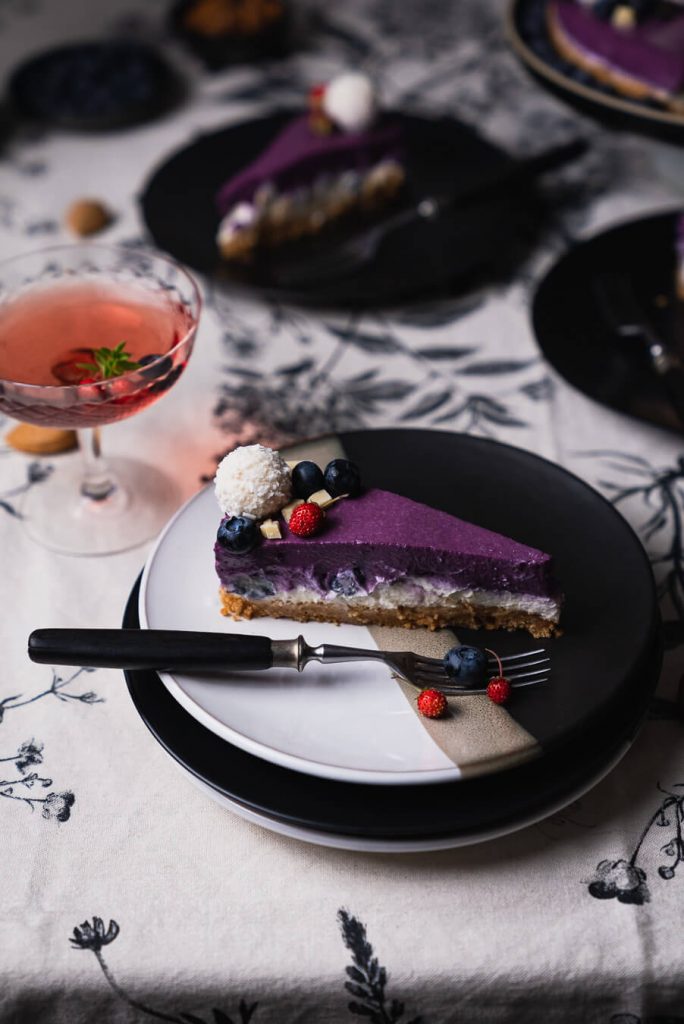 Photographing this blueberry cheesecake at 39°C was not the smartest choice, so I didn't get very neat slices, but hey! It's summer, it was so luscious and creamy and we ate it all!
I definitely recommend that you chill it well and keep it in the fridge until ready to be sliced and served to your guests. Before you start preparing this recipe, read through it carefully, pay special attention to the notes below the recipe and ask me if you have any questions at all!
Are you looking for more summer desserts? Check these recipes:
What's your favorite cheesecake? Do you like using blueberry cakes? Let me know what do you think in the comments under this post or on my Instagram account. If you try this recipe, be sure to send me a photo or tag @foodandmoodblog on social media.
If you prefer video recipes, I suggest you subscribe to my Youtube channel!
Until the next recipe,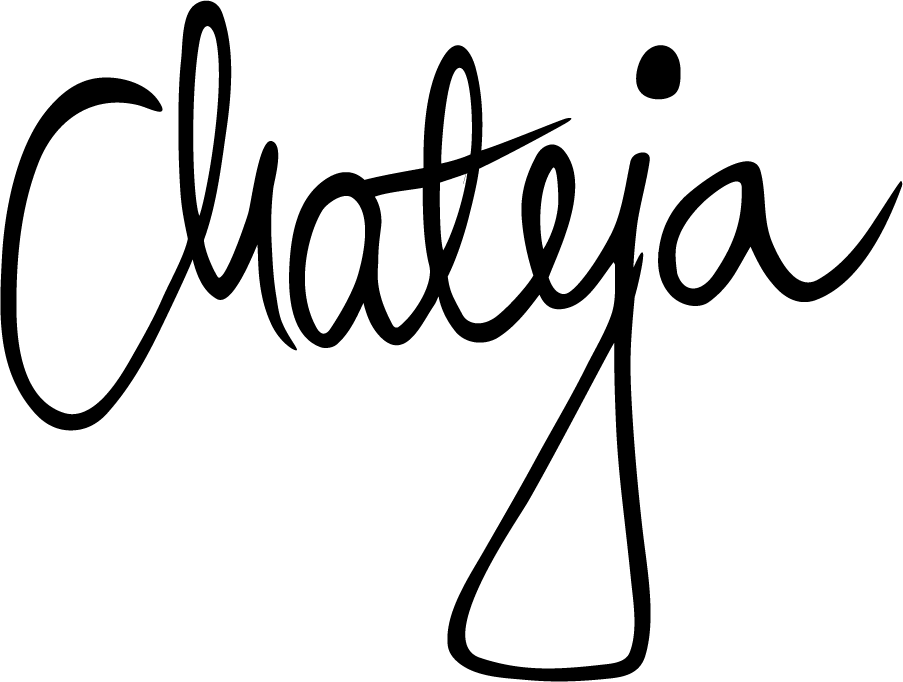 No-Bake Blueberry White Chocolate Cheesecake
Crust made of toasted almonds and cookies, the combination of cream cheese and white chocolate with a layer of blueberry cream make this cheesecake a real summer treat! This no-bake blueberry cheesecake is so easy to prepare and you don't even need to turn your oven for making it!
Print
Pin
Rate
Ingredients
Crust:
180

g

cookies

(Digestive or graham crackers)

70

g

almonds

100

g

unsalted butter

(melted)

1

tablespoon

coconut palm sugar
White filling:
300

g

cream cheese

(room temperature)

180

g

sour cream

125

g

white chocolate

1

teaspoon

vanilla extract

8

g

cremfix
Blueberry filling:
300

g

blueberries

(fresh or frozen)

200

g

cream cheese

(room temperature)

200

g

heavy cream

(chilled)

3

tablespoon

lemon juice

(freshly squeezed)

90

g

powdered sugar

10

g

gelatine powder

few

tablespoons

water
Instructions
For crust:
Line the bottom of your springform with parchment paper. Lightly grease the sides with some butter or cooking spray. You can also use an acetate cake collar on the inside of your pan to make the cheesecake neater.

Use a food processor to ground almonds and cookies. Melt the butter and combine with dry ingredients and coconut palm sugar. Transfer the crust mixture to the pan and press into the bottom.

Refrigerate the crust while you prepare the white filling.
For the white filling:
Gently melt the white chocolate over bain-maire. When the chocolate is melted almost completely, stir well and set aside to cool to room temperature.

In a bowl combine cream cheese, sour cream, and vanilla extract, and then add melted chocolate. Add sifted cremfix, if you're using it. Combine all ingredients and pour over the chilled crust. If you want to, you can add some fresh blueberries over the white filling, but that's not necessary. Put in the fridge to chill while you prepare the blueberry filling.
For the blueberry filling:
In a small saucepan add blueberries, 3 tablespoons of lemon juice, and 3 tablespoons of water. Cook over low heat for 10-15 min until the berries are completely soft and the excess liquid has evaporated. In the meantime, bloom the gelatine with water (following the instructions on the package).

Remove from heat and blend the blueberries with an immersion blender until they become smooth. Let it cool for a few minutes and then add bloomed gelatine and stir well until the gelatine completely dissolves.

Beat the heavy cream until stiff peaks form and mix it with cream cheese and sifted powdered sugar. Then gently fold in the blueberry mixture. Pour over white filling.

Refrigerate for at least 8-10 hours, or overnight. Decorate with fresh blueberries, white chocolate, or whatever you like, slice, and serve.
Notes
This cheesecake is prepared in a 24 cm springform pan.
If you don't have coconut palm sugar, you can replace it with white or demerara sugar.
I definitely suggest toasting the almonds in a dry pan before grinding. It will give the crust an incredible taste!
Compared to baked cheesecake, this no-bake cheesecake is on the softer side so I cannot stress enough how important it is to chill it long enough before cutting and serving. No rushing, please! 🙂
Nutrition
Serving:
1
slice
|
Calories:
511
kcal
|
Carbohydrates:
33
g
|
Protein:
7
g
|
Fat:
40
g
|
Saturated Fat:
22
g
|
Polyunsaturated Fat:
3
g
|
Monounsaturated Fat:
11
g
|
Trans Fat:
0.3
g
|
Cholesterol:
90
mg
|
Sodium:
206
mg
|
Potassium:
203
mg
|
Fiber:
2
g
|
Sugar:
23
g
|
Vitamin A:
1136
IU
|
Vitamin C:
4
mg
|
Calcium:
110
mg
|
Iron:
1
mg