Cold, rich mascarpone cream with warm peaches and plums poached in Marsala wine with the addition of toasted hazelnuts. Just for real hedonists.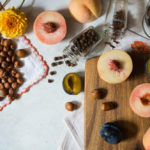 When you want to treat yourself to something totally irresistible and hedonistic, you should make this dessert. To me, this could easily become a treat for those moments in which you are so proud of some of your personal success that you want to pat yourself on the back. For example, you finally passed a terribly difficult exam, you have found a (better) job or you've managed to do 50 sit-ups without a break (for example, for me this would be a success to remember :D).
Usually, most people at moments like these want to reward themselves with something, e.g. shopping, some nice dinner with a favorite person, relaxing going out with friends, or that so long desired little thing that you actually don't need. But, you want it so badly.  My suggestion is, for a change, to reward yourself with a decadent dessert like this.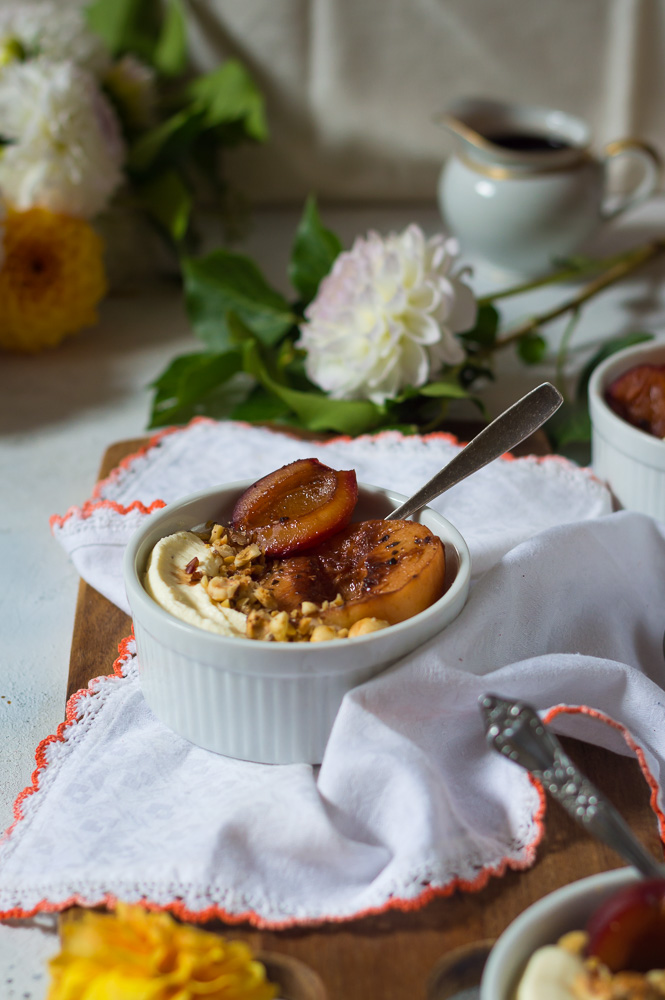 Ok, listen, I'm not going to lie to you. When I first made this recipe there wasn't any special, fancy occasion. It was just me and my food in the fridge with the expiration date that was dangerously coming closer. So I tried to be creative a little bit and it turned out pretty darn good! Sometimes I really think I have the potential to become a food hoarder. 😀
What is Marsala wine?
To be honest with you guys, I know very little about wines. I'm not going to play a wine expert here because I'm not, but since I'm trying to learn something new through every recipe I publish here on the blog,  I did little research about this famous Italian wine. Marsala wine belongs to the so-called fortified wine, it's from Sicily and it is very often used in cooking. It usually contains 17 – 20% of alcohol and can be found in three different colors, depending on the type of grapes from which is produced: gold, amber, and ruby. The most commonly Marsala wine used for cooking is aged between 1 to 2 years.
In addition to the color classification, the Marsala wine also differs by the percentage of sugar that contains and its maturation time. You can use it in preparing marsala chicken or in risottos and it is an important ingredient for the preparation of zabaglione and tiramisu.
If by any chance you can't get Marsala wine, that doesn't mean you cannot prepare these poached peaches and plums. Be resourceful and free to replace it with some other dessert wine of your choice and don't forget to adjust the amount of sugar because the sweetness of Marsala wine can vary. For this recipe, I used this wine and the fruit didn't really need much sugar. I hope you'll like this recipe enough to give it a try. And yes, you'll want to pat yourself on the back when you take the first bite. Trust me.
Have you ever tried Marsala wine before? Do you maybe have some favorite savory recipes with this wine? I'd love to hear your ideas and experiences with this amazing Italian wine so don't forget to leave your thoughts in the comments section, on my Instagram or Facebook.
Poached fruit in marsala wine with mascarpone cream and hazelnuts
Cold, rich mascarpone cream with warm peaches and plums poached in Marsala wine with the addition of toasted hazelnuts. Just for real hedonists.
Print
Pin
Rate
Ingredients
350

ml

marsala wine

250

ml

water

2

tbsp

sugar

(or more, depending on the wine)

200

g

mascarpone

180

g

whipping cream

4

peaches

4

plums

1,5

tbsp

powdered sugar

some

spices

(tonka bean, allspice, cloves, cinnamon..)

80

g

hazelnuts

(toasted)
Instructions
First, make a mascarpone cream. Mix together mascarpone, sifted powdered sugar, and some ground tonka bean. Fold in beaten whipping cream and put it in the fridge.

Put hazelnuts in a large frying pan without adding any oil. Stir frequently and make sure they don't burn. While they're still warm, remove the skins and chop them roughly. Set them aside.

Combine together wine, water, sugar, and spices in a medium-sized pot. Bring to a boil and stir occasionally and then turn down the heat a little bit.

In the meantime, halve the fruit and remove the pits. When the liquid comes to a boil, put the fruit in a pot and cover it with the lid. It is important that the liquid covers the fruit completely and that fruit cooks at a temperature that is slightly under boiling point.

Fruit is done when you can easily pierce it with the fork but it's not falling apart. When the fruit reaches the softness that suits you, remove it and put it aside. Increase the heat a bit and let the liquid reduce until it is thick as syrup.

Now you are ready for serving. First, spread some hazelnuts, then place the fruit on it along with some mascarpone cream. Finish by sprinkling some hazelnuts over the top.
Notes
I didn't peel the skin from peaches and plums because I personally don't mind it, but you can remove it after poaching if you want.
Also, this dessert can be served with cold fruit, just add hazelnuts right before serving (so that they don't get wet in the meantime).
Instead of peaches and plums, you can also use nectarines.
If you're using whole spices (e.g. cinnamon stick or whole cloves), strain the syrup before serving.
Nutrition
Calories:
774
kcal
|
Carbohydrates:
49
g
|
Protein:
10
g
|
Fat:
52
g
|
Saturated Fat:
25
g
|
Polyunsaturated Fat:
2
g
|
Monounsaturated Fat:
13
g
|
Cholesterol:
101
mg
|
Sodium:
70
mg
|
Potassium:
547
mg
|
Fiber:
5
g
|
Sugar:
37
g
|
Vitamin A:
2082
IU
|
Vitamin C:
14
mg
|
Calcium:
142
mg
|
Iron:
2
mg