Rustic in appearance, with distinctive flavor and texture, this rye sourdough bread is different from most of the bread you can find in conventional bakeries. It is reminiscent of the dark rye bread we can find in German and Scandinavian cuisine.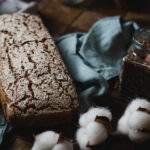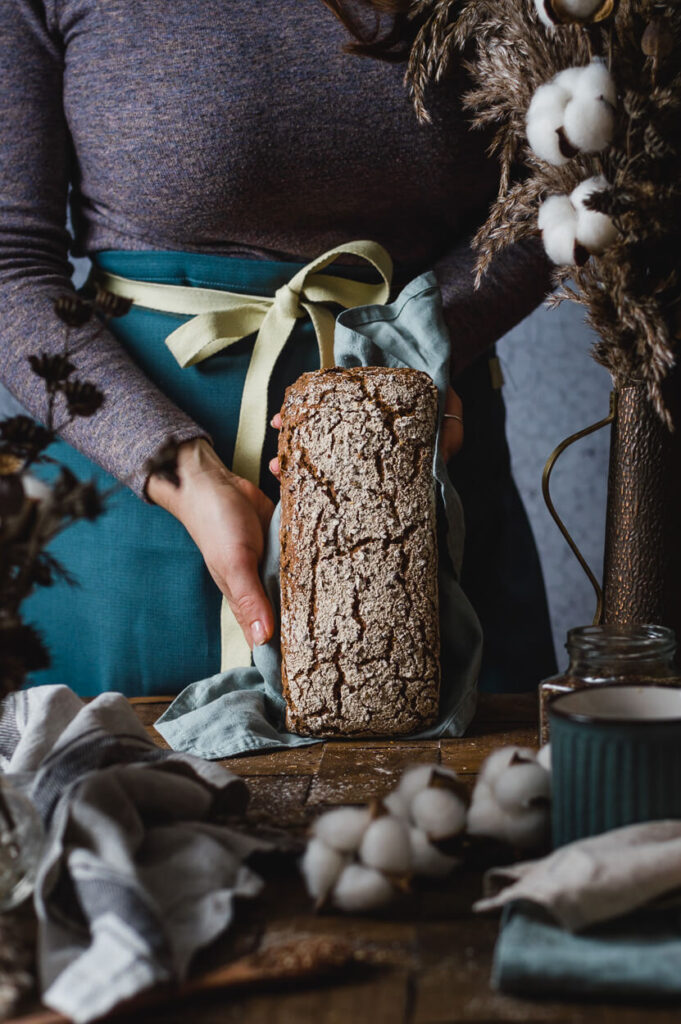 What Do You Need to Know About Rye Flour?
Rye flour is truly unique and different from any type of wheat flour. It's very important to have realistic expectations before you start baking with it. It is made of rye, a plant that in Europe is mostly grown in those areas where other grains are harder to grow due to cold climatic conditions.
Thus, in Europe, it is most often found in Germany, Poland, and the Baltic countries, and it is also grown in some parts of Russia.
Before you buy the first bag of rye flour and bake this rye sourdough bread, you need to be familiar with its main characteristics.
Rye flour contains less gluten which behaves differently than gluten in other flours, but it's not gluten-free. Because of that, this sourdough bread is not suitable for people that are sensitive to gluten or for those with celiac disease.
There is a light, medium, and dark variety of rye flour. The darker the rye flour we use, the less our bread will rise and it will be darker in color and more intense in taste. Also, it will probably need more water in the phase of making the dough. Those differences aren't always stated clearly on flour packages so don't let these things confuse you.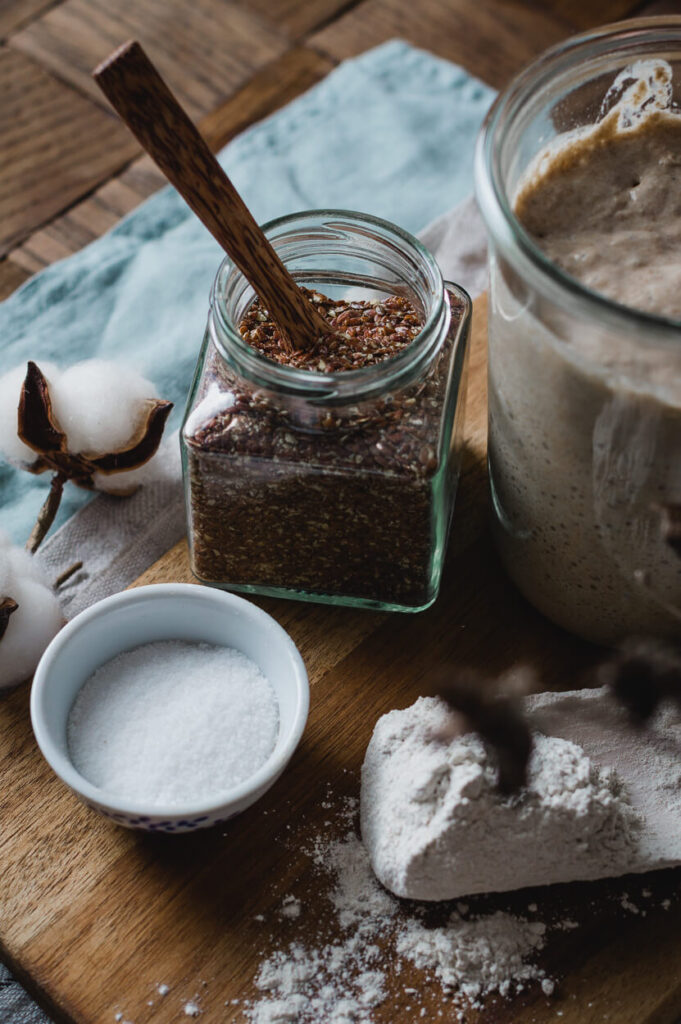 This means that the final product, in this case, bread, is completely different than any other wheat bread we usually eat. Rye has a distinctive, intense taste that takes some time to get used to, and 100% rye sourdough bread has a compact and dense crumb.
You know those beautiful, bold bubbles that you can see in loaves of sourdough wheat bread? Forget about that in this recipe.
However, rye sourdough bread has a few major benefits for your health:
It is very high in fiber, more nutritious, and is a great source of phosphorus and magnesium. That's why it is beneficial for your digestion and it will keep you full for a longer period of time.
Due to the moist interior, it stays fresh for much longer compared to classic white bread made with baker's yeast.
Those are the two main reasons why rye sourdough bread is so good for you. And it's very delicious too!
Rye Sourdough Starter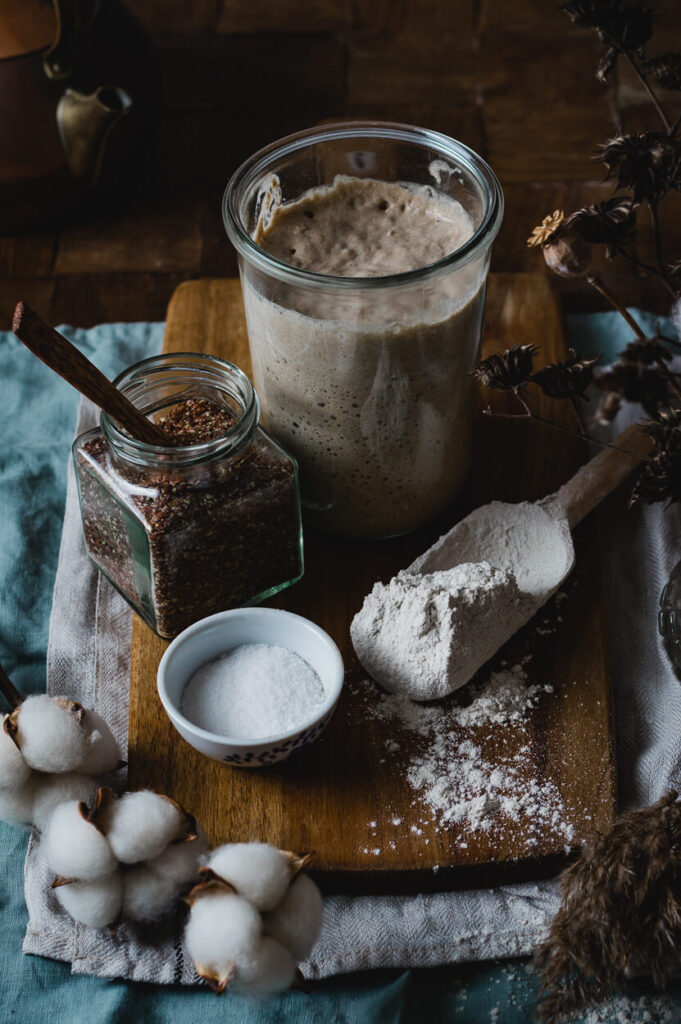 100% rye sourdough bread is very often made with a sourdough starter. If you don't have a starter yet and you want to make it, you can find detailed instructions for making a rye sourdough starter at the Weekend Bakery.
My rye sourdough starter Ražimir is now 10 months old hungry little fella which helped me bake many delicious loaves of bread over the last year. Although I'm enjoying those stretch and folds with regular loaves of sourdough bread, I was always intrigued by the fruity and sour flavor of 100% rye sourdough bread. After many trials and errors and thanks to Emmanuel Hadjiandreou's book "How to Make Bread", I've come up with this recipe that I've been using extensively over the past few months.
In his book, I learned that pouring hot water over rye flour is a desirable step in making rye bread, although he doesn't explain why.
Why Do We Pour Hot Water Over Rye Flour?
The chemistry here is a bit more complex to explain so I won't be very broad in this topic now, but ultimately, this way we get a better contrast of sweetness and sour in our rye bread and the bread stays moist for a longer time. This process is apparently called scalding, and Stanley Ginsberg explains it very well on his blog.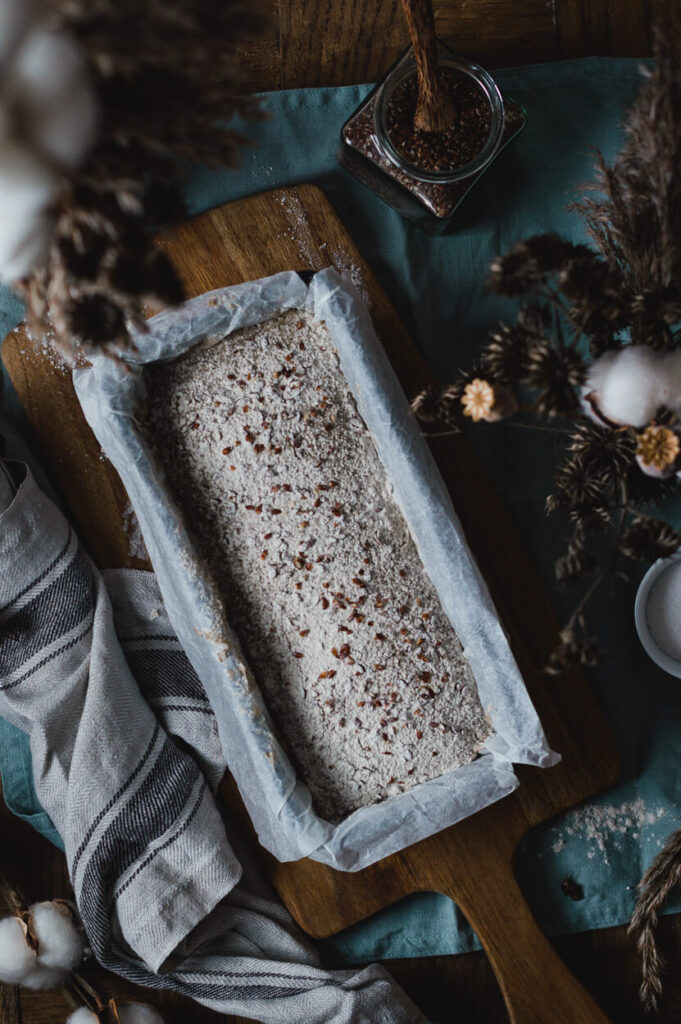 How long do you need to wait before slicing the rye bread?
Like any other bread, this shouldn't be sliced immediately after baking. However, with sourdough rye bread the waiting is even longer: this bread should be left to cure for at least 12-24 hours before slicing for up to 48 hours.
Since it has such a moist interior, slicing it while still warm would affect its crumb and structure. Also, this way we are allowing the bread to further develop its taste.
How long will rye bread last?
At normal room temperature, it should last at least 5-7 days.
Can you freeze the rye sourdough bread?
Yes, of course, you can! Just wrap it tightly in aluminum foil or plastic wrap and it can last you up to 2 months.
Is rye sourdough bread vegan?
Yes, this rye sourdough bread is naturally vegan.
Bread Spice Mixture
Apart from the fact that rye flour is a good addition to any sourdough bread, it also pairs well with different spices and seeds. Spices are one of the ingredients that are not necessary for the preparation of this bread, but they undoubtedly complement and enrich its taste.
Which bread spices to use in this recipe?
Caraway seeds, anise seeds, fennel seeds, coriander, or celery seeds – a mixture of all of these spices can be used for this recipe. I recommend toasting the whole spices before grinding them. They will make such a change to this bread and your whole kitchen will smell divine!
Also, in Scandinavian countries, it isn't uncommon to see rye bread with the addition of a lot of seeds, which is a great idea. Pumpkin and sunflower seeds are kind of classic, but here I most often use flax seeds. I like them because they're a good source of omega-3 fatty acids and they add some extra fiber to this bread!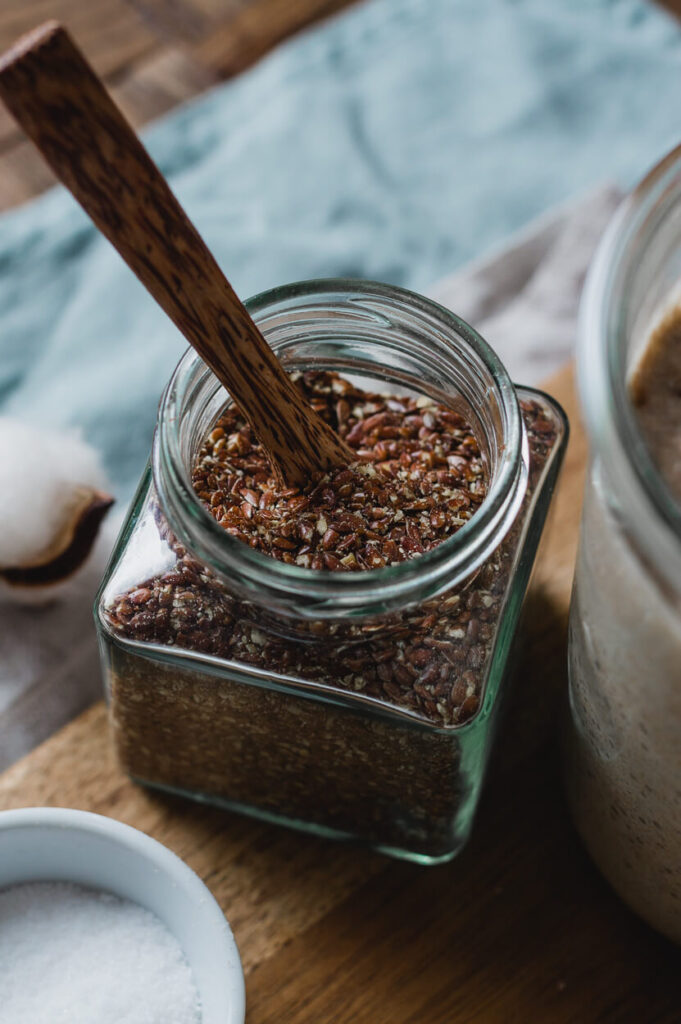 I also added psyllium husks to this bread which are also a source of fiber and generally a phenomenal addition to the diet of all of us who struggle with digestion problems.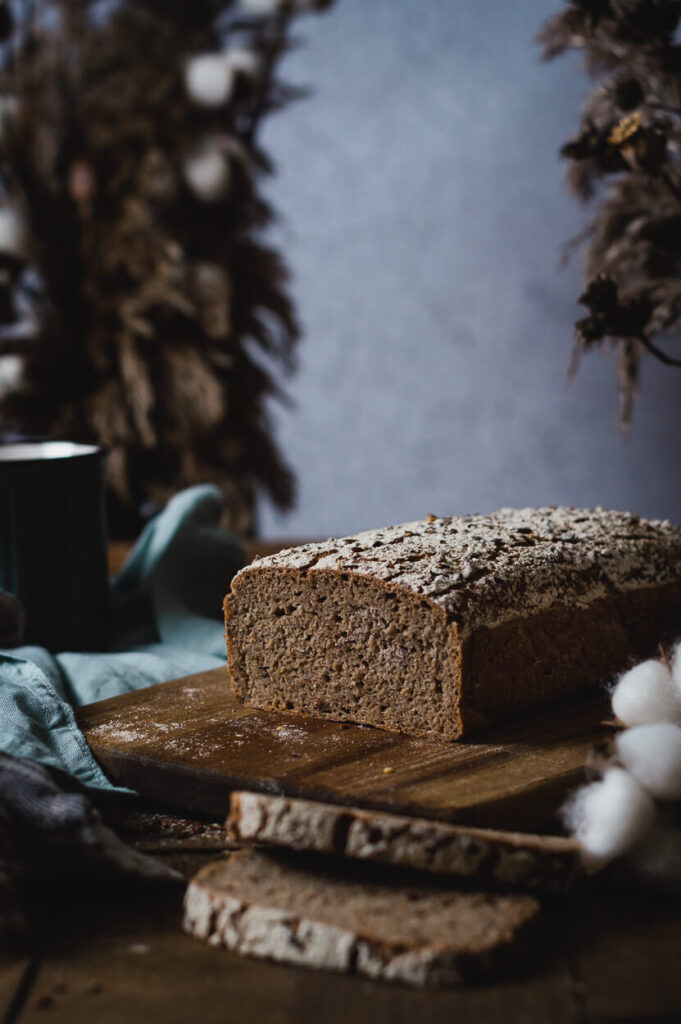 So, my conclusion here is that this rye sourdough bread recipe is definitely something you must try if you're already experimenting with sourdough bread. Your body and your health will be grateful to you and I hope you will enjoy its taste too!
How To Eat Rye Sourdough Bread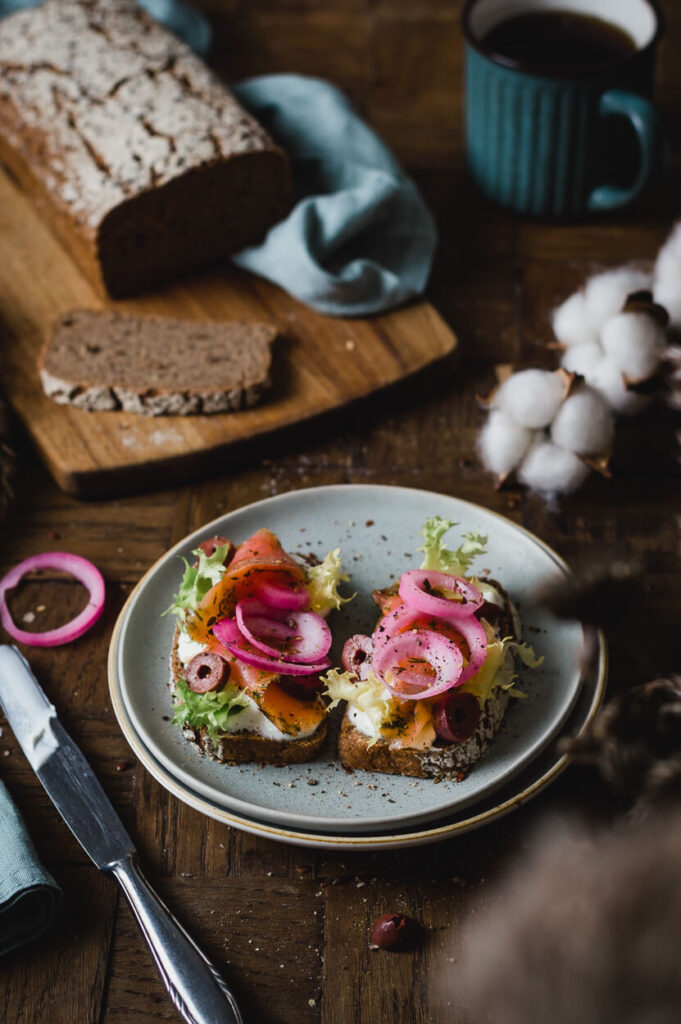 Here's a few ideas on how and what to serve with rye bread:
Open Scandinavian sandwiches (Smørrebrød) – a type of sandwich that is served with only one layer of buttered bread, and may contain various toppings. From smoked salmon slices and herring to boiled eggs, pickled vegetables, various kinds of cheese, and delicious pates. This is definitely my favorite way of eating rye bread!
Rye bread croutons – these are great for using up some stale rye bread and are a wonderful addition to soups and salads.
Sweet toast – butter and raspberry jam, ricotta cheese and honey, or sliced apples and almond butter – the sky is the limit here!
Which type of bread do you like the most? Have you ever tried 100% rye bread? I want to hear all about it! Let me know what you think here in the comments or on my Instagram. For more video recipes, subscribe to my Youtube channel.
Bake with joy,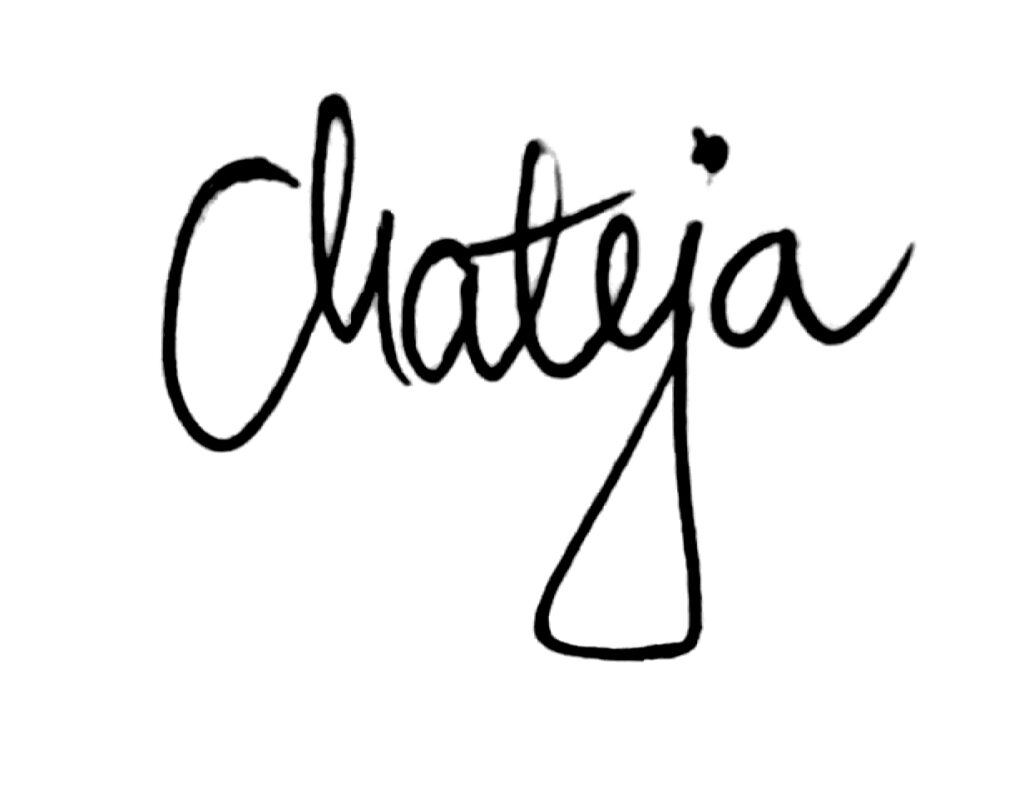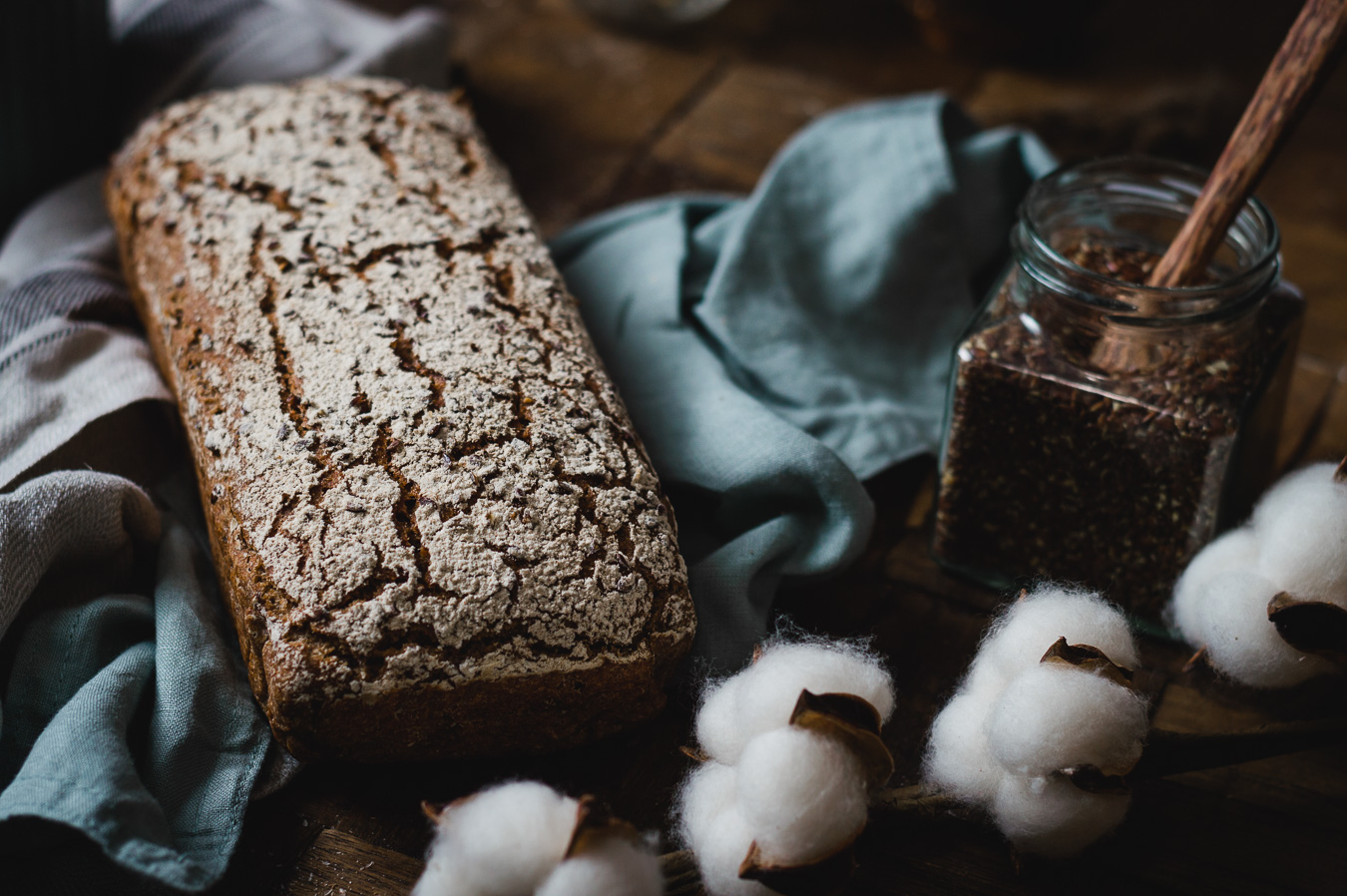 Rye Sourdough Bread Recipe
Rustic in appearance, with distinctive flavor and texture, this rye sourdough bread is different from most of the bread you can find in conventional bakeries. It is reminiscent of the dark rye bread we can find in German and Scandinavian cuisine.
Print
Pin
Rate
Servings:
12
slices (yields 1 bread)
Ingredients
First day
100

g

rye sourdough starter

100

g

water

(room temperature)

100

g

rye flour
Second day
250

g

rye flour

25

g

flaxseeds

(ground)

15

g

pysllium husk powder

8

g

sea salt

300

ml

hot water

5

g

bread spices

(coriander, fennel, caraway, aniseed...)
Instructions
Put the sourdough starter with rye flour and water in a large bowl, mix everything together, cover and leave to ferment overnight at room temperature.

The next morning, line a loaf tin with parchment paper. You will also need a plastic dough scraper and a bowl of cold water.

In another bowl, mix the rest of the rye flour, salt, spices, flax seeds, and psyllium husk. Pour hot water over the dry ingredients and mix with a wooden spoon. Transfer into the first bowl with your poolish and combine both mixtures. It will be quite sticky and messy but don't let that discourage you. Add some more water if needed.

Transfer the dough to a loaf tin. I help myself with a dough scraper which I dip in the water as needed. Smooth the surface of the dough, make sure there are no gaps inside and sprinkle with rye flour. This way we will get a nice pattern after baking.

Cover the bread tin with a wet kitchen towel or plastic bag and leave it at room temperature for 3-4 hours. The bread should rise slightly (it will not double in size) and small cracks should appear on the surface of the dough.

Preheat the oven to 240 °C. Place an old baking tray on the bottom of the oven and prepare a cup of water. Pour it into that pan at the bottom (watch out, steam will form), reduce the temperature to 220 °C and bake the bread for about 45 - 50 minutes, or until it gets a nice brown color and is fully baked.

After it's done, carefully take it out of the tin (watch out, it's very hot) and put it on the cooling rack to cool completely. Wait before slicing for at least 12-24 hours.
Notes
Feed your sourdough starter at least 2 times before making this bread to be sure it is strong enough.
The temperature of the hot water I use is around 60°C (140°F).
Dimensions of my loaf tin: 26 cm x 6 cm x 12 cm
Depending on the type of rye flour you use, it may be necessary to add more water. You can add some more but the dough should not become liquid.
If your bread has sunken in the middle after you took it from the oven and it started cooling down, that most likely means that it's not baked enough. Every oven is different so try baking it another 10 minutes or so next time.
Nutrition
Serving:
1
slice
|
Calories:
122
kcal
|
Carbohydrates:
24
g
|
Protein:
4
g
|
Fat:
1
g
|
Saturated Fat:
0.1
g
|
Polyunsaturated Fat:
1
g
|
Monounsaturated Fat:
0.2
g
|
Sodium:
262
mg
|
Potassium:
133
mg
|
Fiber:
4
g
|
Sugar:
0.4
g
|
Vitamin A:
1
IU
|
Vitamin C:
0.1
mg
|
Calcium:
18
mg
|
Iron:
1
mg