This whole wheat pasta arrabbiata is done in just 30 min, uses broadly available ingredients and it's so easy to make!
This whole-wheat pasta in arrabbiata sauce (hot tomato and garlic sauce) can be done in just 30 minutes, uses broadly available ingredients that you can always have ready in your pantry, and is really easy to prepare. It's also a great lunch idea for work!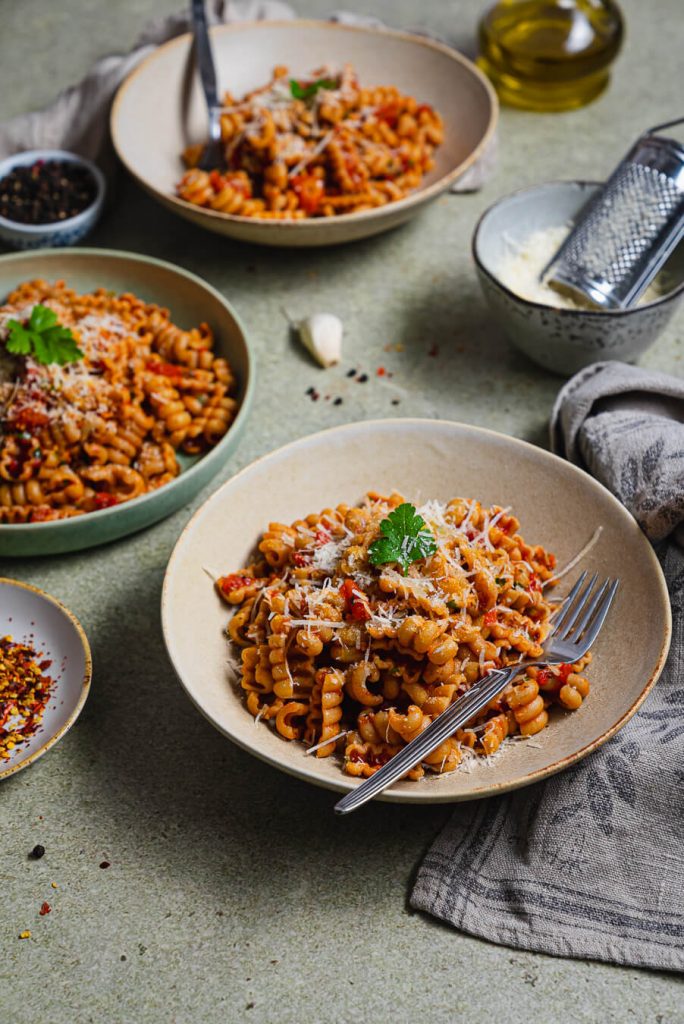 While growing up, pasta played almost no part in my life. Shocking, I know.
The pasta wasn't an ingredient that we ate often at home, and even when it was served on the table, the experience of eating it was anything but something I wanted to repeat again.
It was just…boring.
It's precisely these memories from my childhood and early youth that I blame for my indifference toward many pasta dishes throughout my adult life.
However, one cookbook from Antonio Carluccio started to change my perception of preparing pasta dishes, so I became acquainted with recipes that have found their way to my belly (and my heart).
Whole wheat pasta arrabbiata is just one such recipe.
What is Arrabbiata Sauce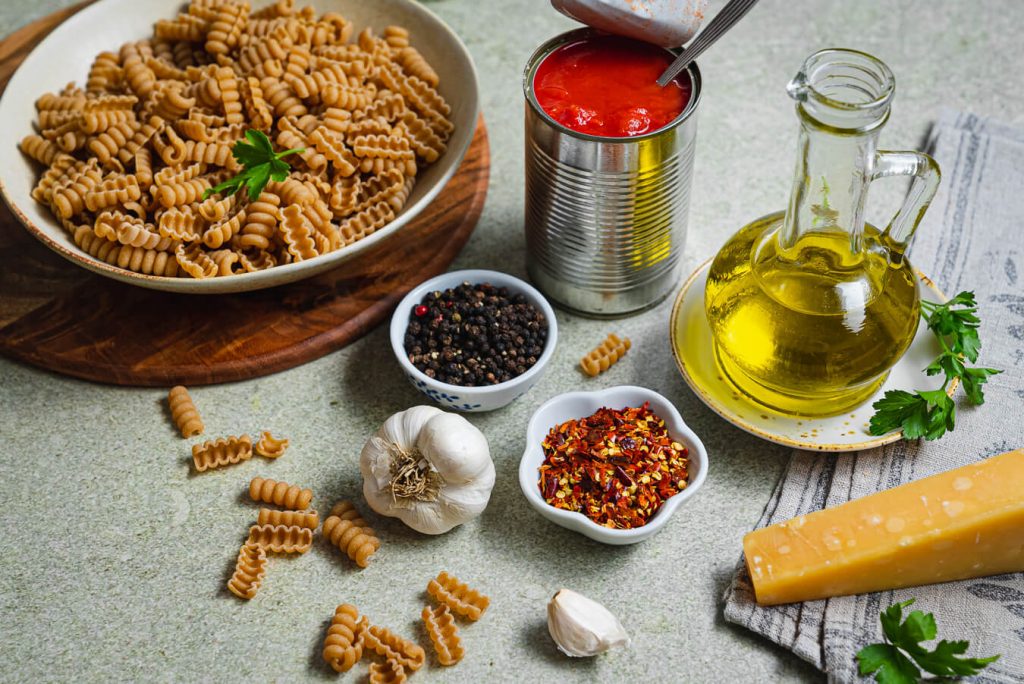 I actually came across this sauce while working on a completely different recipe (pizza), and its simplicity delighted me at first. It soon became a dish for which I would always have the ingredients ready in my pantry because I can make it all year round, make a bit more, and then have a dish for the next day because it's really affordable.
Arrabbiata sauce is a sauce based on olive oil, tomatoes, and garlic spiced with hot peppers that originates from the Italian region of Lazio in central Italy. Even the very meaning of the word "arrabbiata" literally translated from Italian means "angry".
If you're one of those people who don't like to eat food with a bit of hot taste to it, I suggest you give this recipe a go because it may surprise you!
How "angry" your pasta will be, depend solely on your preferences and the intensity of chili peppers you'll use. Also, this can depend on the producer of the chilies itself: sometimes 1/2 a teaspoon of chili flakes can knock me on the floor, other times I'll need the whole teaspoon to feel any spiciness at all.
Fresh parsley is a common addition to this sauce, so I also like to use it. Try to add some dried basil and oregano (although these two herbs are not part of the traditional recipe).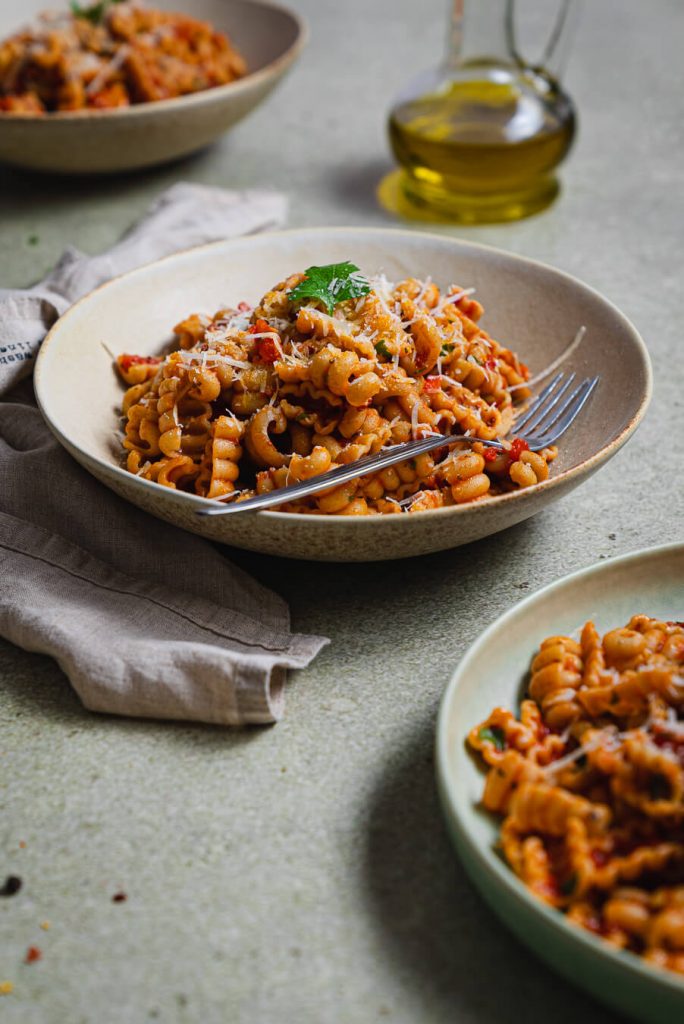 Whole-wheat vs. Regular Pasta
One of the reasons for me not perceiving any form of pasta as something exciting (except homemade soup noodles) is that we simply had the habit of buying bad, cheap pasta.
With these and similar dishes that consist of only a few basic ingredients, it is difficult to disguise low-quality ingredients, and this is usually the rule for other simple recipes too, I tried this recipe with the cheapest ingredients I could find in the store and with the highest quality ones following the same recipe and the difference was more than obvious.
Higher quality pasta had a better overall taste, the sauce coated the pasta better, and with really good canned tomatoes I had no problems seasoning and balancing the flavor of the sauce. In all this testing of different kinds of pasta, I actually realized that whole wheat pasta worked great in this recipe.
Whole grain pasta, besides a different taste, has higher fiber content, meaning it will keep us full longer time. Besides that, it has a higher proportion of minerals and a slightly lower glycemic index.
Therefore, I suggest that, if you haven't by now, you give the whole wheat pasta a chance. It might surprise you!
How to Cook Pasta Properly
I cannot end this blog post without saying a few words about cooking pasta properly, because I see that so many people still make some big mistakes.
So, how to cook pasta like a pro?
Whatever type of pasta you cook, remember that it always must go into boiling, well-salted water.
WITHOUT ADDING ANY OIL.
The oil has nothing to do with the pot in which you'll be cooking pasta, otherwise, the beautiful sauce you just prepared will probably…slip off.
The water in which you'll be cooking pasta has to be seasoned with salt properly. For every 100 g of pasta, you'll need about 10 g of salt. Also, the pasta needs to be cooked in a big pot with lots of water and it needs to be stirred occasionally during the cooking. Otherwise, it may stick together.
And don't you dare to accidentally screw up the pasta in the last step and that's overcooking the pasta. It's best to cook the pasta until al dente, and before you strain it, save some of that starchy water; you could use it to finish your sauce, if necessary.
Now, enough talking, and let's cook our pasta arrabbiata!
Are you looking for more lunch ideas? Here are some of my favorites:
What is your favorite quick pasta sauce? Let me know in the comments as I'm always looking for new recipe ideas to try out! If you make this or any other recipe from my blog, be sure to send me a photo of your dish on Instagram or tag @foodandmoodblog on social media.
If you prefer learning how to cook from video recipes, you should definitely check out my Youtube channel.
Cook with love,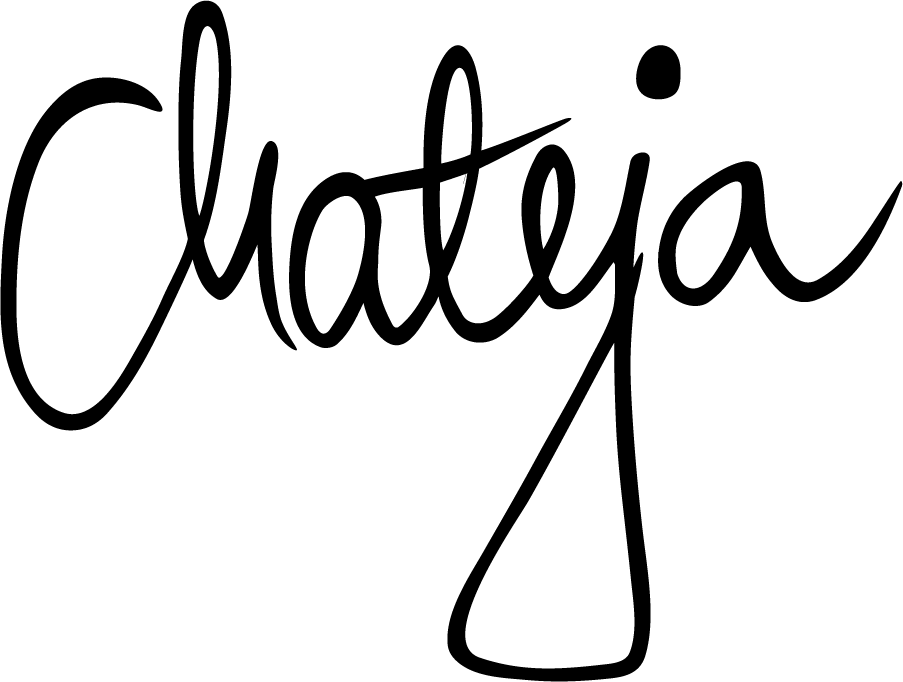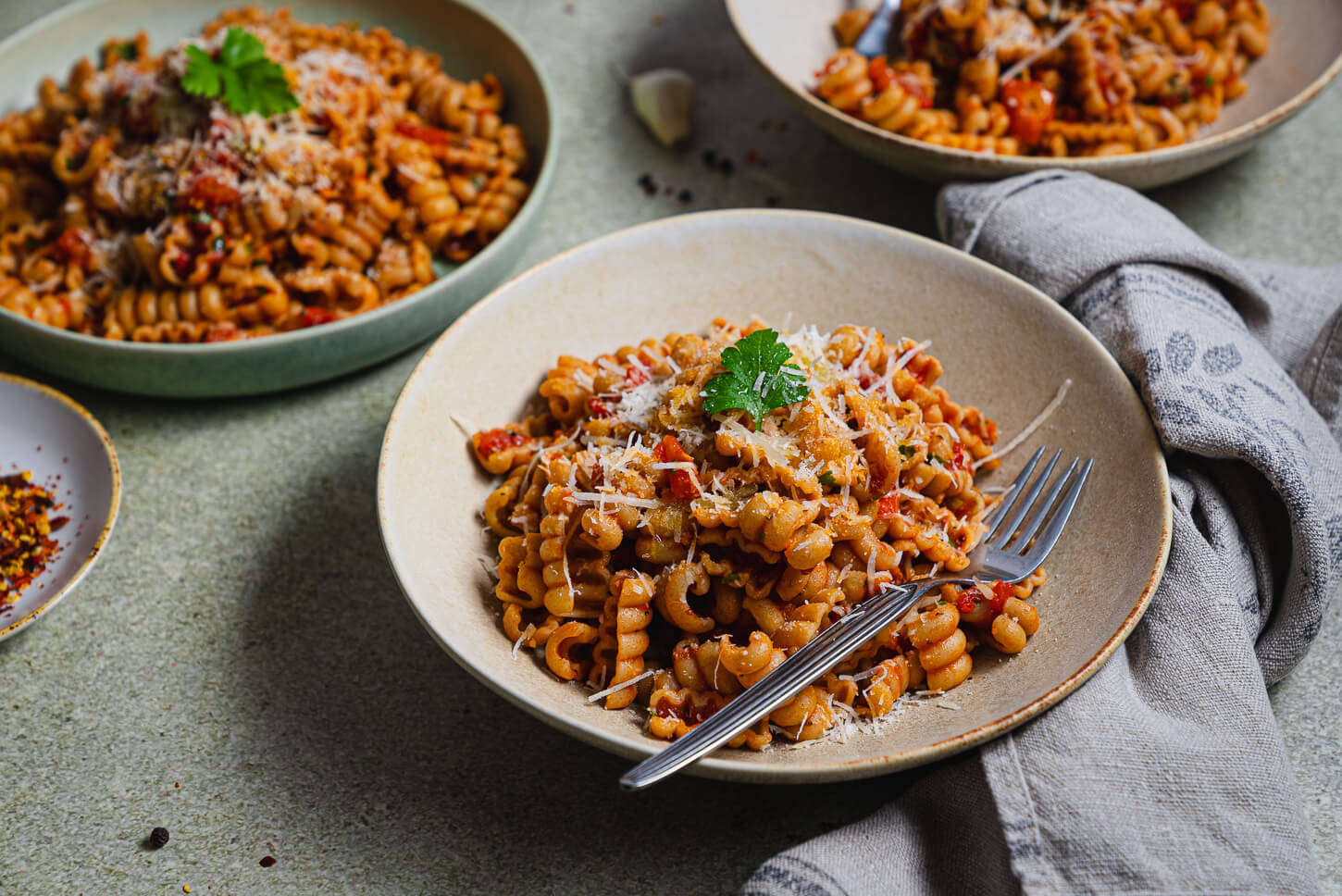 Whole Wheat Pasta Arrabbiata Recipe
This whole wheat pasta arrabbiata is done in just 30 min, uses broadly available ingredients and it's so easy to make!
Print
Pin
Rate
Ingredients
400

g

whole wheat pasta

(penne, rigatoni, torre di pisa...)

4

tablespoons

extra virgin olive oil

2-3

garlic cloves

1/2

teaspoon

chili flakes

(you can put more or less, depending how hot your peppers are)

handful of

flat leaf parsley

(stems + leaves)

800

g

chopped tomatoes

1/2

teaspoon

oregano

(dried)

3/4

teaspoon

basil

dried)

sea salt

(to taste)

ground black pepper

(to taste)

60

g

hard cheese

(pecorino romano, parmesan, grana padano...)

brown sugar

(optional, only if tomatoes need a bit more sweetness)
Instructions
In a large pot, add the water for cooking the pasta, and let it boil. In the meantime, start preparing the sauce.

In a wide, deep pan heat the olive oil. Add minced garlic, chili flakes, and diced parsley stems (save the leaves for later). Cook on medium-high heat for 1-2 minutes.

Add tomatoes, oregano, basil, black pepper, and salt. Stir everything and let the sauce cooks over medium-high heat until thickens a bit.

In the meantime, the water for cooking the pasta started to boil, so add salt and pasta to the pot and cook until it becomes al dente. Strain it, but save a few tablespoons of pasta water (you may need it to finish the sauce).

When the sauce is done, remove the pan from the heat, add freshly chopped parsley leaves and cooked pasta and stir everything together. If the sauce has been reduced a bit too much, add some of the reserved pasta water to it. Try it and season with some salt and pepper if necessary.

Transfer the pasta to plates, and serve with some freshly grated hard cheese on top and a small drizzle of olive oil.