Kontakt
S vašim pitanjima, prijedlozima i komentarima slobodno mi se javite na: [email protected] ili putem dolje navedene kontakt forme.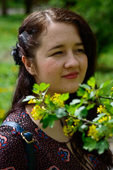 A tko se to krije iza ovog bloga?
Zaljubljenica u hranu, amaterka u kuhinji i fotografiji te profesionalka u uživanju. Ovdje sam kako bih s vama podijelila svoju ljubav i strast prema onome što nas uvijek spaja, a to je hrana. Dobro došli!