Crunchy almond flakes, juicy apples, refreshing lemon, pumpkin pie spices, and a crispy, buttery crumble top sound nice, right? But stop, there's more! This warm apple crumble is paired with silky butter and cardamom sauce - an irresistible addition to complement this modest, rustic dessert.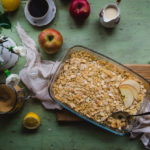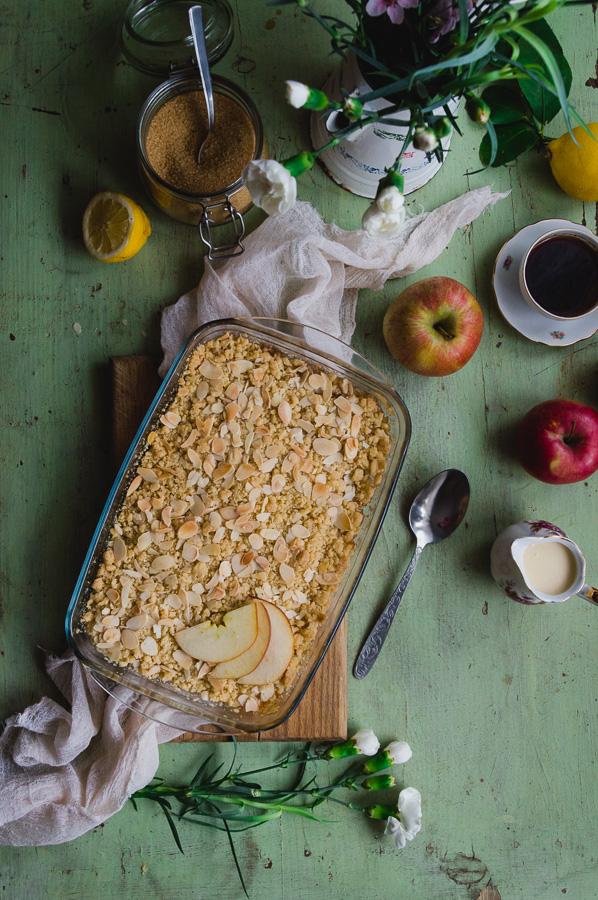 Lately, I'm totally into simple, rustic desserts, and apple crumble fits perfectly into that category: simple, rustic fruit dessert that is baked in the oven. Besides apples, crumble filling usually consists of peaches, berries, apricots, plums, pears, and if you're lucky, rhubarb.
This apple crumble was the first thing I baked just after the earthquake that happened in late March in Zagreb this year. Because of all things that have been happening lately, I have somewhat felt that I no longer have control over my life.
It's a bit scary.
And then we got home to Slavonia. Whenever I go to Slavonia, I say that I go home and when I get back to Zagreb, I say the same.
Can a person have two homes?
For me, the home is where the people you love are and with whom you can share your meal, so I know I can. Guess I'm one lucky girl.
My mom and sis' helped me pull out that old, mint green table that was waiting for someone to bring it back to life after such a long time, so I set it up for a photo shoot.
I went to the pantry to see what do we have available from the ingredients: there were apples, almond flakes, and raisins. Some cane sugar on the kitchen counter, butter in the fridge (always), and some fresh lemon.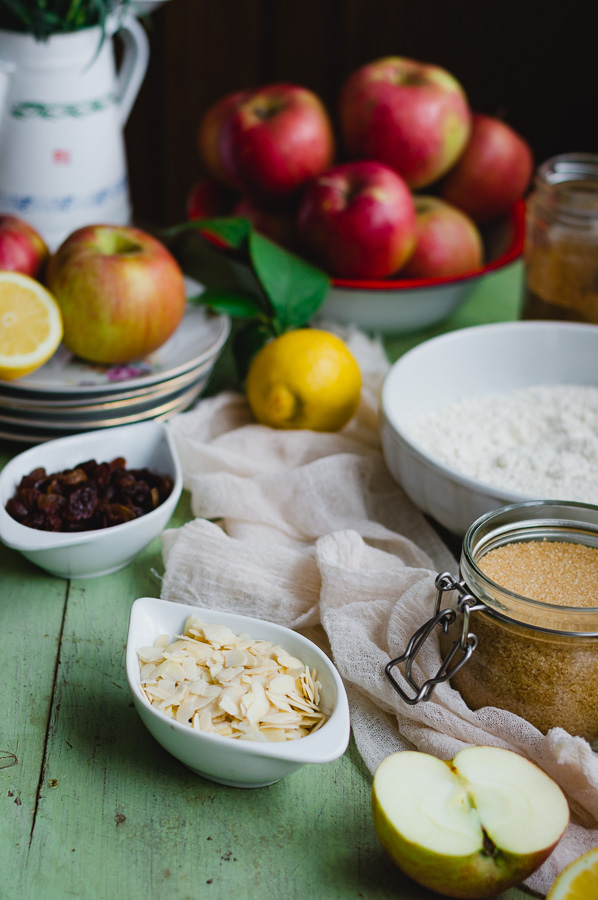 And that's how this beautiful apple crumble came to life. All of a sudden, everything made sense again.
The difference between a cobbler, crumble, and crisp
I wanted to post this recipe before Easter, but the days went by so fast and somehow it didn't make sense for me to publish it a few days before Easter when everyone was in the mood for more sophisticated desserts.
If you think about it closely, it's actually not that easy to determine what a crumble is at all: a cake, sweet breakfast, or some weird type of pie?
Crumble, like the cobbler, uses reverse logic in comparison to fruit tarts: fruit is the base of desserts and pastry goes on the top.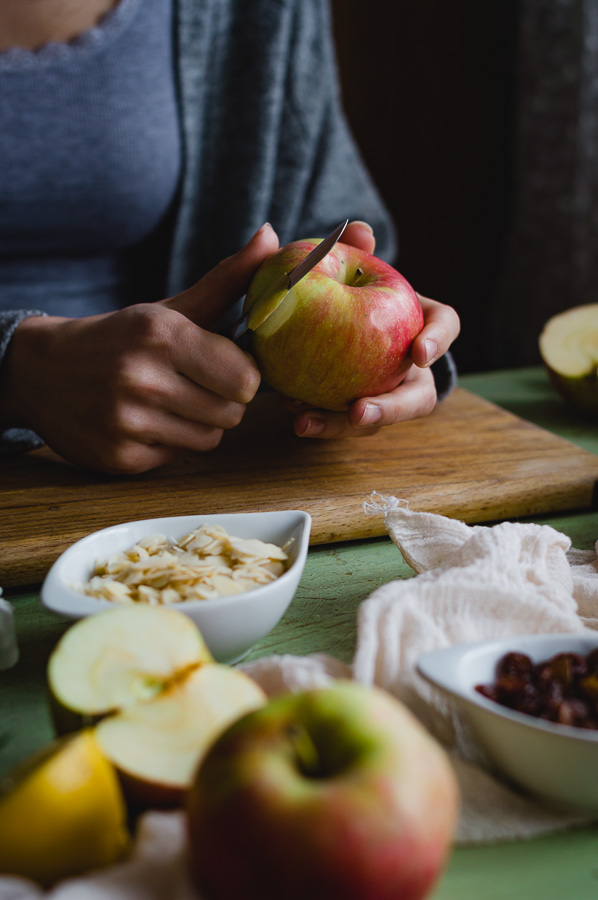 But, since I'm a total food geek, I wondered what is the real difference between a crumble, cobbler, and crisp? As usual, as is the case with food and recipes, those differences are often blurred, and this is one of the controversial discussions. Just like the one about the origin of hummus.
Do you know what cobblestone looks like?
Apparently, the cobbler got its name because the pieces of pie dough are arranged just like that. You know, like the streets of Upper Town in Zagreb (if you've ever been). That mixture that forms the top of this dessert is often slightly moist and not as crunchy as the crumble or crisp but the fruit filling is pretty much the same as the filling for other deep-dish baked fruit desserts.
When it comes to crisp, the top layer has to be very crunchy compared to a cobbler and crumble. That crispness is usually achieved with nuts, oatmeal, or even granola!
Crumble seems like the most straightforward option here: a simple mix of flour, butter, and sugar is everything you need for a delicious, crumbly pastry. OK, I've added some almond flakes also.
I mean, who could possibly resist them when they become so golden and crunchy!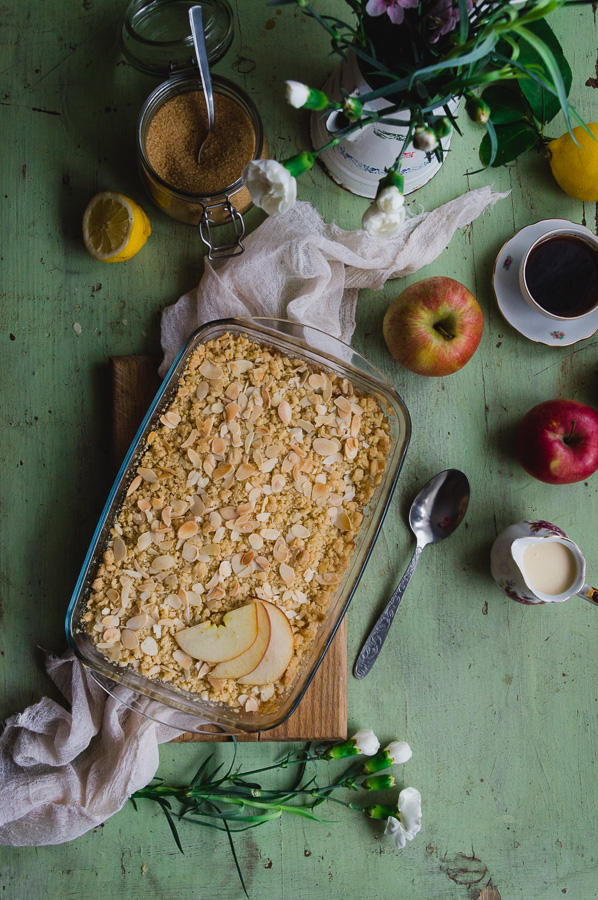 Do you think this is complicated? Well, the terminology conundrum is just at its beginning! There are also recipes for the slump, grunt, sonker, buckle, betty … and probably something else I missed mentioning.
As far as I'm concerned, as long as it is tasty and prepared with quality ingredients, it will be enough for me to dip a spoon into that warm, fruity, buttery mess and simply enjoy myself.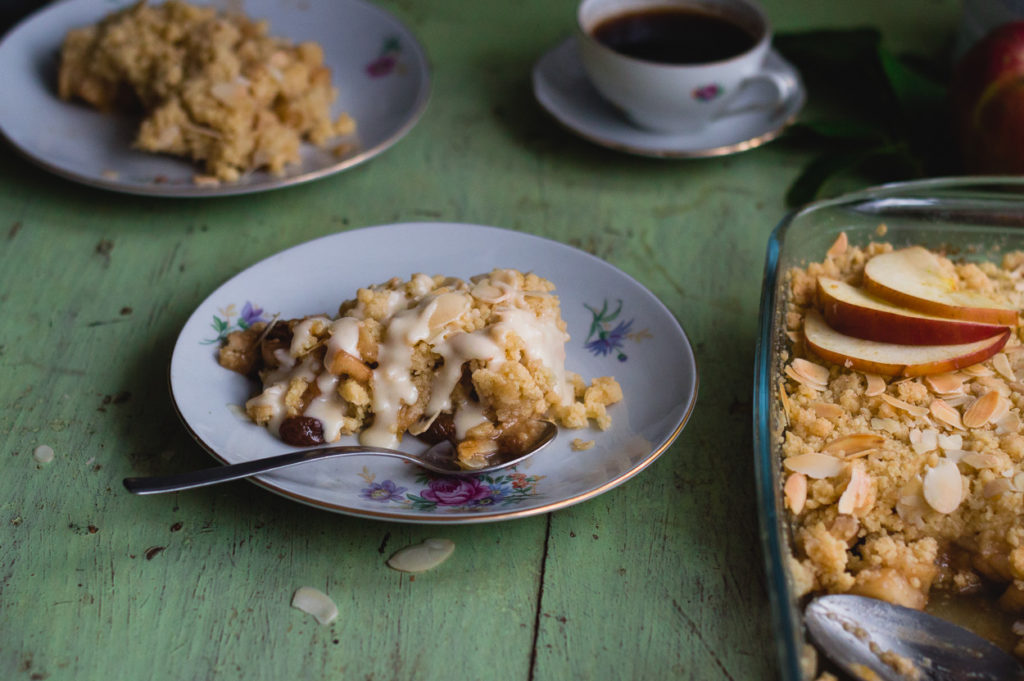 Why do we love these modest, rustic desserts
These baked fruit desserts are great because:
They are excellent for using up the seasonal fruit
You can easily control thy type and amount of sugar you'll use
They are prepared quickly
Great for sharing with your loved ones
You don't need to be a pastry chef to get excellent results
Very adaptable to the ingredients that you have at home
What to serve with apple crumble
I like my apple crumble with a scoop of vanilla ice cream but guess what: that is impossible to buy those days I've spent in the countryside in at my parent's house. Because, you know – quarantine, pandemics, isolation, and aaaalllll other magical words.
BUT.
I had some heavy cream in the fridge so I made simple cardamom butter sauce for which I found inspiration on The Kitchn website.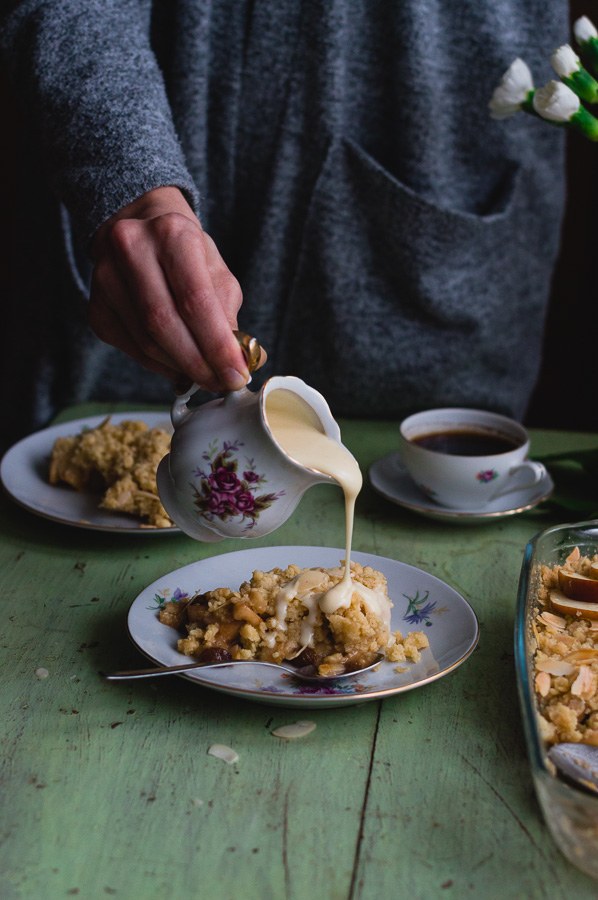 I changed the sugar and butter ratios in the sauce because I wanted it a bit lighter and less sweet than the original. But it's still silky, sweet, and yummy and it gives this crumble a whole new dimension!
If you want it on the healthier side, you could also serve it with a scoop of Greek yogurt.

So, tell me! Do you like to bake crumble, cobbler, or crisp? What is your favorite fruit for this kind of dessert? Do you have any ideas for recipes you want to see here on the blog? Please, do tell!
If you try this recipe, don't forget to tag me @foodandmoodblog on Instagram or Facebook or send me some photos. I enjoy seeing your creations so much!
For some more inspiration, you can find me on Pinterest too!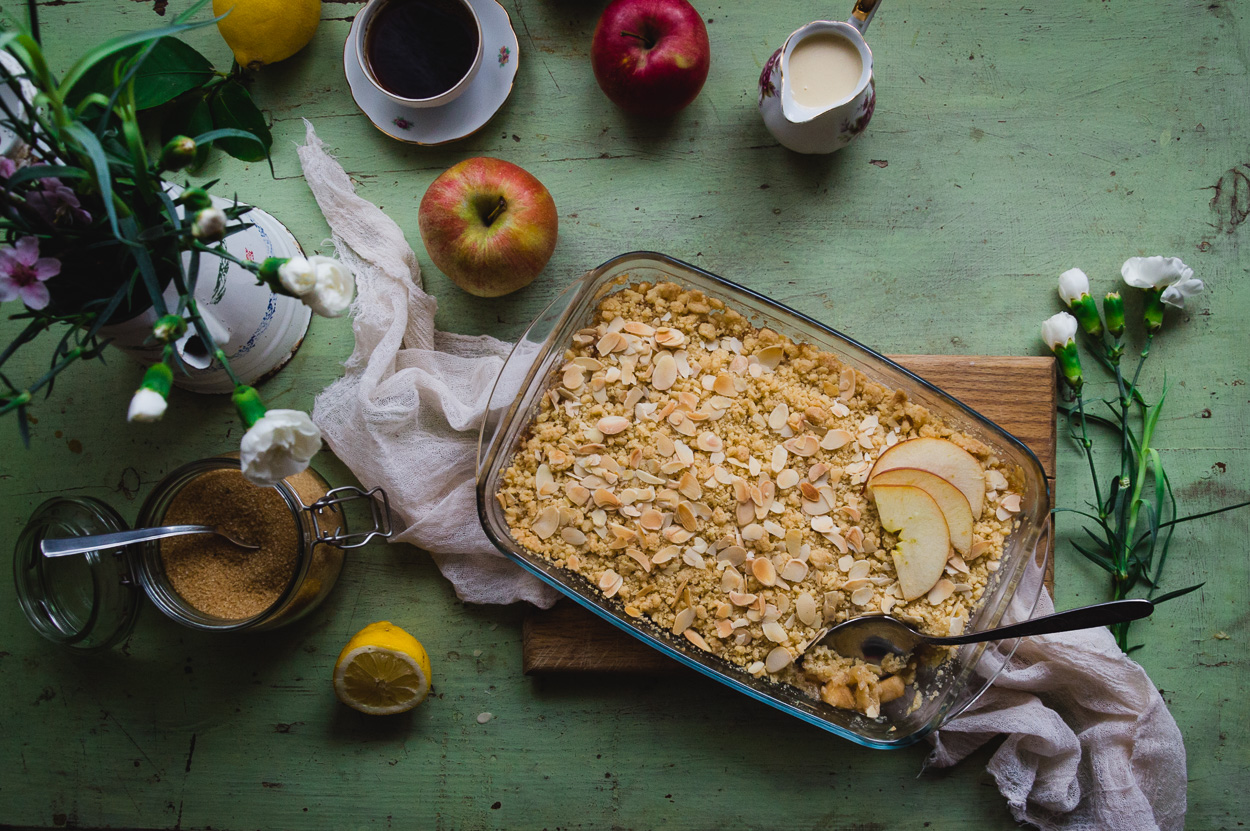 Apple Crumble With Cardamom Sauce
Crunchy almond flakes, juicy apples, refreshing lemon, pumpkin pie spices, and a crispy, buttery crumble top sound nice, right? But stop, there's more! This warm apple crumble is paired with silky butter and cardamom sauce - an irresistible addition to complement this modest, rustic dessert.
Print
Pin
Rate
Ingredients
For the filling
5

apples

(around 800 g)

30

g

raisins

40

g

cane sugar

juice

of one lemon

1/2

teaspoon

pumpkin pie spice mixture
For the crumble
240

g

plain flour

170

g

cold unsalted butter

70

g

cane sugar

30

g

almond flakes

good

pinch of salt
For the sauce
100

ml

heavy cream

30

g

cane sugar

40

g

cold unsalted butter

1/3

teaspoon

ground cardamom
Instructions
Preheat the oven to 180°C (356°F). Coat the baking dish with some butter and set aside. Wash and peel the apples and dice them into bite-sized pieces. Add lemon juice, raisins, sugar, and spices, and toss everything together. Transfer the fruit filling to the baking dish.

Place the flour, sugar, salt, and cold butter diced into cubes together in a large bowl. Rub everything together until the mixture resembles heavy, moist crumbs. You can do this step in the food processor also.

Sprinkle the crumble mixture evenly on the apple filling, and then top with almond flakes. Bake in the oven for 35 minutes or until it becomes golden. Last few minutes you can turn on the fan to get a crispier crumble.

Warm the heavy cream, sugar, and cardamom in a small saucepan, but do not let it boil. Then gradually whisk in the butter, one cube at a time, until well incorporated. Transfer to a serving dish and let it cool.

Pour over warm apple crumble and enjoy!
Notes
The amount of sugar in the fruit filling as well as in the crumble can be adjusted depending on how sweet or sour the apples that you have.
If you're using organic apples, you don't have to peel them if you don't want to.
It is very important that butter that goes to crumble is very cold so it doesn't melt.
Instead of plain flour, you can experiment with different types of flour. I used regular wheat flour because I had no other options at that moment.
To keep the crumble from being boring and overly sweet, it's good to add something sour, like lemon juice. It will balance the sweetness. If you're using organic lemons, you can grate the zest too.
Nutrition
Calories:
667
kcal
|
Carbohydrates:
80
g
|
Protein:
7
g
|
Fat:
38
g
|
Saturated Fat:
22
g
|
Polyunsaturated Fat:
2
g
|
Monounsaturated Fat:
11
g
|
Trans Fat:
1
g
|
Cholesterol:
94
mg
|
Sodium:
234
mg
|
Potassium:
310
mg
|
Fiber:
6
g
|
Sugar:
40
g
|
Vitamin A:
1203
IU
|
Vitamin C:
7
mg
|
Calcium:
51
mg
|
Iron:
2
mg