Tahini is a thick, rich paste with a very specific nutty flavor that is obtained by grinding sesame seeds. Find out how can you make it at home from scratch!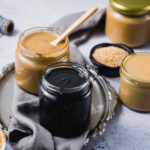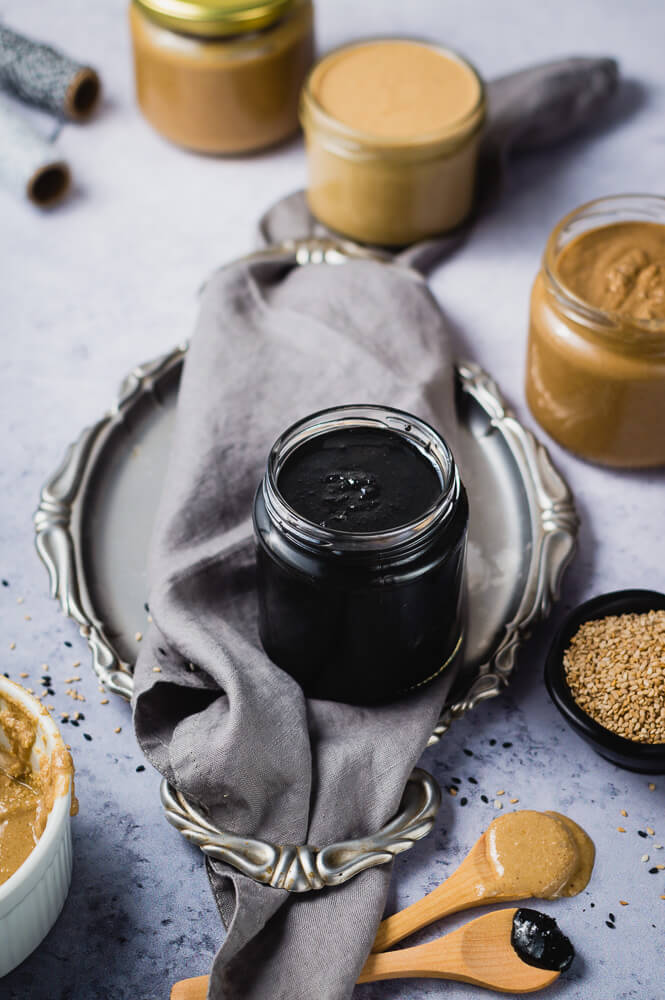 So, what is tahini, anyway?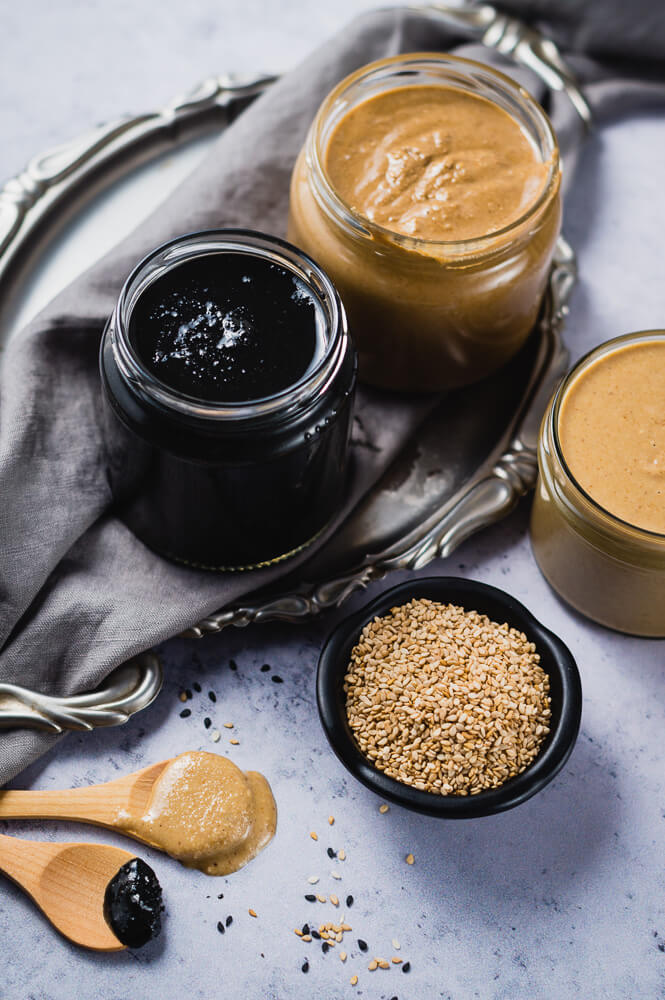 Before I start my praises to this wonderful ingredient, it might be a good idea to define what tahini paste is and where it comes from, right?
Simply put, tahini is a thick, rich paste with a very specific nutty flavor that is obtained by grinding sesame seeds. The seeds may be toasted or untoasted previously.
It has been popularized globally over the last few years, and before that, it seemed to me that tahini was just one of many exotic ingredients specific to the cuisine of the Middle East, North Africa, and the Eastern Mediterranean. It can be used in various ways, in both sweet and savory dishes.
Thus, tahini is an indispensable addition to the preparation of hummus, and when combined with some water, lemon juice, and spices, it can be used as a sauce for falafel, koftas, or shawarma or as a dip for pita bread.
I think that you just like or don't like tahini.
There's nothing in between.
You simply need to know how to love it.
However, when I first tried it, I thought there was something wrong with the product itself. It was quite intense for me and I thought it passed its expiration date (today I'm kinda embarrassed when I think of it).
But I gave it a chance a few times until I realized that I just needed to combine it with the right ingredients.
I'm telling you guys, tahini is one true chameleon in the kitchen! And that's why I think anyone with a good food processor should try to make it at home.
The first time you may want to give up. That's what I did. I was just looking at that sesame seed weird crumbly mixture and thought what the hell I was thinking. Then I tried again. Mixed, mixed. And mixed.
And here it is!
And not just one, but three tahini varieties!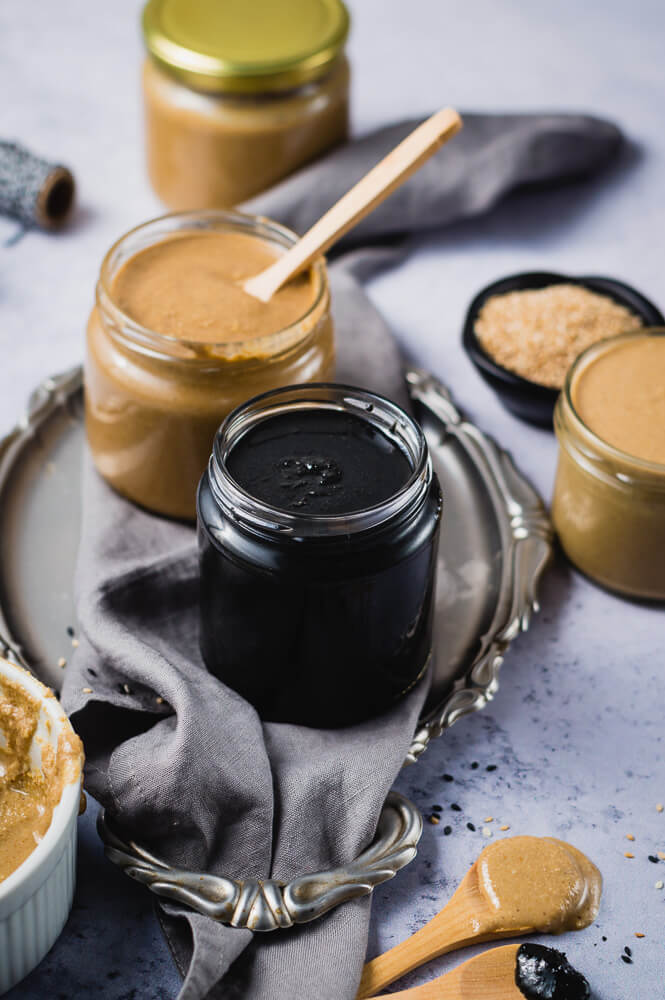 I was so enthusiastic, not to say crazy, that for this blog post I went to try to make tahini of all three types of sesame that I was able to find.
They all taste great but man oh man, black tahini is my favorite!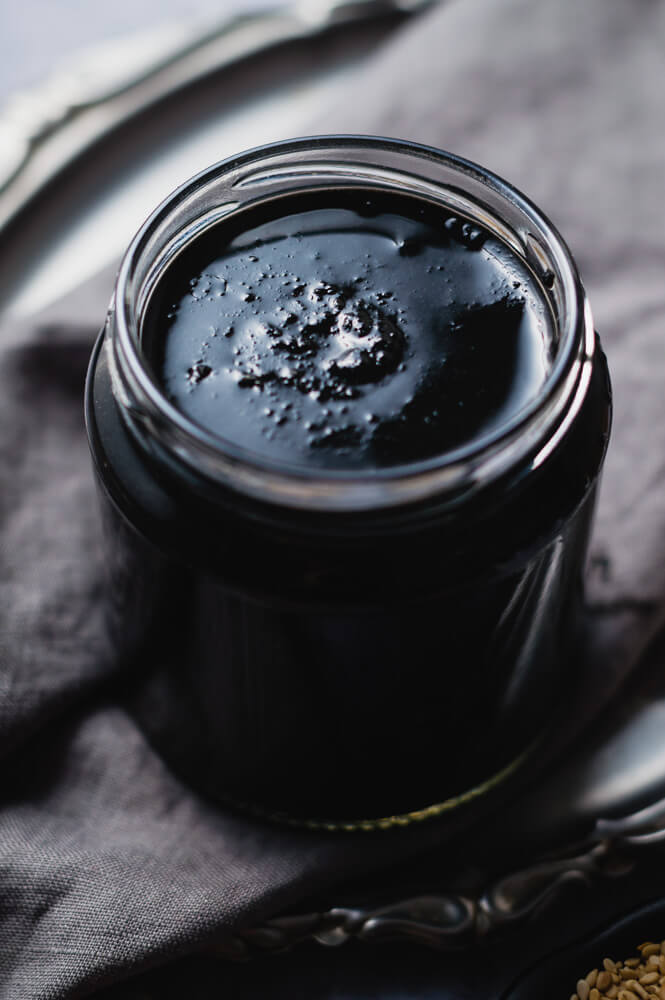 Let's see what types of sesame seeds I experimented with this time!
Types of sesame seeds
Sesame (Sesamum indicum) belongs to annual plants and can grow up to 2 meters high! I have to admit that it looks very interesting and that at first glance when I look at the plant itself, I would never have guessed that it looks like that.
Still, I believe we all know what sesame seeds look like. We like to sprinkle them on burger buns, bread, and crackers before baking, we like to see them on crescent rolls and stir fry, and they are a great addition when we deep fry meat.
Sesame seeds are also used for making sesame oil which has a very distinctive flavor and is an essential addition to Asian cuisine.
But did you know that there are several types of sesame seeds and that apart from their color, they also taste differently?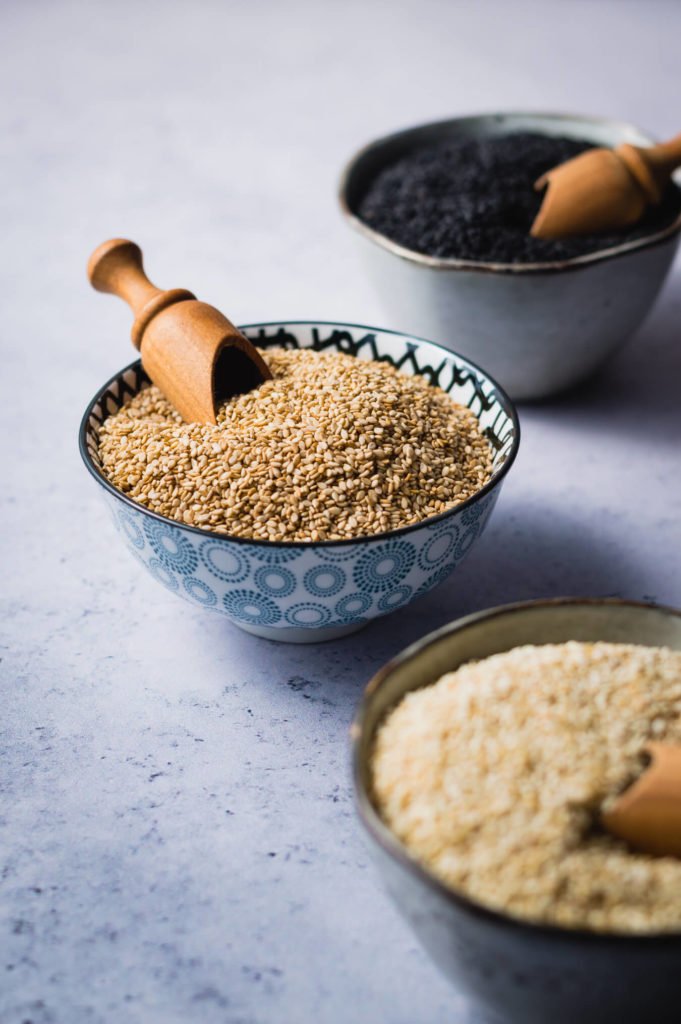 White sesame seeds – a type of sesame that is most commonly used. They are hulled so they have a milder and sweeter taste compared to other types of sesame and give smoother tahini.
Black sesame seeds – a true darker that has a slightly bitter taste compared to white sesame. It is often used in Chinese and Japanese cuisine. It is the crispest of all three types.
Golden/brown sesame seeds – are also somewhat more bitter than white sesame. This is an unhulled type of sesame seed that is mostly used for oil extraction.
There are also red sesame seeds but I didn't find them anywhere to buy here in Zagreb so I don't know how they taste.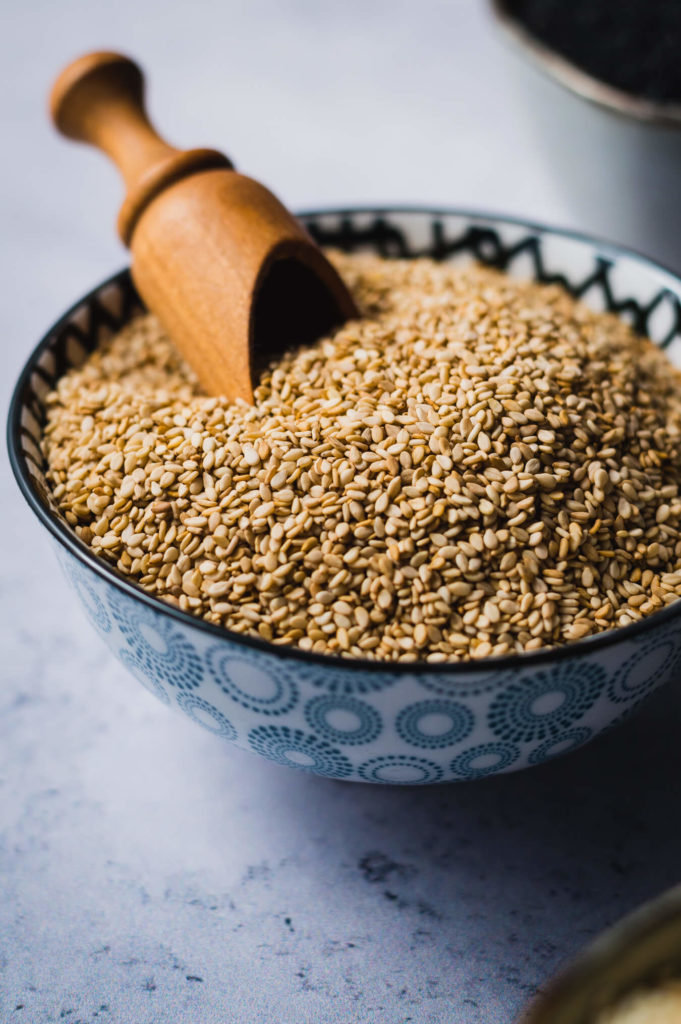 Is making tahini at home actually worth it?
Is it hard to make tahini from scratch? Will it taste good? Those are all questions that you may be asking yourself. Fear not 'cause I've got the answers you need.
I definitely think that making tahini at home is worth all the effort. Here's why!
If you buy sesame in bulk, it's very likely that you will get it for a lower price. Good tahini can be pricey so it's definitely worth it from this point of view
You're in control of all ingredients that go into your homemade tahini.
For its storage, you can use a used glass jar that you already have at home. That's one tiny, but important step for environmental protection and one step forward to sustainable living
You know that it's freshly prepared, which means better taste
And most importantly, you're pushing your own limits and experimenting with flavors! You know there is one more thing that you can do completely by yourself and that makes you, well, very proud of yourself.
Let's see how the process of making homemade tahini looks!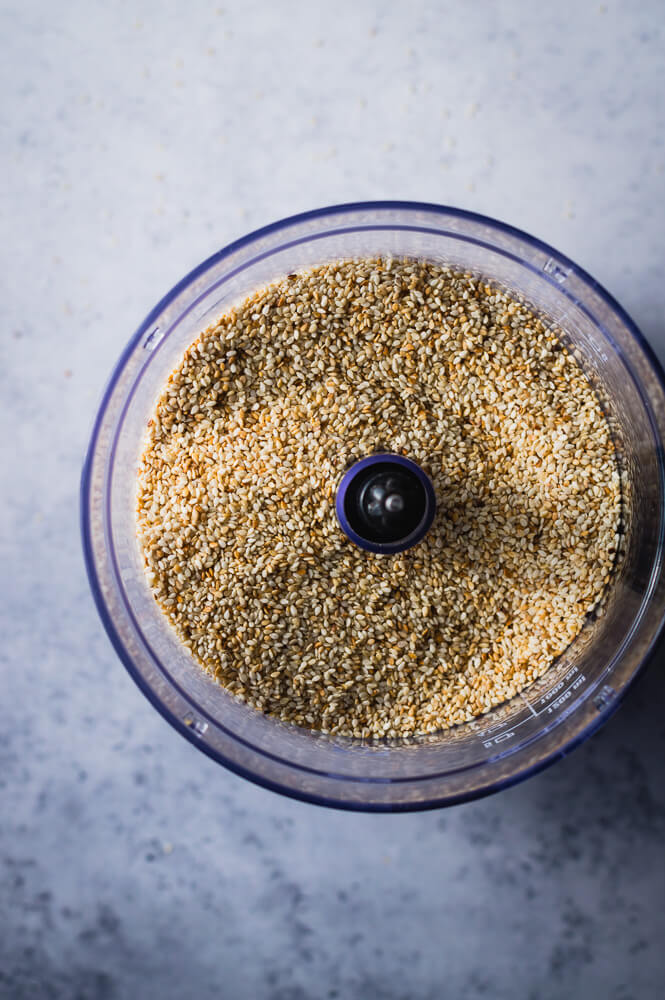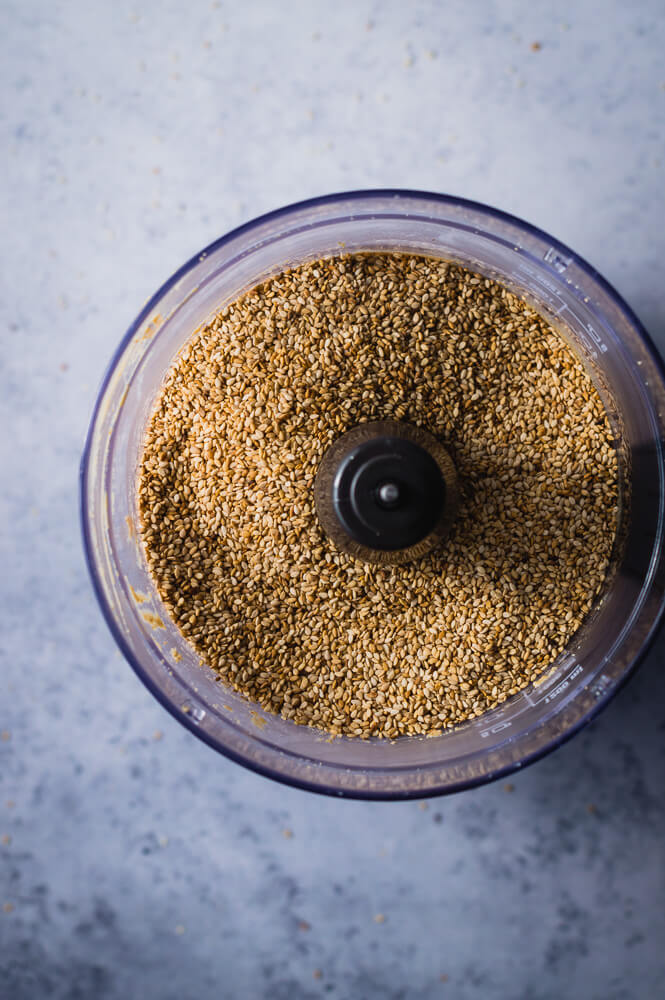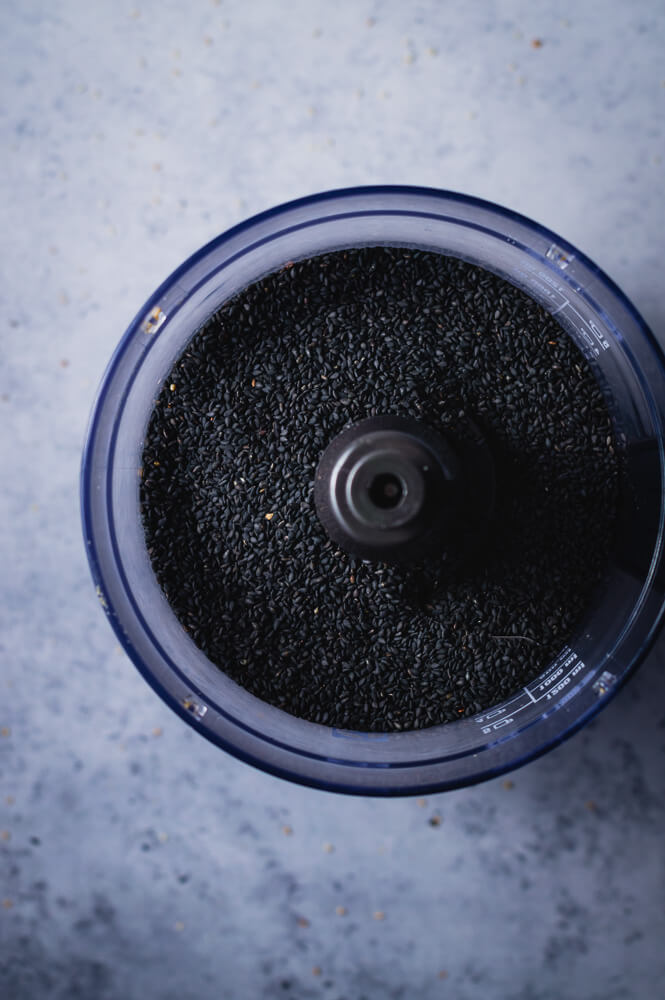 As you see, making tahini from scratch it's not hard at all!
However…
I will be totally honest with you and tell you that there is a possibility that homemade tahini, despite all your efforts, may not be perfectly smooth as the store-bought stuff.
And this is totally fine.
This version, which we make at home, has no added emulsifiers or any other ingredients that are otherwise used in industrial production, so the result cannot be the same.
In addition, the machines that grind the sesame seeds are probably vastly different and much stronger than the food processors we have at home.
But the flavor of homemade tahini is simply incredible!
How to store homemade tahini
Personally, I like to store it in the refrigerator, for 1,5 to 2 months.
So, what can you do with tahini?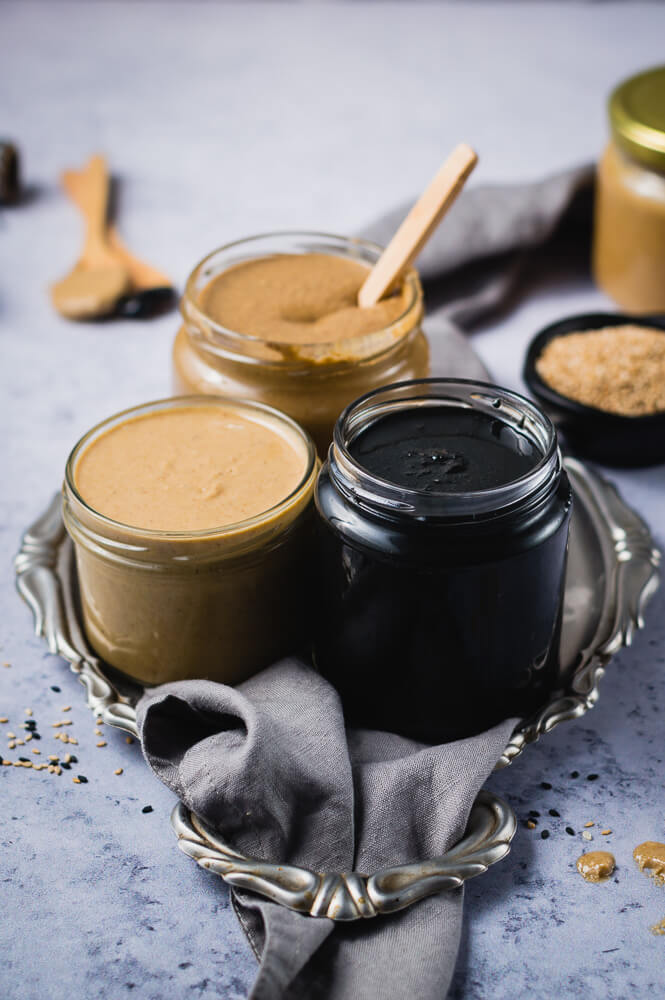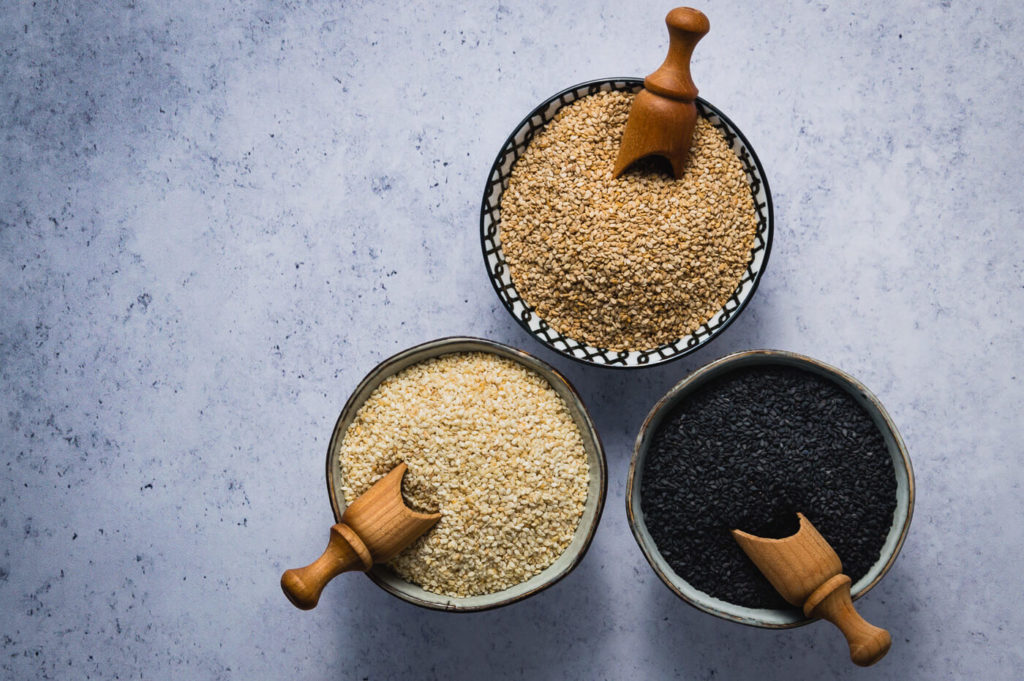 Here are 13 ways for cooking and baking with tahini:
Hummus (obviously, duh)
Halvah
Baba Ghanoush
Chocolate Granola
Tahini Cookies
Creamy Salad Dressing (my favorite)
Honey Tahini Toast
Brownies/blondies
Tahini Bliss Balls
Ice Cream
Smoothie (my second favorite)
Oatmeal porridge
Banana bread
Do you know any cool ideas for using tahini? Maybe some good recipe that you like to make over and over again? I'm all eyes!
Write to me in the comments here on my blog, on Instagram, or send me an e-mail. If you need any help or advice, just let me know! For more video recipes, subscribe to my Youtube channel.
Sources: https://www.fazlani.com/component/content/article/10-sesame-seeds/17-4-types-of-sesame-seeds-you-should-know-about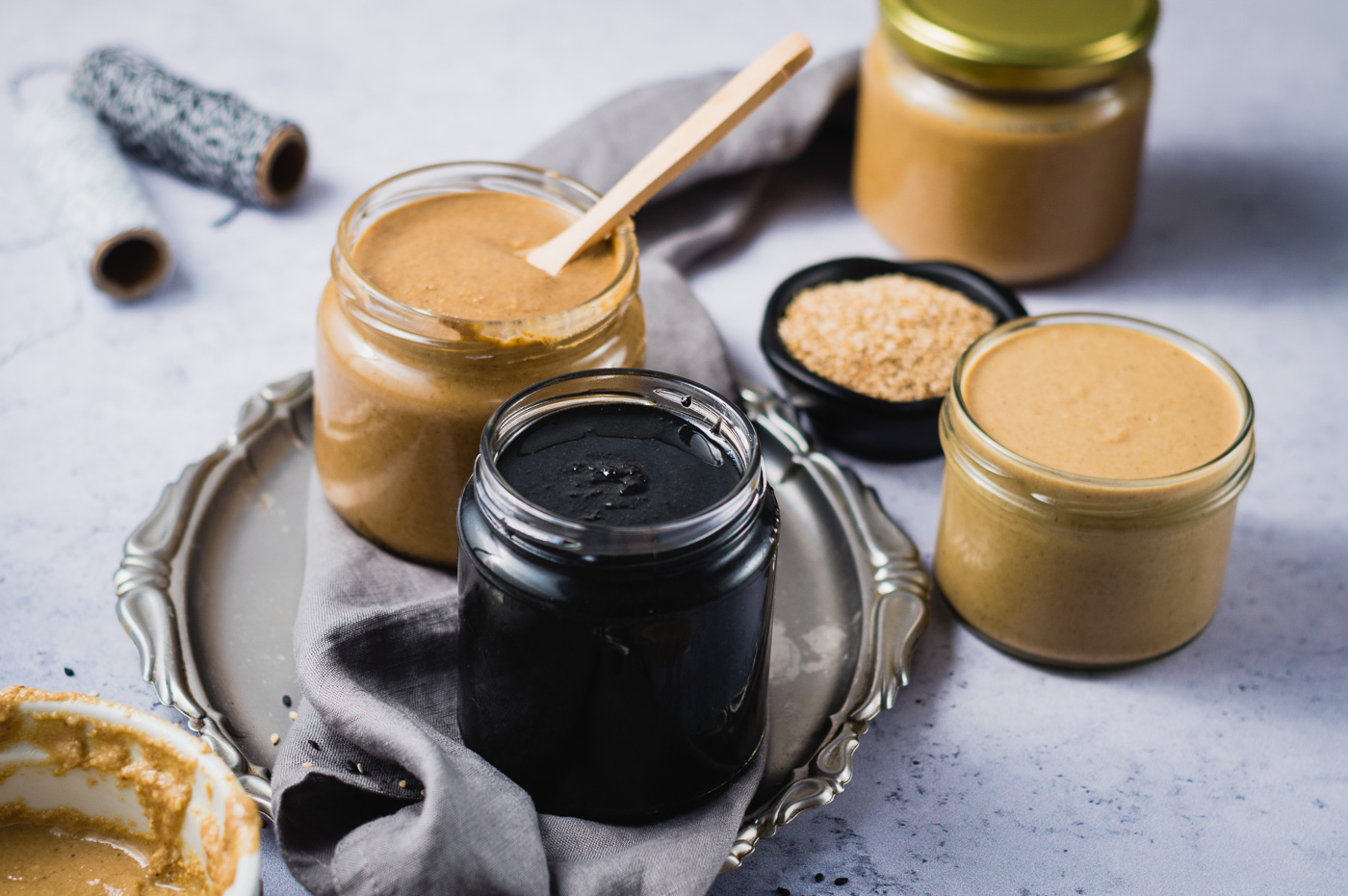 Recipe For Delicious Homemade Tahini
Tahini is a thick, rich paste with a very specific nutty flavor that is obtained by grinding sesame seeds. Find out how can you make it at home from scratch!
Print
Pin
Rate
Servings:
1
jar of tahini
Ingredients
350

g

sesame seeds

(white, brown or black)

3

tablespoon

oil

(olive or sunflower)

good

pinch of salt
Instructions
Toast the sesame seeds on a dry skillet for about 5-6 minutes. Keep stirring frequently until they start to smell delicious and fragrant. Be careful to not burn them, otherwise, your tahini might be bitter. Let them cool down a bit.

Add sesame seeds to your food processor and start pulsing until the sesame becomes crumbly and starts turning into a paste. Then add some salt and oil and keep pulsing until you get a smooth and creamy paste. Depending on the strength of your food processor, this can last even 15-20 minutes. Do a few pauses in between the processing if needed.

Store it in a clean glass jar and keep it in your fridge.
Notes
In this recipe, a very important, almost crucial role plays the food processor you will use. Specifically, the stronger the food processor, the faster you'll get tahini paste, which will have a nice consistency and texture. At this moment I'm using an Electrolux food processor that is 5 years old and has a power of 700 W. It is not a particularly powerful food processor, but it has never failed me so far. If you have a stronger blender, like Vitamix, you can try to make tahini in it, but I can't tell you how long it could take.
The tahini consistency I get with this ratio of oil and sesame seeds is very thick, with few seeds that can be left behind. Personally, I don't mind that at all and I think it won't affect the flavor of any dish but if you want a smoother texture you can increase the amount of oil. Just make sure that the oil you use is as neutral as possible so as not to significantly affect the taste of the tahini paste.
Nutrition
Calories:
2377
kcal
|
Carbohydrates:
82
g
|
Protein:
62
g
|
Fat:
216
g
|
Saturated Fat:
27
g
|
Polyunsaturated Fat:
88
g
|
Monounsaturated Fat:
92
g
|
Trans Fat:
0.2
g
|
Sodium:
39
mg
|
Potassium:
1638
mg
|
Fiber:
41
g
|
Sugar:
1
g
|
Vitamin A:
32
IU
|
Calcium:
3413
mg
|
Iron:
51
mg