Aside from being a perfect snack during the summer heat, these aromatic Greek zucchini and feta cheese fritters are also great when you run out of ideas on how to use all the abundance of these veggies during the summer. Served with refreshing tzatziki, this vegetarian meal will be a crowd-pleaser everyone will love!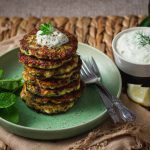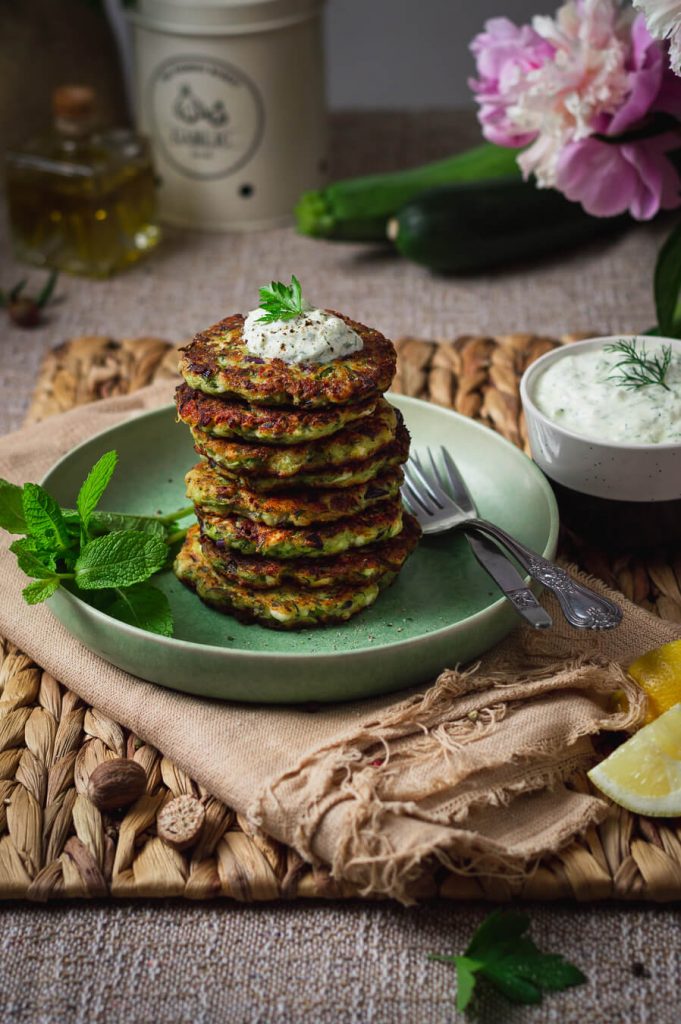 When sun rays warm the earth and delicate yellow flowers start to give birth to zucchinis in all colors, shapes, and sizes, the recipe for these fritters serves me as a real ace up my sleeve.
In Greece, they are originally known as kolokithokeftedes, a strange word that entangles our tongue, but its meaning is pretty simple and straightforward. "Kolokitho" is a Greek word for zucchini, and "keftedes" means simply fritters, meatballs, or patties.
So literally, zucchini fritters!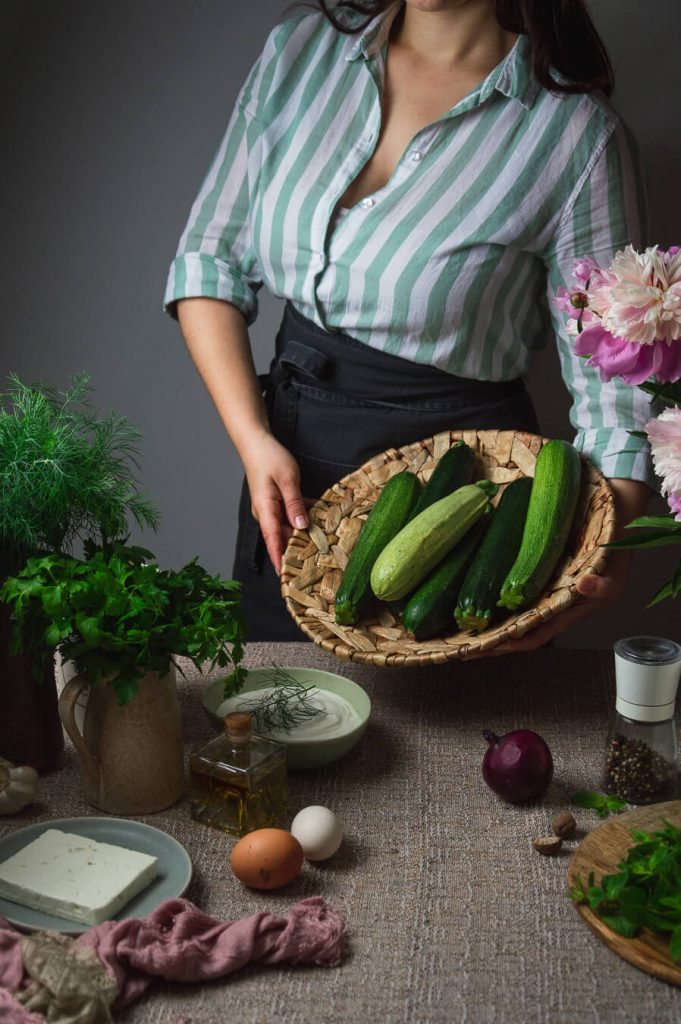 Luckily, preparing this vegetarian recipe is easier than pronouncing it, and for it, you will need zucchini, feta cheese, some eggs, fresh mint and parsley, red onion, some spices, and a bit of flour that will help to connect all the ingredients.
These Greek zucchini and feta fritters can be served in different ways, for example with a bowl of your favorite salad or maybe even in a burger instead of a meat patty, but my favorite way of serving it is alongside tzatziki.
Tzatziki – Light Summer Spread
Tzatziki is a term that is not so unknown in my country and can be found in supermarkets, but honestly, I was never particularly delighted with these store-bought versions.
They are usually too sour and watery and the freshness of the cucumber is completely lost. We can define tzatziki as a cold sauce, spread, or dip that consists of thick, creamy yogurt, fresh cucumber, garlic, dill or parsley, and lemon juice or white wine vinegar.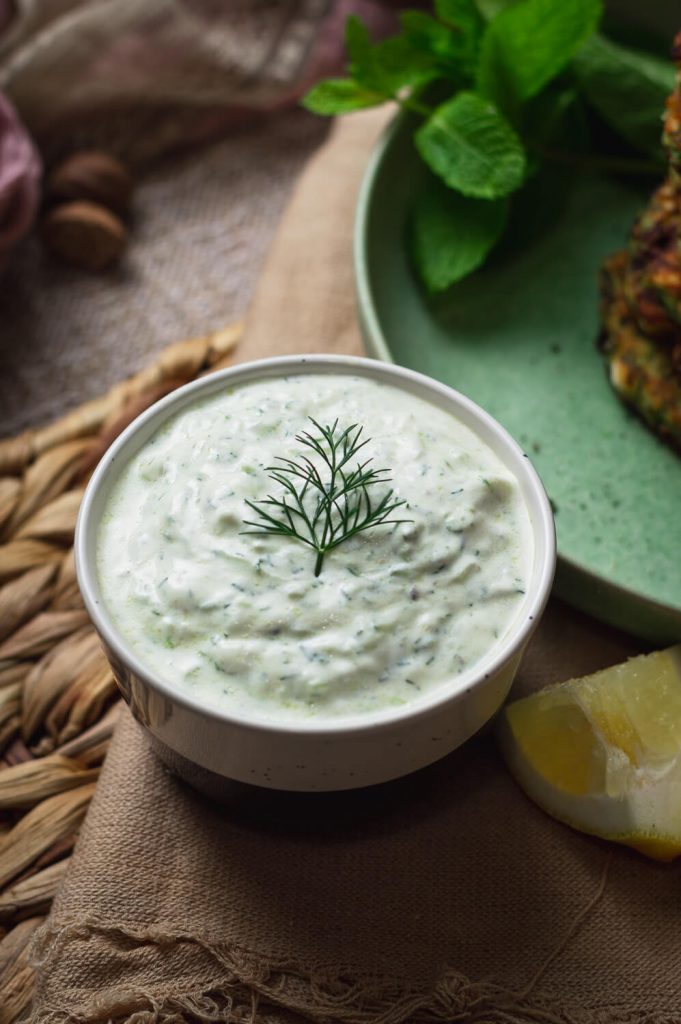 It can be made thicker or thinner, depending on how you prefer it, and besides as a spread for these fritters, I think tzatziki will work great as a spread for sandwiches or homemade burgers, served with koftas, as a dip for tortilla chips or even as a dressing for rich summer salad!
Greek Cuisine
Since the topic of today's blog post is not one but two Greek recipes, I wanted to write a few lines about their cuisine as well.
At the mention of the Greeks, we cannot help but think of their philosophers and mathematicians, rich history, and centuries-old Greek civilization. I think we all know about Aristotle, Plato, and Socrates, but have you ever heard of Archestratus?
History says that he was a Greek poet who wrote the first cookbook (or at least something that reminded him of the cookbook) in the world, around 350 BC.
Culturally, geographically and politically, Greece is a land of sun and sea located between the West and the Middle East, which is reflected in their cooking and the food they consume. Thus, Turkish and Arabic origin dishes, such as baklava, pilaf, dolmas, and tzatziki became a staple in their cuisine. Also, the influence of French and Italian cuisine is very notable (think of béchamel sauce in moussaka or pastissada).
It's surrounded on three sides by the sea, which means that fish is a common ingredient in Greek cuisine. Good climatic conditions and fertile soil enabled a significant part of the Greek population to engage in agriculture, and mountain areas proved to be ideal for breeding goats and sheep.
In addition, the Greeks, like us Croatians, are very proud of their olives, olive oil, and wine, and Greek honey is used as one of the favorite ingredients for sweetening cakes and other desserts.
Lamb, offal, artichokes, lemons, eggplants, zucchini, tomatoes, legumes, and nuts are just some of the recognizable ingredients of rich Greek cuisine.
The Greeks are not afraid to use a handful of fresh herbs like oregano, thyme, and mint in their recipes, and the abundance of fresh ingredients and simple cooking techniques is what makes Greek food easy to prepare and enjoy.
Just like these zucchini feta fritters and tzatziki!
If you enjoy video recipes, go to my Youtube channel and check how I prepared these two recipes!
How to Recognize Authentic Feta Cheese
Feta cheese is one of the most famous Greek cheeses we can find in supermarkets. White, salty, and crumbly, real Greek feta cheese is traditionally made from sheep's milk or a combination of sheep's and goat's milk. It's usually sold in blocks in salt brine, as its name suggests us. ( it. fetta – piece, slice).
Another thing you need to look for on the packaging is the PDO (Protected Designation of Origin) label. It suggests that the cheese is produced under certain standards and that it's made from at least 70% of the milk of sheep bred in Greece.
So this is the product you need to look for in the store if you want the real deal. Everything else cannot be considered real feta cheese. Salad cheese is a type of cheese that can remind us of feta, but it's usually made of cow's milk and has a different flavor. I definitely recommend using real feta in this recipe, although you can experiment with similar types of cheese if you want to.
How to Make Zucchini Fritters Extra Crispy
While preparing these fritters, I figured out a few tricks that will help them to be extra crispy. I mean, who likes soggy patties, right?
The olive oil should be well heated before putting the first fritter inside. If it's lukewarm, it will absorb too much oil and become soggy.
Don't overfill the pan while frying. Give them some space.
After you grate the zucchini, sprinkle them with salt. This will extract the moisture from zucchinis. We definitely don't want the mixture to become too watery. Oh, and don't forget to squeeze the hell out of them.
When you've prepared the mixture for fritters, start frying ASAP. The longer the mixture stands on your counter, the more watery it will become, because of the salt.
After frying, if you want them to stay crispy, arrange them in one layer on a plate lined with a kitchen towel. If you want them to be on the softer side, stack them like pancakes.
Kalí̱ órexi̱, or, enjoy your meal!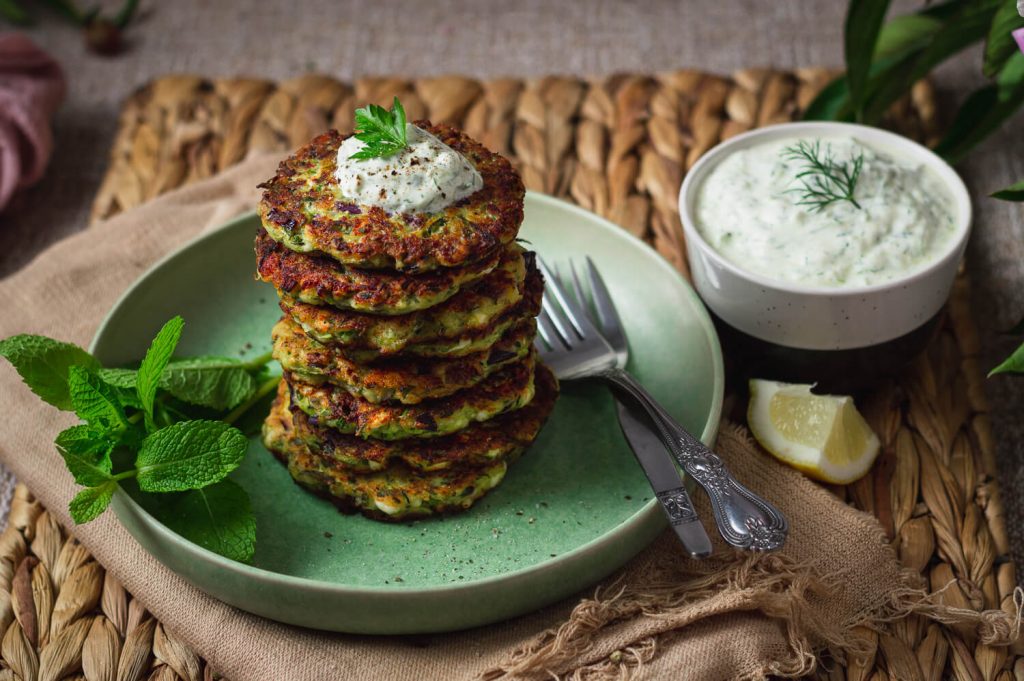 FAQ
Can I use some other type of zucchini for making these fritters?
Of course! Patty squash and green or yellow zucchini can all be used to make these fritters. If you want to use bigger zucchini that have visible seeds, remove them before grating.
Can I use other types of flour instead of corn flour?
Yes, you can use all-purpose flour.
How long can tzatziki be stored in the fridge?
Store it in a well-sealed glass or plastic container for up to 3-4 days.
Can I make tzatziki in advance?
Yes, tzatziki can be made in advance a few hours or even a day before serving.
Looking for more summer recipes? I suggest you try some of these:
What is your favorite Greek dish? You got some great zucchini recipes? I would love to hear from you!
If you try this recipe, don't forget to tag @foodandmoodblog on Instagram or Facebook or send me your photos of this recipe. They always make me happy! If you prefer video recipes, be sure to subscribe to my Youtube channel.
Cook with love,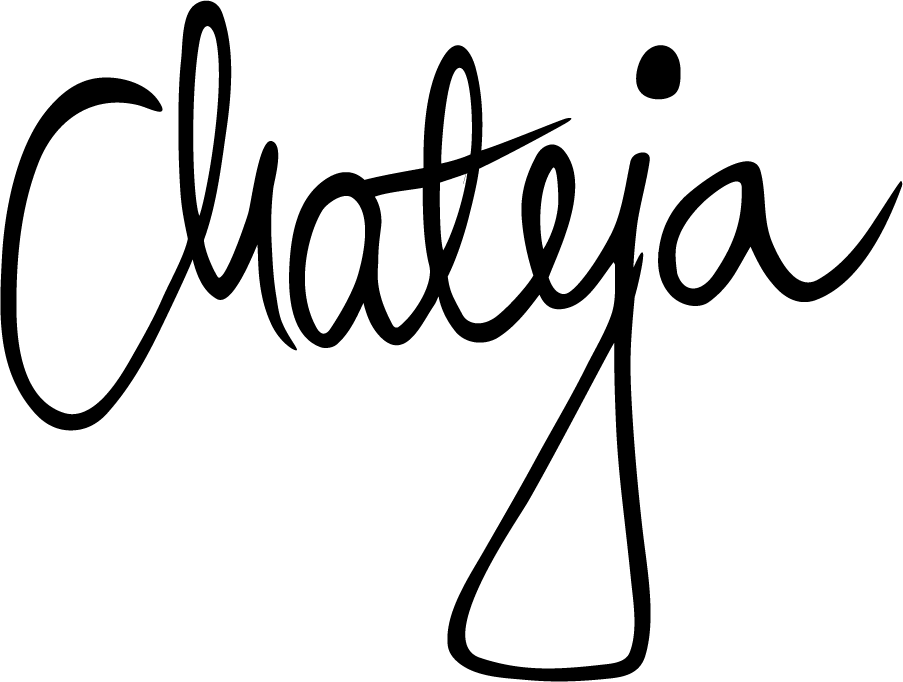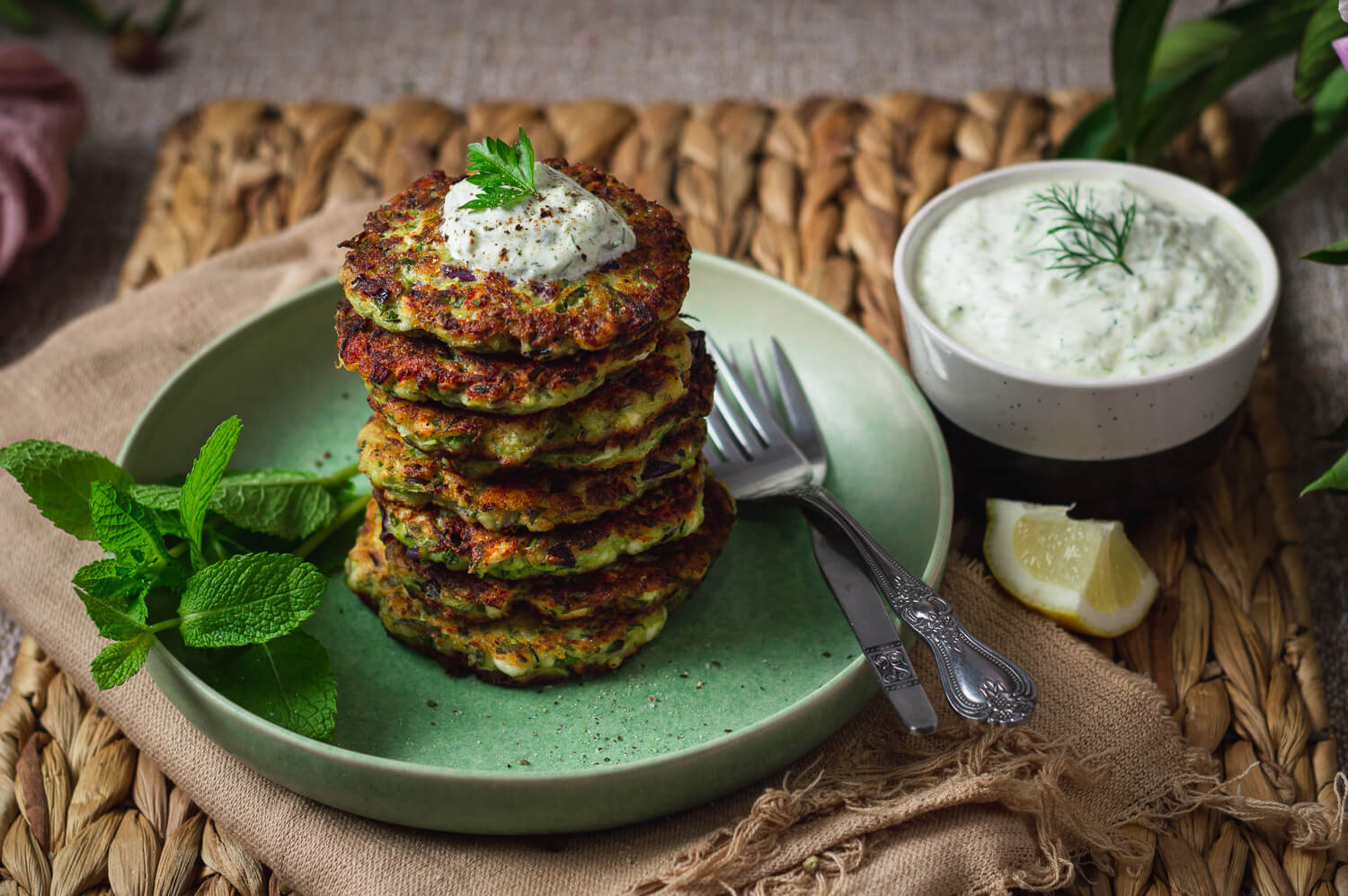 Greek Zucchini Fritters + Tzatziki
Aside from being a perfect snack during the summer heat, these aromatic Greek zucchini and feta cheese fritters are also great when you run out of ideas on how to use all the abundance of these veggies during the summer. Served with refreshing tzatziki, this vegetarian meal will be a crowd-pleaser everyone will love!
Print
Pin
Rate
Ingredients
Fritters ingredients:
2

zucchini

(around 200 g after draining from excess water)

150

g

feta cheese

1/2

red onion

2-3

tbsp

mint

fresh, finely chopped)

2-3

tbsp

parsley

fresh, finely chopped)

2

eggs

1/3

tsp

sea salt

2

pinches of

nutmeg

2

pinches of

ground pepper

70

g

corn flour

(white or yellow)

extra virgin olive oil

(for frying)
Tzatziki ingredients:
300

g

Greek style yogurt

1/2

big

English cucumber

2

tbsp

extra virgin olive oil

2

tbsp

lemon juice

(freshly squeezed)

1,5

tbsp

dill

(fresh, finely chopped)

1-2

cloves

garlic

sea salt

ground pepper
Instructions
Fritters preparation:
Take a big bowl and spread a clean dish towel over it.

Wash and dry zucchini and grate them onto the towel in the bowl. Season with salt so they could release excess water, stir and let stand for about 15 minutes. Then wrap it in a towel and squeeze as much water as possible. You should be left with about 200 g of drained zucchini.

Discard the excess liquid, return the zucchini to a bowl and start adding other ingredients. Crumble the feta cheese and add it to a bowl along with eggs, freshly chopped herbs, onions, and spices. Mix well to combine everything and then add flour and stir once more.

Heat a nonstick pan to medium heat and add oil. Take up a heaped tablespoon of mixture and carefully add it to the pan. Lightly press on the fritters so they can spread a bit. Fry them on both sides until they become golden and crispy.

Take them out on a plate covered with a kitchen towel that will soak up excess oil.

Serve with tzatziki and enjoy!
Tzatziki preparation:
Wash and dry the cucumber and grate it in a large bowl over a clean kitchen towel. Sprinkle with some salt, give it some stir and let it drain for about 10 minutes.

Meanwhile, peel and crush the garlic and mix it with finely chopped fresh dill, Greek-style yogurt, olive oil, and lemon juice. Season with salt and pepper to your taste.

When the cucumber started to release a lot of water, wrap it in a kitchen cloth and squeeze the hell out of it. Drain as much moisture as possible. Add to the rest of the ingredients and stir once more.

Put it in the fridge until ready to be served.
Nutrition
Calories:
138
kcal
|
Carbohydrates:
10
g
|
Protein:
8
g
|
Fat:
8
g
|
Saturated Fat:
3
g
|
Polyunsaturated Fat:
1
g
|
Monounsaturated Fat:
3
g
|
Trans Fat:
0.003
g
|
Cholesterol:
48
mg
|
Sodium:
278
mg
|
Potassium:
169
mg
|
Fiber:
1
g
|
Sugar:
3
g
|
Vitamin A:
323
IU
|
Vitamin C:
10
mg
|
Calcium:
137
mg
|
Iron:
1
mg