Buttery, delicious cookies with a delicate lavender scent and refreshing lemon curd will love even those who think that lavender has nothing to do with the food.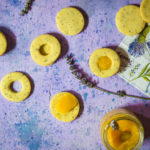 I love to eat good butter cookies. Since I'm a big fan of a warm cup of coffee (or tea), I always like to have some cookies in my cookie tin to dip them in that soothing liquid, which is not that good for my waist, but it's great for my mind. 🙂 Also, I really like to bake various types of cookies so you already had a chance to see and try out my pink shortbread cookies and orange cardamom chocolate cookies. These cookies here are already the third ones on this blog so this time I've decided to experiment a bit and that's how lavender and lemon curd cookies were born!
Those who know me well know how much I like to grow and use herbs in my cooking and baking. I'm really always trying to find new ways and usages for my spices. I've already seen a variety of lavender recipes, but I've never baked anything with lavender. And then recently I was so beautifully surprised when I was passing by our local market here in Zagreb when I felt that beautiful, relaxing lavender scent. That was the only encouragement I needed for a decision to experiment with lavender!
Another reason why I decided to make these lavender and lemon curd cookies is that I wanted to prove to myself (and to you as well) that lavender doesn't have to be a herb that we only connect with soaps and sachet bags, but it can be an incredible floral-aromatic addition to your spices rack. And why lemon? Well, because its zesty flavor is such a great counterbalance to the calming and relaxing lavender scent. Oh, and another reason (I know you're going to think I'm crazy, but I'll admit it whatsoever): once, not so long ago, I had this car scent from Yankee Candle that was a combination of lemon and lavender and it smelled AMAZING!
So, I said to myself: "Why the hell not."
What I love about these cookies is that you can eat them on their own, but you can sandwich them with some fabulous lemon curd like I did. If you choose this other option, then the smell and the taste of lemon will be much more pronounced and you'll feel lavender very subtly. This is a good choice for those who are not sure they would like lavender in their food and for those who adore lemon curd. 🙂 If you don't like lemon curd, you can replace it with practically anything you want, maybe with some apricot jam or white chocolate ganache.
Do you like lavender and have you ever used it in your kitchen? Are you using it more in sweet or savory recipes or you just can't imagine eating it? 🙂
Write me your opinions in the comments down below, on my Instagram, or on my Facebook page.
And yes, happy baking!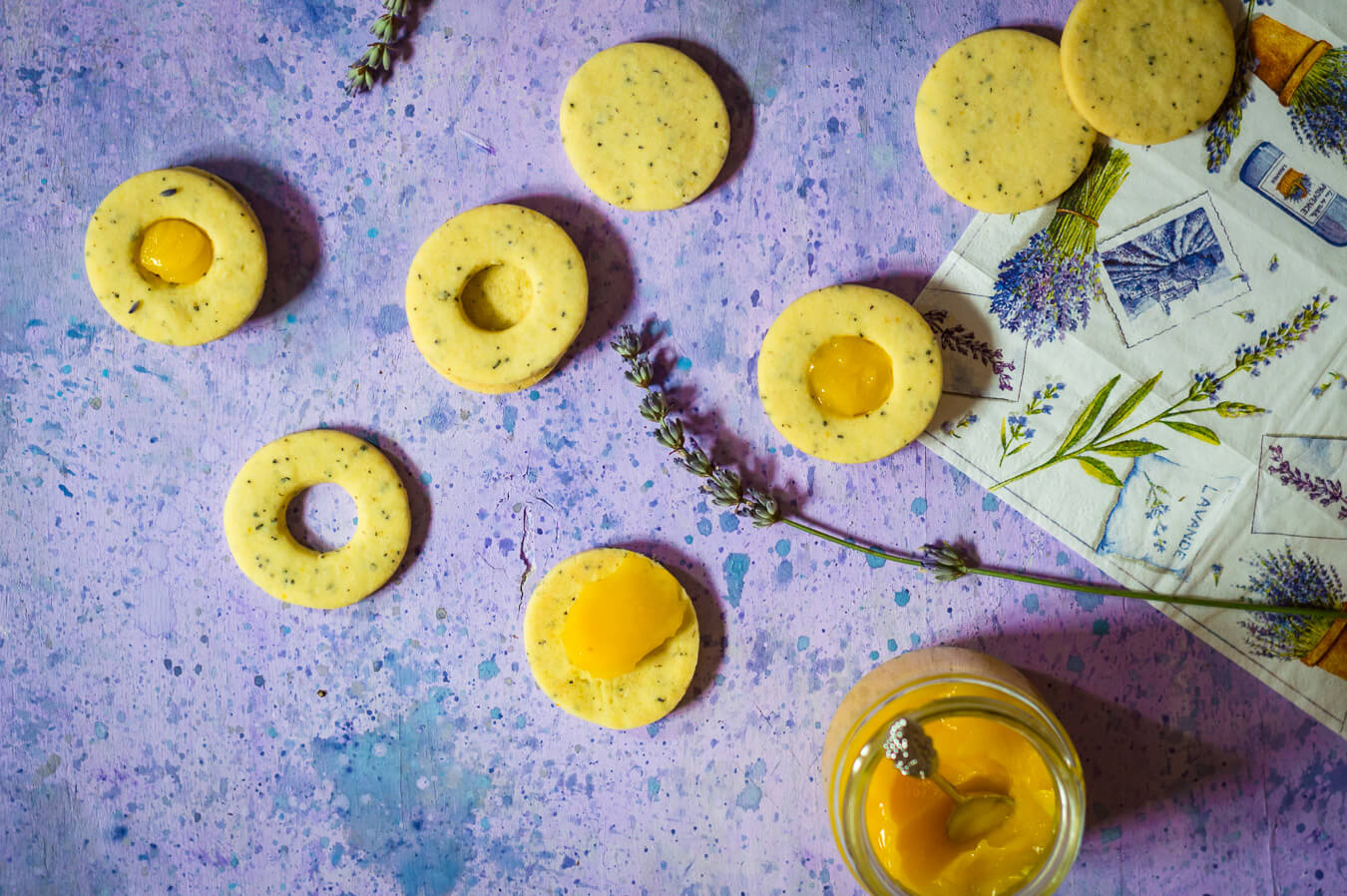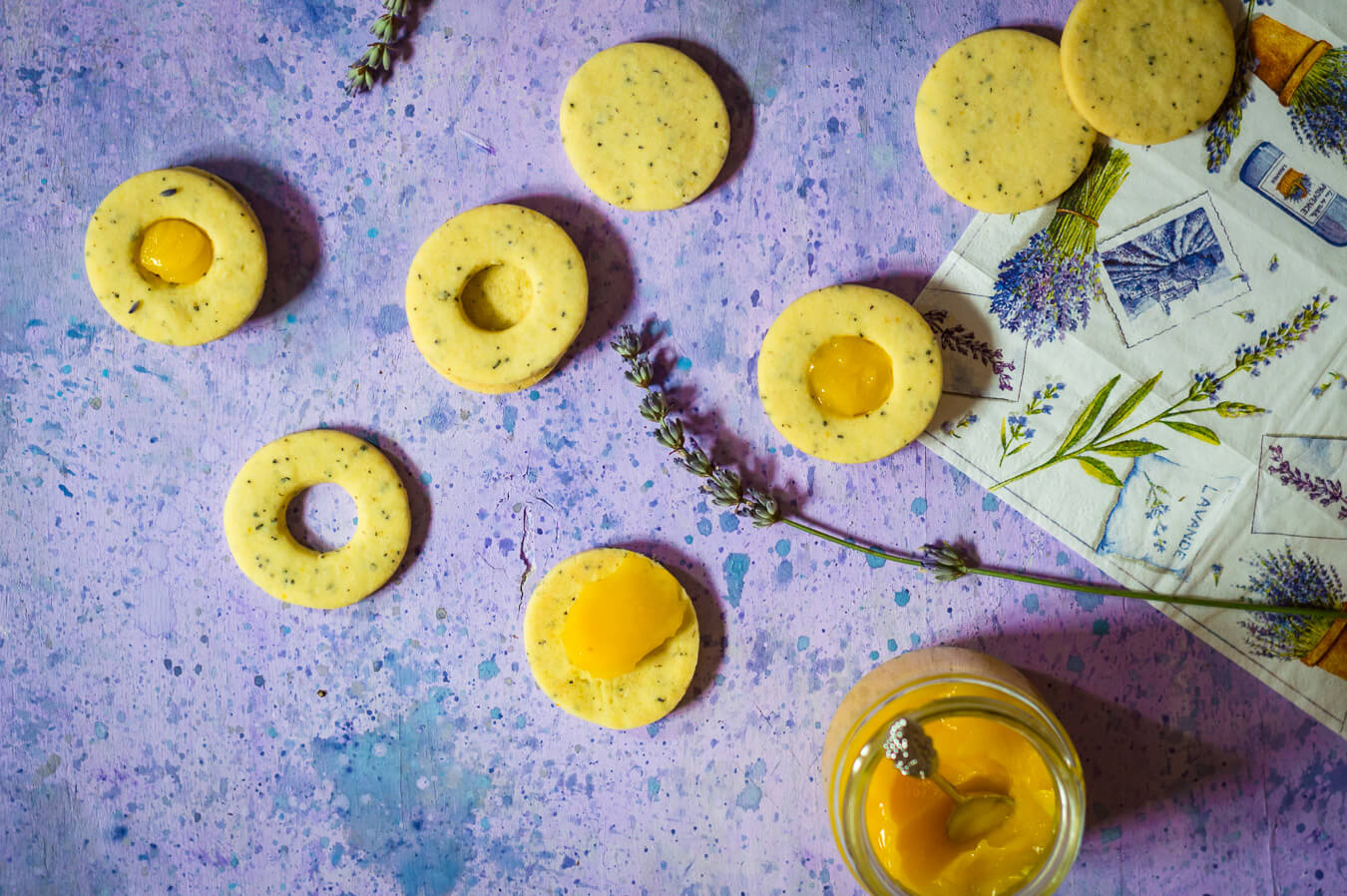 Zesty Lavender and Lemon Curd Cookies
Buttery, delicious cookies with a delicate lavender scent and refreshing lemon curd will love even those who think that lavender has nothing to do with the food.
Print
Pin
Rate
Servings:
24
sandwich cookies
Ingredients
250

g

all-purpose flour

120

g

butter

(room temperature)

70

g

powdered sugar

1

small egg

3

g

shredded lavender flowers

(see the tips in recipe notes)

2

tablespoon

lemon juice

1/2

teaspoon

baking powder

1/3

teaspoon

salt

80

g

lemon curd
Instructions
Sift the flour and mix it with shredded lavender and baking powder. Set it aside.

Combine sifted powdered sugar, salt, butter, and lemon juice in a food processor. Then add the egg and pulse again to combine.

Then add the dry ingredients and pulse a few times until you see the mixture starts to form a dough. Take it out of a food processor and shape it into a ball. Gently flatten it and put it in a fridge for 1-2 hours.

Roll out the dough on a lightly floured surface to a minimum thickness of 0.5 cm or more. Cut the desired form with your cookie cutter, transfer the cookies to a baking sheet covered with baking paper and bake in a preheated oven at 180°C (356°F) for 10-12 min, depending on how crispy you want them to be. Make sure they don't burn.

Put them on a cooling rack and once they've cooled, spoon lemon curd onto the center of one cookie and top it with another cookie to form a sandwich.

Serve them the very same day. If you won't eat them all, put them in an airtight container and keep them in the fridge for a maximum of 2-3 days.
Notes
Be sure to use lavender that is intended for use in cooking. For this recipe, I used lavender from tea bags, and the amount of lavender I needed was contained in 2 filter bags (3 g);
When freshly baked, these cookies have a relatively crisp texture which will soften a little bit when you sandwich them with lemon curd. If you won't serve them the same day, you can bake them a day in advance and fill them up before serving.
If you don't want, you don't need to sandwich these cookies with lemon curd. In that case, you can increase a bit amount of sugar if you want, and in this case, you can keep them for a maximum of 7 days in a cookie tin.
The recipe for lemon curd can be found here.
Nutrition
Serving:
1
cookie
|
Calories:
99
kcal
|
Carbohydrates:
13
g
|
Protein:
1
g
|
Fat:
5
g
|
Saturated Fat:
3
g
|
Polyunsaturated Fat:
0.2
g
|
Monounsaturated Fat:
1
g
|
Trans Fat:
0.2
g
|
Cholesterol:
18
mg
|
Sodium:
86
mg
|
Potassium:
16
mg
|
Fiber:
0.3
g
|
Sugar:
5
g
|
Vitamin A:
136
IU
|
Vitamin C:
0.5
mg
|
Calcium:
9
mg
|
Iron:
1
mg