Your search for delicious, homemade dark chocolate oatmeal cookies has officially come to an end: these cookies are made with whole-grain spelt flour, dark chocolate, and crunchy hazelnuts. They are universal for every time of the year! Thanks to coconut oil and coconut palm sugar, they stay soft for a long time.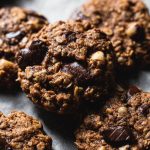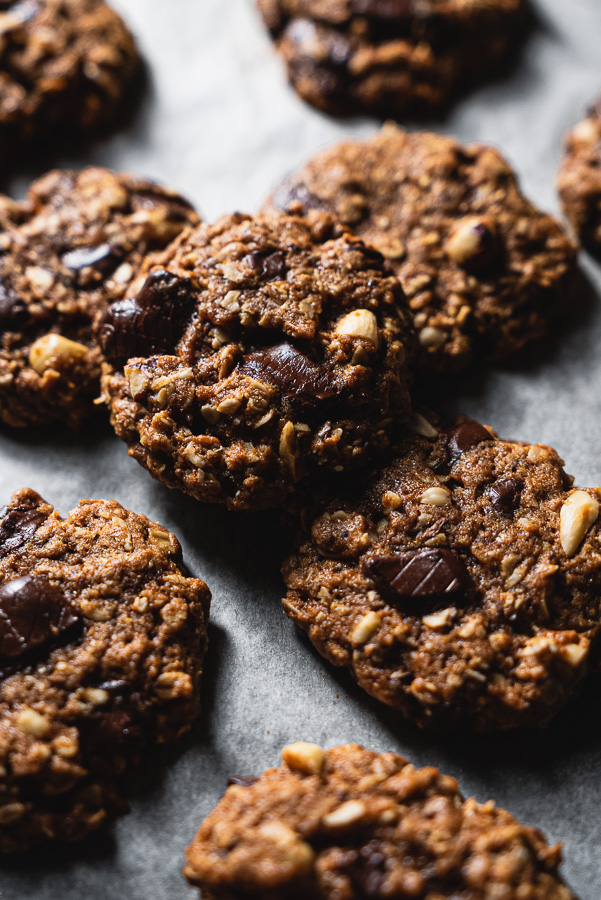 My search for delicious, homemade oatmeal cookies lasted for quite a long time: I often experimented with different ingredients: dried fruit, nuts, butter, and oil, with and without chocolate, experimenting with different types of flour, adding grated apples… I have a feeling that I've tried almost all the recipes for oatmeal cookies the internet can offer.
Still, not one recipe made me wanna try it again, so I took matters into my own hands!
As I've been struggling with severe acne in recent months (any acne buddy here?) I've made big changes in my diet. I reduced sweets to a minimum, as well as dairy products, and introduced even more veggies and some gluten-free foods. Fighting against any skin condition or disease can be extremely exhausting, both mentally and financially, but I have accepted the situation as it is and I'm trying to be as positive and patient as I can throughout this whole situation.
Although I pay attention to cooking and eating locally and seasonally as much as possible, and using wholesome ingredients often, I now pay attention to these things more than ever before. Why am I telling you this?
This whole thing will surely reflect in my recipes on the blog as well, so in the upcoming months, you can expect even more recipes with whole foods, pseudocereals, and vegan dishes. I hope you'll like these changes!
But, let's get back to these dark chocolate oatmeal cookies.
About the Ingredients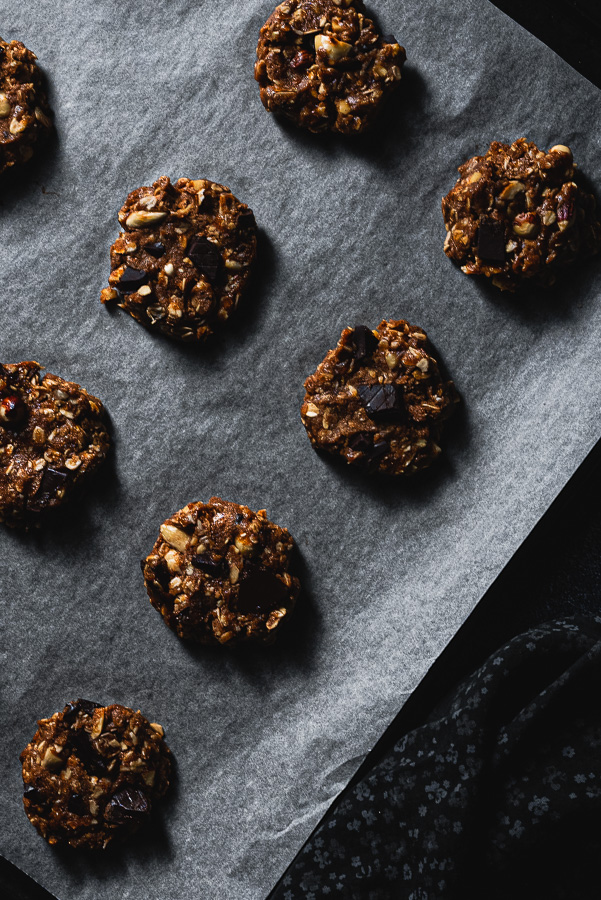 Let's see what ingredients I've used for making this recipe!
Oats – when I decided to bake these oatmeal cookies, I had only rolled oats at home. Although my first batch of cookies was made with them, for the second batch I've decided that I will grind them very shortly in the food processor. I didn't want here that the oats turn into flour, no sir! I wanted to achieve a texture similar to quick oats. The point here is, I recommend using quick oats for this recipe or slightly grinding the rolled oats before adding them to the rest of the ingredients.
Spelt flour – is one of my favorite types of flour for great tasting desserts. Here I've used whole-grain spelt flour which added a slightly nutty, sweet taste to these oatmeal cookies.
Hazelnuts – previously roasted in the pan so the skin is easier to peel off. The hazelnuts give these cookies some crunch!
Dark chocolate – although I used dark chocolate with 70% cocoa, the ones with 78% or 85% would also work really well. Dark chocolate gives these cookies some contrast in flavor.
Eggs – the main binder for dry and wet ingredients. If you can, choose free-range eggs.
Coconut palm sugar – is also one of my favorite types of brown sugar not just because of the taste, but because of its lower glycemic index (compared to white sugar).
Coconut oil – you can use refined or unrefined coconut oil, but I prefer using unrefined. If you can't stand the smell of coconut, use a refined one. I also tried making these cookies with extra virgin olive oil, but the flavor of olives was too dominant.
Cinnamon – now, don't skip this line of text, please! I've used Ceylon cinnamon here, not cassia. Cassia cinnamon has a much bolder, stronger taste. If you want to use cassia cinnamon, use only 1/2 teaspoon for this recipe.
Nutmeg – a spice that will enhance the sweetness of the cookies.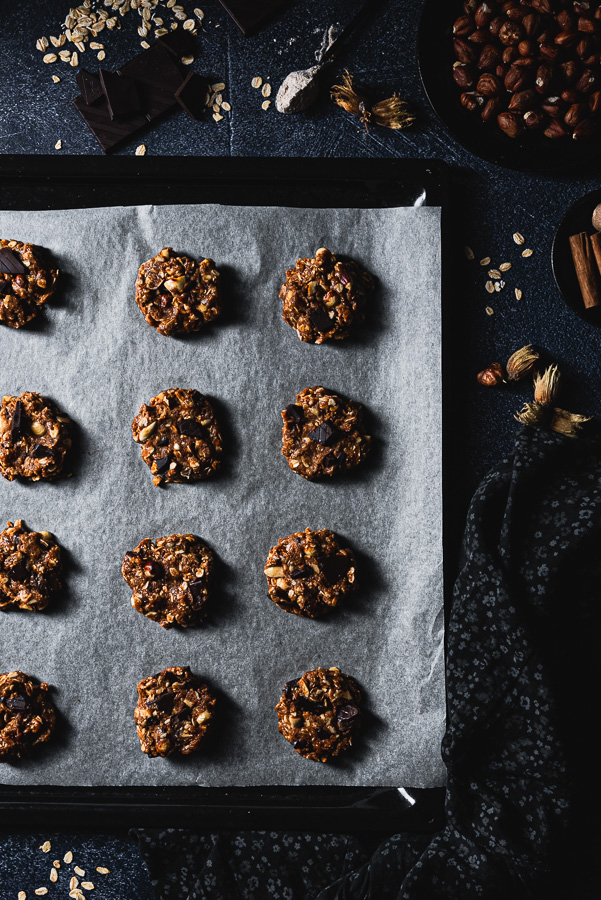 How to Store Dark Chocolate Oatmeal Cookies
After they completely cool down, you can store these cookies in several ways:
Keep them in a metal cookie tin, plastic, or glass food container for up to 7 days.
If you know that you will not eat them in a week or you want to save some for those (un)expected PMS cravings, you can freeze these! Just take some zip bag, put a few cookies in there, squeeze out the air and put them in a freezer! They can last up to a month.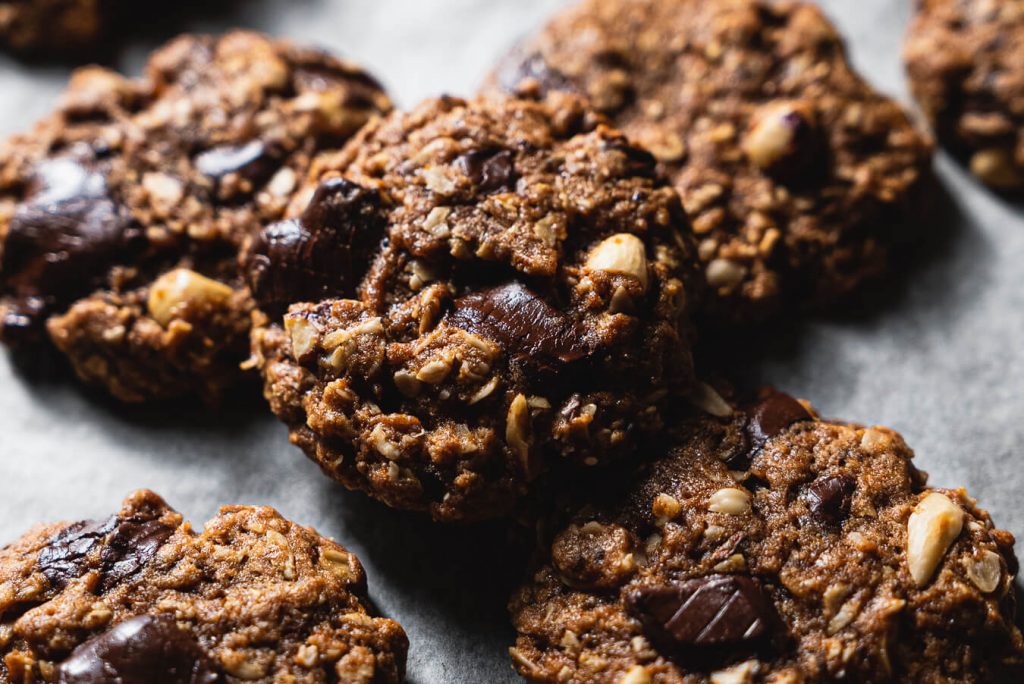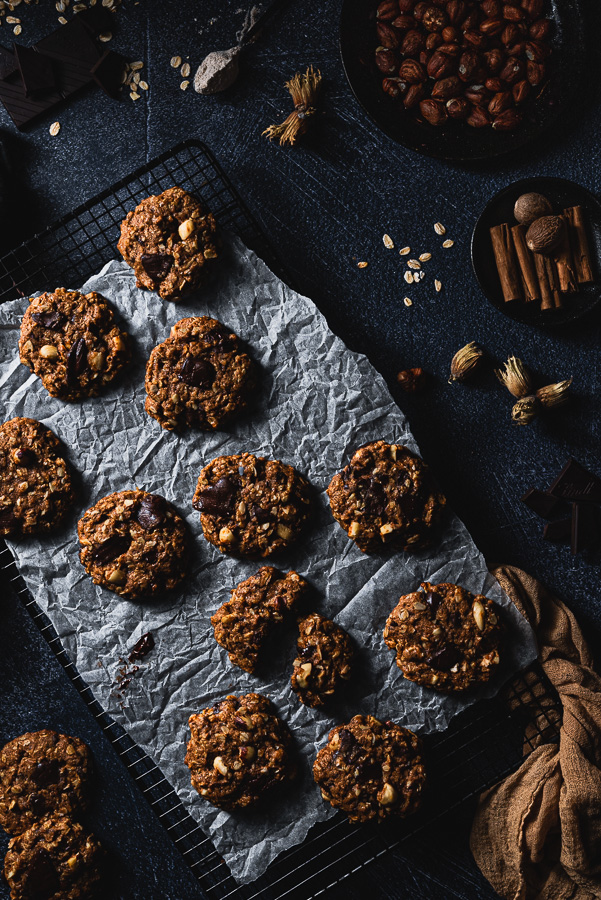 Are you looking for even more oats recipes? Here are some of the favorites from the blog:
If you try these dark chocolate oatmeal cookies, be sure to tag me on Instagram or send me photos of your cookies! If you have any questions, feel free to pop in my DMs on social media or send me an e-mail! For more video recipes, be sure to subscribe to my Youtube channel!
Bake with love,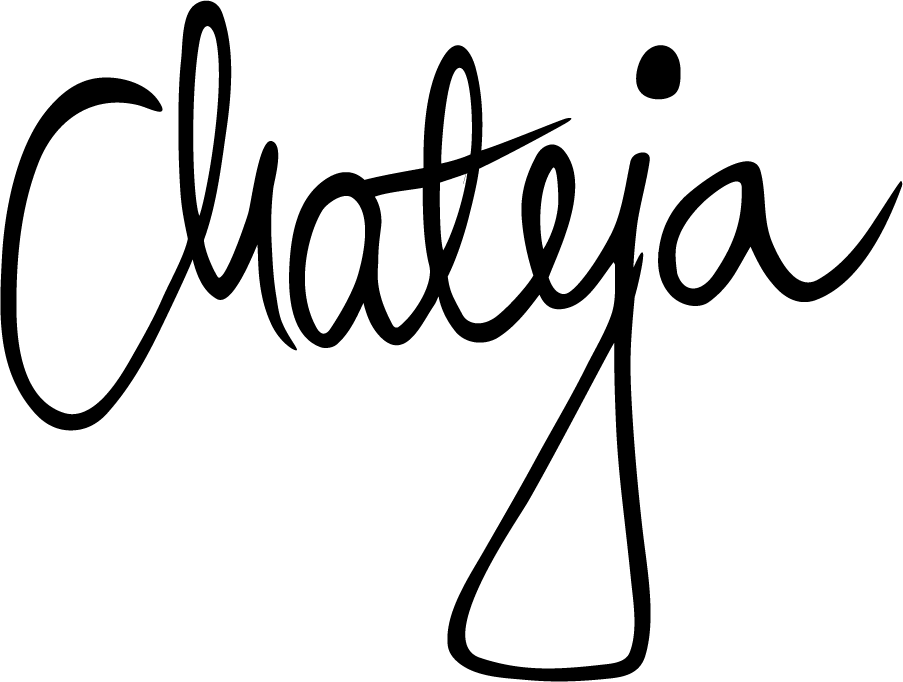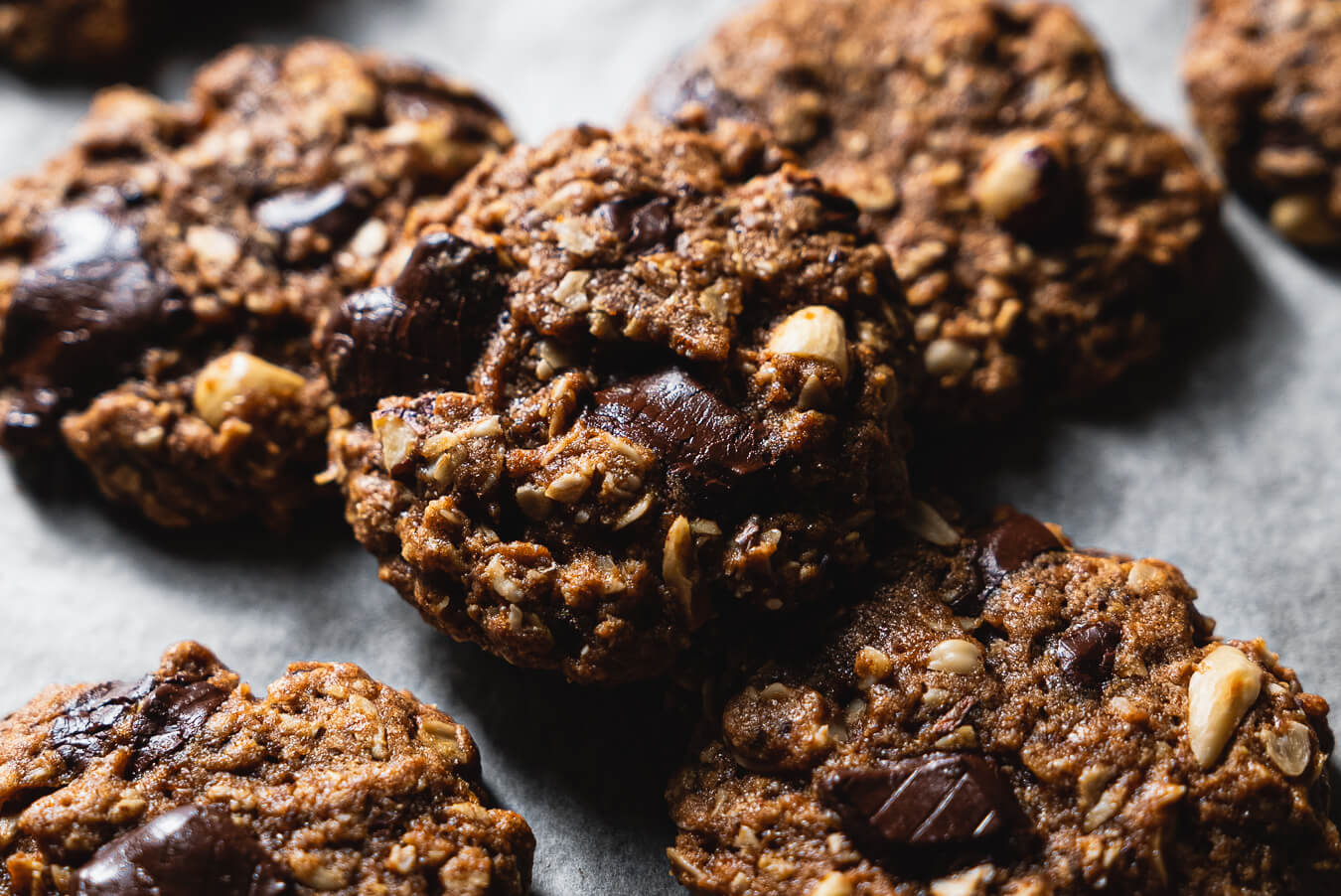 Dark Chocolate Hazelnuts Oatmeal Cookies
Your search for delicious, homemade dark chocolate oatmeal cookies has officially come to an end: these cookies are made with whole-grain spelt flour, dark chocolate, and crunchy hazelnuts. They are universal for every time of the year! Thanks to coconut oil and coconut palm sugar, they stay soft for a long time.
Print
Pin
Rate
Ingredients
200

g

whole grain spelt flour

6

g

baking powder

150

g

coconut palm sugar

150

g

oats

80

g

hazelnuts

(peeled from skin, slightly roasted)

100

g

dark chocolate

(min. 70% cocoa)

1

teaspoon

ceylon cinnamon

1/4

teaspoon

nutmeg

140

g

coconut oil

(melted, room temperature)

2

eggs

1/3

teaspoon

sea salt
Instructions
Toast the hazelnuts in a dry pan to make the skin easier to peel. Chop them coarsely together with dark chocolate and combine with the flour, baking powder, oats, coconut sugar, and spices. If you're using rolled oats, grind them very shortly in a food processor beforehand.

Whisk the eggs, add salt, and room temperature melted coconut oil. Mix the dry and wet ingredients until everything is combined. You can help yourself with a wooden spoon because the ingredients will be a bit harder to combine. The cookie dough should be sticky, with no dry parts.

Preheat your oven to 190°C (375°F), and line two baking trays with parchment paper. Drop by heaping spoonfuls onto a baking tray and leave some room in between. They will spread, but not too much. My cookies were about 40-45 g each. Don't bother with making them perfectly round, they will be prettier if the edges are looking imperfect.

Bake them for 11-12 minutes on a medium rack. Once baked, let them cool for 5 minutes on the baking tray, then transfer them to a cooling rack to cool completely.

Store them in plastic or glass boxes or in a metal cookie tin and eat them within a week.
Notes
If you want, you can chill the cookie mixture in the fridge for about 30 minutes or so. The dough will become a bit easier to work with, but this step isn't necessary. However, don't leave it overnight because it will harden too much.
If you're having problems with combining wet and dry ingredients (the mixture seems too dry), add 1 teaspoon of milk, but no more than that. 
Nutrition
Serving:
1
cookie
|
Calories:
241
kcal
|
Carbohydrates:
26
g
|
Protein:
4
g
|
Fat:
14
g
|
Saturated Fat:
8
g
|
Polyunsaturated Fat:
1
g
|
Monounsaturated Fat:
4
g
|
Trans Fat:
0.003
g
|
Cholesterol:
18
mg
|
Sodium:
90
mg
|
Potassium:
119
mg
|
Fiber:
3
g
|
Sugar:
10
g
|
Vitamin A:
30
IU
|
Vitamin C:
0.3
mg
|
Calcium:
44
mg
|
Iron:
2
mg