Oven-roasted plum jam with pumpkin pie spices and some dessert wine will totally change your perception of plums! Also, this jam is sugar-free!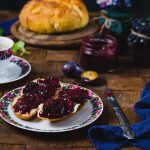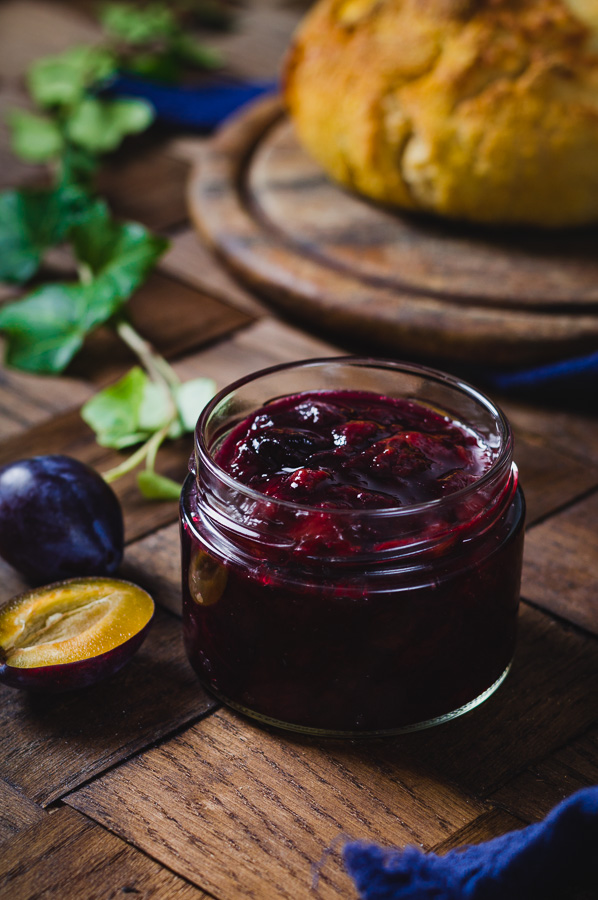 Oven-roasted plum jam is one of my favorite gastronomic discoveries of the gloomy 2020 year.
It removes from the throne all those fancy meals I've had the opportunity to try lately.
How come?
Well, there are several reasons.
Before making this plum jam, I'd heard about it many times before. From the ladies in our local farmer's market, from my grandma, in the old cookbooks… Also, I remember reading about it on a Croatian food blog Cukar, and on The Hungry Apron (thank you, girls, for the inspiration!)
I thought to myself: "This jam must be good. Mateja, stop messing around, it's time to roll up your sleeves!"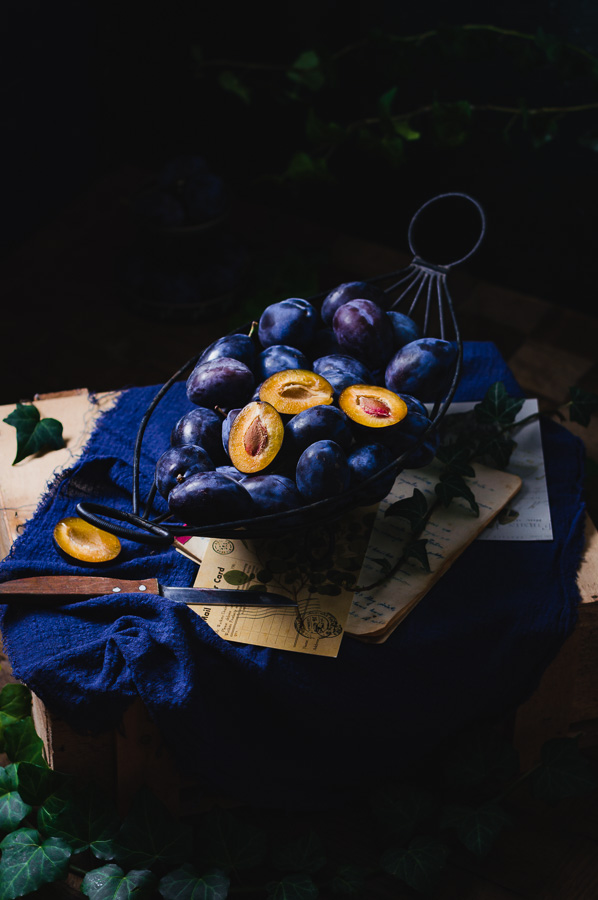 So, I decided it was time to go to my favorite Trešnjevka market to buy these beautiful, large damson plums and start my little jam-making adventure.
How to Make Plum Jam Without Added White Sugar
I washed the plums, cut them in half, and removed the stones. Transferred them to a slightly deeper baking tray and then the first dilemma came: to put sugar or not to put sugar? What about spices? Should I add some alcohol?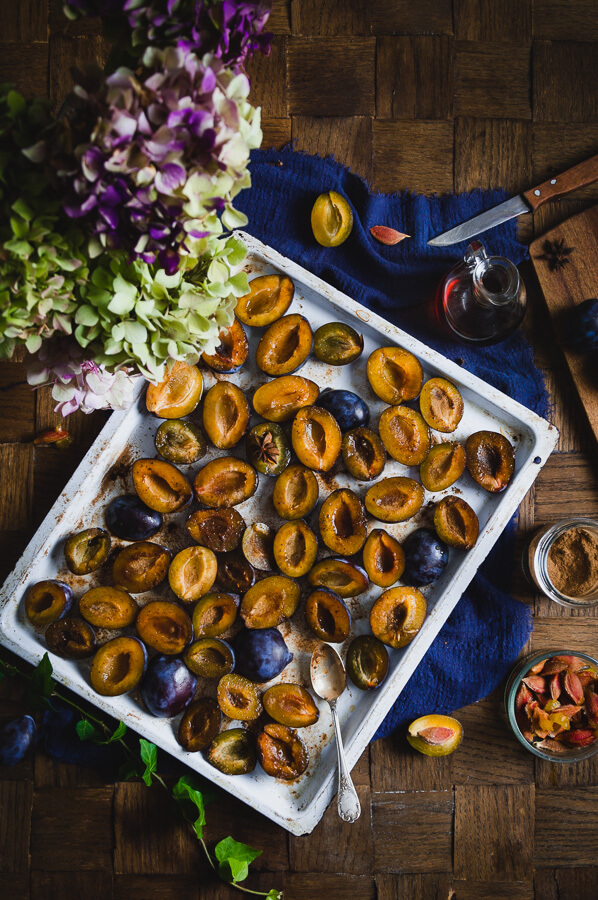 That's when I decided that I will macerate them in dessert wine and pumpkin pie spices, and omit the sugar.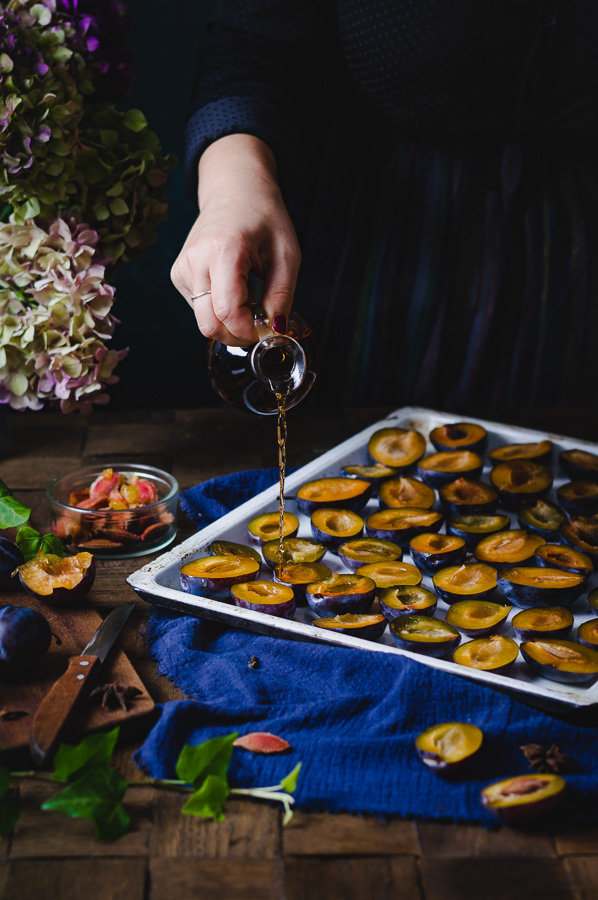 I put them in the preheated oven, stirred them every half an hour, and voila! After about an hour and 45 min, I got perfectly roasted plums with concentrated flavor, ruby color, and soft texture.
And the smell… If I could only describe it to you!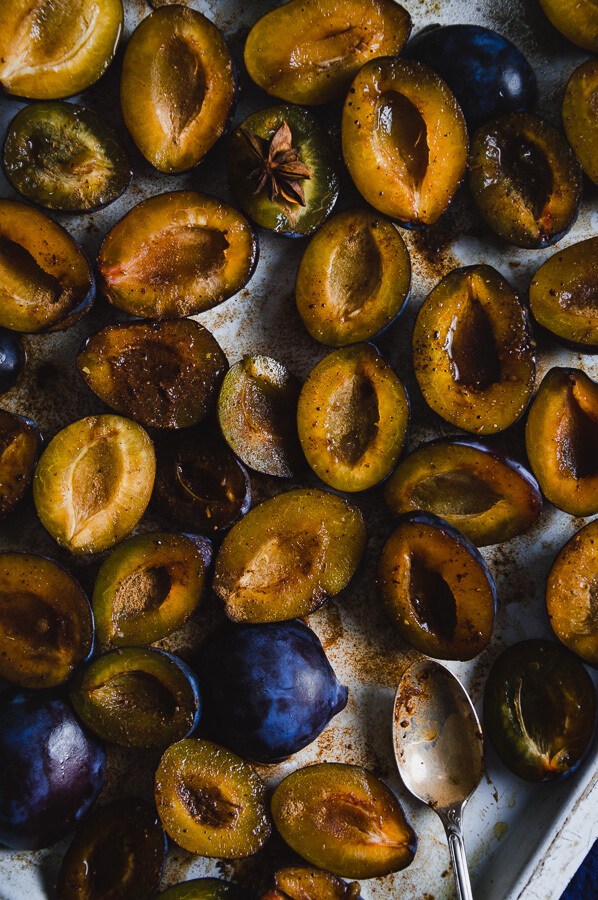 When you finish roasting this jam, be sure to have a slice of fresh, possibly warm bread because you'll want to have something to scoop all those leftover thick juices around the edges of the tray!
Some butter will be good too because every jam needs to be tested before putting it in the jars, right?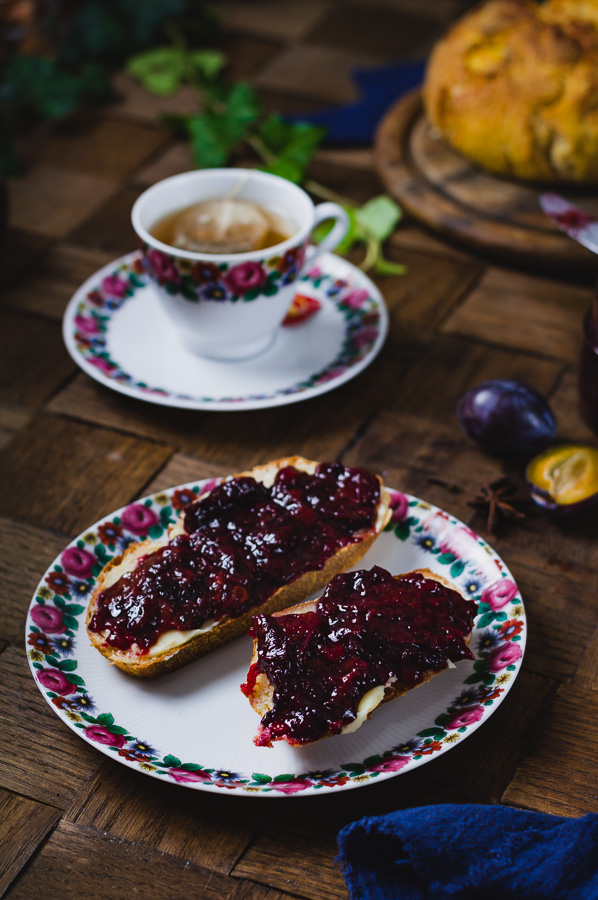 Pros and Cons of This Oven-Roasted Plum Jam
The biggest and most serious challenge that comes with oven-roasted plum jam prepared with no added white sugar is that, unfortunately, you will eat it very quickly. Because it's SO DAMN IRRESISTIBLE.
You will not get a big amount of jam. Since I haven't used sugar here, and we know that sugar contributes to the mass of the final product, this recipe will yield just a few smaller jars of plum jam.
Sugar also acts as a preservative, and since I'm not using it in this recipe, I'm pretty convinced that this jam can't be stored for up to a year like classic jams, although some people claim that it can. Honestly, I didn't bother with this too much because I don't make this oven-roasted plum jam in large quantities and because I know there's no chance it will last that long in my house anyway. 🙂
Misconceptions Related to Oven-Roasted Plum Jam
It will make my oven so dirty that I'll later have to clean it for hours!
That's what I thought too, but it won't! Just stir the plums every once in and now and occasionally let the steam that has accumulated come out of the oven (watch your face and hands). If you see that plum juices have started to harden on the edges of the tray, rotate it halfway through baking.
Jam without added white sugar? That won't have good taste.
Again, wrong. I tried roasting the plums without any spices and I have to admit that this spiced version is a much better option for me. Spices like ginger, star anise, nutmeg, and cinnamon are some of the main ingredients in my homemade pumpkin pie spice mixture enhancing the natural sweetness of plums and very nicely complementing their flavor. Dessert wine also deepens the flavor.
If you really have a sweet tooth or you have very sour plums, add as much sugar as you think will suit your taste. Instead of white sugar, you can also use brown sugar too.
My final conclusion: This plum jam without added sugar doesn't require professional cooking skills or much time, but as a result, you will get an extremely tasty and healthy homemade fruit spread that you will adore! It's easily possible you will feel like you're eating the finest, most expensive jam in the world.
Which is not far from the truth.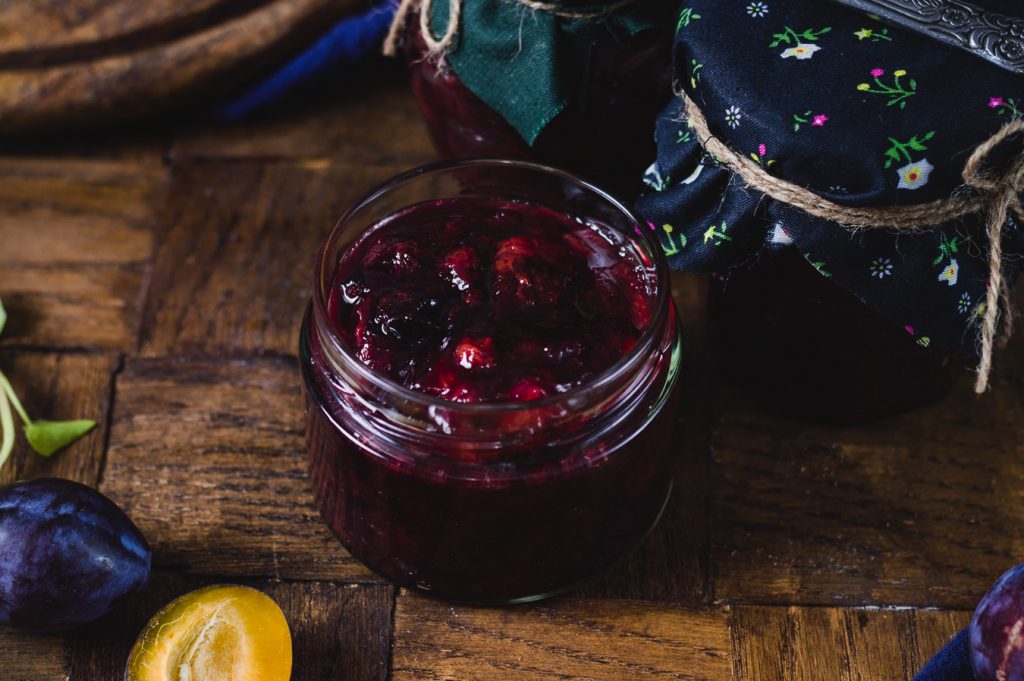 So, if you have a person close to your heart that likes plums, gift her/him a jar of this jam. I guarantee it will brighten her/his day!
Have you ever made oven-roasted jam before? If so, which fruit you've used?
If you try this recipe, don't forget to tag @foodandmoodblog on Instagram or Facebook or send me your photos! I suggest you take a look at my other preserved recipes for extra inspiration. And if you prefer video recipes, feel free to subscribe to my Youtube channel!
Cook with love,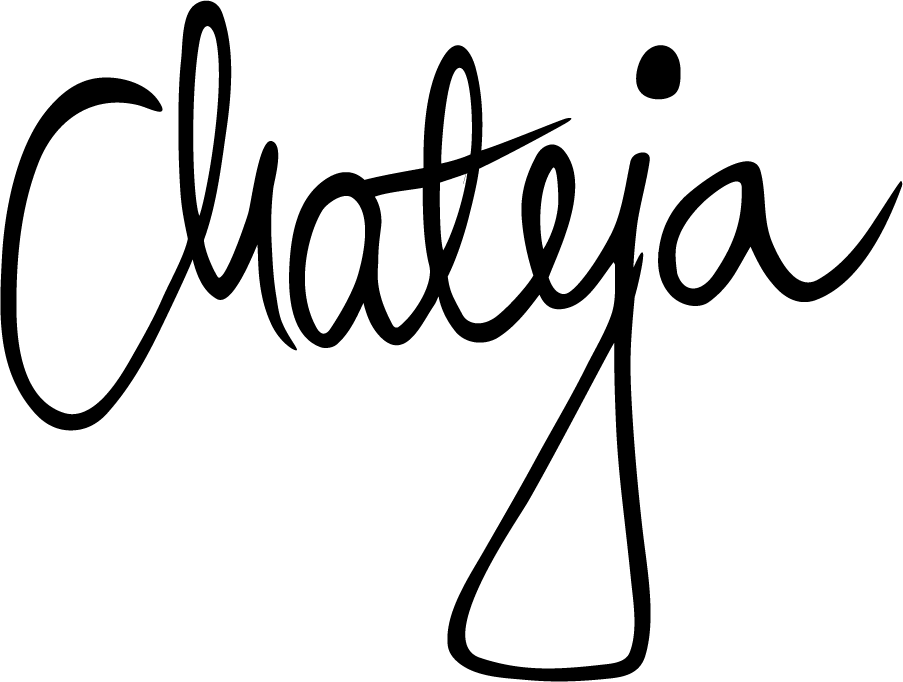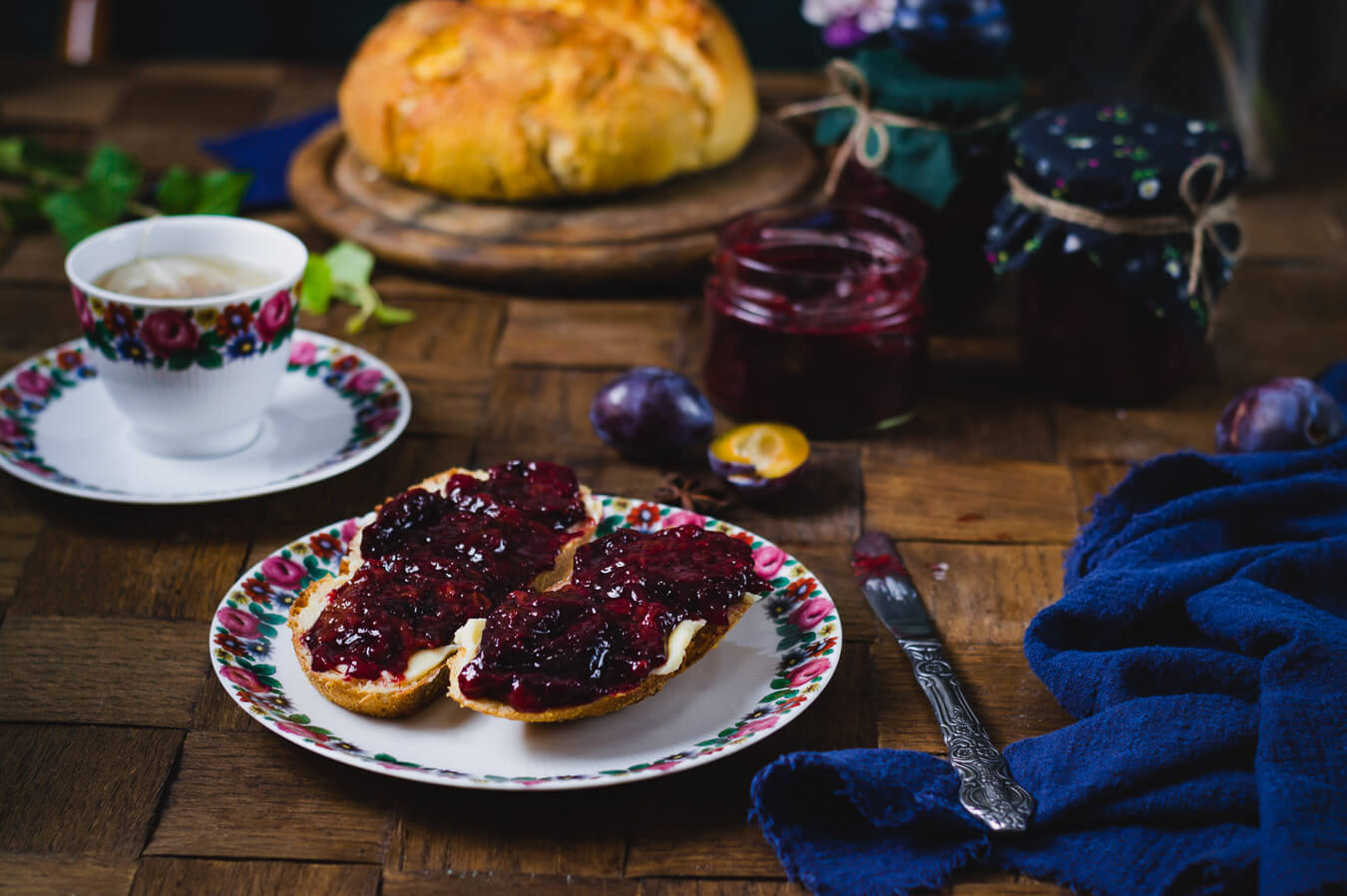 Oven-Roasted Plum Jam (No Added Sugar!)
Oven-roasted plum jam with pumpkin pie spices and some dessert wine will totally change your perception of plums! Also, this jam is sugar-free!
Print
Pin
Rate
Ingredients
1,5

kg

blue damson plums

(pits removed)

1

teaspoon

pumpkin pie spice mixture

3-4

tablespoon

dessert wine

(yellow muscat, prošek... )
Instructions
Wash the plums, cut them in half, and remove the pits. Prepare a deeper baking tray and place the halved plums in it.

Add spices and dessert wine, stir well, and let the plums macerate for at least 30 min. 10 min before putting the fruit for roasting, preheat the oven to 200°C.

Place the baking tray on the middle rack. Every half an hour stir the plums. At first, they will probably release a lot of juice but this will evaporate during the roast. The jam is ready when the juice has thickened but it's not completely gone.

Transfer the jam to sterilized jars and seal them tightly. Once opened, keep it in the refrigerator and eat it within a few days.
Nutrition
Calories:
256
kcal
|
Carbohydrates:
60
g
|
Protein:
4
g
|
Fat:
1
g
|
Saturated Fat:
0.1
g
|
Polyunsaturated Fat:
0.2
g
|
Monounsaturated Fat:
1
g
|
Sodium:
2
mg
|
Potassium:
803
mg
|
Fiber:
7
g
|
Sugar:
51
g
|
Vitamin A:
1727
IU
|
Vitamin C:
48
mg
|
Calcium:
36
mg
|
Iron:
1
mg