Creamy and easy to prepare, this vegan pumpkin pudding is one of those recipes that I like to start with this long season of sweet and savory pumpkin meals! Not only does it take 15 minutes to be made, but you only need a few ingredients.
This recipe itself is very adaptable to your eating habits, and since it's dairy and egg-free, it's suitable for vegans too!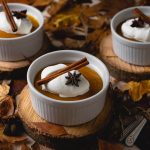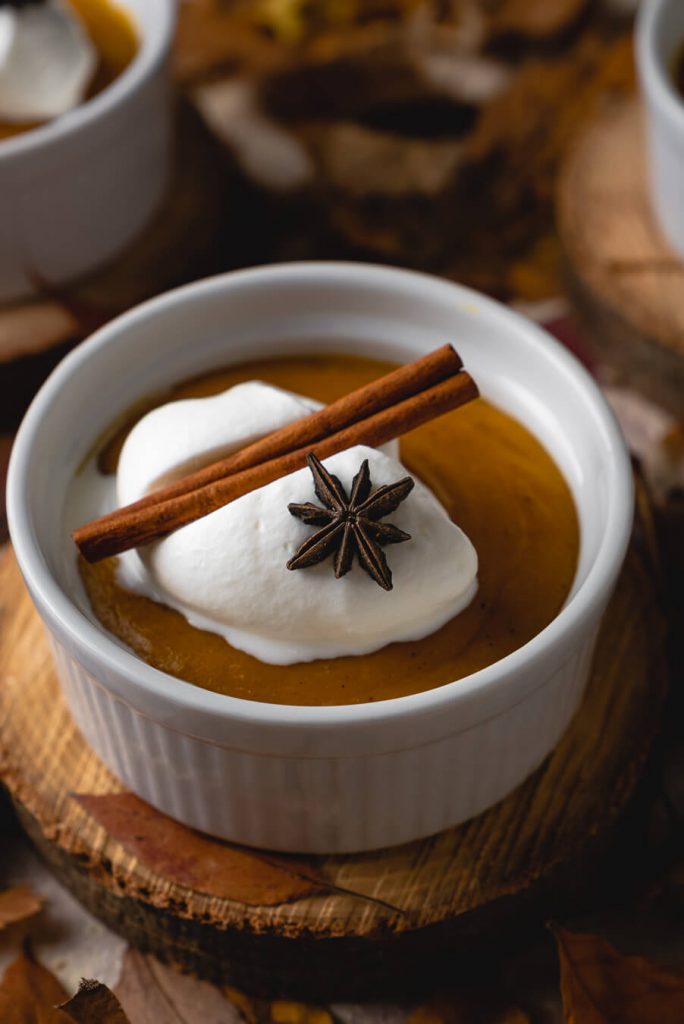 Pumpkins and squashes are some of the foods that I've been looking forward to every autumn for several years now.
Round, oblong, smooth, bumpy, I adore them all equally! Love towards pumpkins somehow started with Hokkaido and butternut squashes and continued with kabocha and if I see some new variations on the farmer's market that I haven't tried yet, I just know that I have to buy them!
Therefore, if you haven't by now, please give pumpkins and squashes a chance in your diet, as they do great in both sweet and savory dishes. The recipe for this pumpkin pudding has been in my recipe notebook for over 10 years now and I have to admit that not a single fall goes by without me making this recipe at least a few times.
Why You'll Love This Vegan Pumpkin Pudding Recipe
It's easy to make.
You can be really flexible with the ingredients. You can make this pudding with a plant alternative to cow's milk, like I did, and add some whipped coconut cream on top or you can make it with regular milk and whipped heavy cream instead. It's really up to you!
It can be suitable for people intolerant to gluten. If you make sure that the corn starch you use is certified as gluten-free, this vegan pumpkin pudding also becomes a meal suitable for this group of people.
Depending on the type of pumpkin and spices you'll use for this recipe, you can get different flavors! I make my own pumpkin pie spice mix (which you can see in my Reels), but that doesn't mean that you can't use storebought pumpkin pie spice mix or come up with your own mixture! Even if you decide to put cinnamon only, it will taste good.
If you prepare the pumpkin puree in advance, this recipe is done in 15 min or so. Here in Croatia, we cannot buy pumpkin puree in stores so I'm used to making my own.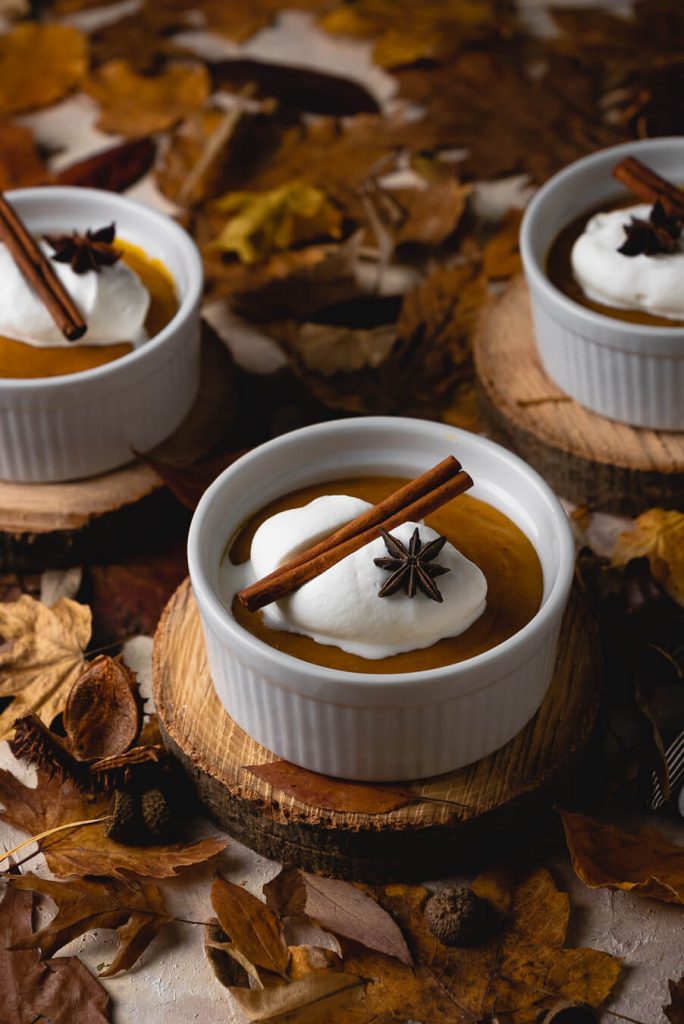 Pumpkin Pudding Ingredients You'll Need
PUMPKIN PUREE – the color, taste, and even consistency of the pudding will depend a lot on your pumpkin puree. My go-to pumpkins/squashes for this recipe are butternut or Hokkaido squash. If you're going to make your own pumpkin puree, make sure that it doesn't have any lumps or skins, otherwise, it will affect the final texture of the pumpkin pudding.
PLANT-BASED MILK – there are countless gluten-free, dairy-free, and lactose-free alternatives to cow's milk. My current favorites are rice and coconut milk. Whichever you choose, be aware that not every plant-based milk is made the same. Some have a pronounced taste that can ultimately affect the taste of the pumpkin pudding.
CORNSTARCH – The main ingredient that helps to thicken the pudding. I tried replacing it with rice flour, but had very little success – the final texture was too grainy so I wouldn't recommend it.
COCONUT PALM SUGAR – gives a great taste to this recipe and generally goes very good with pumpkins. Instead, you can use some other type of brown sugar or even white if you prefer.
PUMPKIN PIE SPICES – a favorite spice mixture of mine which most often consists of cinnamon, star anise, nutmeg, ginger, cardamom, etc.
How to Make Pumpkin Puree
I usually make pumpkin puree in two ways: I cook the pumpkin cubes in water on the stove or I roast it in a baking tray in the oven. Although both methods of preparation give a good result, my personal preference is to roast the pumpkin in the oven and then turn it into a puree.
Now, you maybe can wonder WHY?
Because this way pumpkin gets a more concentrated, sweeter taste and it's not watery. So, here's how to easily make pumpkin puree in the oven:
Preheat the oven to 200°C (about 400°F). Cut the pumpkin in half and scrape all the seeds with a big spoon.
Line a baking sheet with parchment paper. Arrange pumpkin halves (or slices, if it was a bigger pumpkin) on a baking sheet so that they don't touch each other, with the skin facing up.
Roast until the pumpkin is completely soft and the knife goes very easily through the flesh. The length of the roasting time will depend on a few factors: your oven, the thickness and the size of the pumpkin, and finally, the variety of pumpkins too. I usually roast Hokkaido squashes for about 60 min.
When it's done, take it out of the oven, let it cool a bit and then scrape it with a spoon and turn it into a smooth puree in your food processor.
How to Freeze Pumpkin Puree
After roasting the pumpkin and turning it into a puree, I am usually left with an excess of that same puree that I know I'll certainly not be able to use in a few days. That's where my freezer comes to the rescue.
So, how do you freeze pumpkin puree?
Very simple.
After you've turned your pumpkin into a puree, let it cool completely.
Prepare a clean zip bag, transfer the mashed puree into it, squeeze out any excess air and close tightly.
Although it's not necessary, I suggest that you weigh the puree immediately and write the exact amount on the bag. You'll thank me later. Now your pumpkin puree is ready for the freezer!
Pumpkin puree prepared this way can last in the freezer for about 4-5 months.
If you don't have or use plastic zip bags, you can transfer pumpkin puree to an ice mold and freeze it too.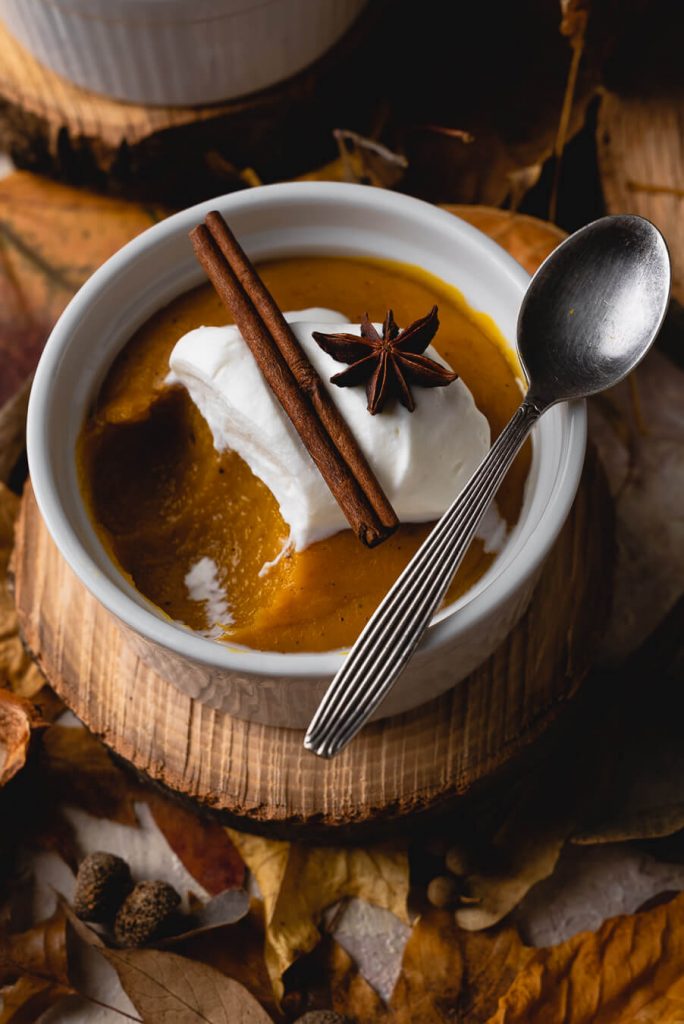 How to Serve This Vegan Pumpkin Pudding
Sooo, if you want, you can eat this pudding right away, while it's still warm, without any additions and it will be great.
Here are a few other ideas:
Let it cool and then serve with a dollop of whipped coconut cream (if vegan or lactose intolerant) or heavy whipped cream;
Serve topped with some homemade granola or muesli;
Add caramelized nuts;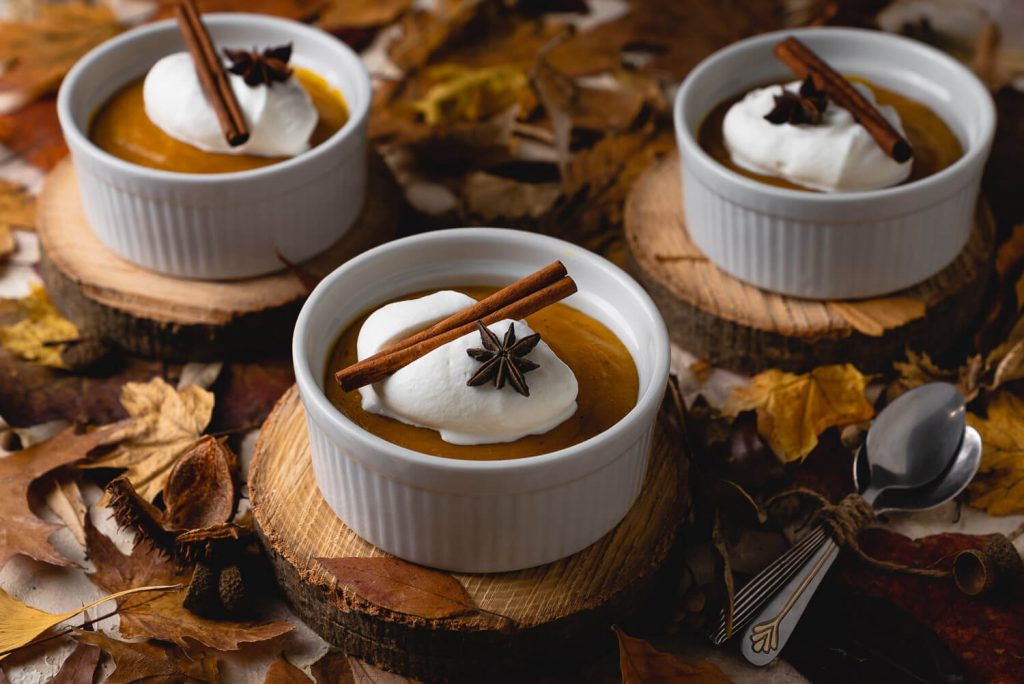 Do you enjoy pumpkin recipes? If yes, which one is your favorite? I would love to hear from you!
If you try this recipe, be sure to tag me on Instagram or send me photos of it! If you have any questions, feel free to pop in my DMs on social media or send me an e-mail! For more video recipes, be sure to subscribe to my Youtube channel!
Always cook with love,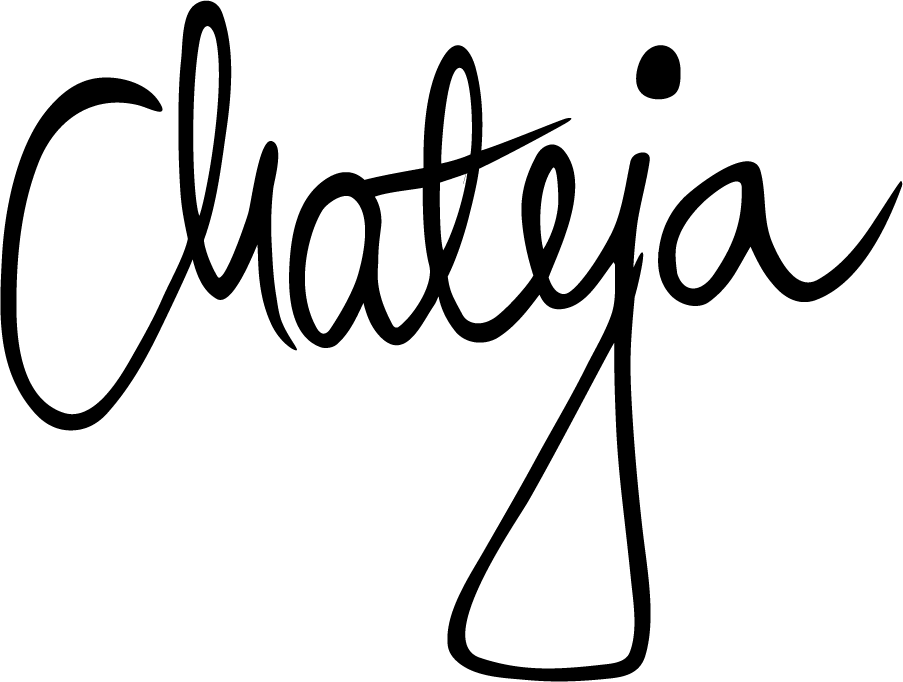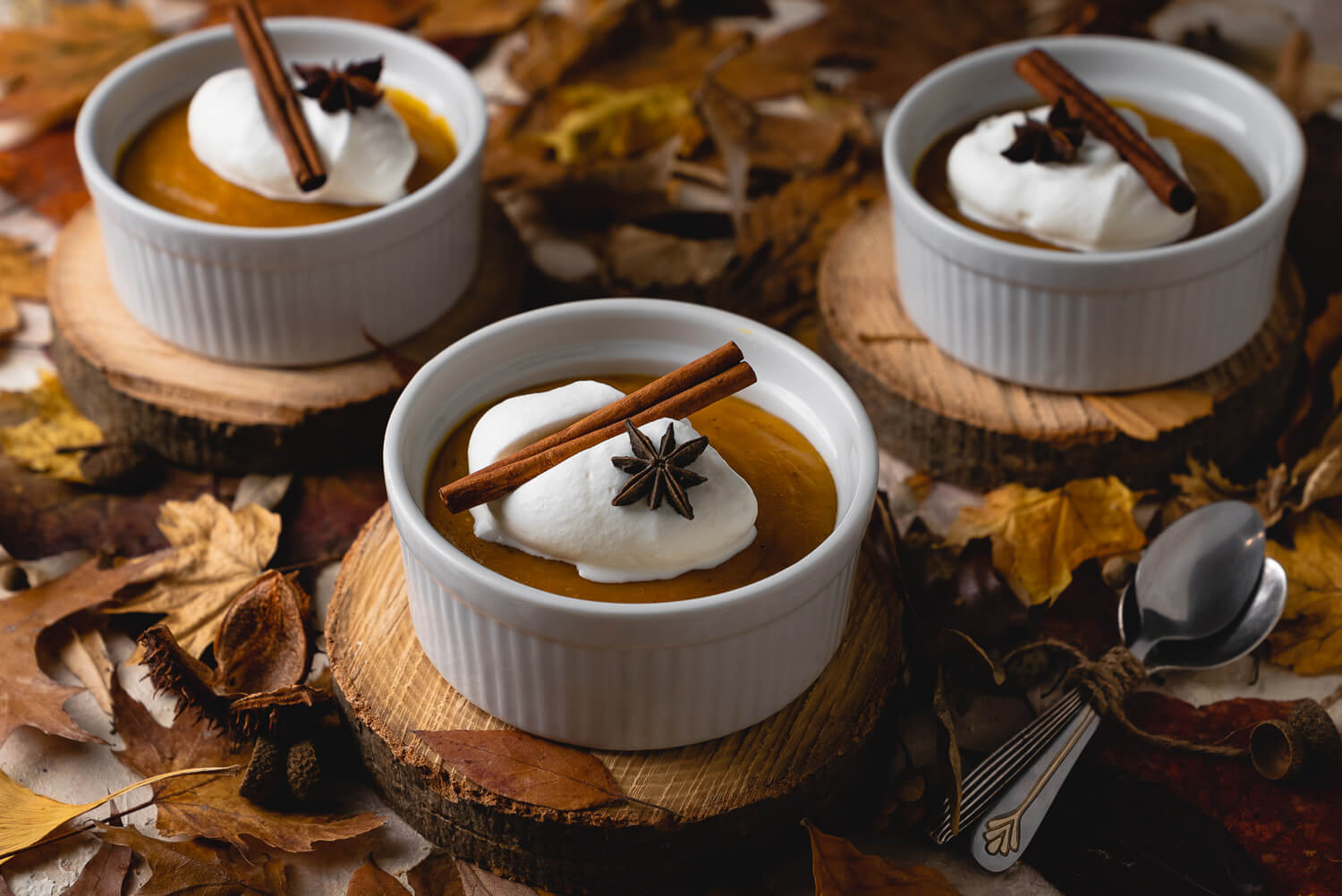 Vegan Pumpkin Pudding
Creamy and easy to prepare, this vegan pumpkin pudding is one of those recipes that I like to start with this long season of sweet and savory pumpkin meals! Not only does it take 15 minutes to be made, but you only need a few ingredients.
This recipe itself is very adaptable to your eating habits, and since it's dairy and egg-free, it's suitable for vegans too!
Print
Pin
Rate
Ingredients
350

g

pumpkin puree

(unsweetened)

400

ml

plant milk

(rice milk or coconut milk)

3

tablespoon

cornstarch

2

tablespoon

coconut palm sugar

1/2

teaspoon

pumpkin pie spice mix

pinch of

salt
Instructions
In 100 ml of milk dissolve cornstarch and coconut palm sugar with a small whisk, so there are no lumps. Mix the rest of the milk with pumpkin puree and bring to a boil, stirring occasionally. Prepare glasses or ceramic pudding bowls by rinsing them with cold water.

When the mixture starts to boil, reduce the heat and gradually pour the rest of the milk with dissolved cornstarch and sugar while stirring with a whisk constantly. Add a pinch of salt and spices. Now turn up the heat and cook until the pudding thickens.

When pumpkin pudding is cooked, pour it immediately into prepared bowls or glasses. Let it cool a bit and serve warm or serve cold with whipped coconut cream.
Nutrition
Serving:
1
serving
|
Calories:
169
kcal
|
Carbohydrates:
39
g
|
Protein:
2
g
|
Fat:
1
g
|
Saturated Fat:
0.2
g
|
Polyunsaturated Fat:
0.02
g
|
Monounsaturated Fat:
0.05
g
|
Sodium:
60
mg
|
Potassium:
253
mg
|
Fiber:
4
g
|
Sugar:
18
g
|
Vitamin A:
18158
IU
|
Vitamin C:
5
mg
|
Calcium:
53
mg
|
Iron:
2
mg