What is the secret of a good burger? Juicy, properly seasoned meat? Secret sauce? Delicious salad? For me, there is no excellent burger without a beautiful, shiny burger bun! And most importantly, they don't fall apart while you eat them!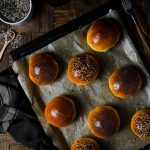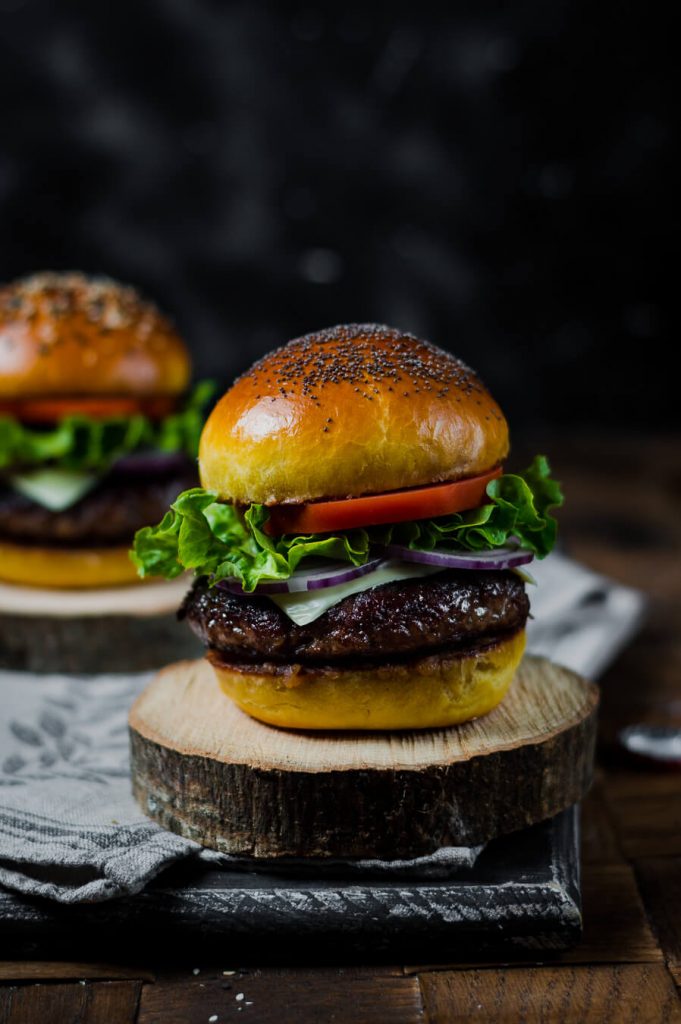 You know those days when you don't feel like doing anything at all? Feeling overwhelmed by your life, job, or your current life situation, with some gloomy thoughts swarming in your head. I would shamefully lie to you if I said I don't have days like these.
On one of those days, I made a big decision: it's time to learn how to bake a BRIOCHE.
There is something so healing in making a yeast dough. Something that soothes our soul and mind. Provides comfort, happiness, and joy. This is exactly what these brioche burger buns, without exaggeration, gave to me.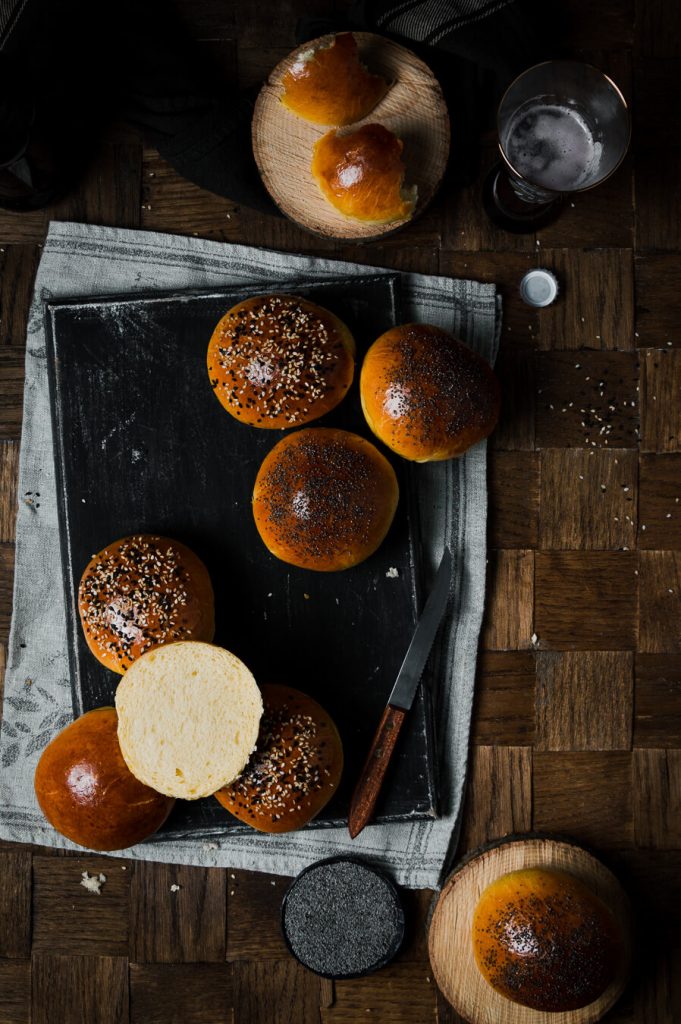 And since the first time I baked these fluffy buns, I completely fell in love with them!
Although I now make brioche in many different, sweet, or savory forms, these brioche burger buns are most often on our menu. These are great to bake when you want to make really good, high-quality burgers at home.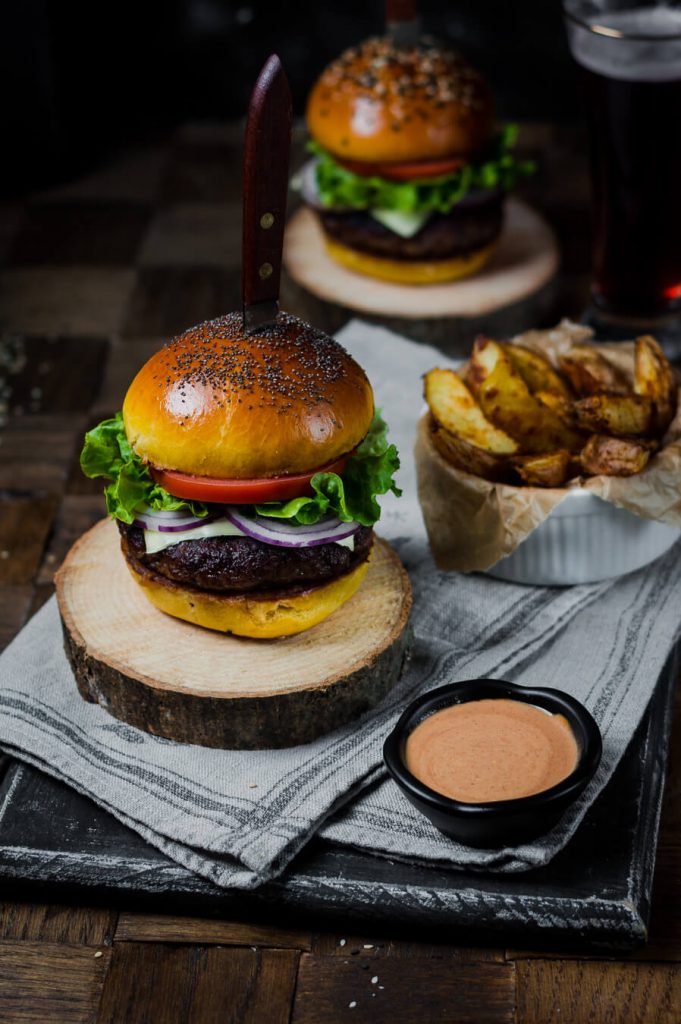 Now, let's see what you need to know before you start making your first brioche!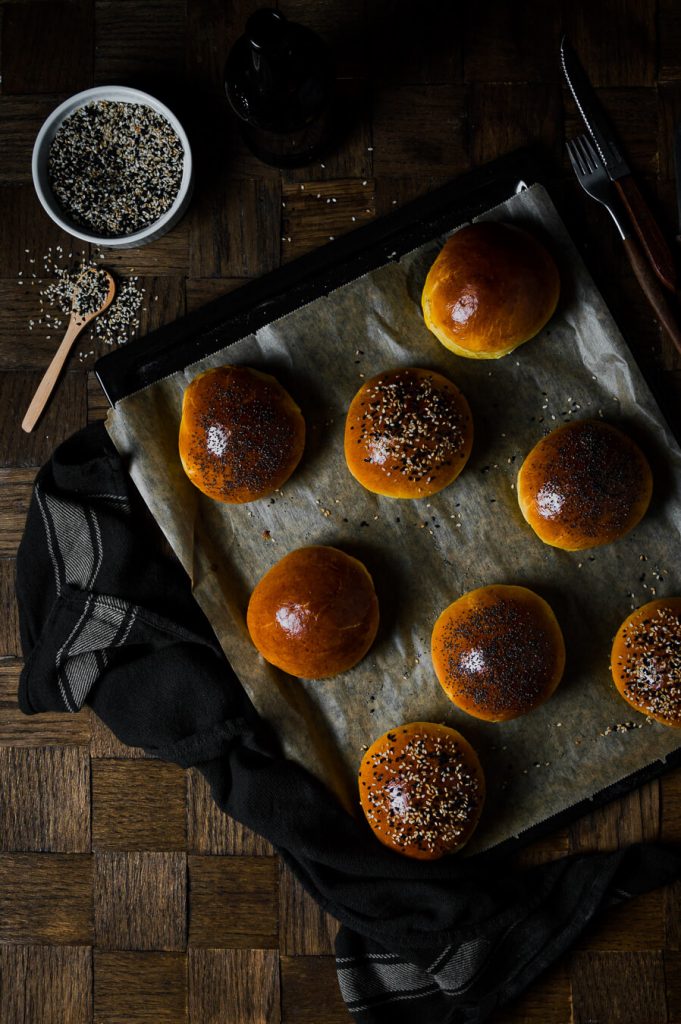 What is Brioche
Luxurious and buttery, but not too sweet.
It's not a cake, and it's not bread either.
The best of the two worlds, is an almost mythological phenomenon like a Centaur. This is how, in short, I would describe classical brioche – French yeast bread enriched with eggs, butter, and sugar.
The first written trace of brioche dates back to 1404.
As for the world itself, it's debatable whether the word "brioche" comes from the old Norman word "brier" which would in translation mean to make dough with a broye (brie) roller, or was it named after the French Brie region.
In the 17th century, brioche was known as "pain bénit", which means "blessed bread".
And here is a historical curiosity I read while I was making research about this topic.
In the midst of shortages and generally high prices of bread in France, somewhere in 1789. when the French revolution had already begun, a group of women fiercely protested in front of the court of Louis XVI and Marie Antoinette in Versailles as rumors spread that the king and queen were hiding stocks of flour. When she heard people protesting outside, Marie Antoinette allegedly said:
"If they have no bread, let them eat cake!"
Why am I telling you this?
Well, because this statement, false or true, was a bit mistranslated from French – that cake wasn't actually a cake but – brioche! In feudal times, this kind of food for ordinary people was probably considered a real luxury, but there's no real evidence that Marie Antoinette said that. However, this quote became so famous that many people believe it's true.
So interesting!
Types of Brioche
There are several types of brioche.
One can come across a classification into two types and somewhere into three types (poor man's, middle class, and rich man's) and each of these types differs in the ratio of butter and flour. In the first type, the ratio of flour and butter is 4:1, the middle-class brioche is somewhere in between, and the rich man's brioche usually means an equal amount of flour and butter, 1:1.
In this recipe, I was mostly guided by instructions from the book "The Art of French Pastry" by Jacquy Pfeiffer and Martha Rosa Shulman. Their instructions are really extensive, but I have shortened and adjusted some procedures a bit.
Also, I significantly reduced the amount of butter in these burger buns recipes only because burgers are, by themselves, the type of food that has got a lot of calories. That's why I wanted to make my brioche buns somewhat "lighter".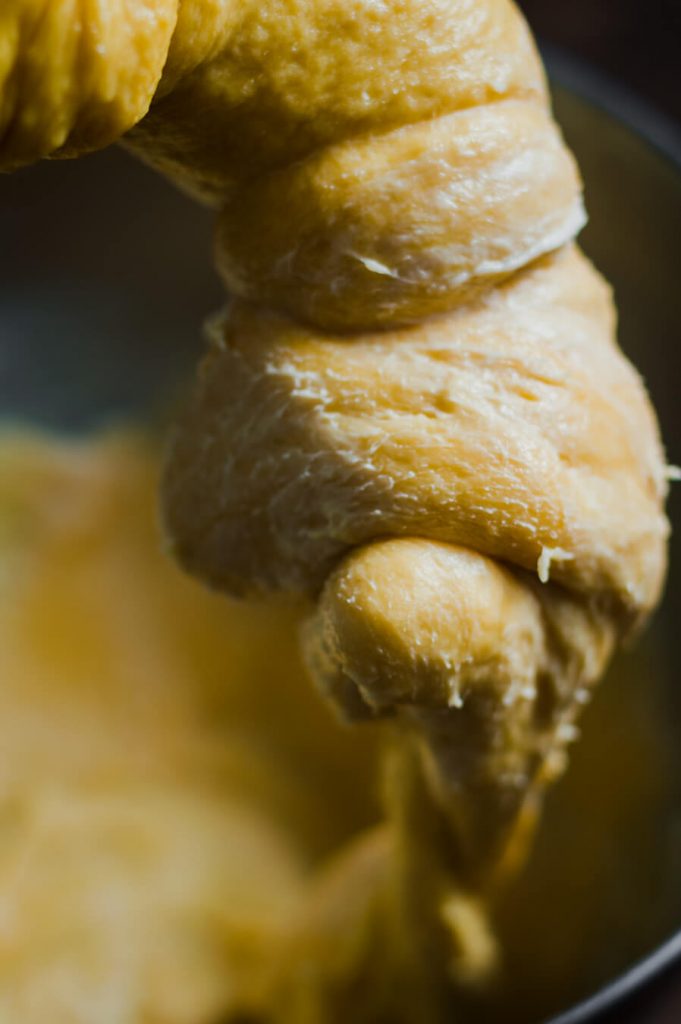 Brioche can be shaped in many different ways and these burger buns are only one of many options. If you are going to make brioche à tête or maybe some lovely chocolate babka, feel free to increase the amount of butter.
Tips for Making Perfect Brioche Burger Buns at Home
If you decide to make brioche burger buns at home, these are the things you need to pay attention to: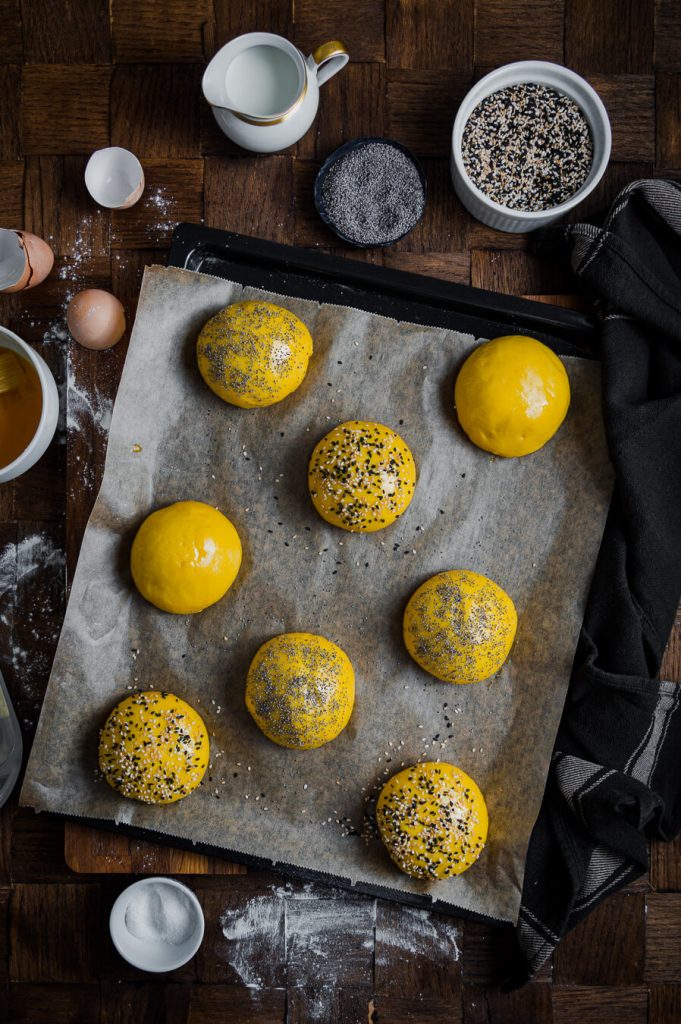 High-Quality Butter – it has to be at room temperature, but not melted! The amount of butter we add to brioche can vary, depending on what type of brioche we want to bake.
Flour – we need good quality flour with a slightly higher protein content, if possible. Make sure that the flour that you'll use has at least 10% protein or more.
Kneading Brioche – oh, this can be fucked up. There, I said the f-word, I couldn't help myself. The dough must be kneaded really well because we need a strong gluten network that will give this dough elasticity. Similar to our Croatian pinca. I recommend kneading brioche in a stand mixer if you have one. This is one of the few yeast doughs that I don't knead with my hands because it takes about 15-20 min and the dough is quite sticky for handling. If you don't own a stand mixer, use your regular hand mixer with dough hooks (you know, those swirly little things). When you come to the step of adding the butter, check how it's done in this Youtube video.
Fresh Eggs – they need to be at room temperature.
Time – it's a precious, magical ingredient in making any yeast-based dough, so brioche is no exception. There are recipes for brioche in which the dough doesn't need to stay in the fridge overnights. And that's OK. If you find it easier or you can't wait, you can skip this step. Personally, I prefer to split this recipe into 2 days.
What is Poolish and How to Make It?
Biga, poolish, sponge… these are all names for a very similar thing.
Poolish is usually a mix of equal amounts of liquid and flour and a small amount of yeast. It's often quite liquid and it's usually left to ferment between 8 and 16 hours. The length of fermentation strongly depends on the amount of yeast we add and the room temperature.
What Pfeiffer calls poolish in this book is significantly different from other bakers – namely, his method involves mixing milk with a much larger amount of yeast, and the flour is only sprinkled on the surface of the milk. The poolish is ready as soon as cracks start to form on the surface of the flour.
This method is one of the few things I didn't prefer about the original recipe, so I slightly adjusted it.
Since we use a larger amount of yeast right at the beginning, we don't need to preferment the dough for a very long time and the structure of the poolish is slightly denser than the classic poolish.
Poolish is essential because it contributes to the structure of baked goods, and provides consistent hydration and better flavor at the end.
Why is Good to Ferment Brioche Dough in the Fridge Overnight
Because:
Long fermentation improves the taste and structure of brioche burger buns and ensures they will stay fresh longer;
Brioche dough, because it's so rich in fats, is much easier to shape when it stays in the fridge overnight.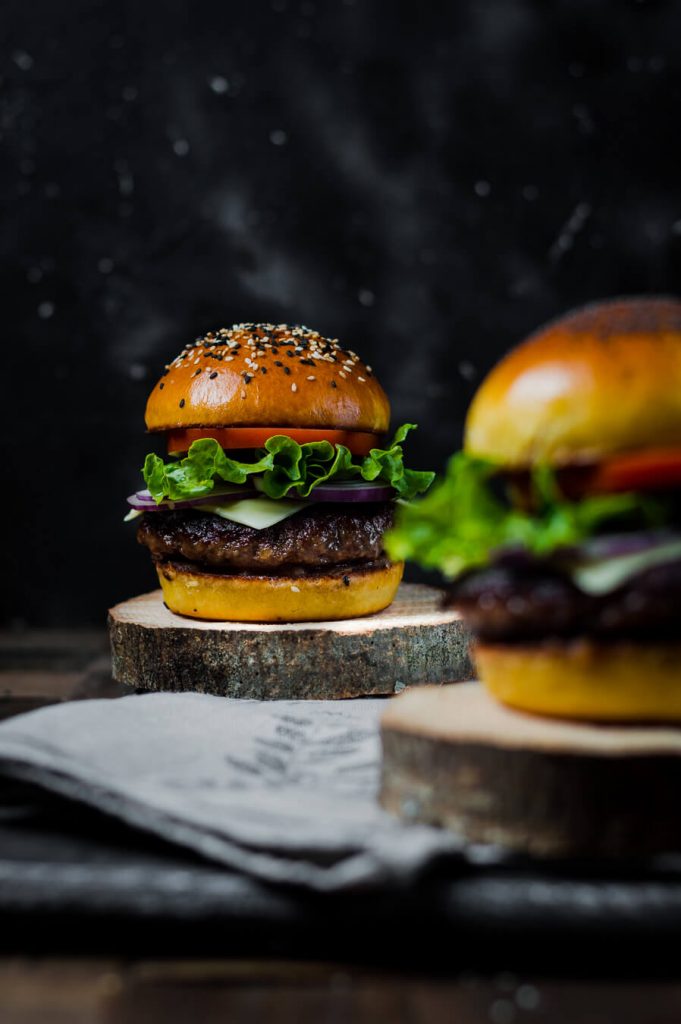 So, is this the easiest and fast recipe for burger buns? Definitely not!
But, burgers are the type of food that I don't make at home very often, so I want them to be really special when I DO make them from scratch. Therefore, this is my to-go recipe and it has never let me down! Don't forget to serve them with some good oven-roasted potatoes and some delicious sauce!
I even made a video on my Youtube channel so you can see how to make them, step by step!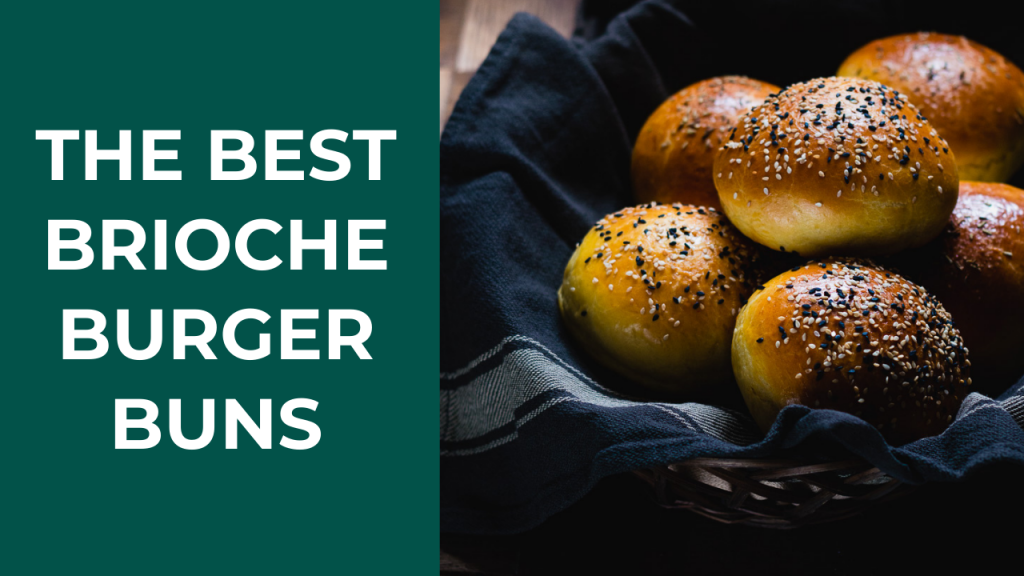 Have you ever made brioche burger buns before? Do you like to make burgers from scratch or do you prefer to eat them at your favorite fast food? I would love to hear from you in the comments!
If you try this recipe, be sure to tag me on Instagram or send me photos of your burgers! If you have any questions, feel free to pop in my DMs on social media or send me an e-mail! For more video recipes, be sure to subscribe to my Youtube channel!
Bake with love,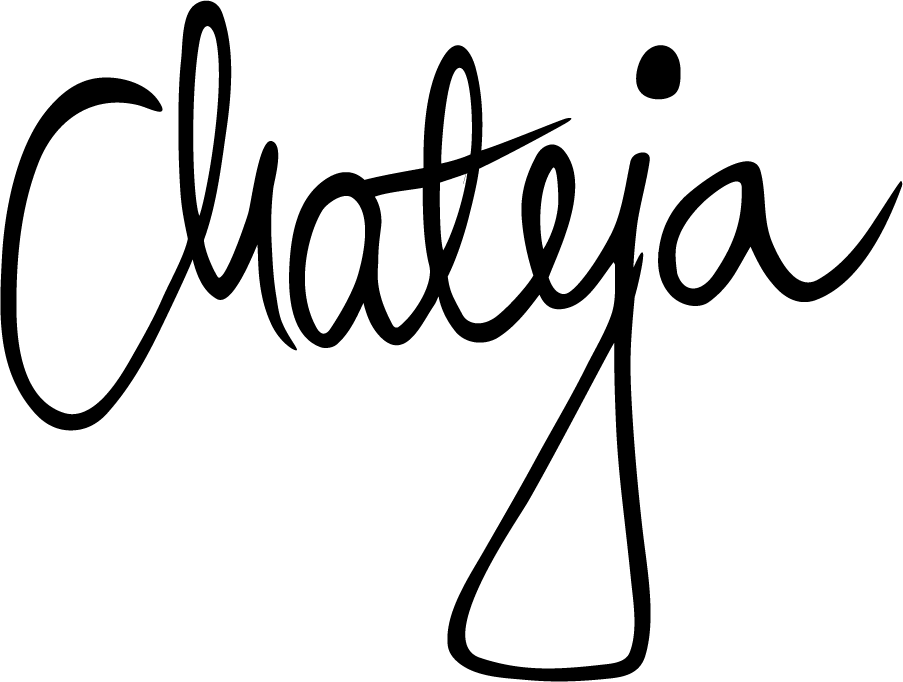 Sources:
https://en.wikipedia.org/wiki/Let_them_eat_cake
https://www.goodreads.com/book/show/17345201-the-art-of-french-pastry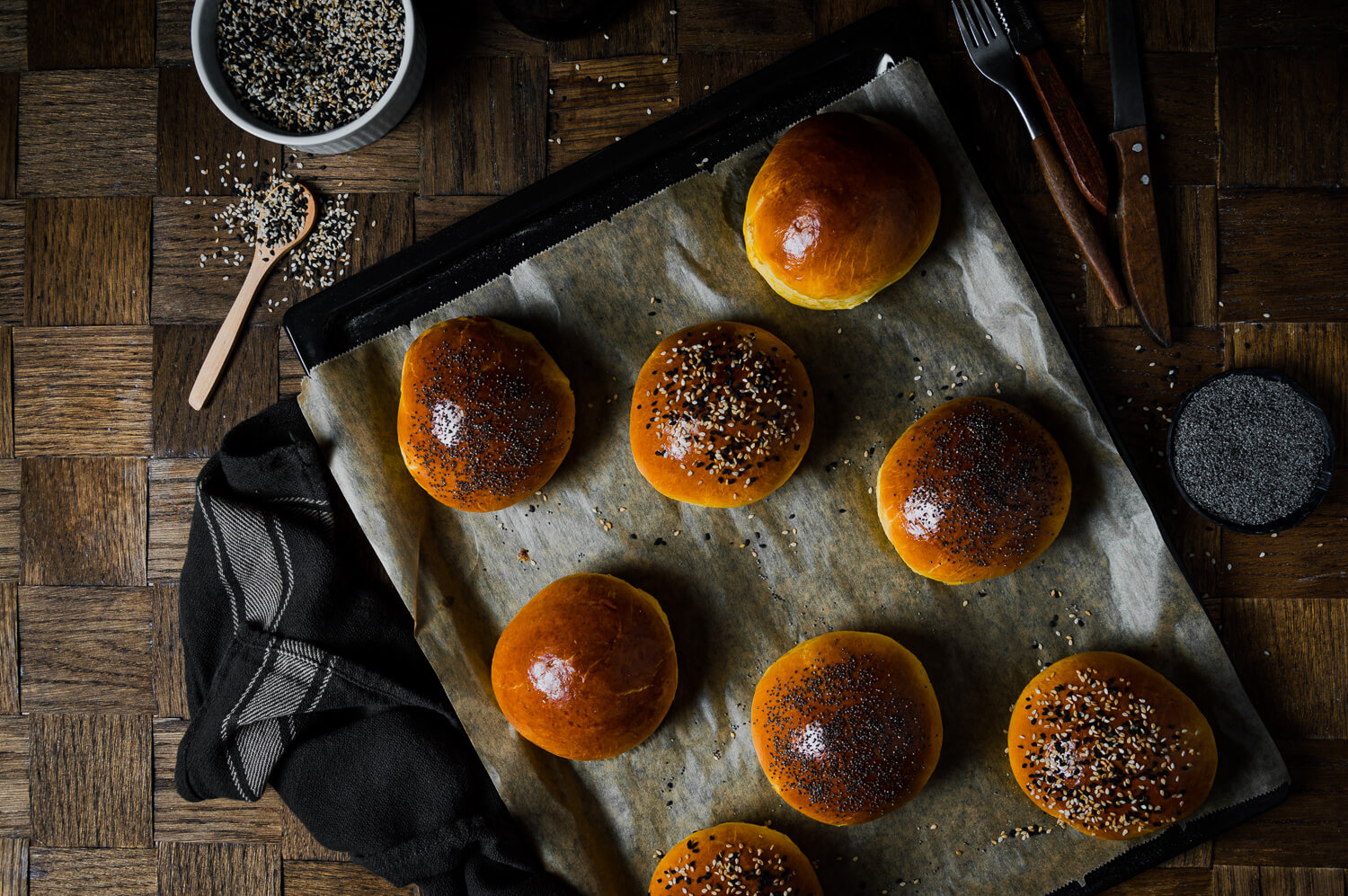 Best Brioche Burger Buns Recipe
What is the secret of a good burger? Juicy, properly seasoned meat? Secret sauce? Delicious salad? For me, there is no excellent burger without a beautiful, shiny burger bun! And most importantly, they don't fall apart while you eat them!
Print
Pin
Rate
Servings:
8
brioche burger buns
Ingredients
Poolish
70

ml

milk

(room temperature)

7

g

active dry yeast

60

g

all-purpose flour
Brioche dough
340

g

all-purpose flour

4

eggs

M size

40

g

white sugar

7

g

sea salt

100

g

butter

(room temperature, but not melted)
Eggwash and toppings
1

tablespoon

milk

1

egg

S size

good pinch

of sea salt

seeds

(sesame seeds, poppy seeds..)
Instructions
POOLISH
Add milk, flour, and yeast to the measuring cup and stir well together so that there are no dry lumps of flour. Leave for about half an hour to activate like shown in the picture This is our poolish.
KNEADING THE DOUGH
Now it's time to make dough. Add poolish together with flour, sugar, eggs, and salt to your standing mixer bowl. Start the kneading process with the dough attachment and observe how the dough looks to you. It should form after a minute. If it seems too dry, add another tablespoon of milk. Mix for 5 minutes on medium speed and then pause.

Scrape the dough that has stuck to the sides of the bowl with a rubber spatula and add a little flour. Start the mixing process again and repeat this step one more time if necessary, but no more than that. The dough should be smooth and elastic after about 15 minutes of kneading in a standing mixer (in total).
ADDING BUTTER AND SHAPING
Now we need to add our butter. First, add only half of the butter diced to cubes and start incorporating it into the dough at a slow speed. At this moment everything probably looks like a total disaster but worry not! Yep, just be patient. After a few minutes add the other half of the butter and keep mixing until the butter is fully incorporated and the dough looks shiny.

Transfer the dough to a floured surface and shape it into a ball. Then place it in a lightly oiled bowl and cover it with a wet kitchen towel. Let it rise until it doubles in volume. This can take 1-1.5 hours, depending on the room temperature.

It's doubled in size, yes! Now press out the dough gently with the palm of your hand so the gasses could come out. Cover it with plastic foil or a plastic bag (that you can reuse again) and put it in the fridge overnight, for 7-8 hours.

After 8 hours, it's time to shape our brioche burger buns. Lightly flour the working surface, and line the baking tray with parchment paper. Shape the brioche into a somewhat longer loaf and divide it into 8 equal parts, about 100 g each. Place them on a baking sheet, lightly brush with egg wash and cover with another, deeper baking tray. Let rise in a warm place until doubled in size.
BAKING
15-20 min before the beginning of baking, preheat your oven to 180°C (356° F). Once again, brush them gently with egg wash and sprinkle with some seeds, if desired. Bake for about 25 minutes.

They're done when they look shiny and golden brown on the outside. Let them cool and then transfer the buns into a plastic zip bag to keep them from drying out.
Nutrition
Calories:
517
kcal
|
Carbohydrates:
45
g
|
Protein:
25
g
|
Fat:
26
g
|
Saturated Fat:
11
g
|
Polyunsaturated Fat:
4
g
|
Monounsaturated Fat:
8
g
|
Trans Fat:
0.5
g
|
Cholesterol:
593
mg
|
Sodium:
641
mg
|
Potassium:
291
mg
|
Fiber:
2
g
|
Sugar:
6
g
|
Vitamin A:
1151
IU
|
Vitamin C:
0.003
mg
|
Calcium:
109
mg
|
Iron:
5
mg