Did you know that you can make excellent ketchup a home? This homemade ketchup is made from fresh tomatoes, without tomato paste and white sugar and it can be used in countless recipes! Just think of BBQ sauces, stir-fries, meatballs, pasta dishes, or baked beans. I mean, who else needs bottled stuff when you can have your own homemade ketchup made from the only very best ingredients?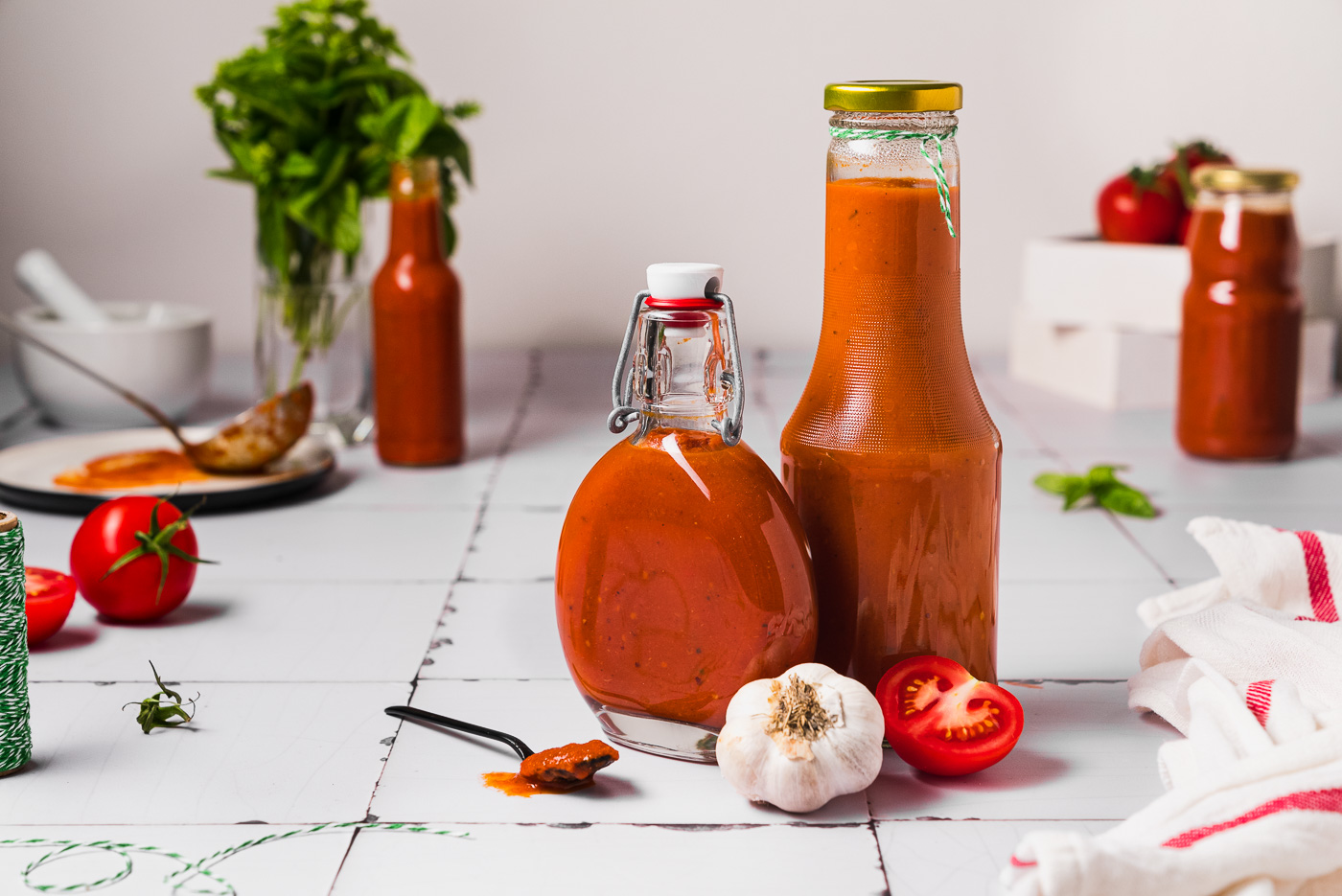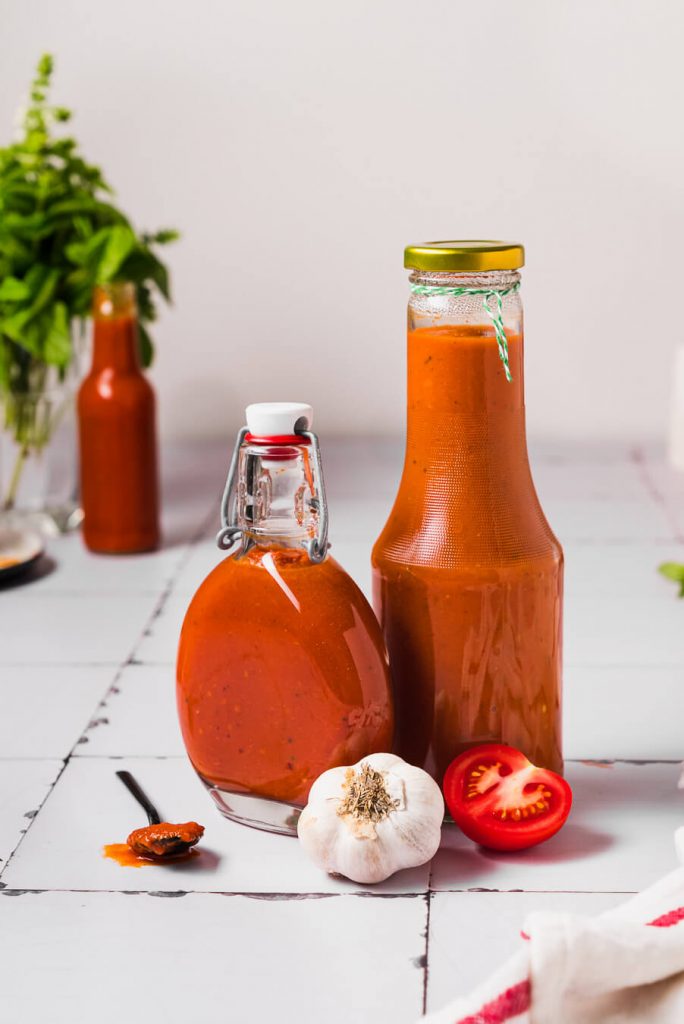 Tomatoes.
I bet you that none of us can't resist the smell and the taste of home-grown tomatoes; you know, the ones that have ripened in the sun during the summer.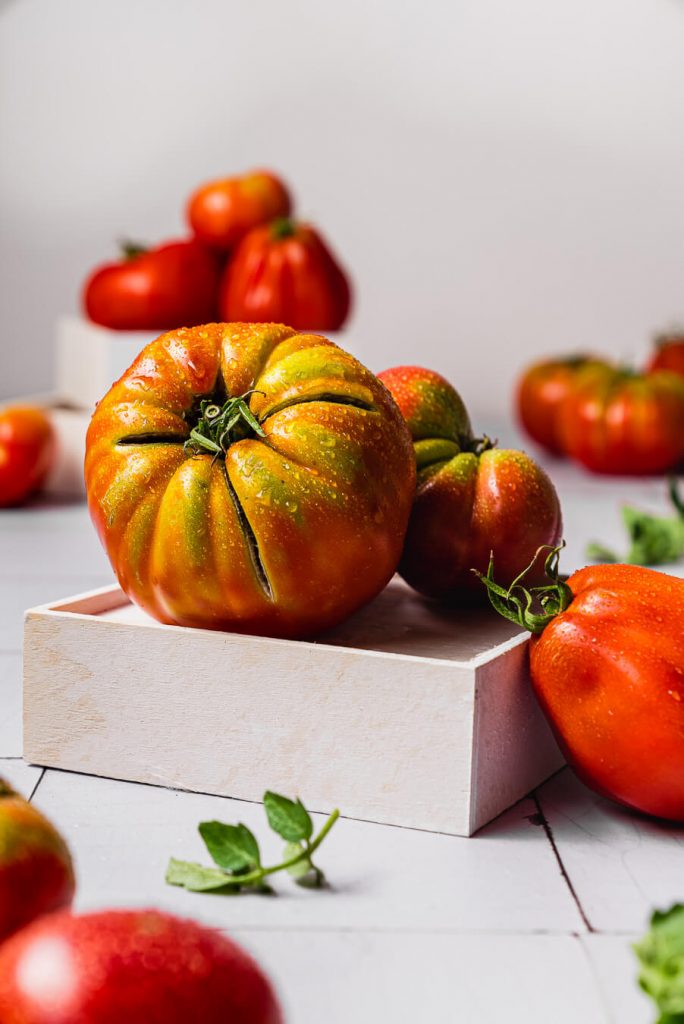 (those tasteless perfectly shaped red balls that can be found in the stores throughout the whole year are not my business really)
And honestly, I can't think of a better way of trying to preserve this flavor than putting it in a bottle of good, old ketchup. I know some of you may think: Why on Earth would you bother to make ketchup at home when this thing is so easily available in the stores and it tastes perfect every single time?
Well, blame my inborn curiosity.
What is Ketchup Exactly and its Origins
Really, what kind of fridge shelf doesn't have a bottle of ketchup?
I believe there isn't such a thing today.
Although ketchup we somehow first connect to American fast food, did you know that its origin reaches out all the way to China and that the first ketchup wasn't made from tomatoes at all?
Yep, the first ketchup was actually some kind of fermented fish sauce that, encountered by Britains, was brought to their homeland where they tried to, you know, copy it. Early varieties of ketchup were made of oysters, anchovies, and mushrooms, and tomatoes came into play much later.
When the first tomato ketchup started to be made more widely, the first problems also started to show up: early tomato ketchup went bad quickly, and potentially dangerous chemicals were put in it to extend its shelf life (like benzoate of soda).
Guess what: ketchup soon gets a bad reputation.
Fast forward to the beginning of the 20th century here comes Mr. Heinz who, with few major changes in the recipe, came up with the delicious tomato ketchup that managed to remain stable on store shelves for a longer period of time.
The sale of ketchup in America soon began to be measured in millions of sold bottles, and to this day, it remains one of the most popular condiments worldwide.
Unfortunately, in recent years, ketchup has got a bad name again as a condiment full of sugar, artificial flavors, and additives.
So, what kind of tomato ketchup do we like and buy today?
Shiny, smooth, and usually very sweet.
Thick, with its seductive viscosity, modern ketchup absolutely has its place in modern cuisine today, because it's practical and relatively cheap. Ketchup that we can find in stores is almost never made of whole tomatoes but from tomato pastes and concentrates. Its smoothness and density are usually owed to xanthan gum, starches, and other similar ingredients.
This recipe for tomato ketchup made from fresh tomatoes is completely different from its commercial variants. Robust in texture, more orange than red, and not overly sweet, it's made without any thickeners, additional colors, preservatives, or even white or brown sugar.
I got so hooked on it that I already made a double batch this summer.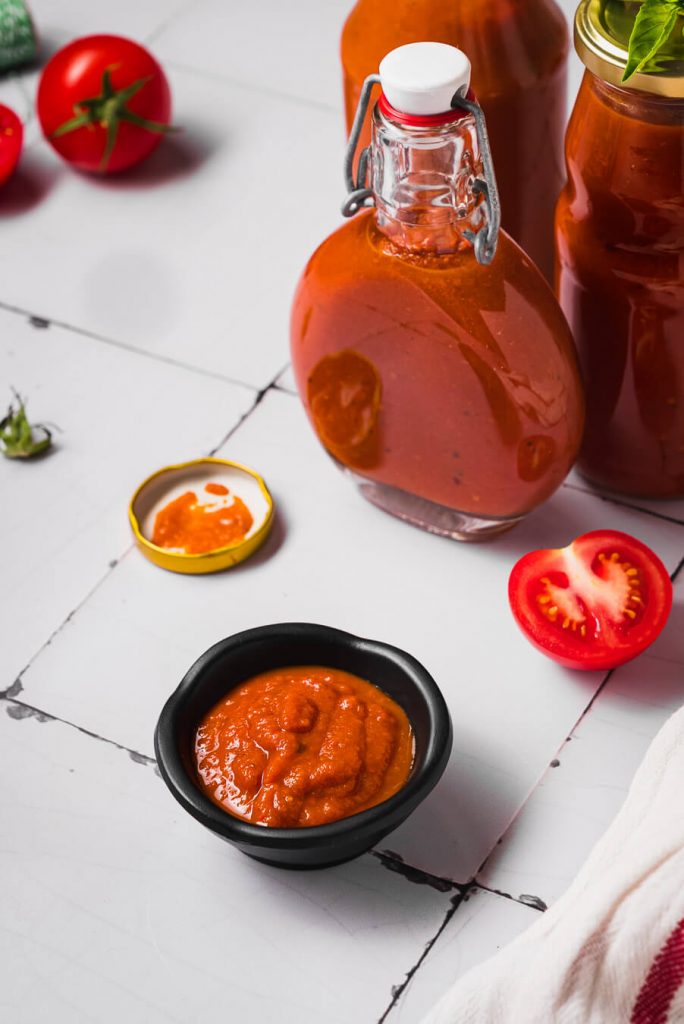 Let's see what ingredients you'll need!
Ingredients For Homemade Tomato Ketchup Made From Fresh Tomatoes
Tomatoes – choose larger, fleshy varieties with as few seeds and water as possible. Cherry tomatoes aren't suitable for this recipe as some other varieties (think of beefsteak, heirloom, or Roma tomatoes). I try to choose the biggest I can find so that I can shorten the process of blanching and peeling the skin. Also, please keep in mind that the final color of your tomato ketchup will mostly depend on the color of the tomatoes.
Olive oil – we'll need it for sauteing the vegetables. I recommend using good quality extra virgin olive oil but as a replacement you can use refined sunflower oil, too.
Vegetable base – since I wanted to avoid using sugar in this homemade ketchup recipe, I decided to saute onions, sweet red peppers, garlic, carrots, and parsley root. This way, the ketchup will get its additional thickness and natural sweetness after blending.
Chili peppers – although they aren't strictly necessary, I recommend adding some because it will provide some good contrast to the sweet flavor of other ingredients. In Croatia, we like to use the feferonka variety, but you can use almost any chili pepper whose aroma you prefer. If you're unsure of how hot the chili peppers you have or bought, don't add all diced chilis at once; rather add them gradually until you reach the level of spiciness you like.
Raisins – this ingredient may look weird at first, but trust me, it works as a great replacement for regular white sugar. Depending on how sweet/sour tomatoes you have, you can add more or fewer raisins compared to the amount I used in this recipe.
Vinegar – is one of the key ingredients for ensuring the ketchup doesn't go bad quickly. I'm using apple vinegar.
Spices and herbs – in this part of the recipe I always make some experiments, but in my homemade tomato ketchup, I usually use allspice, nutmeg, black pepper, and some rosemary and basil. You can also experiment with cinnamon (preferably Ceylon), cloves, coriander seeds, ginger, and mustard seeds. As for the salt, I try not to make my ketchup too salty due to health reasons, but you can add more if you like it that way.
How to Make Homemade Ketchup with Fresh Tomatoes
1. Preparing the tomatoes: peeling the skin and chopping
First, we need to make a shallow X sign at the bottom of the tomatoes and blanch them. This will speed up the process of peeling the skins and removing the stems.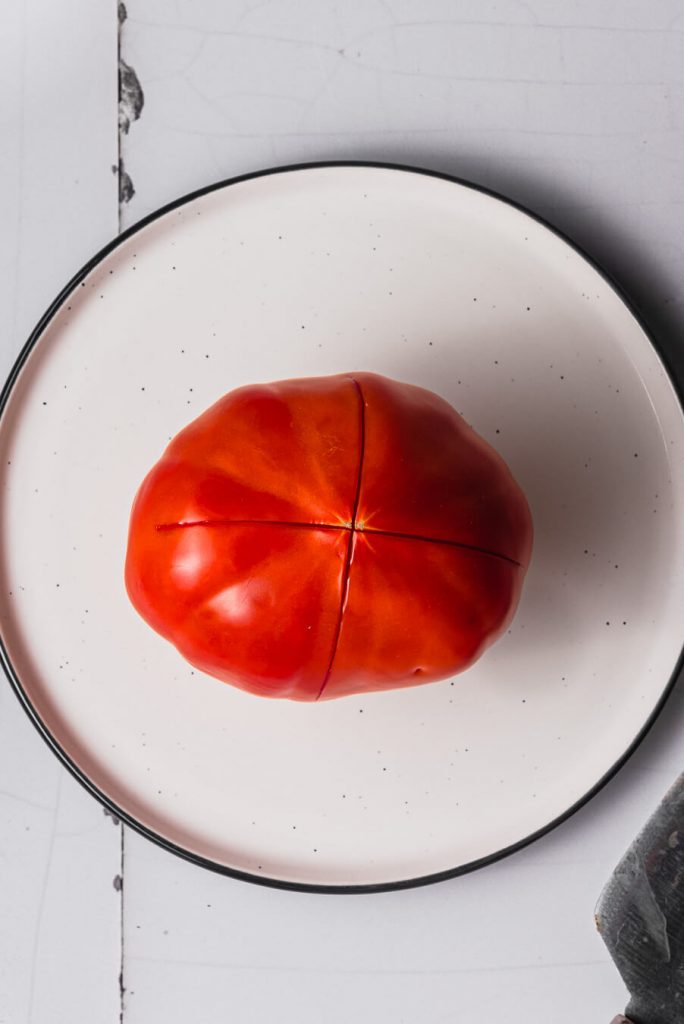 2. Sauteeing the vegetables and adding tomatoes
After preparing the tomatoes, we need to saute the onion, red pepper, garlic, grated carrot, and parsley root in well-heated oil. Then, we add tomatoes, chillis, and raisins and cook until the vegetables soften and some of the water evaporates.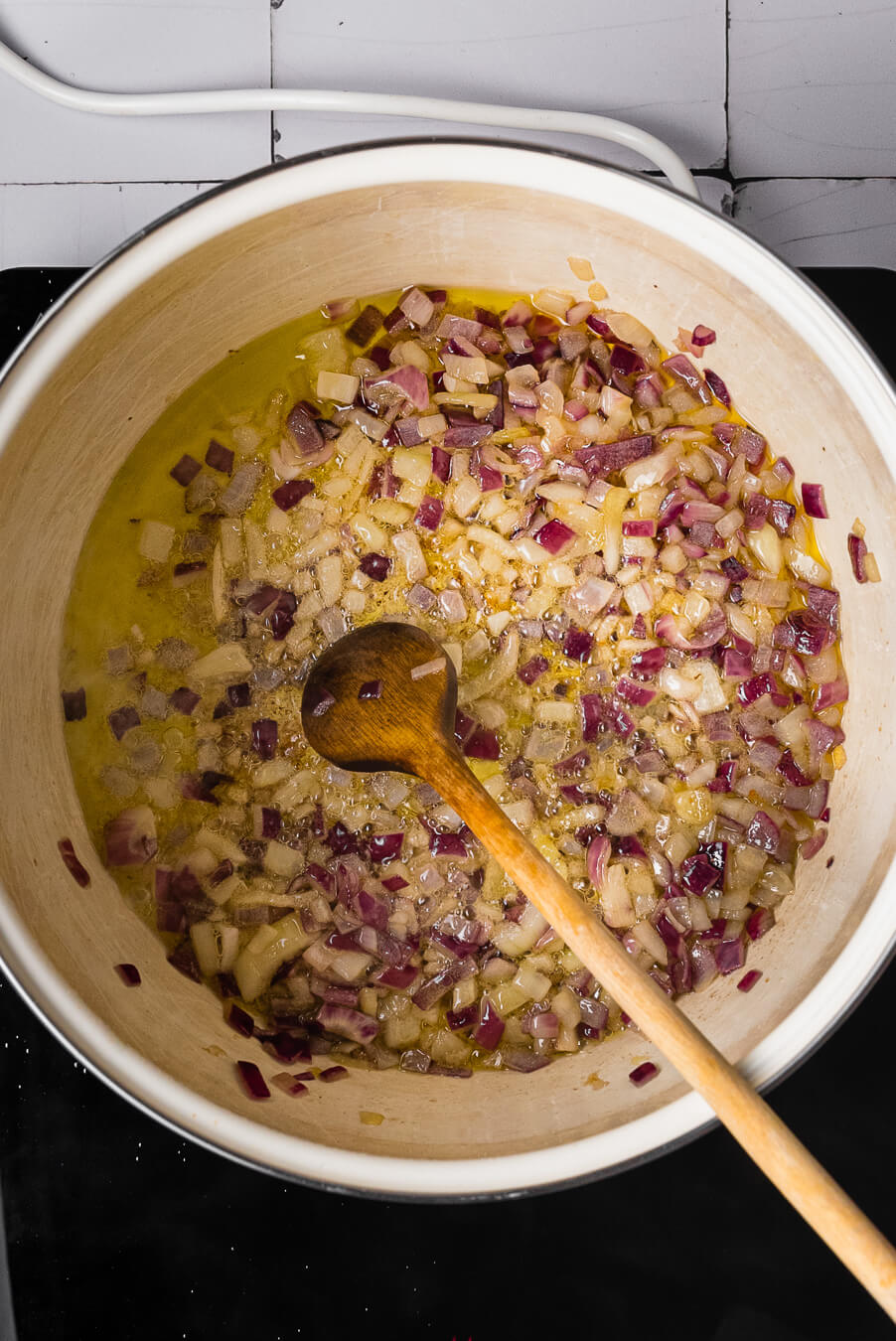 3. Blending the ketchup ingredients
Now we need to remove the pot from the heat and blend everything carefully with an immersion blender.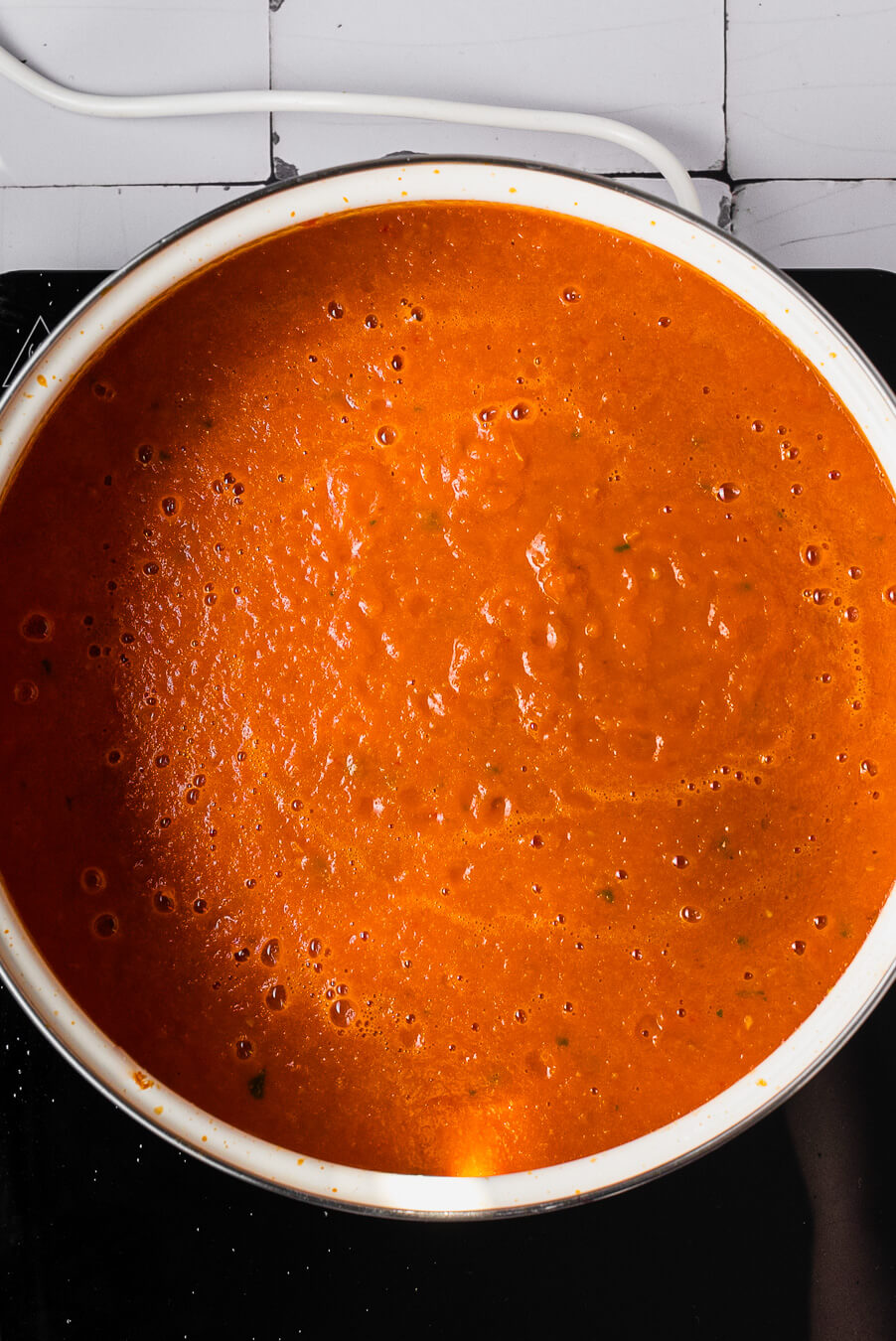 4. Adding spices and vinegar
We bring back the ketchup to the stove and now adding the vinegar and spices. A bit more coking and sterilizing the jars and bottles in the oven.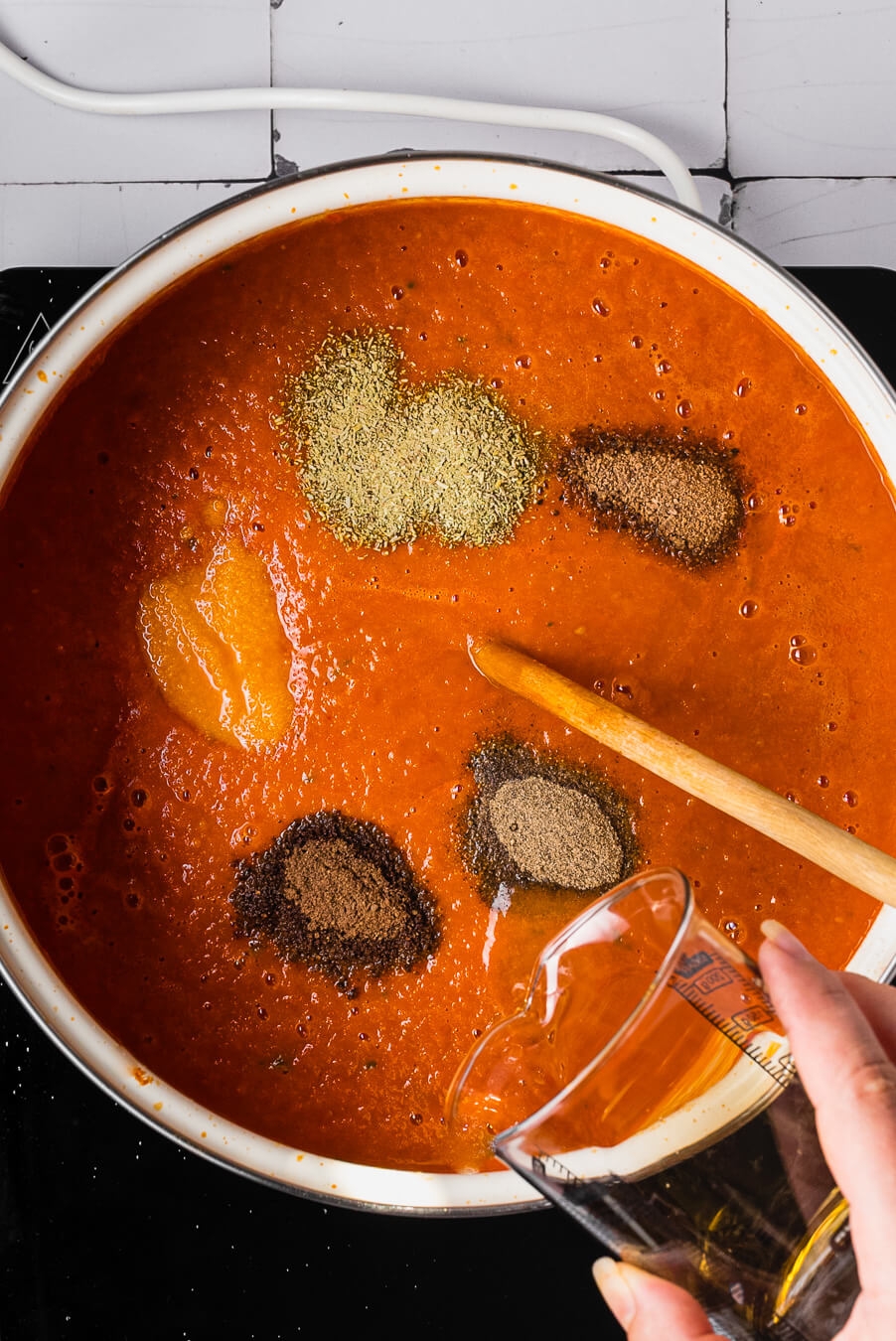 5. Storing the ketchup in sterilized jars/bottles
Then we pour the hot ketchup into hot bottles/jars, clean the dirty edges (if there are any), and close them tightly with a metal lid. Done!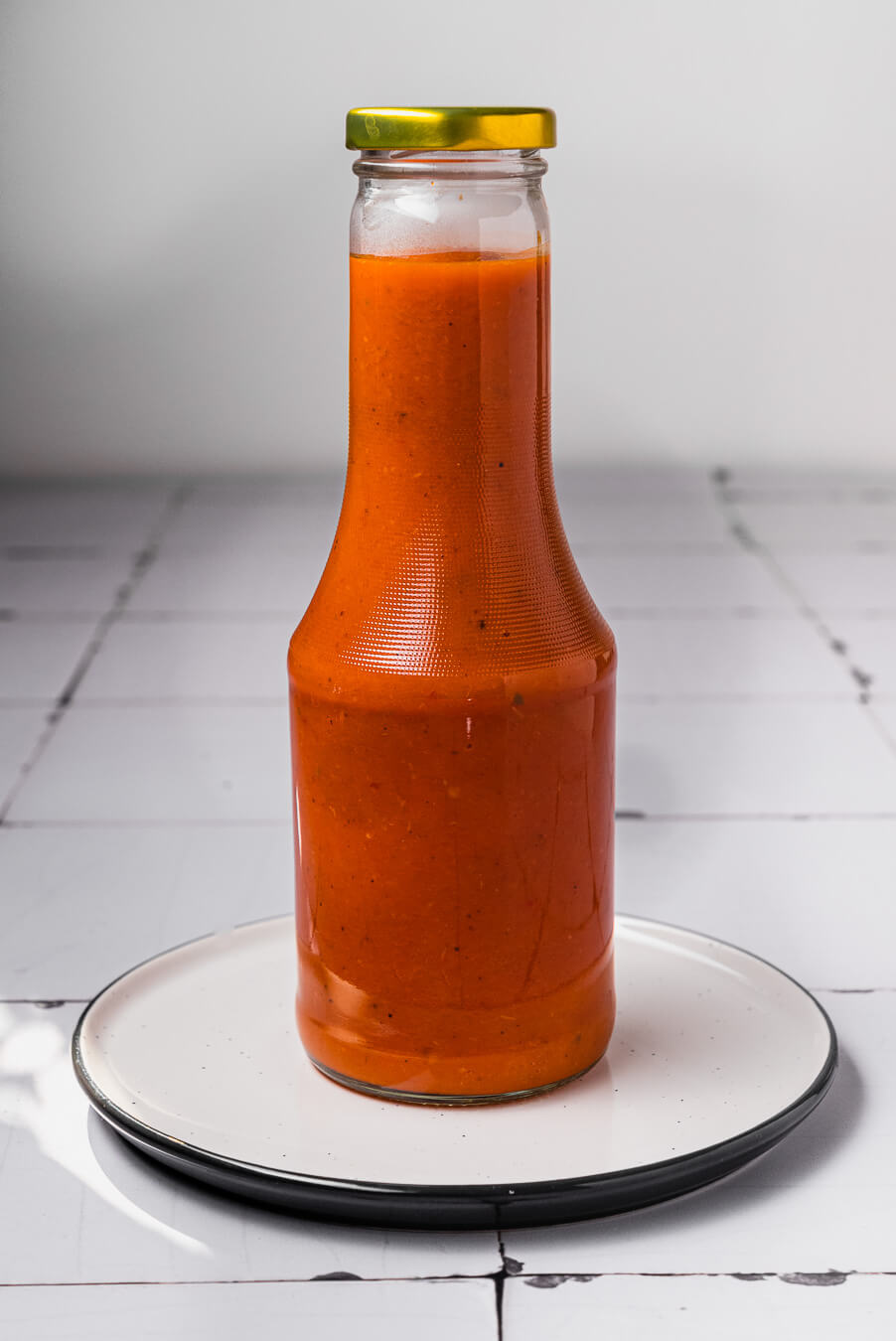 Tips & Tricks For Best Ketchup at Home
Tomatoes – if during the peeling and cutting process you notice that tomatoes are releasing a lot of water, you can strain the excess. This way, the cooking time will be reduced. Also, if the tomatoes that you're using have any green or rotten parts, be sure to remove all of them.
Cooking pot – I recommend using a slightly larger cooking pot than necessary so that during the cooking ketchup doesn't splatter all over your kitchen countertop. I'm always up for less cleaning!
Divide the work into 2 days – this recipe will take you several hours to be prepared, so I suggest that you make it easier for yourself and split it into 2 days. One day wash, blanch, peel, and cut tomatoes, which you can store overnight in the fridge (or in the freezer if you will be making the ketchup a few days later). Next day cook and bottle the ketchup.
Ketchup thickness – The final product won't be as thick and smooth as store-bought, but that wasn't the goal in this recipe. If, however, you want to make your homemade ketchup as similar as possible to store-bought ketchup, you can thicken it with some cornstarch toward the end of cooking.
To puree or not to puree – some ketchup recipes call for pureeing, and some don't. I don't puree this ketchup, and now I will explain why. First, I don't have a vegetable mill. And doing this on the sieve was too annoying, honestly. Secondly, I peel the tomatoes at the beginning of the preparation so that way I get rid of the skin, and thirdly, I actually like the more robust texture of homemade ketchup. If you decide to puree this ketchup, you can certainly do it with this recipe, but you'll end up with a smaller amount of the final product and you will have to extend the cooking time.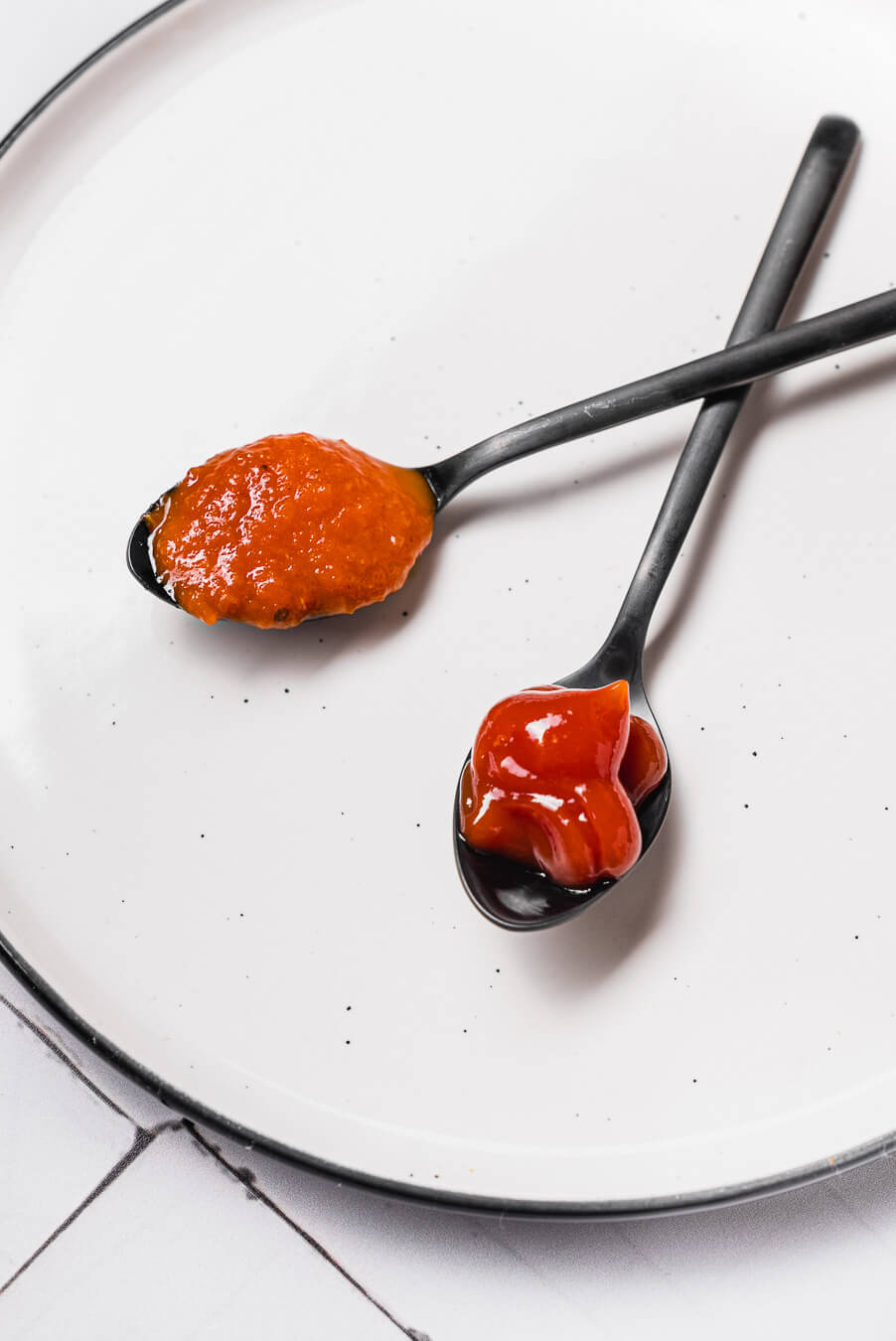 9 Uses For Homemade Ketchup From Fresh Tomatoes
Add it to the sauce while making your favorite stir-fry!
Make an incredible BBQ sauce
What about baked beans?
Enrichen your pasta sauce
Coat your chicken wings or pork ribs
Or your meatloaf
Some cool salad dressing? Why not?
Use it as a sauce for making homemade burgers
Or think as a British and serve it with steak and chips
More Recipes For Preserving Vegetables and Fruits:
If you make this or any other recipe from my blog, send me a photo of your dish on Instagram or tag @foodandmoodblog on social media. And if you prefer learning how to cook from video recipes, you should definitely check out my Youtube channel!
Cook with love,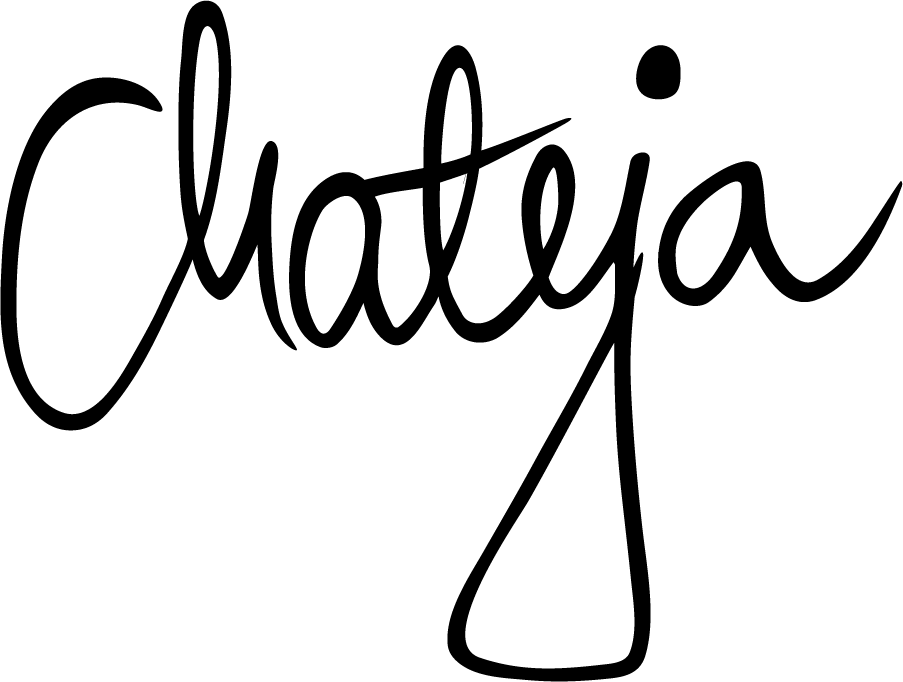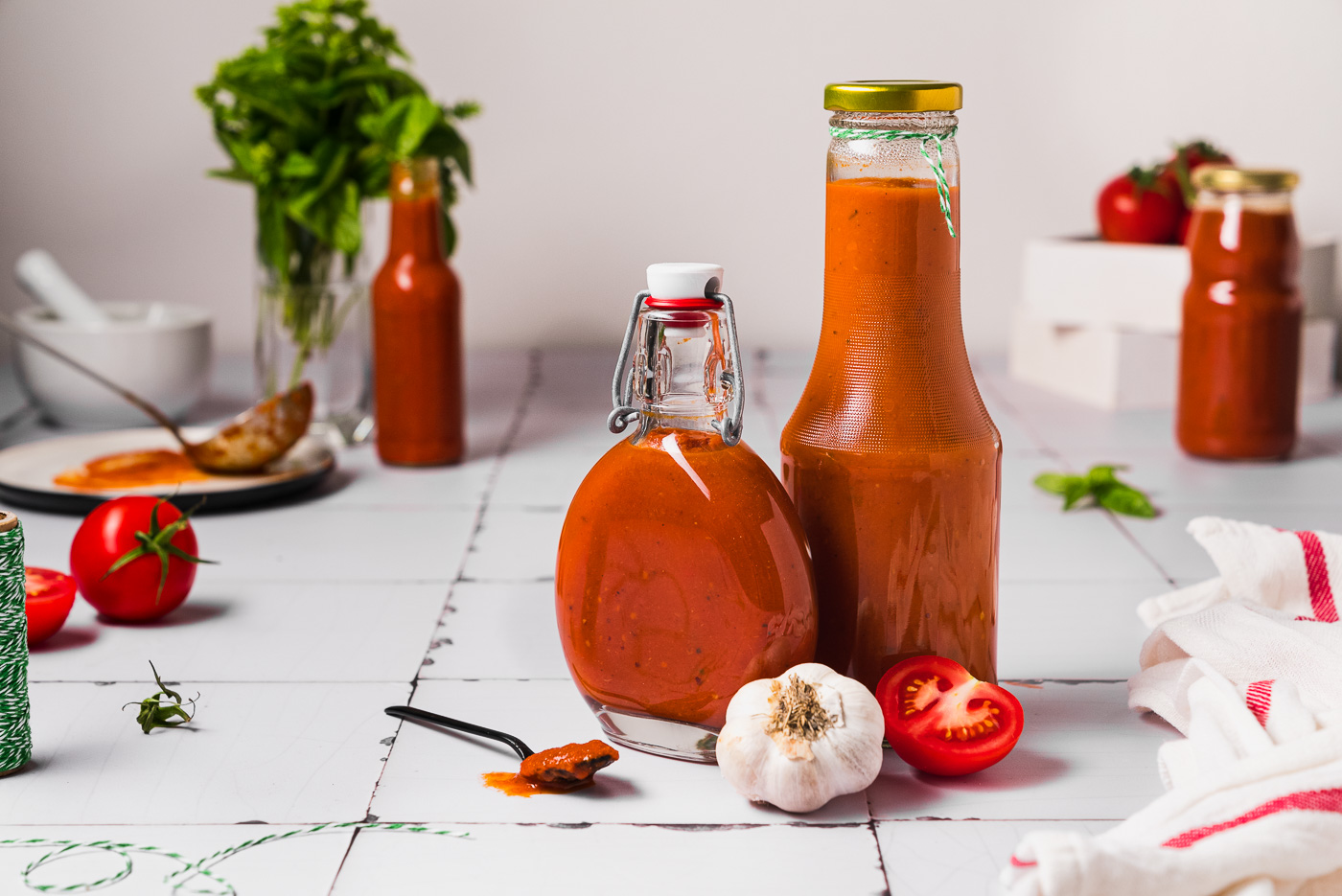 Homemade Ketchup From Fresh Tomatoes
Did you know that you can make excellent ketchup a home? This homemade ketchup is made from fresh tomatoes, without tomato paste and white sugar and it can be used in countless recipes! Just think of BBQ sauces, stir-fries, meatballs, pasta dishes, or baked beans. I mean, who else needs bottled stuff when you can have your own homemade ketchup made from the only very best ingredients?
Print
Pin
Rate
Ingredients
4

kg

tomatoes

(peeled and chopped)

100

ml

extra virgin olive oil

2

onions

4

garlic cloves

2

red horn peppers

2

carrots

2

parsley roots

1-2

hot chili peppers

(maybe even more, depending on how hot you want the ketchup to be)

150

g

raisins

20

g

sea salt

50

ml

apple cider vinegar

10-15

basil leaves

1

tsp

rosemary

(finely diced)

1

tsp

black pepper

(ground)

1

tsp

nutmeg

(ground)

1

tsp

allspice

(ground)
Instructions
Wash the tomatoes and remove their skin. The easiest way to do this is to make a shallow incision in the cross shape at the bottom of each tomato and then place it in boiling water. Hold the tomatoes like this for about 1 minute, and then transfer them to a bowl of cold water. Keep them there for 10 seconds, take them out of the water, and then proceed with peeling the skin and cutting them to pieces. You can drain the excess water if tomatoes have released a lot of it.

Dice the onions and the garlic, peel and grate the carrots and parsley root, and cut the red pepper into chunks. Mince the chili peppers.

Pour olive oil into a large pot, add the onions and saute on medium heat for about 10 min. Add garlic, and red horn pepper and saute for a few more minutes. After that, add carrots and parsley roots and continue with the process. If it starts to burn, add some water.

When the vegetables have softened, add tomatoes, chili peppers, and raisins. Cook for 1.5-2 hours on medium heat, stirring occasionally. Make sure the mixture doesn't burn. Towards the end of cooking, add fresh basil leaves and cook for another 5 minutes.

After the mixture has thickened, remove the pot from the heat and blend thoroughly with the immersion blender. Be careful not to burn yourself. After blending, the consistency of the ketchup should resemble a thick sauce. You can further puree the mixture if you want, but I usually don't do that.

Bring the ketchup back to the stove and start adding vinegar and spices. You can add these ingredients gradually and adjust the flavors to your liking.

In the meantime, put the freshly washed jars and bottles to be sterilized at 110°C. You can sterilize jars and bottles in hot water, but personally, I find it more practical to sterilize them in the oven.

Pour the hot ketchup into hot jars through a sterilized metal funnel, being careful not to get ketchup on the edges. Close them very tightly and let them cool completely. As the ketchup cools down, you should hear the typical "pop" sound as the vacuum is being created.

Store the homemade ketchup in a dark, dry, and cool place for up to a year. After opening, ketchup should be kept in the refrigerator and used as soon as possible.
Nutrition
Serving:
15
ml
|
Calories:
706
kcal
|
Carbohydrates:
111
g
|
Protein:
15
g
|
Fat:
30
g
|
Saturated Fat:
4
g
|
Polyunsaturated Fat:
4
g
|
Monounsaturated Fat:
20
g
|
Sodium:
2326
mg
|
Potassium:
3827
mg
|
Fiber:
25
g
|
Sugar:
42
g
|
Vitamin A:
17664
IU
|
Vitamin C:
288
mg
|
Calcium:
209
mg
|
Iron:
6
mg