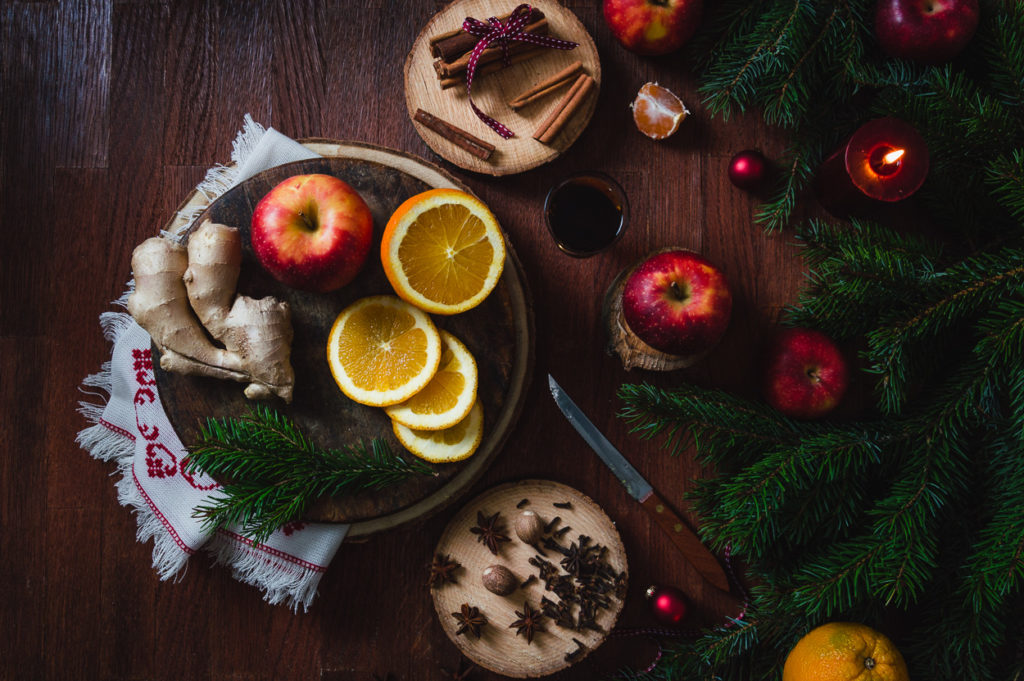 The old school bus arrives in my tiny village. I'm going out on the last station with a too heavy bag that I can't wait to get off my back.
While I walk those few hundred yards to my house my nose usually becomes red as Rudolf's and my toes are cold because my feet were slightly wet from too many layers of socks and stockings I always had to wear.
"It will keep you warm" – my mom would tell me.
While walking, I would watch my breath turn into steam. I was always amused by that.
Finally, I'm at home! I throw all my stuff on the floor and approach our wood-burning stove to warm up.
"Magma* is the best!" – my dad would say.
Before I even get to it, I smell something so familiar: tangerine peels are drying on the stove and fill the space with its beautiful, sweet, citrusy aroma.
This is it.
The smell of a warm home.
The smell of family, safety, and community.
I come to grandma's summer kitchen (that's what we call it) and I smell sour cabbage rolls, or sarma, as we call it in Croatia. Sometimes it would be the smell of cooked beans with smoked meat. Dewy windows from all day cooking. An old plate would wait for me on the table with two sarma rolls in it. I cut it while it's still hot and greedily put the first bite into my mouth.
"Grandma, please toast me some bread on the wood cookstove!" – I would tell her.
Who hasn't felt the smell and taste of this kind of bread, doesn't know what's been missing in his life. No toasters in this world can make this good toasted bread as a wood cookstove does.
All of a sudden, I no longer have any worries in the world! No tests, bad kids, mean teachers, F grades, nothing else exists at that moment for me.
Only those same, so recognizable scents (and flavors) that, at that moment, provide me a distance from reality. And which will forever remind me of my home.
Have you ever thought about how well a person can remember certain scents? How much they settle into life's memory and, as a time machine, can remind you of some past events, people and travels.
Think about it for a second. I'm sure you would even today recognize the perfume that your first boyfriend/girlfriend wore. 🙂 What I want to say is that scents are very important in our lives, more important than we think.
We, the people of the 21st century, really like nice fragrances, don't we? Some of us would like to smell all day long like that irresistible Coccolino teddy bear from the TV commercial, so we put much more fabric softener into the washing machine than it's needed.
We buy expensive fragrant body lotions, glamorous perfumes, scented candles, scent sticks, and all sorts of other nice things. And I'm totally OK with it, I also like to smell good! But I think that sometimes we exaggerate it. And that we are not aware of it.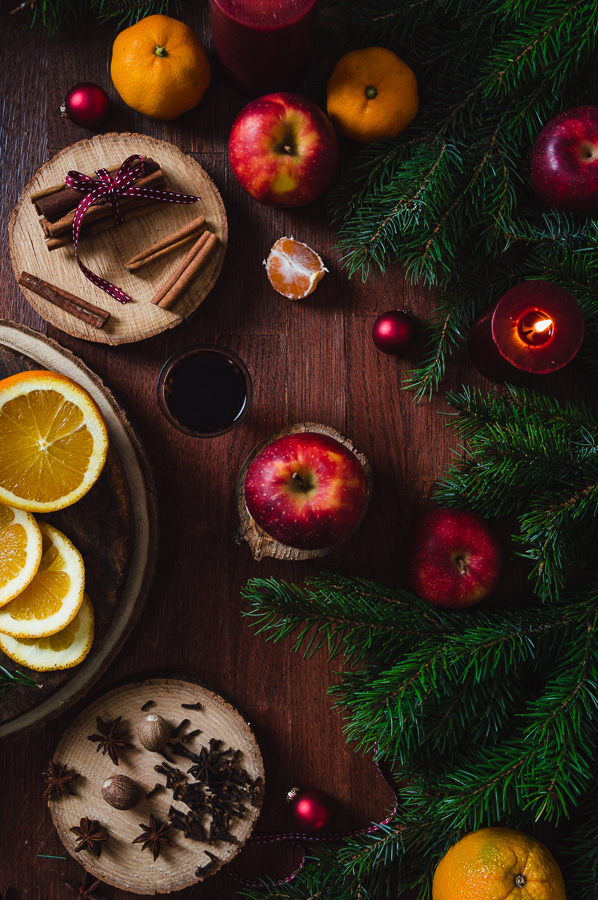 For a while, I was crazy about scented candles. However, I realized that they don't suit me as much as natural essential oils and potpourris do, so today I try to freshen up my living space with natural scents. I like to light a scented candle here and there, but the ones you see in these photos are odorless.
Until I treat myself to some natural scented candles, I decided to enjoy my DIY natural Christmas scent. I wanted it to remind me of the same tangerine peels from my childhood, but that it also contains some new spices and aromas that I learned to love over time.
I've seen people refresh their space in this way before, so I had no doubt that I would like it when I finally try it out.
I'll just say: guys, this is wonderful! This Christmas stovetop potpourri is so easy to make. Your house is going to smell divine, and what's best of all, you'll know that you're not harming yourself or the health of your loved ones. Spices, citrus fruit, pine branches, and a bit of rum or vanilla will blend into one beautiful, sophisticated harmony that creates a true Christmas atmosphere. Also, this Christmas stovetop potpourri will also act as an air humidifier, which is great if the air in your house is dried out due to heating.
It smells like the finest winter tea and even reminds me of the aroma of mulled wine.
And it's not even that expensive to make.
I would call this a win-win!
OK, I'm in. Now tell me what I need from the ingredients.
Do you know what else is cool?
I'm pretty sure that some ingredients you already have at home.
You can use citrus fruits like oranges, lemons, tangerines, or clementines and from spices (besides those I'm using in this post) you can also put some rosemary, cardamom pods, bay leaves, or allspice.
In addition to pine sprigs, you can also use spruce or fir sprigs.
Instead of rum, you can also add vanilla extract, apple cider, or a small amount of any liqueur that smells good to you. Here are the top ingredients I like to use for this Christmas simmering pot:
Ingredients:
1 orange
1 tangerine
1 apple
fresh ginger root (3 cm long)
1-2 sprigs of pine
10 cloves
3 cassia cinnamon sticks
1-2 star anises
1 whole nutmeg
1 tbsp rum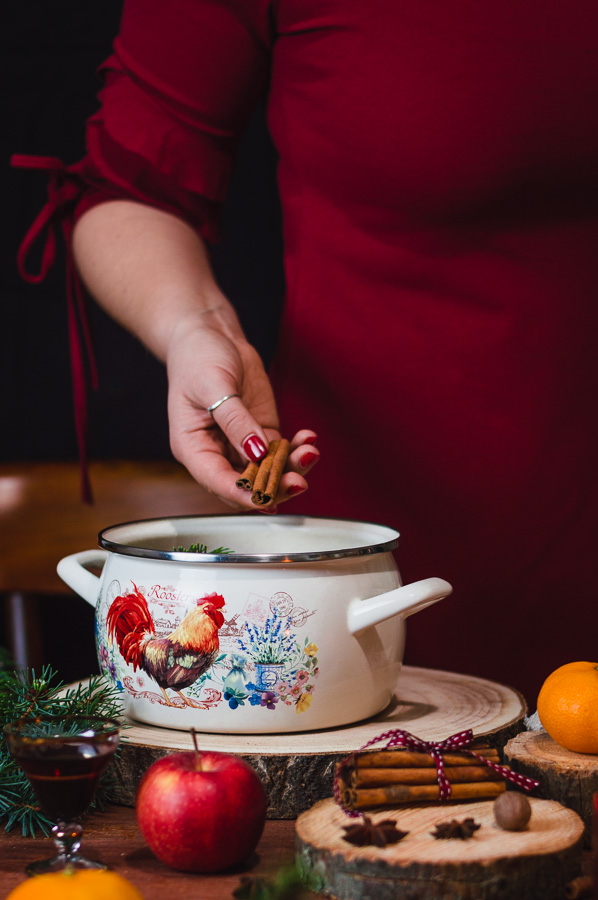 How to prepare this winter simmering potpourri?
First, prepare the pot where you will cook the spices and fruit. I use a 2-liter pot.
Cut the fruit into slices or quarters, whatever is easier for you. Slice thinly unpeeled fresh ginger root. Add all to the pot along with the pine twigs, spices, and rum. Pour over water to cover all the ingredients and cook over medium heat, without the lid.
After the water boils, reduce the heat completely and let it simmer for as long as you want the desired space to smell. It can be for several hours. The water will evaporate over time, so it needs to be replenished.
When you decide that you no longer want to replenish the water, turn off the heat and let it cool down. Now you have two options.
The first option is to toss everything out and cook new fragrant liquid with new spices and fruits.
The second option is to discard the fruit, which will be quite soft, and save the liquid and spices in the refrigerator. The next day, just heat the fragrant liquid and add new slices of fruit or citrus peel.
I hope you'll try this idea of a natural Christmas simmering pot and that it will really bring a touch of Christmas spirit into your home.
Are you looking for more recipe ideas and DIYs for Christmas? Here are some favorites from the blog:
If you try out this idea, be sure to share with me your photos and/or impressions on Facebook or Instagram. Also, if you're into video recipes, I invite you to subscribe to my YouTube channel!
Have a lovely Christmas!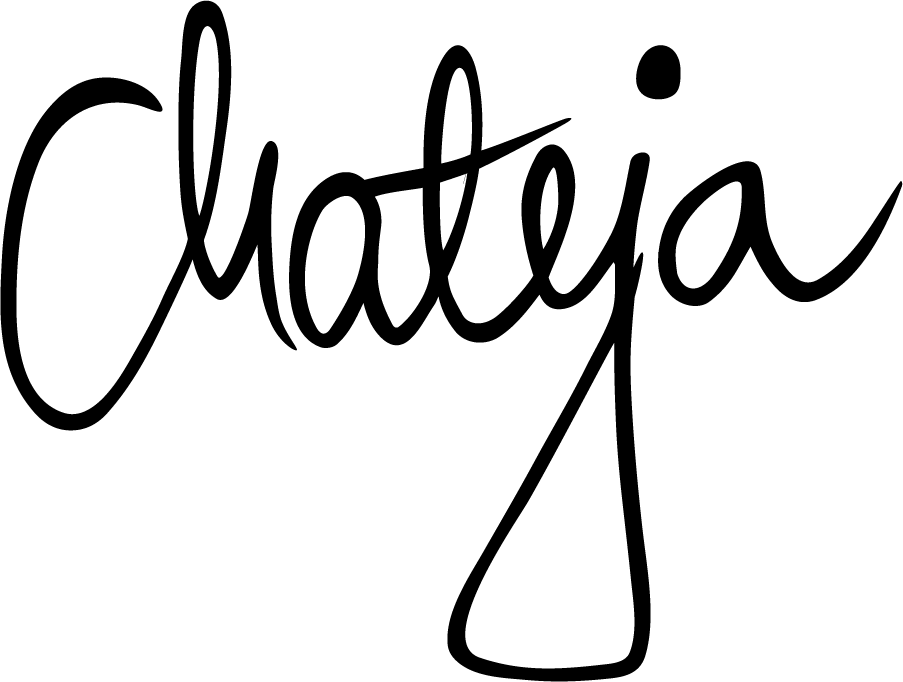 *Magma was a legendary Croatian type of wooden stove that was produced by Plamen company. It's no longer produced.