Fluffy and soft raspberry brioche babka with cinnamon, cloves, and freshly grated orange zest will cheer you up even on the gloomiest winter morning. This is one of those desserts that can be perfectly paired with a cup of a hot tea or your favorite coffee. Take a slice of this babka, add some homemade lemon curd or dulce de leche and you'll have a really nice, decadent dessert.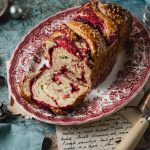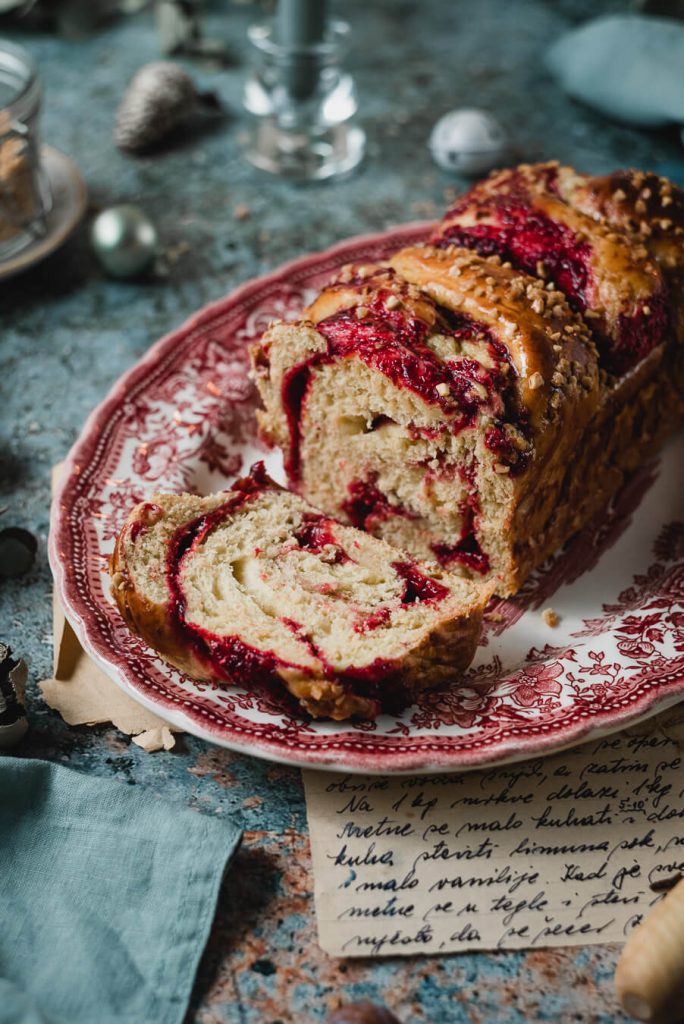 My first idea was to make a chocolate babka with cardamom and hazelnuts but I ended up making this raspberry brioche babka instead.
As we are somehow surrounded by loads of chocolate desserts in this pre-Christmas time, it occurred to me that maybe I could create a Christmas babka with a fruit filling that will smell of holidays and winter spices.
I had some raspberries in the freezer and I brought beautiful organic oranges from the farmer's market and that's how I came up with the idea of baking this wonderful raspberry brioche babka. I just love recipes whose preparation I can stretch to two days: I make a brioche dough and raspberry jam the day before, and in the morning I shape it, let it rise, and bake.
Everything you need to know about what is brioche exactly and all the tricks and tips that I've learned along the way, you can find in my post about brioche burger buns. There I explained everything very in detail so I won't bother you with the same information in this post. Also, in my Youtube video recipe, you can see step-by-step how I prepare my brioche dough and how it should look.
One thing to keep in mind: this is not a recipe for beginners and people who have zero experience with yeast dough. But, if you follow along with all the instructions, of course, you can bake this brioche babka successfully. So, if you like challenges, you'll definitely enjoy making this recipe!
What is Babka
Babka is a sweet yeast bread whose origins are linked to Jewish communities in countries of Eastern Europe, especially Ukraine and Poland. Initially, it was made from the excess challah dough (Jewish braided bread that is traditionally made for Sabbath) but it can also be made from brioche dough and other similar types of dough.)
The taste, appearance, and preparation of babka have changed greatly in the last few decades. Tamimi's and Ottolenghi's cookbook "Jerusalem: A Cookbook", in which you can find the recipe for chocolate krantz cakes, has contributed a lot to its popularity in recent years. This excellent cookbook greatly contributed to the image of the babka we have today: instead of vegetable oil, butter was used in making the dough, and rolled dough was cut in half before assembling babka, revealing beautiful alternating layers of soft dough and rich filling.
Ultimately, babka's popularity was even more strengthened when Breads Bakery, a famous New York bakery, decided to go one step further and make laminated chocolate babka with Nutella. From then on, we all somehow got used to this new type of babka: sweet yeast dough enriched with butter and eggs, coated with rich chocolate filling, and shaped into a seductive braid.
So if you enjoy making and eating all kinds of yeast doughs, this recipe is definitely a must-try for you!
Tips & Tricks For Making Brioche Babka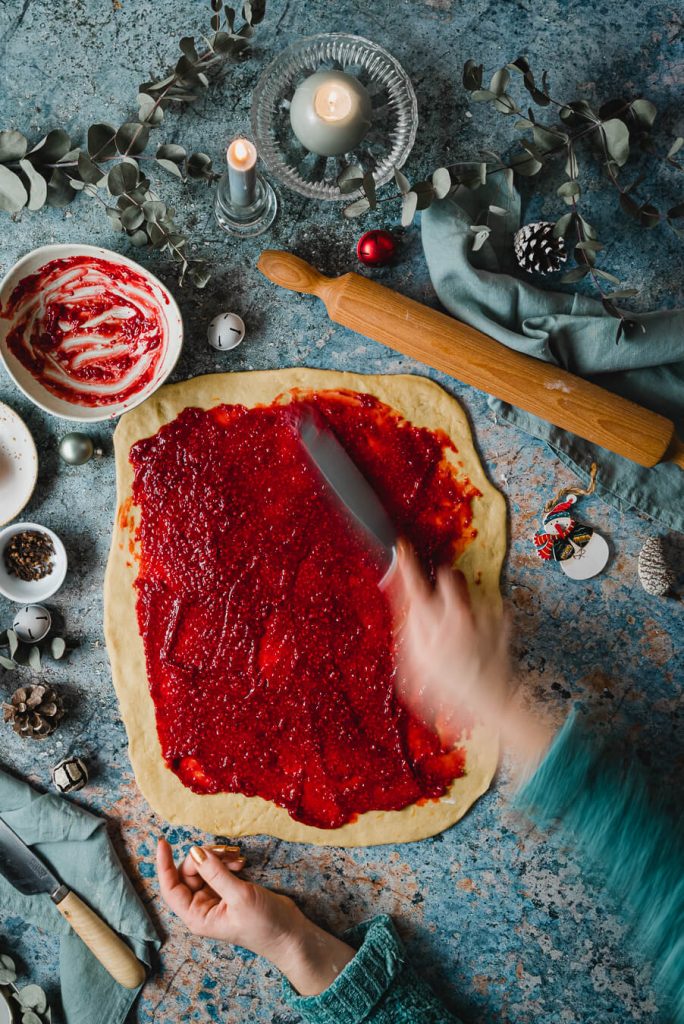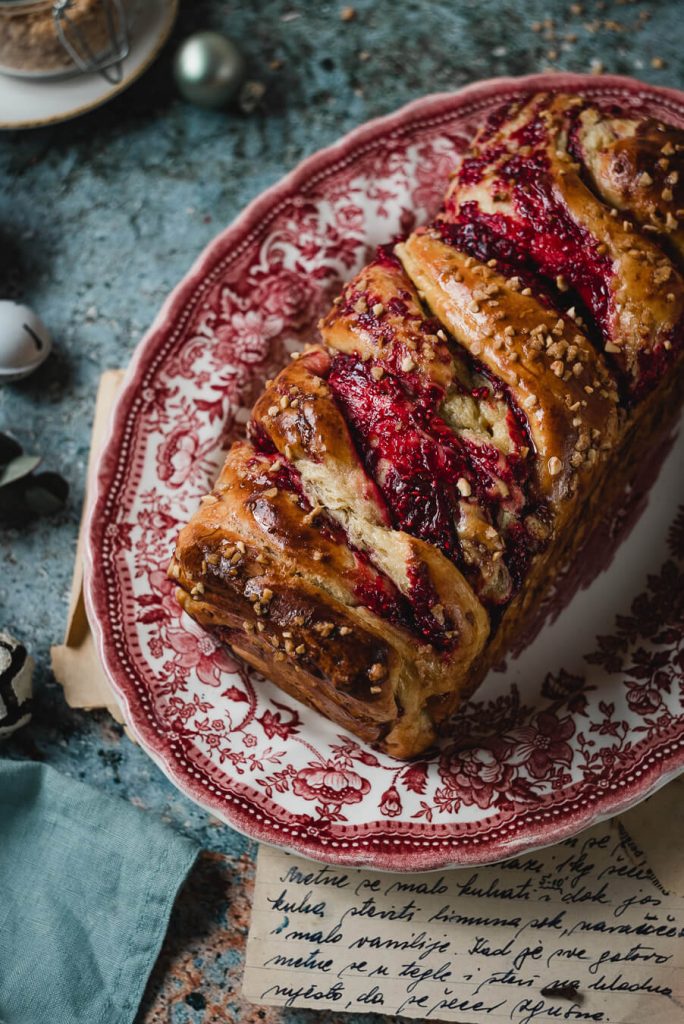 For kneading the brioche dough, I recommend using a stand mixer. If you don't have one, you can also use a hand mixer with spiral attachments (dough hooks).
When you make brioche dough for this babka, the dough may seem quite soft. That's the way it should be. I don't recommend skipping cold fermentation in the refrigerator because during this time the dough will rest and become firmer and easier to work with.
While shaping the babka, try to work very fast, otherwise, the dough will become soft again which will make it harder to shape. So, no peeking on Instagram during assembling this babka, you need to be fast as Speedy Gonzales!
When you roll this brioche babka, it will probably be a bit longer than your loaf tin. Therefore, feel free to tuck the ends before putting the babka inside.
Instead of this quick raspberry jam, you could use store-bought raspberry jam. However, keep in mind that store-bought jams can be much sweeter and be runnier in consistency. If you are bothered by raspberry seeds, you could make a jam from different types of frozen berries, like blueberries or strawberries. In that case, I recommend using the immersion blender for making the consistency of the jam more uniform.
When I'm making brioche burger buns, I like to brush them with eggwash two times for a glossier and golden brown crust. However, with this raspberry brioche babka, I prefer using eggwash only once. That way the surface of the babka will look prettier when it comes out of the oven.
Before putting it in the oven, if you like, you could add some coarsely chopped (unsalted) pistachios, hazelnuts, or almond flakes.
If the babka starts to darken a lot during the baking, cover it with aluminum foil or parchment paper. This way it will continue to bake and won't darken too much.
Sugar syrup is optional in this recipe. If you don't want to, you don't need to use it. However, I definitely prefer my babka with glaze because it keeps it fresher for a longer time and keeps the crust shiny, sweet, and crunchy. It's definitely better to brush babka with sugar syrup instead of just pouring the syrup all over – I learned it from my mistakes.
The amount of ingredients in this recipe is 1 raspberry brioche babka. If you want to make 2 babkas, you'll need 2 loaf pans.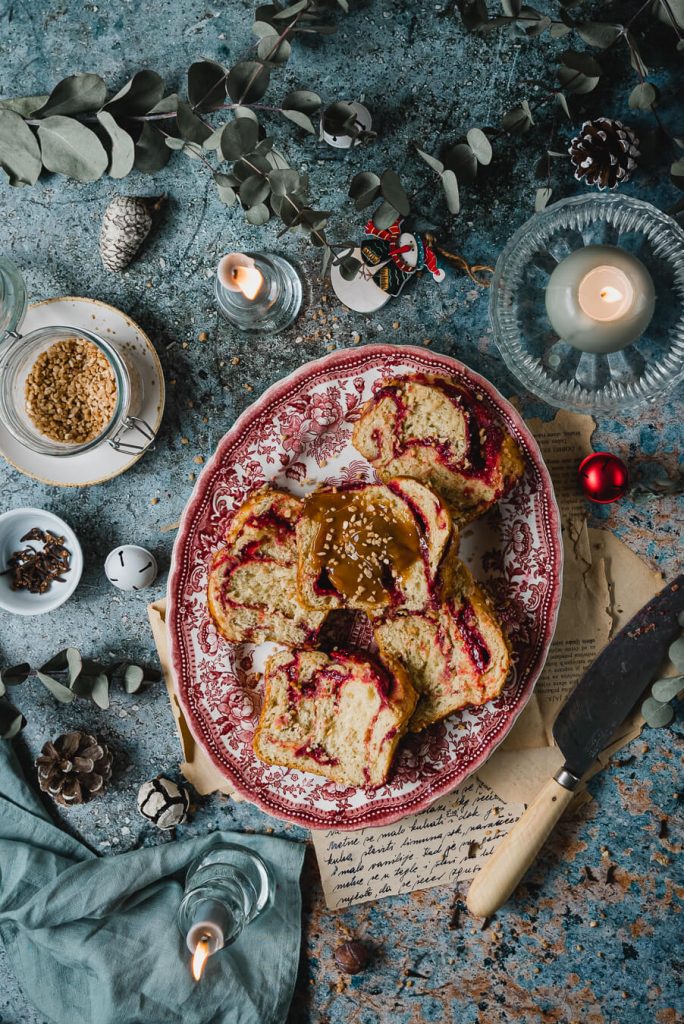 Can you freeze leftover babka?

Of course! I recommend that you cut it into slices about 1.5 cm thick, put it in a zip bag, squeeze out all the excess air, and freeze it. When you want to eat it, it's enough to take it out of the freezer and leave it at room temperature until it thaws completely. Then you can toast each slice briefly in a clean, dry pan or put it in a microwave.
How long will babka stay fresh?

It's best to eat it on the same day. If you have leftovers for the next day, when it cools down completely, wrap them in a plastic bag or zip bag so it doesn't dry out.
Are you looking for more recipe ideas and DIYs for Christmas? Here are some favorites from the blog:
What's your favorite Christmas recipe? Tell me more about it in the comments below this post or send me a message on Instagram, I would love to chat with you! If you try to make this or some other recipe from the blog, be sure to send me a photo of your dish or tag @foodandmoodblog on social media.
If you prefer video recipes, be sure to subscribe to my Youtube channel!
Bake with love,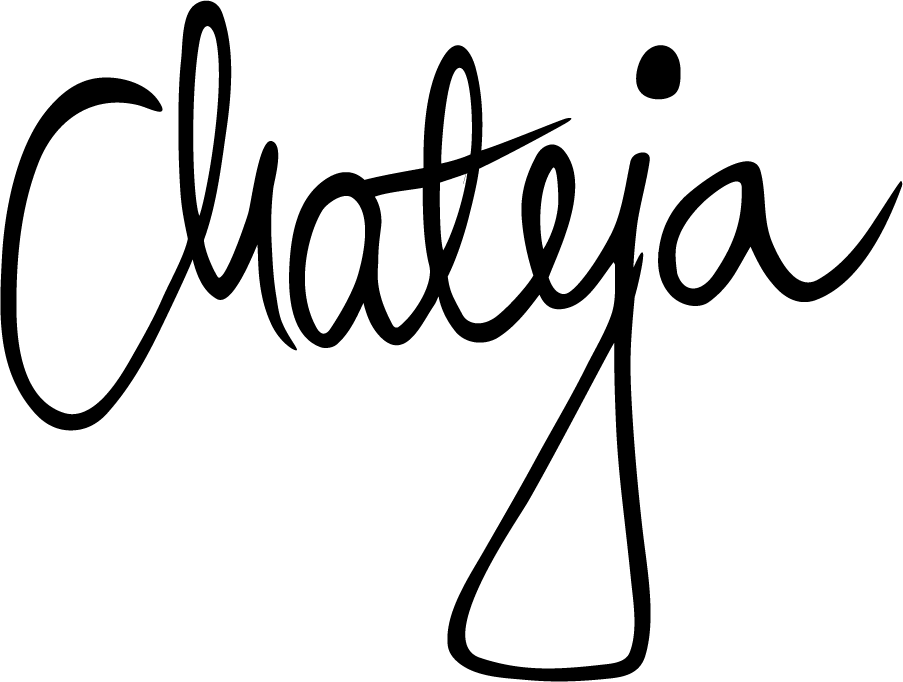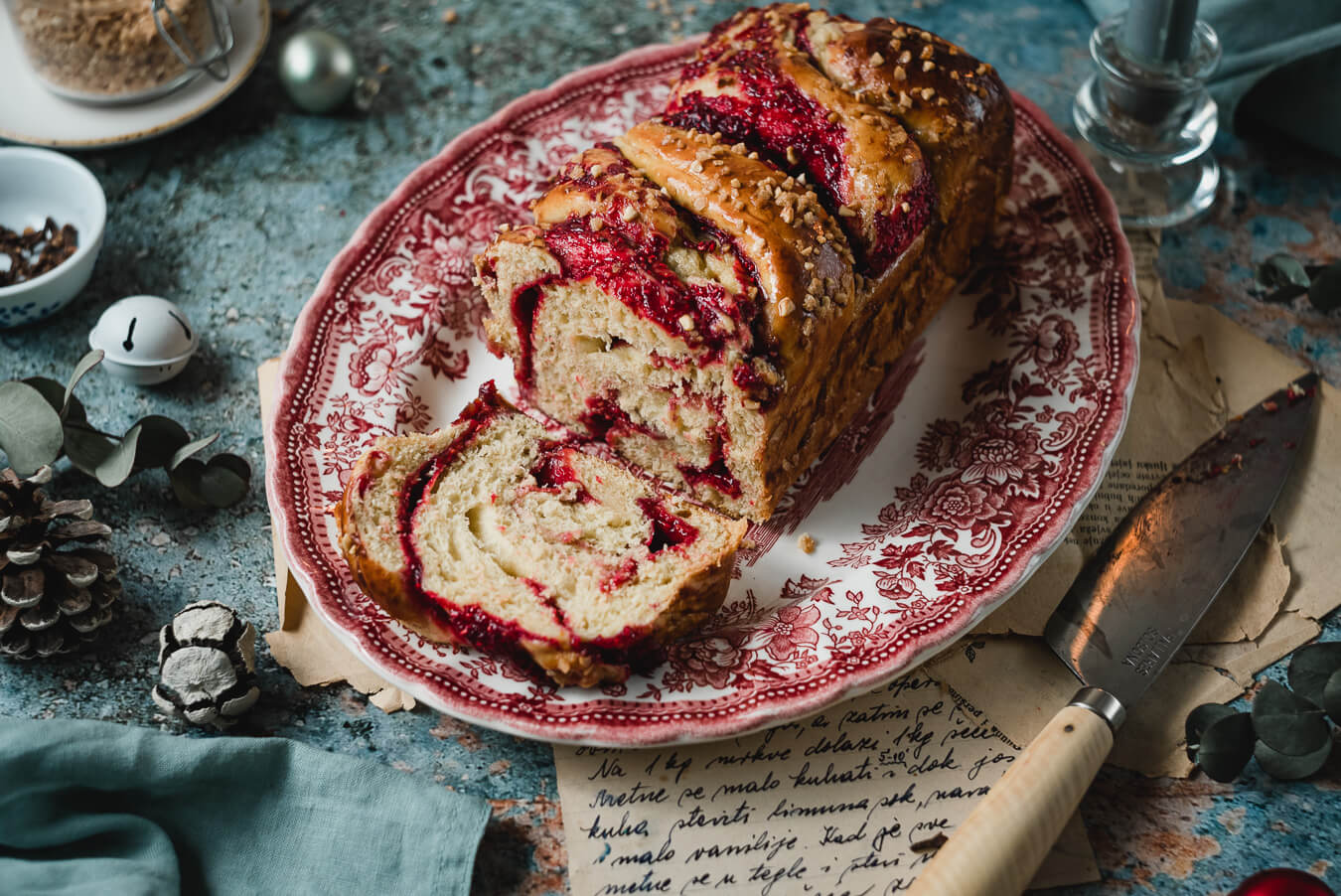 Raspberry Brioche Babka
Fluffy and soft raspberry brioche babka with cinnamon, cloves, and freshly grated orange zest will cheer you up even on the gloomiest winter morning. This is one of those desserts that can be perfectly paired with a cup of a hot tea or your favorite coffee. Take a slice of this babka, add some homemade lemon curd or dulce de leche and you'll have a really nice, decadent dessert.
Print
Pin
Rate
Ingredients
Poolish
40

ml

milk

(room temperature)

4

g

active dry yeast

35

g

all-purpose flour
Brioche dough
230

g

all-purpose flour

1

teaspoon

ceylon cinnamon

(or 1/2 tsp cassia cinnamon)

2

eggs

(M size, room temperature)

60

g

sugar

4

g

sea salt

60

g

butter

(room temperature)

freshly grated

zest of 1 smaller orange
Quick raspberry jam
140

g

raspberries

(thawed)

50

ml

raspberry juice

(which remains after thawing)

50

g

sugar

1/4

teaspoon

cloves

(ground)

1,5

tablespoon

corn starch
Eggwash
1

egg yolk

(S size)

1

tablespoon

milk
Instructions
Preparing the poolish
Add all ingredients for the poolish and stir well together. Cover and leave for 30 min for the yeast to activate.
Kneading the dough
To the bowl of a standing mixer add poolish, flour sifted with cinnamon, eggs, sugar, and salt, and start kneading at a slower speed. The dough should form after a minute. If you find it too dry, add a tablespoon of milk. If it seems too wet, add some more flour. Knead for 5 min and then pause.

If the dough starts to stick to the sides of the mixing bowl, add some more flour and scrape it off with a silicone spatula. Start the kneading process again for 15 minutes until the dough becomes smooth and pliable.

Now it's time to add butter and orange zest. First, add half of the butter diced to cubes and start kneading at a slower speed. Give the butter time to incorporate into the dough. After a few times, add the rest of the butter and freshly grated orange zest and let it knead for a few more minutes. The dough will be soft, but that's OK.

Transfer it to a well-floured working surface and shape it into a ball. Place it in a lightly oiled bowl and cover with a wet kitchen towel or plastic wrap and let it rise a bit.

Put it in the fridge overnight, preferably for 10-12 hours. Be careful to protect the dough from the air so that you avoid drying out on the surface of the dough.
Raspberry jam
Add the thawed raspberries to a small cooking pot along with the juice they've released, sugar, and ground cloves. Stir and cook for 5-6 min until the raspberries are completely softened and disintegrated.

Towards the end of cooking, mix cornstarch with a few tablespoons of water and add to the raspberry mixture. Cook until the jam thickens, about a minute. Remove from the heat and let it cool completely. Cover and refrigerate until the next day.
Making the babka (next day)
Good morning handsome, it's time to shape and bake our babka! Firstly, prepare a loaf tin by lining it with parchment paper. The dimensions of my loaf tin are 26 x 6 x 12 cm (10 x 2,4 x 5 inches).

Take the dough and raspberry jam out of the fridge. Transfer the dough to a very well-floured surface and roll it out into a rectangle with approximate dimensions of 30 x 40 cm (17 x 12 inches). Spread the prepared jam over the brioche dough leaving the border without jam. Gently brush those borders with water and roll the dough into a log.

Slice the rolled dough through the middle with a very sharp knife sprinkled with some flour or pastry scraper. Lay one piece of dough over the other so they form a cross shape and then twist both halves together. With the help of the pastry scraper transfer the babka to the loaf tin, cover it, and let it rise. It will take 2-2,5 hours probably, depending on the temperature of your room.

15 minutes before baking, preheat the oven to 180°C (356° F). Brush the babka with prepared egg wash and if you wish, sprinkle with some chopped nuts. Place it in the oven on a medium rack and bake for 35 - 40 min. While the babka is in the oven, prepare the simple sugar syrup by mixing the water and sugar together and cooking it until it thickens. Set aside.

Towards the end of baking, when babka is almost done, put a metal skewer or toothpick in the bread to check if it's baked. Then take it out of the oven, very carefully took it out of the loaf tin, and place it on the cooling rack.

Brush the babka with sugar syrup while it's still warm. And now, the hardest part: wait for it to cool completely. Then cut it into slices and serve. Enjoy!