Recipe for Austrian cookies with almonds and jam that, with their distinctive look, make every holiday table even prettier! Definitely the softest and most delicious Linzer cookies I've ever tasted!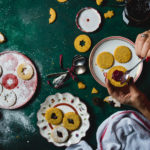 I'll just start this post in the most modest way possible: these are the softest, the most beautiful, BEST EVER Linzer cookies I've ever made in my life!
And tried, obviously.
These Linzer cookies will melt in your mouth and this is greatly due to one every day but very important ingredient!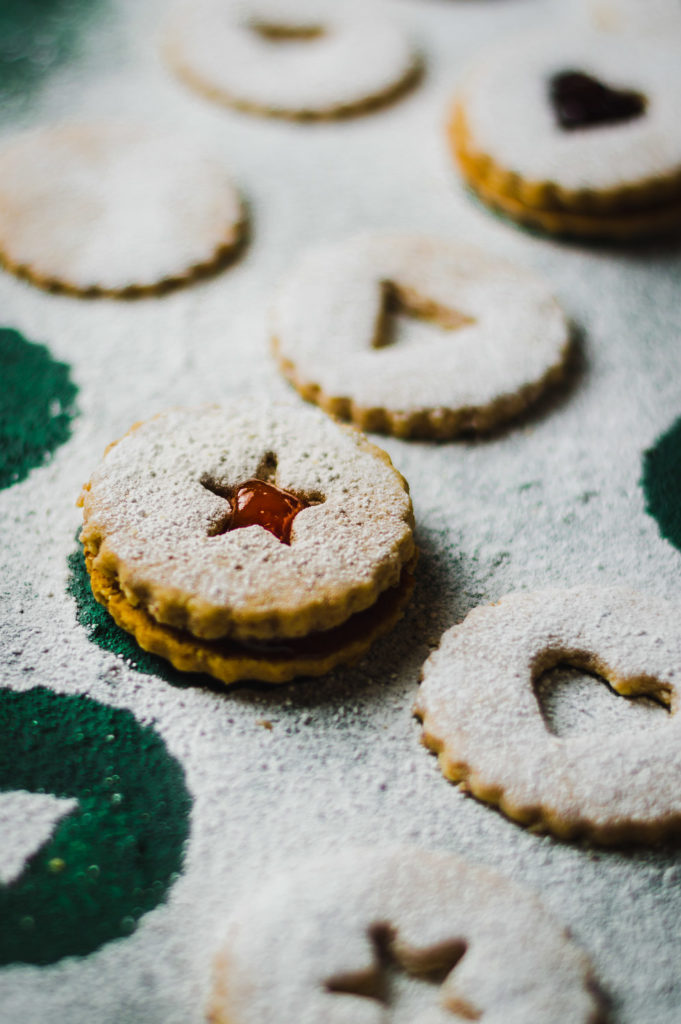 Starting this post, I'm nibbling on my last Linzer cookies and I'm thinking about how much I want to talk to you guys about this recipe! I enjoyed taking photos for this blog post so much that I ended up with over 200 photos.
Crazy, right?
This, of course, prolonged the post-production because it took a few days for me to even choose the best photographs.
Ah, sweet problems!
Shortly on the history and origin of Linzer cookies
I believe that Linzer cookies, along with Scottish shortbread cookies, Italian cantuccini, and Dutch speculaas are some of the most famous European cookies in the world. Linzer cookies got their name after the Austrian town Linz, and besides cookies, there is also a Linzer torte, one of the oldest tarts which date back to the 17th century.
Both the Linzer cookies and Linzer tart use the same ingredients, more or less. The only difference is that the cookies are made with small cookie cutters while Linzer tart is made with a classic tart mold.
Otherwise, it was interesting to read how, when Linzers are made with round cookie cutters, they're called Linzer Eyes (Linzer Augen).
Everyone knows what Linzers are and how they taste, right?
Or maybe it's not like that?
When I walk into some of the Croatian supermarkets it freaks me out when I see what they're trying to sell under the name of "Linzers".
So, let's be nerds and define what Linzer cookies actually are. Traditionally, Linzer cookies are a sandwiched type of cookies that consist of a crust made of white flour, nuts, butter, lemon zest, some cinnamon, and egg yolks. Linzer cookies should by no means contain margarine instead of butter, the addition of nut flour is a must and what makes them especially rich and tender are egg yolks instead of whole eggs.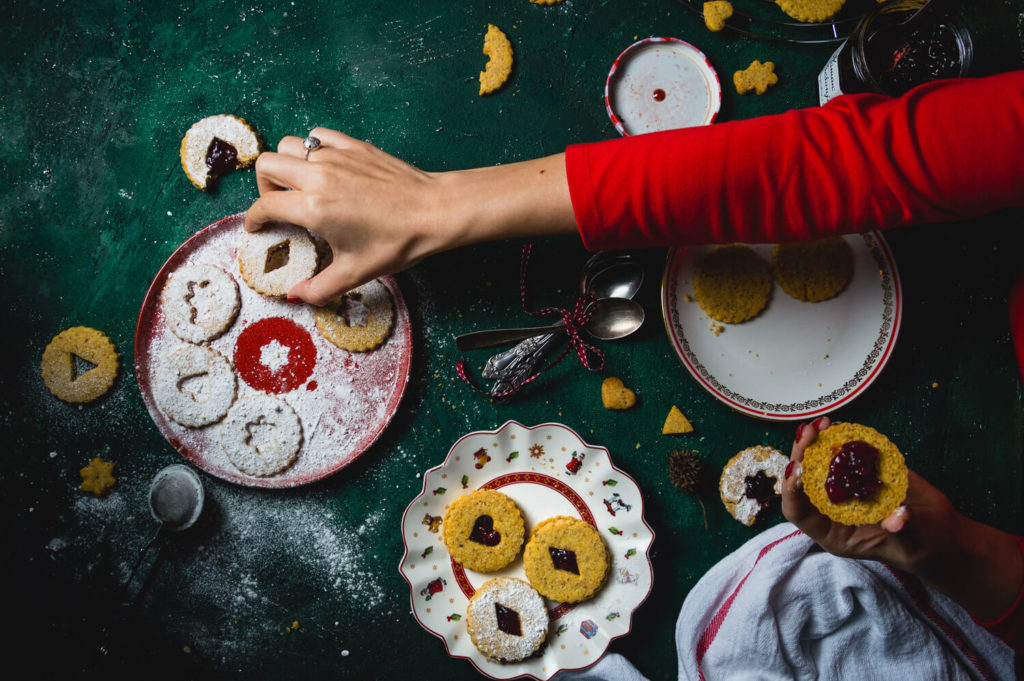 They are usually sandwiched together with some sour jam, such as currant or raspberry jam, but I like them with apricot jam as well. I took a little risk here and used cherry jam which is a good solution if you have sweet tooth.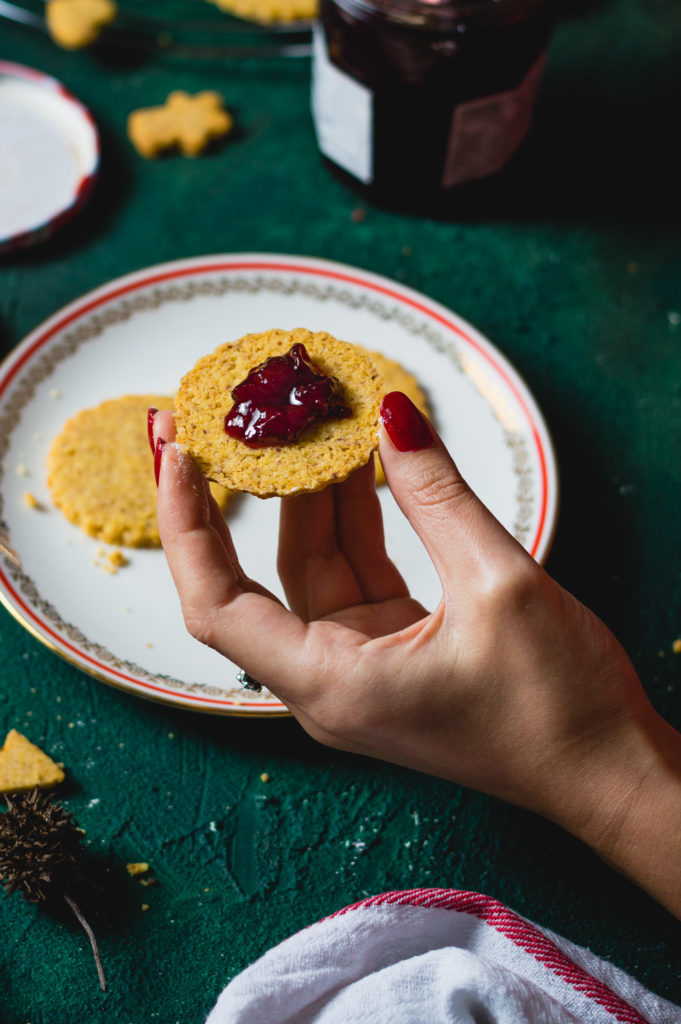 Linzer cookies will look the best if you put the jam in the center of a cookie and then just press the top half lightly to spread the jam evenly.
But be gentle!
Otherwise, this might happen: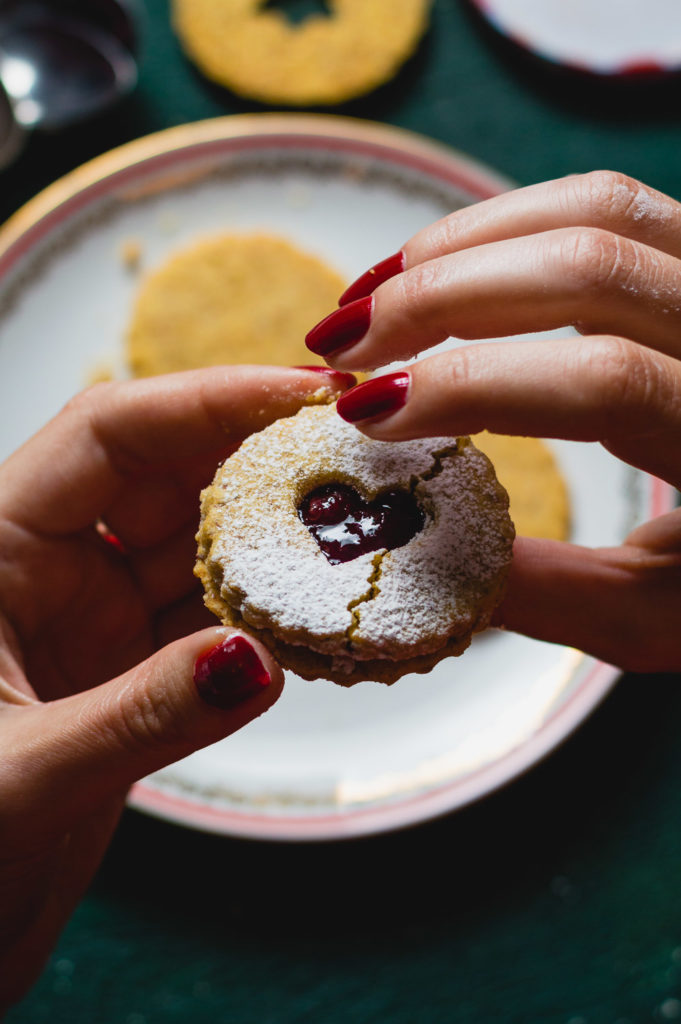 So, please guys, avoid buying those cookies from the store that have a long list of ingredients in which half of them are unfamiliar to you. Especially if they're suspiciously affordable, then you can be almost certain that there are a bunch of cheap, bad ingredients in such cookies /cakes.
I would rather invest some time in making one quality type of Christmas cookies than have 4-5 such suspicious mass-produced cookies from the store. If you don't have time to bake them by yourself then find someone who is an excellent baker and uses only good ingredients.
Now, let's go back to Linzers.
What is the role of egg yolks in cookies?
The role of eggs is incredibly important in making cakes, and cookies. Some recipes use whole eggs, some only egg whites, some only egg yolks, and somewhere whole eggs are combined with egg yolks.
Have you ever wondered why this is so?
I know I did and here's the answer. The egg white is rich in protein and the yolk is rich in fat. This fat gives a rich, almost velvety texture to the cookies and makes them incredibly tender.
I have to admit that I only realized this important role egg yolks have when making these cookies. Before I'd just rather use whole egg(s) because I didn't want to think what would I do with all those egg whites later. But using only egg yolks in this recipe was a total game-changer for me.
Do I have to make Linzer cookies with almonds or there's another option?
Of course not.
When I don't have almonds in my pantry, I usually use hazelnut flour. You can also use walnuts, pistachios, or other nuts of your choice. My only advice is to toast them first in a hot, dry pan, which will give your Linzer cookies a more refined taste.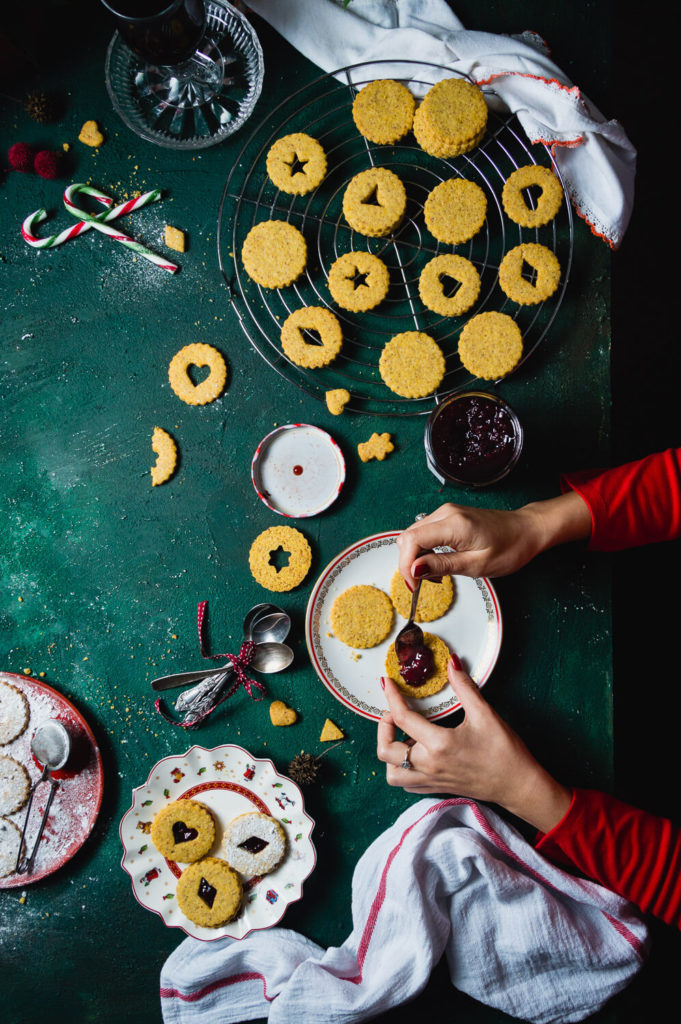 Also, Linzers are not macarons, so you don't have to worry if you don't manage to grind the nuts into a fine powder, it won't matter. Moreover, the tiny almond or hazelnut pieces will give additional texture to them. You can use blanched or unblanched almonds, whatever you like the most.
You can play around with the filling as well and instead of jam use lemon curd, chocolate spread, or maybe even some caramel!
How to store Linzer cookies
Linzer cookies can be stored in a cookie box, preferably metal, for up to 10 days.
If they even last this long, which I honestly doubt. 🙂
When you sandwich them with jam, they will soften even more and be less brittle. If you want them on the crispier side, sandwich them with a jam just before serving. If you serve them with some type of fruit curd, chia jam, or some other spread that is more perishable, keep in mind that they should be consumed within a few days.
P.S. These cookies are even more delicious if you make them with your close friends.
P.P.S. Dajana and Gabi, thank you for being my models and tasters.
:*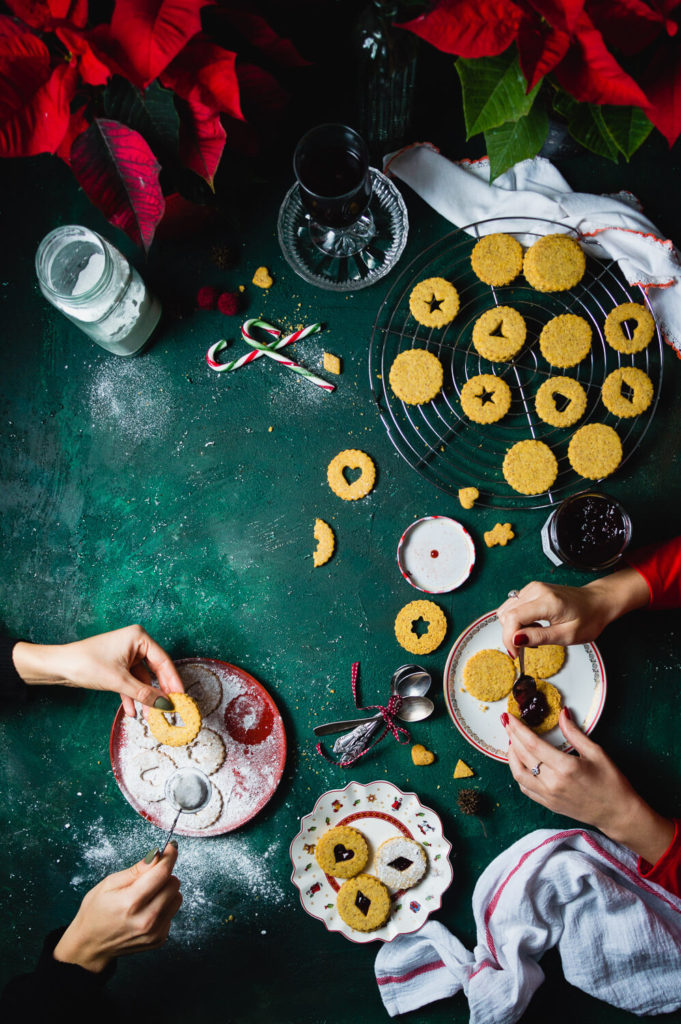 Do you love making Linzers for holidays? What's your favorite Christmas cookie recipe?
Tell me all about this in the comment section here on my blog, on my Instagram profile, or on Facebook. You can also follow me on Pinterest for some daily inspiration.
If you maybe somehow don't like (or have time) for baking Christmas cookies, and you want your home to smell amazing for Christmas, maybe you'll be interested in a quick winter DIY: How to make your home smell like Christmas
If you try this or any other idea from my blog, don't forget to let me know about it by tagging me on IG or sending me some photos of your creations!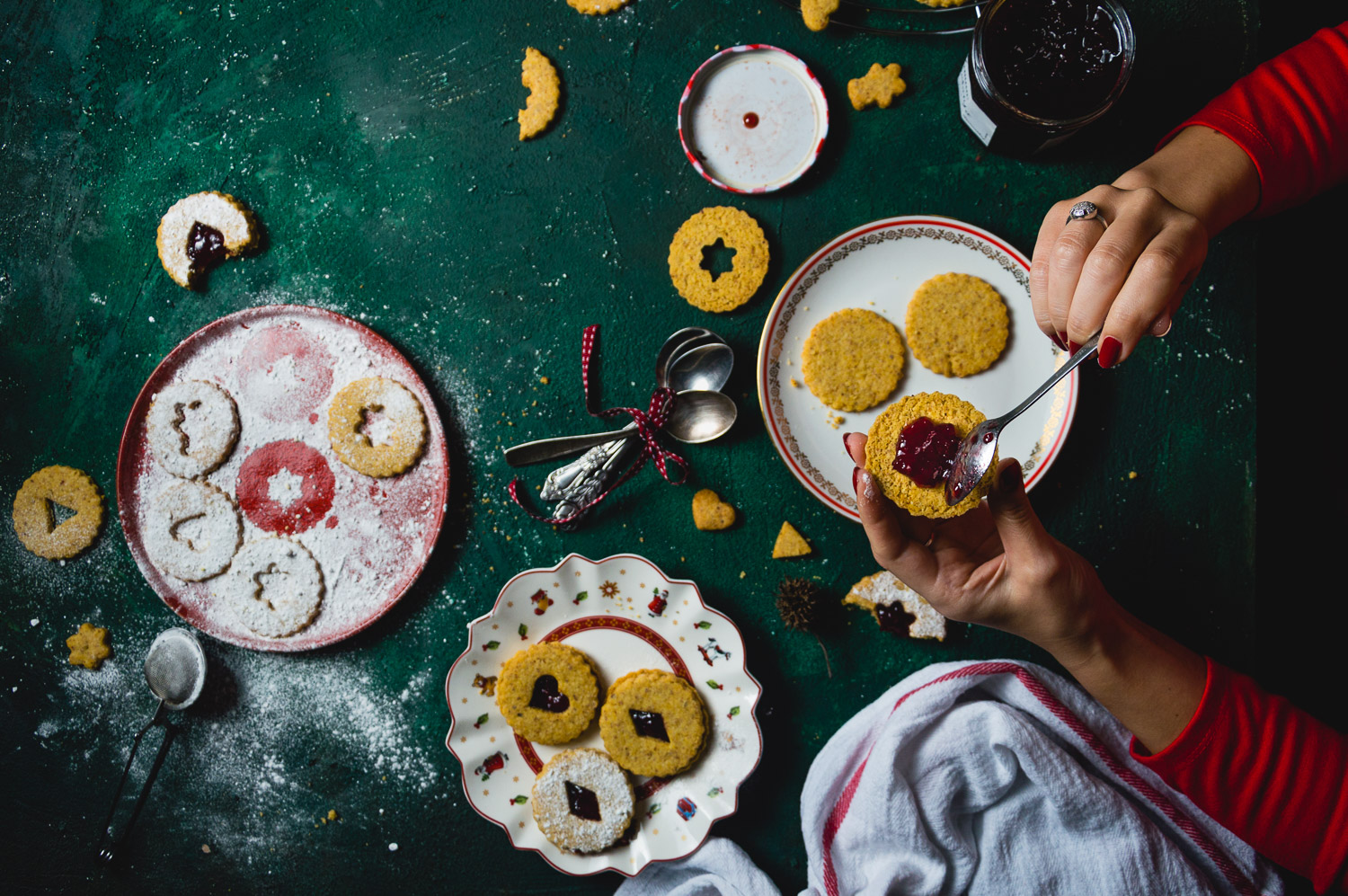 Best Recipe for Linzer Cookies
Recipe for Austrian cookies with almonds and jam that, with their distinctive look, make every holiday table even prettier! Definitely the softest and most delicious Linzer cookies I've ever tasted!
Print
Pin
Rate
Servings:
32
linzer cookies
Ingredients
200

g

all-purpose flour

160

g

almond flour

180

g

unsalted butter

(room temperature)

100

g

granulated sugar

3

egg yolks

1/2

tsp

Ceylon cinnamon

grated zest of one lemon

(organic)

pinch of salt

jam

(for filling)

powdered sugar

(for dusting)
Instructions
Toast the almonds on a dry pan and grind them in the food processor. Allow to cool completely and then mix with sifted flour and cinnamon.

Beat the butter until fluffy. Add sugar and mix again. Add egg yolk, one by one, lemon zest, and salt and beat until combined and fluffy.

Add dry mixture to egg yolk mixture and knead until just combined. Don't over knead. Divide the cookie dough into two halves, form each in a disk and wrap them with parchment paper or plastic wrap. Put them in the fridge for at least 30-45 min.

Preheat the oven to 170°C (338°F). Line two baking trays with parchment paper. On a lightly floured surface roll out the cookie dough to a thickness of 4-5 mm. Cut with desired cookie cutters. It's best to first bake the bottom halves of Linzer cookies and then in another tray bake the top halves. This way every cookie will be baked evenly.

Bake for 12-13 min. Allow to cool and then, dust the top halves (the ones with holes) with powdered sugar. Add some jam in the middle of the bottom cookie halves and carefully sandwich the cookies together. Serve them on a nice plate or store them in a metal cookie box.

Share with your loved ones. 🙂
Notes
Each oven bakes differently, so keep an eye on your own. It is possible that my baking time could be different than mine. Cookies tend to overbake easily and you really don't want this to happen to you with these beautiful, tender cookies. I usually take mine out of the oven before the edge of the cookies starts turning dark.
Instead of Ceylon cinnamon, you can use Cassia cinnamon if you like a stronger cinnamon scent.
Nutrition
Serving:
1
cookie
|
Calories:
109
kcal
|
Carbohydrates:
9
g
|
Protein:
2
g
|
Fat:
8
g
|
Saturated Fat:
3
g
|
Polyunsaturated Fat:
0.3
g
|
Monounsaturated Fat:
1
g
|
Trans Fat:
0.2
g
|
Cholesterol:
30
mg
|
Sodium:
2
mg
|
Potassium:
10
mg
|
Fiber:
1
g
|
Sugar:
3
g
|
Vitamin A:
165
IU
|
Vitamin C:
0.001
mg
|
Calcium:
15
mg
|
Iron:
1
mg