Sweet, easily spreadable apricot jam made of fresh apricots that will serve as a delicious filling for crepes or cookies! This no-pectin apricot jam is made from a few traditional ingredients, without artificial preservatives.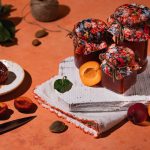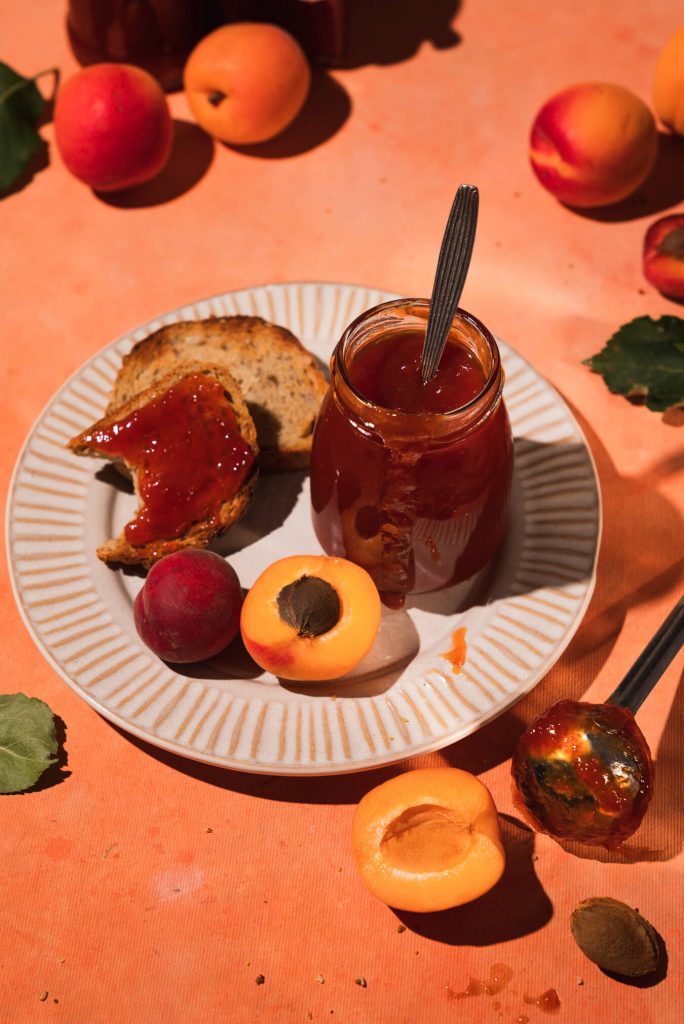 In our family, the tradition of making sweet and savory preserves from seasonal fruit and vegetables that grow in our orchard and garden is really long. When you try to live in harmony with the seasons and all the changes that they bring, sometimes nature gifts you with an abundance of fruit that you don't have time to use up while it's still fresh.
Jams, chutneys, marmalades, and jellies are traditional solutions that our ancestors used in order to preserve the most beautiful of each season and prepare for cold winter days.
Fortunately or unfortunately, today in stores those kinds of preserves are available at any time, which, I must admit, sometimes diminish the joy that a real summer tomato or peach can bring. However, I'm still trying to hold onto these values and traditions that my family has passed on to me so that's why I love to experiment with preserving fruits and veggies every summer and fall.
Sometimes I make oven-roasted plum jam with pumpkin pie spices, other times I pickle onions, garlic, carrots, and zucchini and we love them all!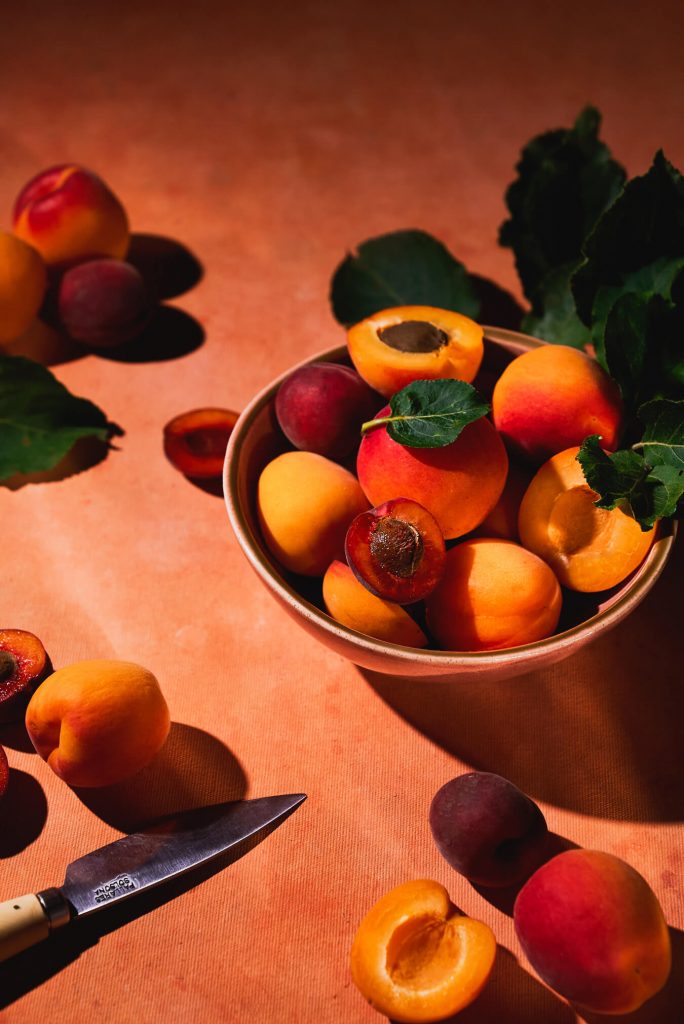 This is now my fourth year of making this no-pectin apricot jam following the same recipe and we have always been happy with it so far. That's why I decide to share it here on my blog with you guys! This is a classic, very simple way of preparing apricot jam and the final product doesn't contain added pectin or artificial preservatives.
Although I did try apricot jam with added pectin and I liked its flavor, some members of my family are, unfortunately, sensitive to added pectin. That's why, for now, I'm sticking to the classic preparation that requires longer cooking and a bit more sugar.
How to Choose The Best Fruit For Making a Jam
In order to successfully make homemade apricot jam that could last us until next summer, we need to know certain things before starting this whole process.
First of all, I want to clarify one misconception that I have heard and read many times before, and that is that it is best to use very ripe fruit to prepare jam. In most cases, this isn't something we necessarily want, and here's why.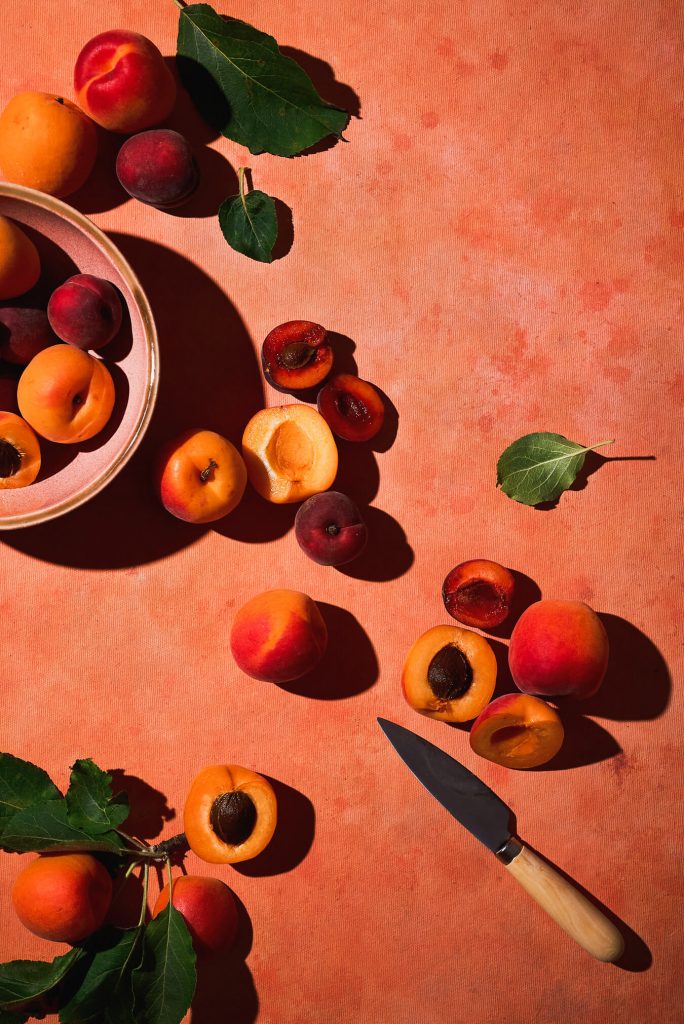 The best fruit for preparing preserves isn't unripe or overripe fruit. It needs to be "just ripe", but not too soft.
Fruit that's on the verge of rotting should never ever be found in your jams and marmalades because such fruit contains lower levels of pectin. That type of jam will be much harder to thicken and can be more prone to going bad. This can be solved by adding pectin, freshly squeezed lemon juice, or fruit naturally rich in pectins, such as sour apples, red currant, or blackberries.
If the fruit you are going to use to make jam or marmalade has rotten parts, it's crucial to remove such parts so you avoid possible faster spoiling of the final product later.
The Best Jam Cooking Pot
A good cooking pot will make preparing the jam so much easier! Here are the things you should consider when choosing your jam cooking pot:
It should have a thick and heavy bottom so that the jam doesn't burn easily;
It should be made from nonoxidizing materials, like stainless steel;
It shouldn't have any damage on the inside;
It needs to be as wide as possible. This way the water will evaporate more quickly which means your jam will be done faster.
When I'm making any type of jam or marmalade at home, I take care that the amount of all ingredients don't exceed half of the cooking pot. This way your stovetop and tiles will remain as clean as possible and you're reducing the possibility of burning yourself.
Sterilizing Jam Jars in the Oven
Clean, sterilized jars and lids are extremely important to ensure our no-pectin apricot jam lasts as long as possible. Jars can be sterilized in several ways. I find sterilizing jars in the oven the easiest method for me, so here's how I do it:
Firstly, jars and lids should be washed very carefully with hot water and dish soap;
The next step is arranging the jars on a clean baking tray, putting them in the oven, and heating the oven to 120°C. Let them stay in the oven for about 30 minutes. I also like to put metal lids together with jars in the oven too and I never had a situation where the rubber inside the metal lid burned. If you're afraid of that, put the lids in the oven for only 10 minutes or so. It's important that both lids and jars are dry before putting the jam inside.
IMPORTANT: Fill the hot jars with the hot jam and close them tightly with a lid immediately. Take care that the edges of the jar stay clean, otherwise it can go bad easily.
Wrap the jam jars in the kitchen towel and allow them to cool for 24 hours.
Store no pectin apricot jam in a cool, dark place. After opening it, keep it in the refrigerator and consume it within a few weeks.
What to Eat With Apricot Jam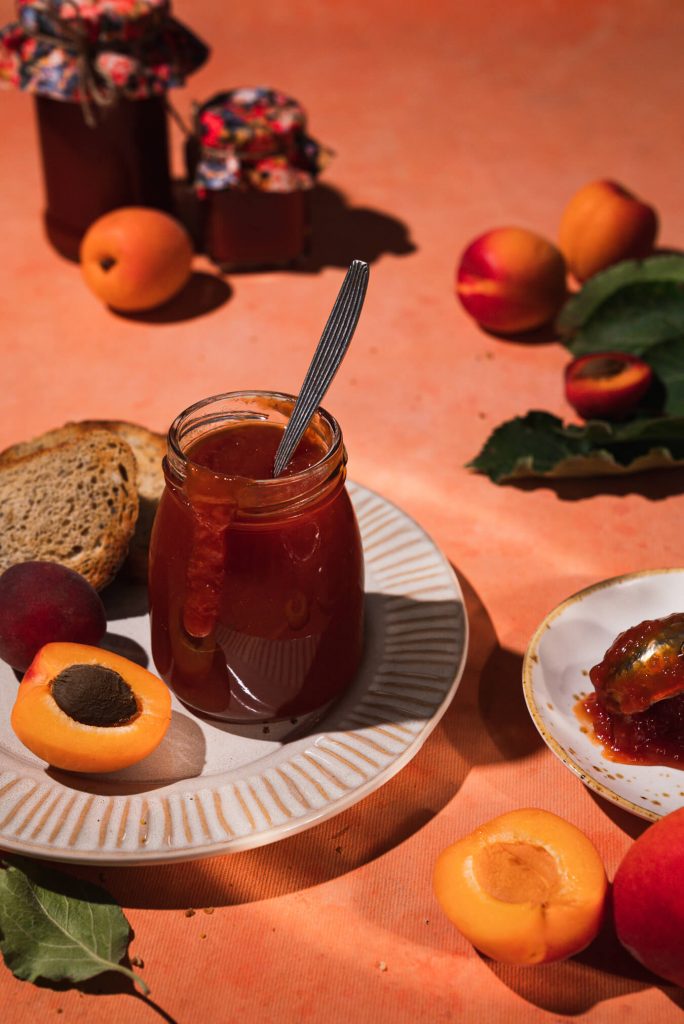 Now, onto my favorite part of this blog post, suggestions about paring apricot jam with other ingredients and recipes! Donuts, dinner rolls, crepes, and cakes are all very logical and well-known combinations, but here are a few more:
Serve this apricot jam with whole-wheat American pancakes;
Combine it with roasted camembert or brie cheese;
Use it as a glaze for meat or as an addition to the meat sauce;
Use it for sandwiching Linzer cookies;
Add it to Greek yogurt;
Make a salad dressing;
Use it as a filling for croissants or muffins.
FAQ
Do I need to peel the apricots for this recipe?
You don't need to peel them! I find peeling the apricots a complete waste of time in this recipe, but if you want to do it for some reason, here's how: Cut an X on the bottom of each apricot and put it in the boiling water for a few seconds. This should make peeling the skin much easier.
Do I really need to use an immersion blender in this recipe?
You don't have to if you prefer a more rustic appearance of the jam. I find that blending the apricots prior to cooking makes this apricot jam really smooth.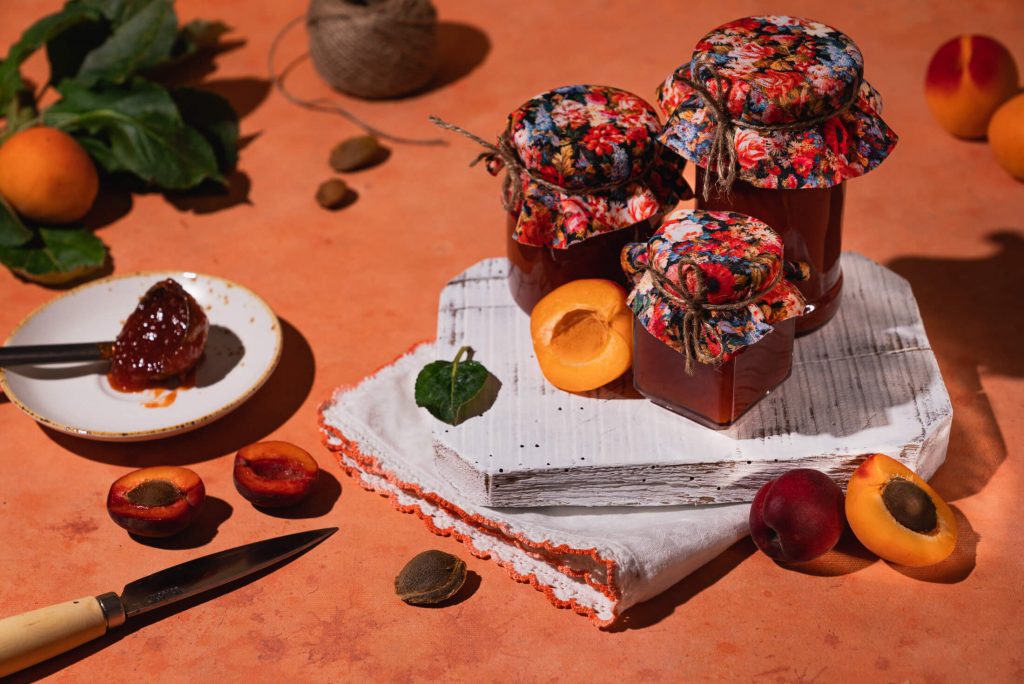 What is your favorite way to use apricot jam? I would love to hear from you!
If you try this recipe, don't forget to tag @foodandmoodblog on Instagram or Facebook or send me your photos of this recipe. They always make me happy! If you prefer video recipes, be sure to subscribe to my Youtube channel.
Cook with love,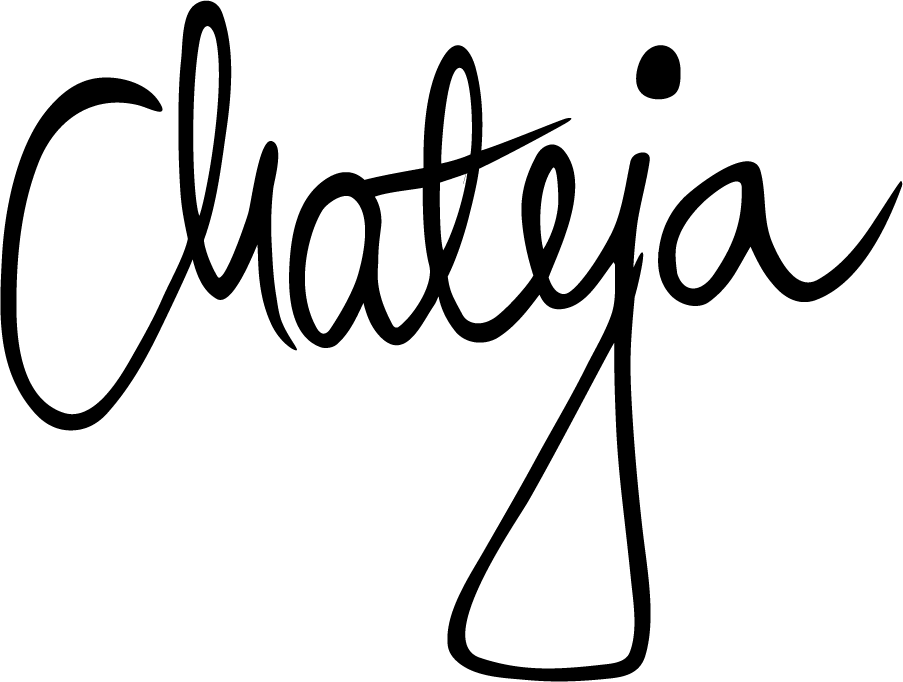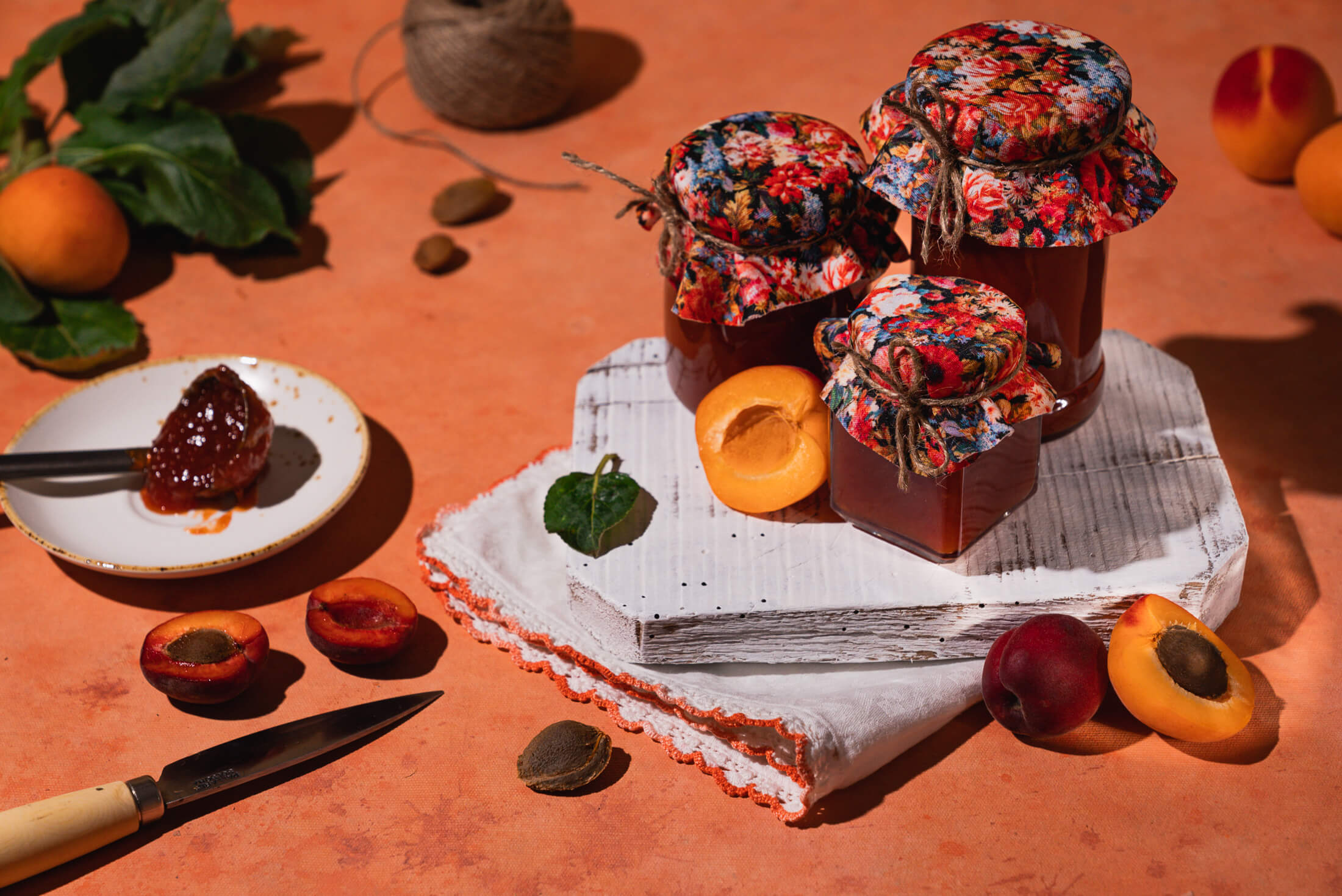 No Pectin Fresh Apricot Jam Recipe
Sweet, easily spreadable apricot jam made of fresh apricots that will serve as a delicious filling for crepes or cookies! This no-pectin apricot jam is made from a few traditional ingredients, without artificial preservatives.
Print
Pin
Rate
Ingredients
2

kg

apricots

(pitted)

1

kg

sugar

1

lemon

(juice only)

1

tablespoon

vanilla extract
Instructions
Start preparing this jam by cleaning the apricots. Wash them with water and remove the stones or any rotten parts. You should have 2 kg of chopped fruit. Then put the apricots in a big cooking pot, and cover them with sugar to release the juice. Let them rest for 4-6 hours in a cool place, or you can leave them overnight.

When the apricots have released the juice, add freshly squeezed lemon juice, whizz them with an immersion blender and start cooking.

Cook the jam over lower to medium heat for about 2 - 2,5 hours. During cooking, if foam appears, remove it with the spoon. Stir constantly so it doesn't burn.

When you want to check if the jam is thick enough, grab a teaspoon of hot jam, put it on a small plate, and inside the fridge for 10 minutes. If the density of the jam is to your liking, remove it from the heat. If you want it to be thicker, cook it a bit longer.

When the jam is done, pour it into the jars previously washed in hot water and sterilized at 120°C (248 F) for half an hour in the oven.

Immediately close them tightly with clean, sterilized metal lids and let them cool for 24 hours wrapped in a kitchen towel.

Store the jam in a dark and cool place and keep it for up to a year.
Nutrition
Calories:
610
kcal
|
Carbohydrates:
154
g
|
Protein:
4
g
|
Fat:
1
g
|
Saturated Fat:
0.1
g
|
Polyunsaturated Fat:
0.2
g
|
Monounsaturated Fat:
0.4
g
|
Sodium:
4
mg
|
Potassium:
671
mg
|
Fiber:
5
g
|
Sugar:
148
g
|
Vitamin A:
4818
IU
|
Vitamin C:
32
mg
|
Calcium:
37
mg
|
Iron:
1
mg