I think that there isn't one sugar addict in this world who haven't heard of lemon curd. If there is anyone among you who reads my blog posts (is there anyone, hello?) who does not know what it's about, now is the time to correct it. Before I somehow avoided making lemon curd because I was convinced that I'll probably screw some step in the preparation. And although in the preparation of any kind of fruit curd you should pay attention to some details, it really isn't a big deal. It will take some of your time but in return, you'll be rewarded with silky, zingy fruit curd with exquisite taste. Warning: once you try making this perfect lemon curd, you could become addicted to it. 🙂
But, what is lemon curd at all? It can actually be described as some kind of mixed custard originally from England, consisting of eggs, butter, white sugar and citrus juice. It's usually cooked over a bain-marie. I've prepared lemon curd few times by now, following different recipes, but the one that I'll present you here on my blog results with really perfect curd which has fine consistency and good durability. Curds can also be made of orange, lime, grapefruit, essentially any citrus, and can also be made from some other fruit, such as mango, raspberry etc.
Lemon curd really can be used in many ways. You can use it as a filling for tarts or tartlets, muffins, glass desserts, you can spread it on pancakes, sandwich macarons or fill croissants. It also works well on fresh, warm bread, like this kefir banana bread I've made.
Tips for the perfect lemon curd
Be sure to use only organic lemons that you know have not been treated with chemicals. If you can't get these, use only lemon juice, not the lemon zest. You will get a little less intense lemon taste, but it will still be very delicious.
Try to find fresh, good quality local eggs.
When grating lemon zest, don't grate the white part of the lemon skin, otherwise the curd may turn out bitter.
Don't let your water in the bain-marie to boil, it should just slightly simmer and keep stirring constantly, otherwise, the egg whites might coagulate and you will have lumps in your curd.
If the lumps show, don't worry, you can still save it. Just strain the curd through the sieve.
If you want to make orange curd, reduce the amount of sugar because oranges are sweeter than lemons. If you have large oranges, for quantities in this recipe zest and juice of one orange should be enough. And add some vanilla extract, you will get a wonderful curd!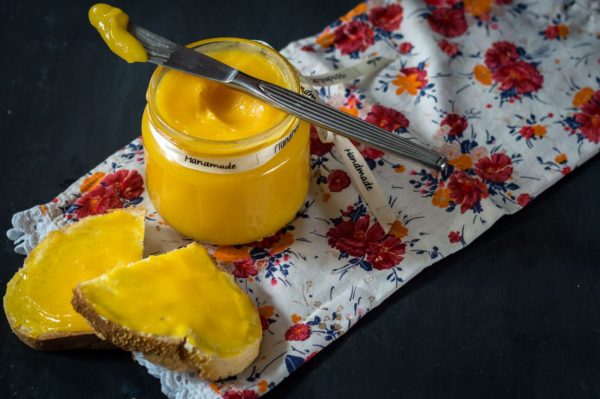 | | |
| --- | --- |
| | |
Wash the lemons. Grate the zest and squeeze the juice. In the meantime, prepare a pot in which you'll put water to boil.

Crack the eggs into another bowl and mix them with electric mixer shortly, just to make sure that you won't be left with any egg white strains.

Put grated lemon zest, lemon juice, and sugar into a glass pan, mix it and put it in a pot with slightly simmering water (bain-marie) and stir slowly. When sugar dissolves, add eggs and keep stirring constantly.

When the eggs have been incorporated well with melted sugar and juice, add the butter stirring constantly. Make sure that the water is slightly simmering, not boiling. The curd is done after 20-30 minutes or when the curd becomes thick enough to cover the back of the cooking spoon.

If you'll use curd the same day, put the plastic wrap on the bowl in which you've put curd, because you want to avoid creating a crust on the surface. If you do not use it immediately, pour a still hot lemon curd into sterilized jars, close it and let it cool. When cooled, place in a refrigerator where you can keep it unopened for a maximum of 3 weeks.
In some cookbooks, you can find the recommendation which tells that pregnant woman, older people, and children should avoid consuming fruit curds because the temperature at which the fruit curd is cooked is not high enough for the eggs to be completely safe, so a little caution is needed there.