This Vegan Beetroot Smoothie with sour green apples and freshly grated ginger has a great, refreshing taste and is full of useful fiber! You can drink it in the morning for breakfast or choose as a light between-meal instead of purchasing unhealthy snacks.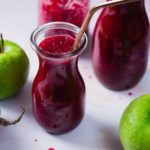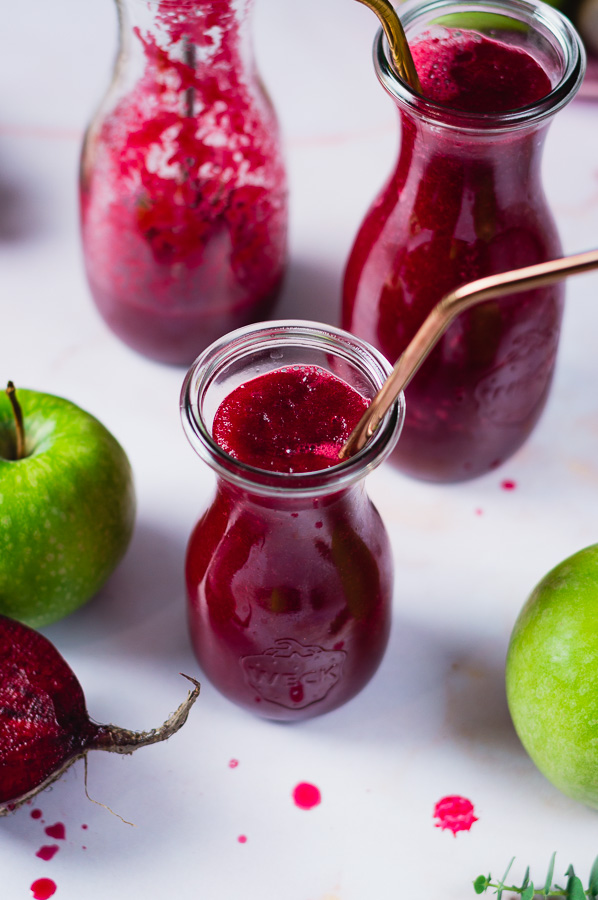 I have one tiny problem with smoothies. Drinking smoothies don't go hand in hand with my routine of drinking coffee/black tea.
The morning I decide to start with a freshly prepared smoothie means I cannot have my caffeine dose when I need it.
And I am a caffeine addict, I admit. Maybe that's why tiramisu is one of my favorite desserts of all time.
Oh, come on, I know you are too!
Therefore, I like to drink my smoothie in the early afternoon, when I have a lot of work to do and I don't want to end up in postprandial somnolence (aha, watch this fancy term!). Or, simply called, "food comma".
You know, that sense of lethargy when after lunch you just want to throw yourself on the couch, fall asleep and forget about the whole world and all commitments that are waiting to be done that day. Our dear, beloved carbohydrates like pasta, rice, bread, etc. are most to blame for this.
That is why I sometimes delay my lunch a bit and instead, when I have the chance, make some of my favorite smoothie recipes!
However, this vegan beetroot apple smoothie recipe has a slightly different effect on me than the others do. Believe it or not, I've noticed that it wakes me up pretty well! That's probably because of its slightly sour-spicy flavor due to ingredients such as lemon and freshly grated ginger root.
So, YES, this beetroot smoothie recipe works for me at any time of the day. It has so many health benefits because it's full of fibers and vitamins and is really easily digestible.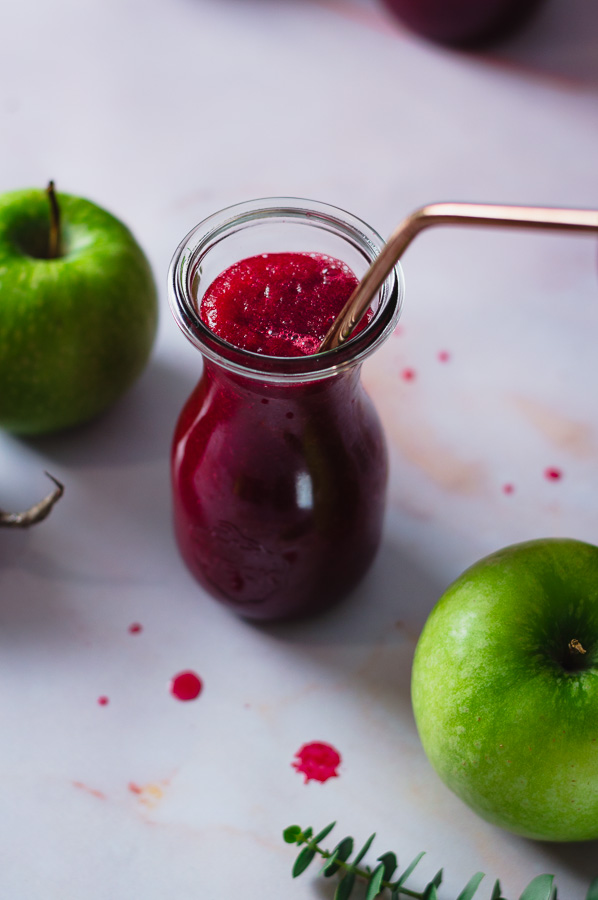 I know that (raw) beetroot is really unpleasant for many people due to its distinctive earthy flavor. And I know that some of you think that maybe this is the best adjective I could give to the beets. That's why this root vegetable is often combined with strong, salty cheeses or sour ingredients, just like in this Turkish salad with beetroot, radishes, and feta cheese. You should definitely give it a try!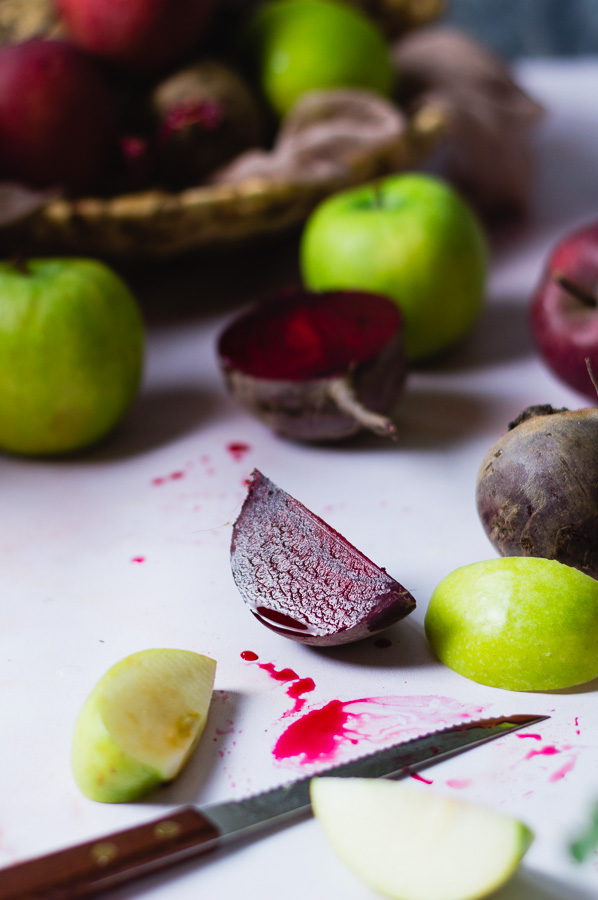 However, I often get surprised by how many people can't really stand the flavor and smell of beets and the associations that people have are actually quite funny!
Some say that beetroot tastes like dirt.
Like basement.
Or even sand.
Dust.
Others say that it reminds them of soap (I don't get this one).
On those first moments in nature when it starts raining during summer. You know, the smell of the rain (now, this is my romantic view of it).
And I made my own little research on why is this so. Let's find out!
Why Do Beetroots Taste Like Dirt?
The smell and flavor of beetroots remind us of dirt because they contain geosmin, an organic compound that is created in the soil by a special type of bacteria. It turns out that we people are very sensitive to this molecule. That's why we can smell it really very, very good.
In some numbers and comparisons, it means that the human nose is 200 000 times more sensitive to geosmin than a shark is to the blood!
Pretty damn fascinating, isn't it?
Well, geosmin is responsible for the earthy flavor of beetroot and the smell of the rain. If you enjoy the scent of the forest, the smell of freshly harvested mushrooms, or the smell of carrots that have just been taken out of the soil, chances are that you really like beetroots too!
So, welcome to the beetroot fan club!
Writing this post, I realized how much I actually love this scent of soil and how much I, living in the city for the last 10 years, really miss it.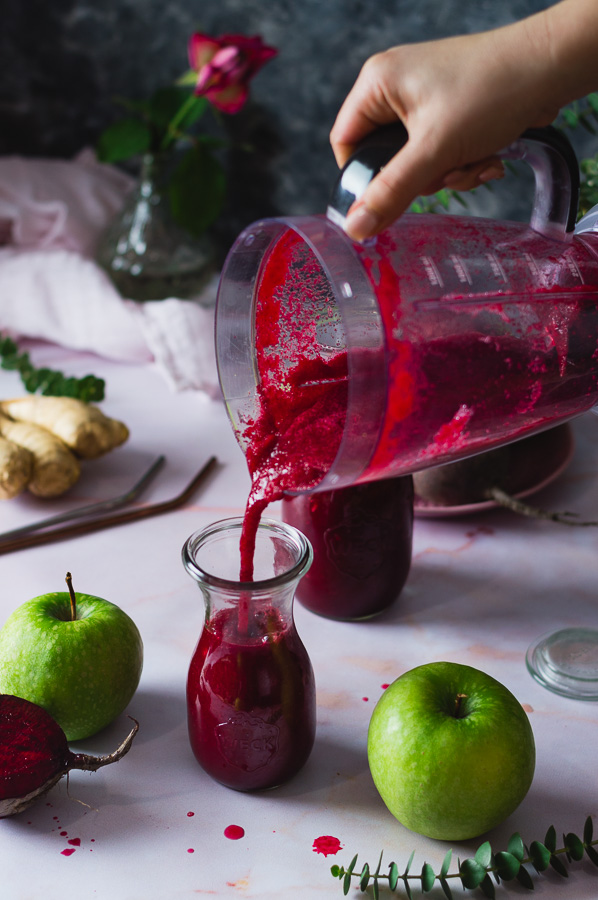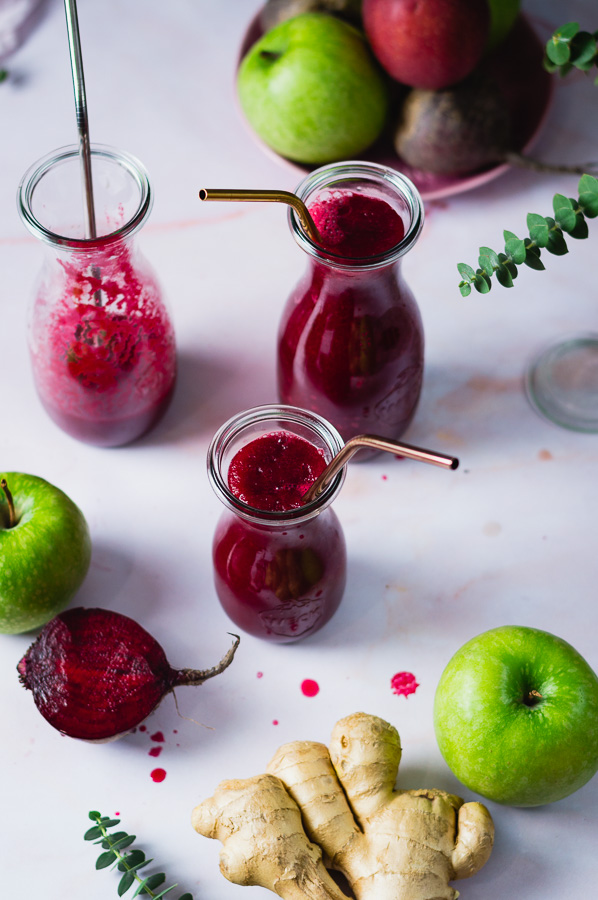 Like it or not, I hope you'll give this recipe a chance!
So, why did I choose exactly these ingredients for making this super refreshing beetroot apple smoothie?
Beetroot – raw or cooked, there is a real dilemma here! If you like beetroot and don't mind its fibrous texture, choose fresh beetroot. If you aren't so sure you're going to like it, you should definitely cook it. This will make your smoothie more creamy. Allow it to cool completely before putting it into the smoothie.
Apples – I recommend you choose a sour type such as Granny Smith.
Ginger – Gives an almost unnoticeable dose of spiciness and counteracts with a slightly earthy taste of beetroots. In this recipe, I use freshly grated ginger. It's better in smoothies than the powdered ones, trust me.
Lemon – gives freshness.
Final flavor – quite refreshing, especially if served cold.
Texture – thick and full. A banana gives it a bit of creaminess. Definitely thicker than an average smoothie.
So, are you ready to mix your beetroot, and apple smoothie? It's time to turn your blender on!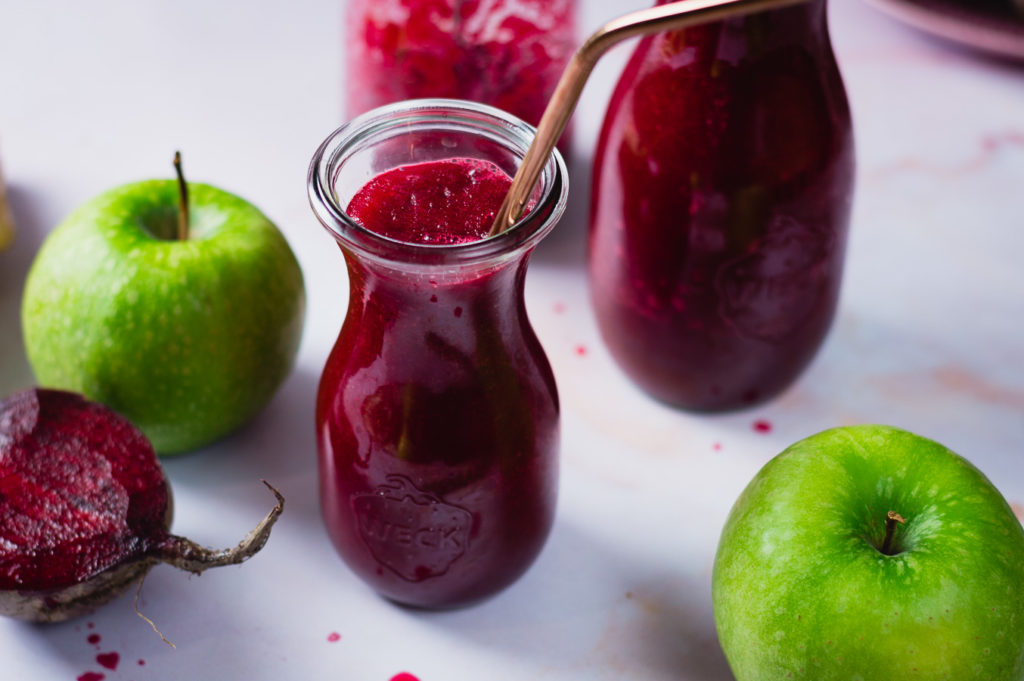 Do you like beetroot? Which beetroot recipe do you remember as really delicious? Tell me what do you think here in a comment on my blog, on my Facebook page, or on Instagram.
If you try any of my recipes, don't forget to send me a photo or tag your post on IG with #foodandmoodblog. Your creations always make my heart smile!
Article sources: https://www.acsh.org/news/2018/07/28/geosmin-why-we-smell-air-after-storm-13240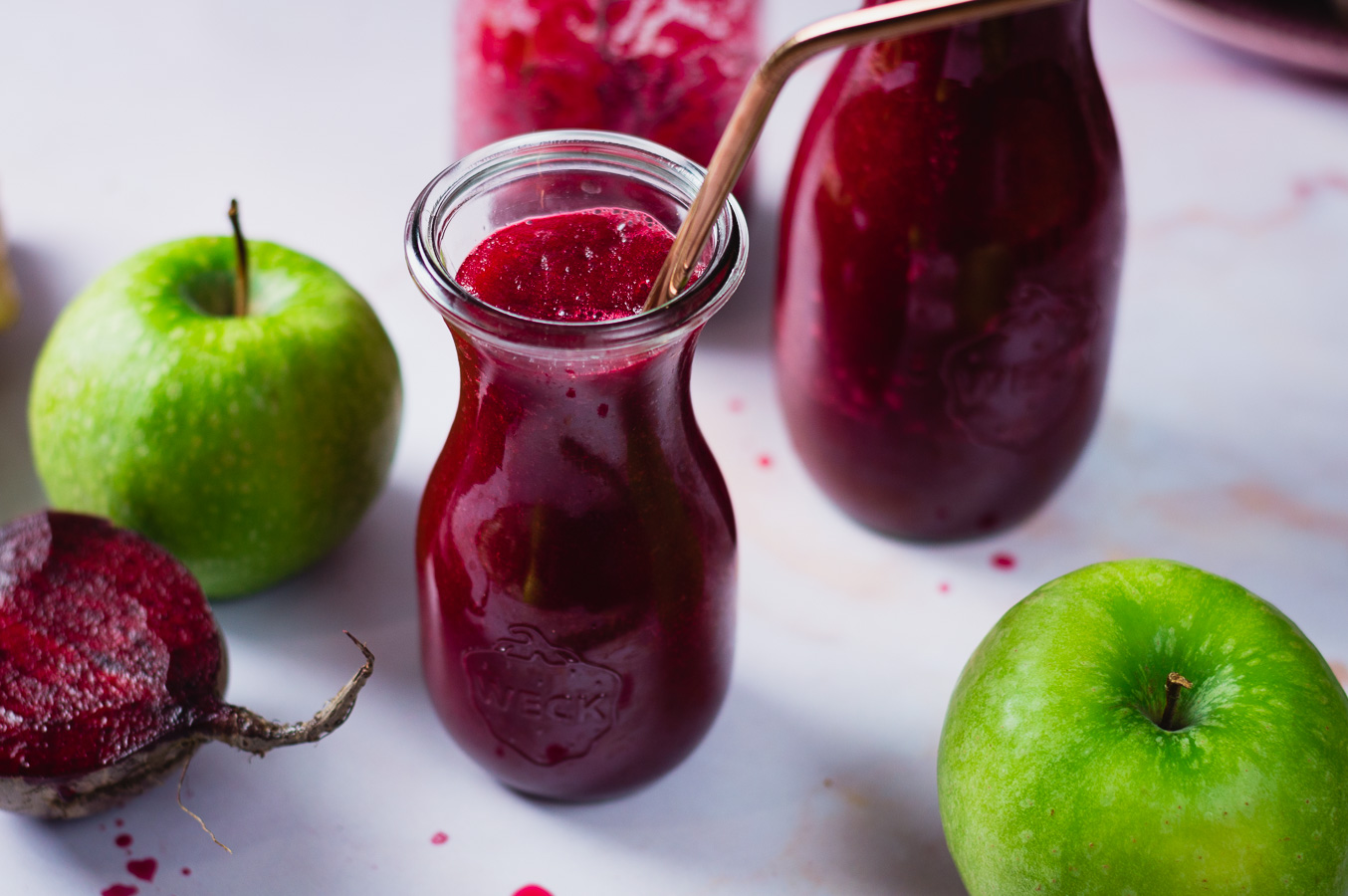 Vegan Beetroot Apple Smoothie Recipe
This Vegan Beetroot Smoothie with sour green apples and freshly grated ginger has a great, refreshing taste and is full of useful fiber! You can drink it in the morning for breakfast or choose as a light between-meal instead of purchasing unhealthy snacks.
Print
Pin
Rate
Servings:
4
servings (yields 800 ml)
Ingredients
1

beetroot

(up to 150 g)

1

banana

(frozen)

2

apples

(e.g. Granny Smith)

1

teaspoon

ginger

(freshly grated)

1

tablespoon

protein powder

(optional)

4

dcl

cold water

1/2

organic lemon

(juice)
Instructions
Cook the unpeeled beetroot until it becomes soft. Remove it from the liquid, allow it to cool slightly, peel it and cut it into pieces. This way it will cool down faster. Wash and peel the apples.

Put beets and apples in the blender, add grated ginger and the rest of the ingredients and blend for about 3 minutes or until smooth.
Notes
If you want to drink this smoothie before the workout, you can add a few tablespoons of oats for extra energy.
If you prefer your smoothie to be thinner, add more water or some almond milk.
Personally, I don't add any sweeteners in this smoothie because I find this unnecessary, but if you have sweet tooth, you can add some honey or date syrup (if you want to keep it vegan).
You can store this beetroot smoothie for 24 hours in the fridge.
Nutrition
Serving:
200
ml
|
Calories:
98
kcal
|
Carbohydrates:
22
g
|
Protein:
4
g
|
Fat:
1
g
|
Saturated Fat:
0.1
g
|
Polyunsaturated Fat:
0.1
g
|
Monounsaturated Fat:
0.03
g
|
Cholesterol:
6
mg
|
Sodium:
23
mg
|
Potassium:
286
mg
|
Fiber:
4
g
|
Sugar:
15
g
|
Vitamin A:
84
IU
|
Vitamin C:
9
mg
|
Calcium:
22
mg
|
Iron:
1
mg