This wild garlic bread is yeast-free and it doesn't require any waiting. Instead, it uses baking soda and kefir milk with some wild garlic leaves which gives it a vibrant green color. And it can be freshly baked at your table in under an hour! Due to its vibrant green color, it's perfect for St.Patrick's Day.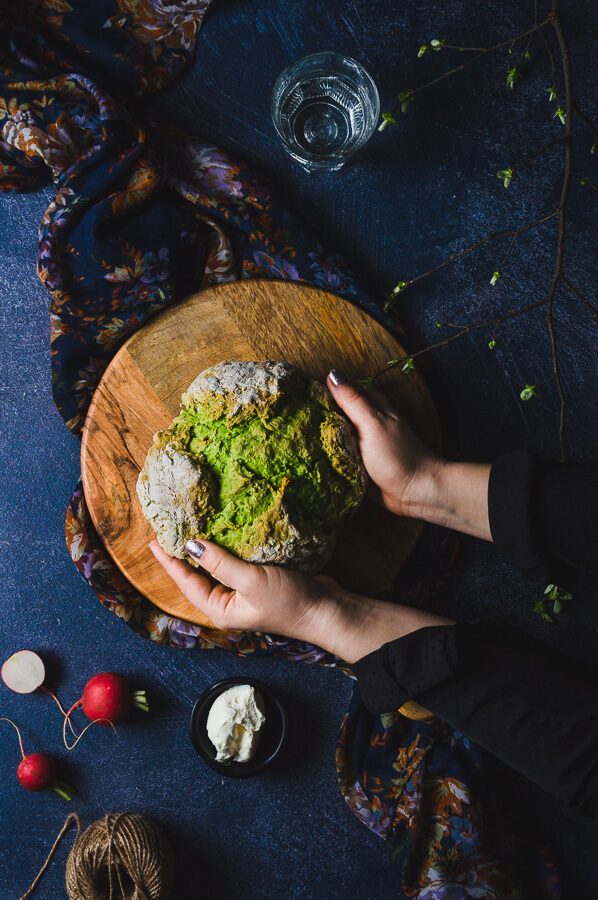 I can't exactly remember when was the first time I baked my first soda bread. All I know is that along with Lahey's no-knead bread, it was one of the very first bread I learned to bake.
I'm always happy to come back to this type of no yeast bread when I don't feel like going to the bakery or I don't have time to wait for the yeast to do its job. Or I just want to eat freshly baked, warm bread that can be done while I watch an episode of Peaky Blinders.
Baking bread with natural yeast today is more popular than ever and for a good reason. Sourdough bread has a different texture, taste, and aroma than bread made with baker's yeast. It's easier to digest and stays fresh for a longer time, but requires certain skills and more time to prepare.
Wild garlic soda bread is the complete opposite, not only to bread with baker's yeast but also to sourdough bread. Don't expect from it an open crumb, sour smell, and chewy crust.
Still, I believe that it deserves its place not only on this blog but also in your recipe notebook for a simple reason: this is the bread that is humble and honest.
What is Soda Bread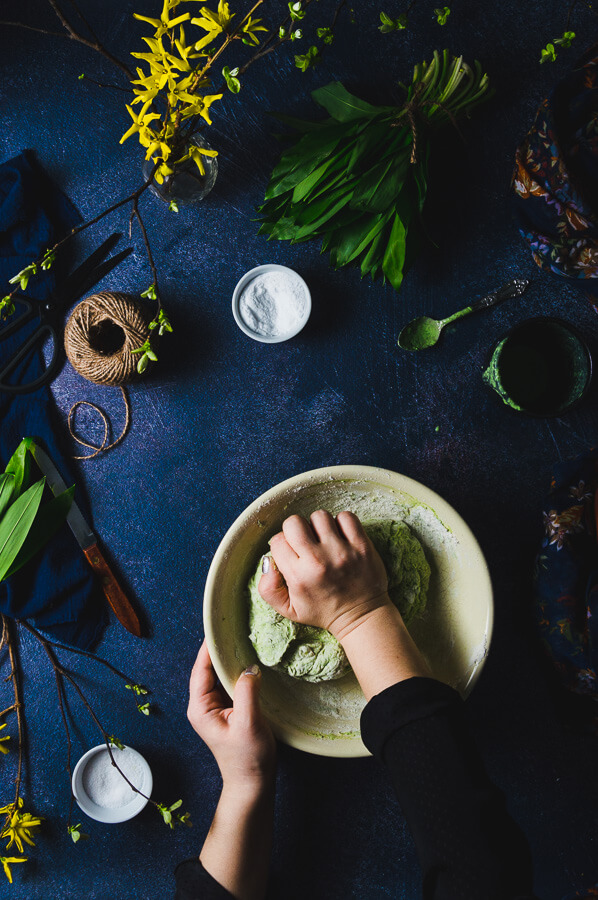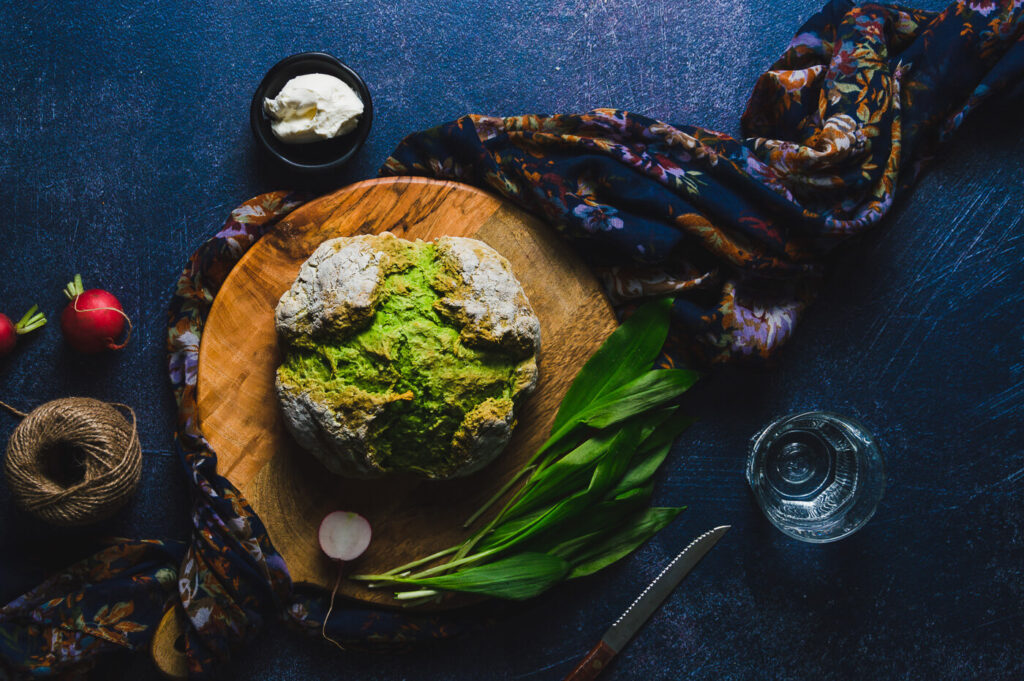 I'm a food geek (I know, I know).
I have a need to define and know everything about the food I eat.
Although the upper question in itself imposes a very obvious answer "it's bread with baking soda", I would give to you a slightly different answer.
For me, this wild garlic soda bread is the easiest and fastest bread you can make at home. Instead of yeast, it uses baking soda in combination with buttermilk or kefir, which means you don't have to wait a few hours for the dough to rise.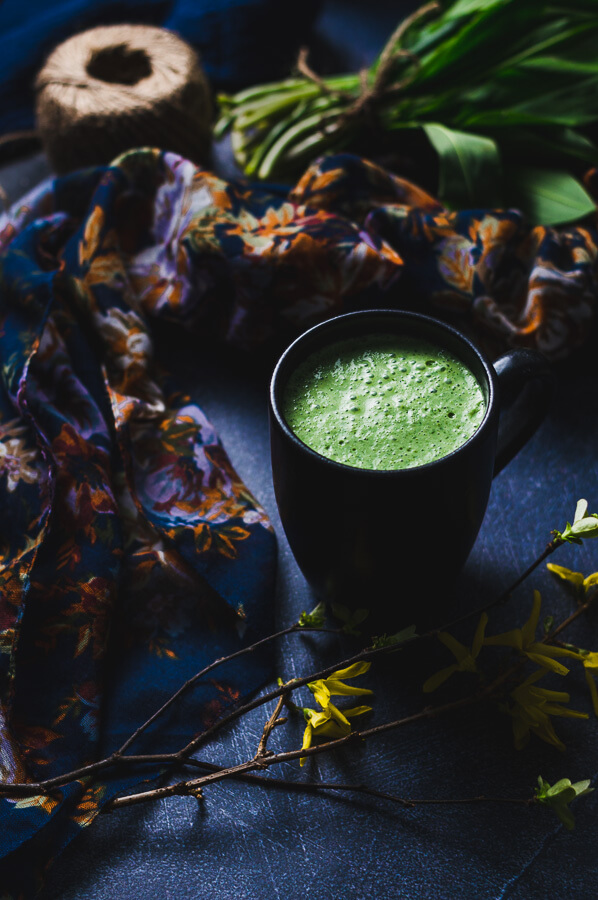 Also, it requires very little kneading. Soda bread will look the best if you put it in the oven as soon as you shape it. Regular soda bread can be slightly sweet with the addition of dried fruit like raisins and dried figs or you can prepare it in a savory version like I did with this beautiful green bread with the addition of wild garlic leaves. This way I got healthy and delicious bread with a crispy, rustic crust, an incredibly vibrant green color that stays present even after baking.
And all that in less than an hour.
Besides that, you can experiment with different types of flours, especially wholegrain flours.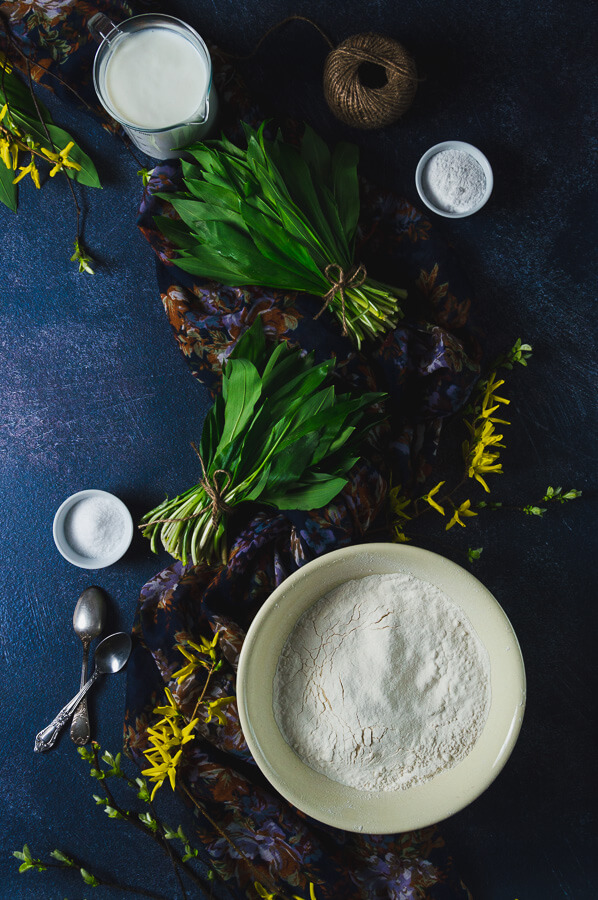 This green soda bread smells irresistibly of garlic and it's a perfect recipe to celebrate St. Patrick's Day!
About the History of Soda Bread
Lately, I've been thinking more and more about sustainable development and lifestyle. There are many ways in which we can apply the principles of sustainability in our lives, and one of them is certainly the use of wild edible herbs in our daily diet.
Most of us aren't even aware of how many useful and edible plants we are surrounded with on a daily basis.
Today I know more about the plants that grow around us than ever before, but I have a feeling that I'm only at 1% of what I yet need to learn and find out. So I decided to present you the recipe with wild garlic, the plant that is very close to me.
I'll discover one little secret about me: I LOVE old things and I'm a real "antique hoarder", so it's no wonder that I'm a fan of 19th-century bread. Yep, the first written recipe for soda bread dates back to 1836 when baking soda in Ireland started to become a common ingredient that was regularly used.
Before baking, the sign of the cross was made with a knife on the dough, similar to the Croatian Easter bread pinca. This way, the moisture would evaporate more evenly from the bread, and at that time it was believed that this would protect the household from evil forces. Soda bread can be found in different shapes and sizes, depending on the part of Ireland, but I usually like to bake it in a round shape.
What Do You Need to Know About Wild Garlic (Ramsons)
Wild garlic (Allium ursinum) is also known as ramson or bear's garlic. You can find it under even more creative names like devil's garlic, gypsy's onion, or stinking Jenny.
But why do the people call it bear's garlic?
It's because, early in the spring, when bears wake up from hibernation, they often go in search of these garlicky bulbs. Wild garlic is rich in vitamin C and all those "anti" attributes, but for me personally, the biggest advantage is that it grows in unpolluted areas. It's not treated with any chemicals, making it an exceptional wild edible plant that would be a shame to not include in your diet.
Because guess what, the season of wild garlic is short.
Be careful when you pick wild garlic!
When you go to the woods in search of wild garlic, be very careful that you don't pick some of its doppelgängers. Most often wild garlic can be mistaken for these three plants:
Autumn crocus (Colchicum autumnale)
Lily of the valley (Convallaria majalis)
False helleborine (Veratrum album)
I've also read that wild garlic can be mistaken for Cuckoo Pint (Arum Maculatum), but to me, the difference between these two plants is obvious.
The easiest way to distinguish wild garlic from other plants is to rub the leaf between two fingers. It should smell very similar to regular garlic.
Also, when you pick this plant, try not to pick a lot of leaves at once because you can easily pick a leaf or two of some poisonous, above-mentioned plants. Pick only as much as you know you can eat and leave something for the other foragers, too. If you're unsure of your knowledge of picking wild edible plants, go to the woods with someone who has experience.
If you're a big fan of wild garlic, you should definitely check my YOUTUBE VIDEO in which I'm showing my 3 must-try wild garlic recipes!
How Long Wild Garlic Soda Bread Can Last
It's best to be eaten on the same day but it can last for about 3 days.
What to Eat With Wild Garlic Soda Bread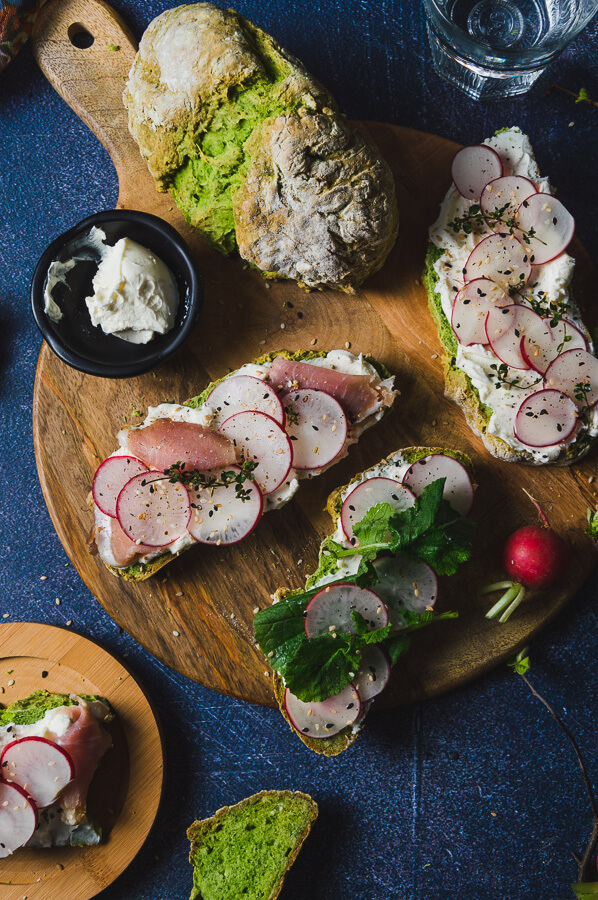 This quick bread will combine great with:
Boiled or poached eggs
Omelet or frittata with asparagus, bacon, or ham
Different kinds of fresh cheese and cheese spread, especially with smoked cheese
Salmon, lamb, or veal
All kinds of mushrooms.
If you're looking for more bread recipes, check out the next blog posts:
Do you use wild edible plants in your recipes? Have you ever heard of wild garlic? If you try this recipe, please let me know how it turned out! I always love to hear back from you. If you have any questions, don't hesitate to contact me via my e-mail or send me a DM on Instagram.
If you like to learn how to cook and bake from video recipes, definitely check and subscribe to my Youtube channel!
Sources:
https://www.woodlandtrust.org.uk/trees-woods-and-wildlife/plants/wild-flowers/wild-garlic/
https://www.abigailsbakery.com/bread-recipes/history-of-irish-soda-bread.htm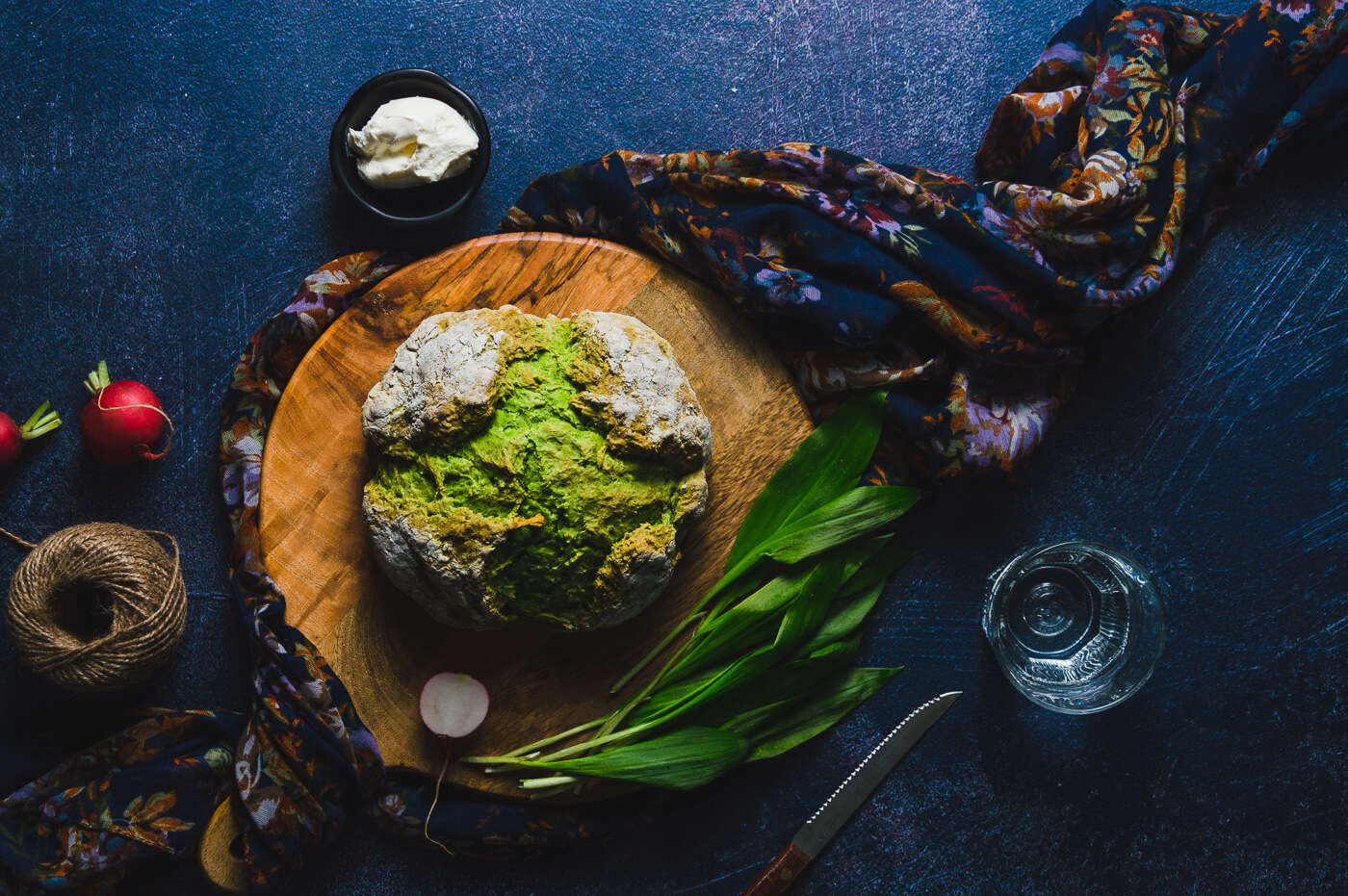 Wild Garlic Irish Soda Bread
This wild garlic bread is yeast-free and it doesn't require any waiting. Instead, it uses baking soda and kefir milk with some wild garlic leaves which gives it a vibrant green color. And it can be freshly baked at your table in under an hour! Due to its vibrant green color, it's perfect for St.Patrick's Day.
Print
Pin
Rate
Servings:
8
slices (yields 1 small bread)
Ingredients
200

g

all-purpose flour

100

g

whole grain spelt flour

250

ml

kefir milk

6

g

baking soda

6

g

sea salt

40

g

wild garlic leaves

(fresh)
Instructions
Preheat the oven to 200°C (392°F). Line a baking tray with parchment paper.

Wash and dry the wild garlic leaves. Chop them roughly with a knife and transfer them to a blender with kefir milk. Blend for 30 seconds.

Sift the flour together with baking soda and salt into a large bowl. Make an indent in the middle and pour the green kefir while stirring the mixture with a wooden spoon until combined. You don't need to knead it too much.

On a well-floured surface, shape the dough into a ball. Transfer it to the baking sheet covered with parchment paper and cut it with a knife to make a cross shape. Bake in the oven for about 25-30 minutes. Check if the bread is done with a toothpick because every oven is different. Also, you can tap the bread on the underside - it should sound hollow.

Let it cool down on a cooling rack completely. Then, the bread is ready for slicing! Enjoy.
Notes
For this soda bread, I use homemade kefir milk which I make at home using kefir grains. You can also use storebought kefir.
In order to get an even green color, I mixed the wild garlic leaves in my blender with kefir, but if you want to skip this step, just finely chop the leaves with a knife and add them to the rest of the ingredients. The color won't the this vibrant but the flavor will still be great!
Nutrition
Serving:
1
slice
|
Calories:
164
kcal
|
Carbohydrates:
31
g
|
Protein:
5
g
|
Fat:
2
g
|
Saturated Fat:
1
g
|
Polyunsaturated Fat:
0.1
g
|
Monounsaturated Fat:
0.02
g
|
Cholesterol:
4
mg
|
Sodium:
513
mg
|
Potassium:
27
mg
|
Fiber:
2
g
|
Sugar:
2
g
|
Vitamin A:
150
IU
|
Vitamin C:
1
mg
|
Calcium:
47
mg
|
Iron:
2
mg