Fuss-free, very easy, with just a few basic ingredients, this traditional mashed potatoes recipe is full of flavor and a perfect recipe for beginners! Serve it alongside beef bourguignon, stuffed cabbage rolls (sarma), or your favorite meat or vegetable patties!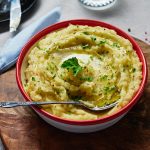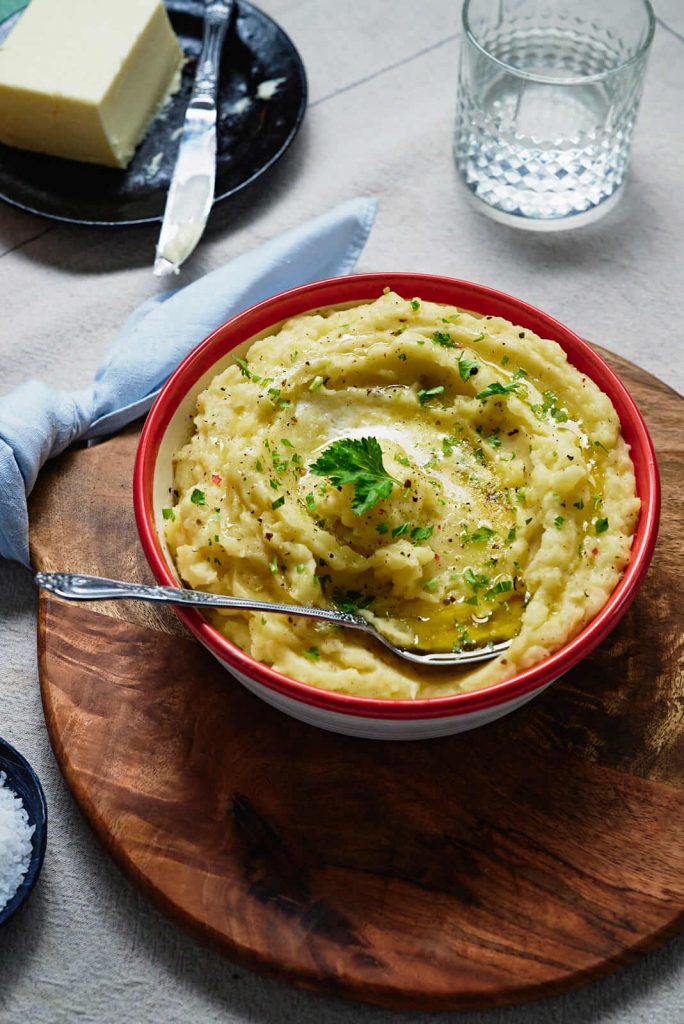 With the most dishes that we prepare on a weekly or monthly basis throughout the year, there is sometimes a misconception that such dishes are so simple that you don't even need to have the recipe for them and that anyone can make them. Personally, I wouldn't agree with that and mashed potatoes are a perfect example.
Over time, I've come up with my own steps and ratios for easy and traditional mashed potatoes that can compete with much more complicated and time-consuming side dishes. So in this post, I've decided to gather all my tips and tricks for easy, best mashed potatoes, every single time.
This mashed potatoes recipe is a great recipe for beginners in cooking because there are no additional, complicated steps such as melting the butter and milk in a separate pot, combining multiple types of potatoes, etc. I really wanted to simplify the steps in this recipe as much as I could but still get a really good result.
However, at the end of this post, I wrote down a few additional ideas on how and what can you add to mashed potatoes for a completely new flavor! Here are 7 steps for making delicious traditional mashed potatoes every single time.
Easy Mashed Potatoes Recipe For Beginners (VIDEO)
1. Choose the right type of potatoes.
Do you remember my Herbed Potato Salad with Capers?
When I'm making that recipe, I prefer using red waxy potatoes. Those potatoes better keep their structure, cut nicely after cooking, and are generally a bit harder to overcook compared to yellow potatoes. For mashed potatoes, we need a different type of potato – starchy and floury ones, like Yukon Gold or Russets.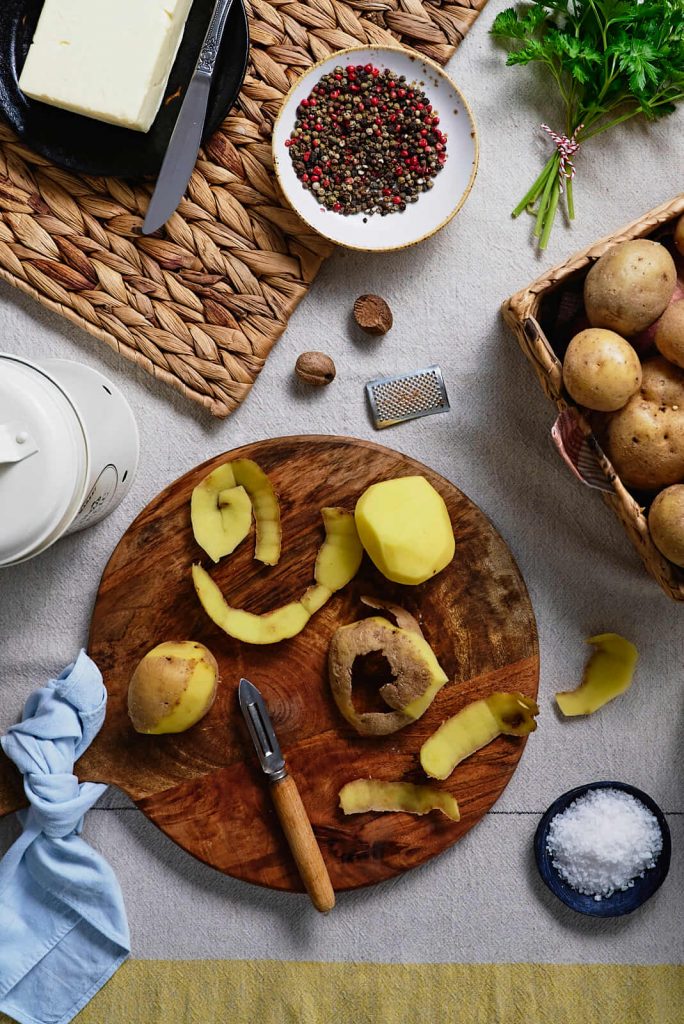 If you're buying the potatoes at the farmer's market, just ask the vendor for advice on which potatoes to buy, they'll probably know the best.
2. Don't cut potatoes into too small pieces.
I know, I knooow, we all want potatoes to be cooked ASAP, especially when we are hungry or the guests have just arrived, but by cutting the potatoes into too small pieces, there's a risk they will absorb too much water during the cooking which will result in overcooked and watery potatoes.
I prefer to cut them into larger pieces and cook them a bit longer.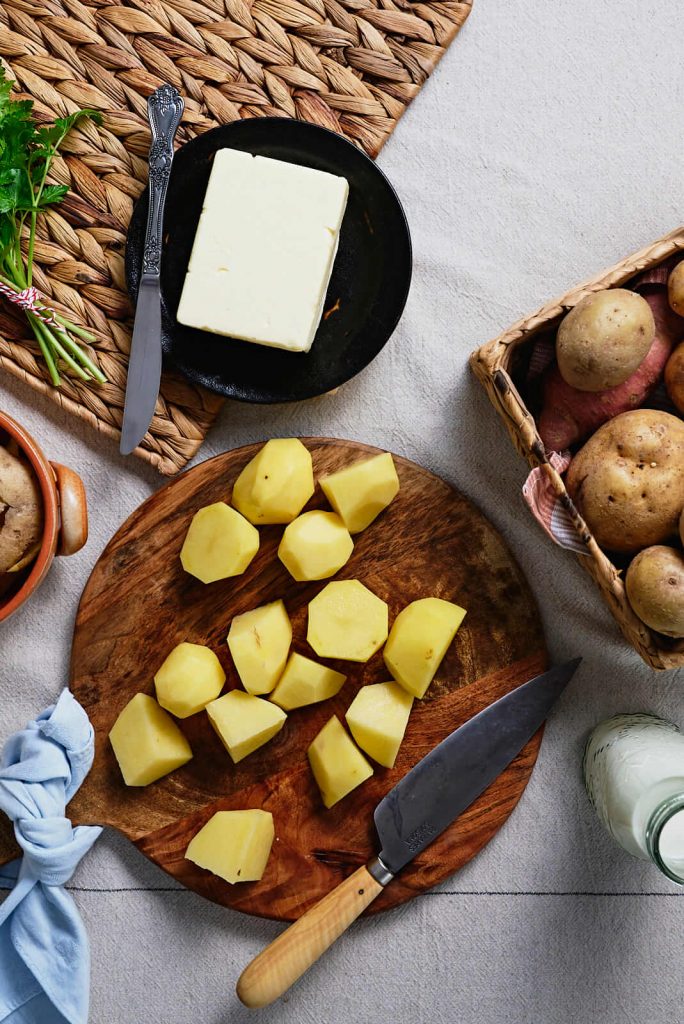 If you want, you can cook the whole potatoes with skin on, but then you'll need to be careful while peeling the skin off because they'll be really, really hot.
3. Start the cooking process with cold, salty water.
This way, the potatoes will cook evenly, and at the same time, they will absorb some salt during the cooking, which will make the mashed potatoes so tastier! How much salt do you need to add? Well, I usually add 1 teaspoon to the number of potatoes in this recipe.
Sometimes, for some extra flavor, I like to add a bay leaf to the cooking water while the potatoes are being cooked.
4. Don't let potatoes cool down before mashing.
If this happens, forget about smooth mashed potatoes without any lumps.
Immediately after draining the cooked potatoes, start adding spices to the rest of the ingredients. First, add the butter, put a lid on and let the butter melt a bit, and then start adding the milk and the spices and start mashing.
5. Butter and potatoes are a perfect love couple.
Now this, this my dear is a very important part. I've seen some famous chefs recommend making mashed potatoes in a 1:1 ratio of butter and potatoes. Sorry, but to me, this screams "heart attack".
While I have no doubt that mashed potatoes made with loads of butter are delicious to eat, I still don't think this ratio is applicable to us home cooks and our everyday eating habits. Still, high-quality butter is a must-have ingredient in traditional mashed potato recipes. Don't skip it!
Instead of butter, you can use maybe some cream cheese, heavy cream, or maybe even sour cream that will add some tanginess. You can also make a compound butter and add it to your cooked potatoes. My favorite compound butter is the one made with fresh garlic, parsley leaves, and lemon zest.
Utterly delicious!
6. Don't be afraid to season it well.
This is the step I made the mistakes most often.
When I would make mashed potatoes, especially for a bigger crowd, I would do it by the principle: "Now I'll add a bit of this, a sprinkle of that…" And that would most often result in somewhat bland-tasting mashed potatoes because I was afraid I would be adding too much salt.
However, mashed potatoes need to be seasoned properly.
A mandatory spice of every one of my mashed potatoes variation is nutmeg, possibly fresh grated. This spice pairs perfectly with milk and butter and just take the mashed potatoes to a whole new level! Don't add spices and salt all at once, but add them gradually until you get the taste you're satisfied with.
Also, pay attention to the main dish – if it's quite spicy and/or salty, you can season the mashed potatoes less and vice versa.
7. Avoid using an immersion blender at all costs.
It seems like a great shortcut, but please don't do it.
There is a good chance that you will turn the potatoes into one very sticky, gluey, inedible mixture. Use a potato masher or a potato ricer if you really want to get perfectly silky puree without a single bit of potato. Otherwise, your mashed potatoes could easily turn to glue.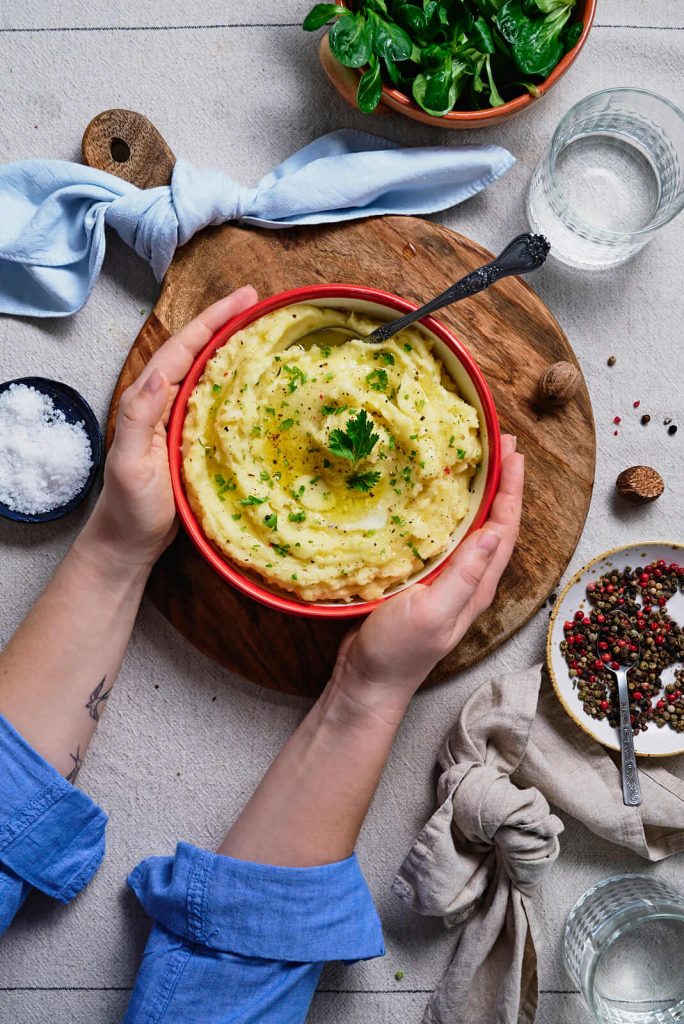 What to add to mashed potatoes for some extra flavor
Instead of regular butter, add compound butter.
Think about compound butter made with fresh parsley, garlic, and lemon zest, or maybe spicy tomato basil compound butter? Seriously, there are so many possibilities!
Mix it with a different type of veggie.
Sweet potato, broccoli, cauliflower, spinach, or even wild garlic leaves – these are all ingredients that will enrich the taste and color of such a simple side dish as mashed potatoes.
Do you prefer your mashed potatoes in a more rustic way? How about you boil the potatoes with the skin on, then add some caramelized onions and bits of roasted, crunchy bacon? Instead of part of butter, use that leftover bacon fat and voilà, you have totally different mashed potatoes!
Combine it with roasted garlic
Ever since I found out how roasting the whole head of garlic transforms this bulb into something totally new, creamy, and delicious, I started to add some of it to my mashed potatoes. And believe me, this works perfectly!
Just peel the outer layers of one or more whole garlic bulbs (depending on how many you'll need), cut the top of the cloves, drizzle with some olive oil, and roast in preheated oven until soft.
Add your favorite spice mix
Whether it's a store-bought or homemade version, a teaspoon of your favorite spice mix can totally change the flavor profile of your traditional mashed potatoes. I like adding some Herbes de Provence mixture, Sri Lankan curry mix, or smoked paprika powder. There are so many options!
What to serve with mashed potatoes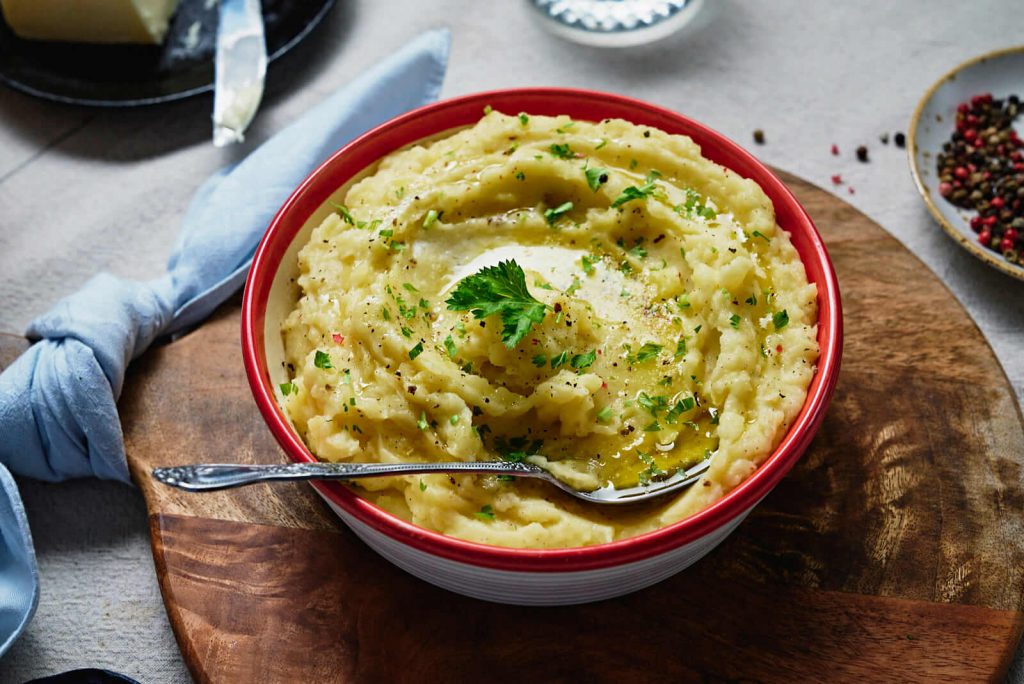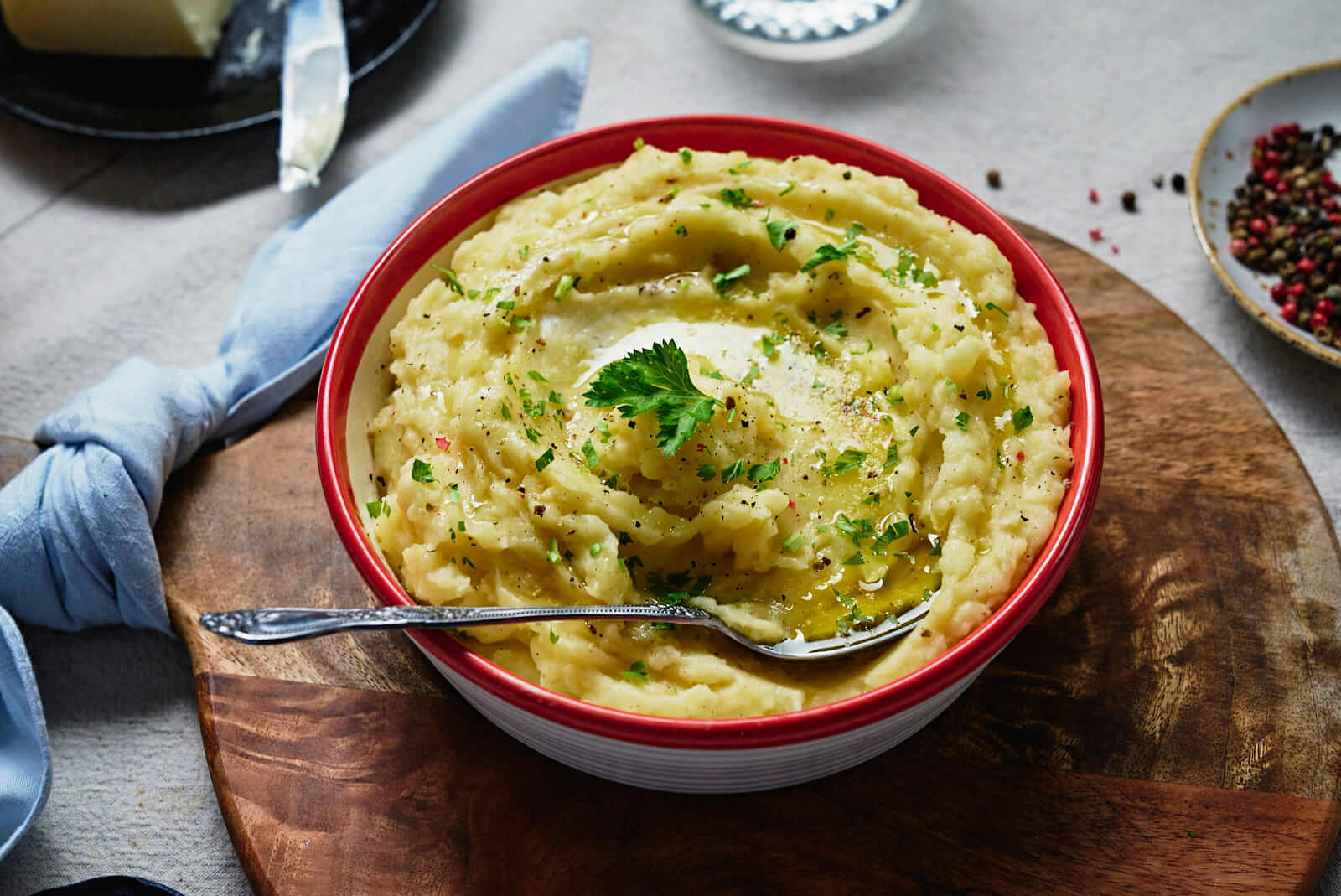 Beef Bourguignon
Blood Sausages
Mushroom Goulash
Greek Zucchini Fritters (Kolokithokeftedes)
Roasted Cauliflower Steak
Buckwheat Vegan Meatballs
Stuffed Peppers
Meat or Vegetable Curry
Chicken Paprikash
If you try this recipe, don't forget to tag @foodandmoodblog on Instagram or Facebook or send me your photos of this recipe. They always make me happy! If you prefer video recipes, be sure to subscribe to my Youtube channel.
Cook with love,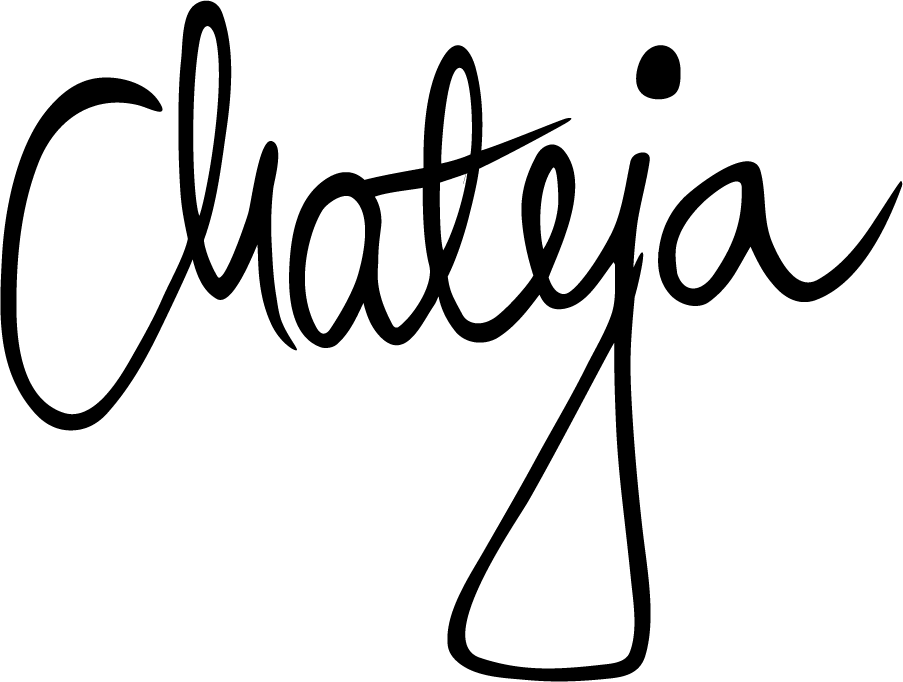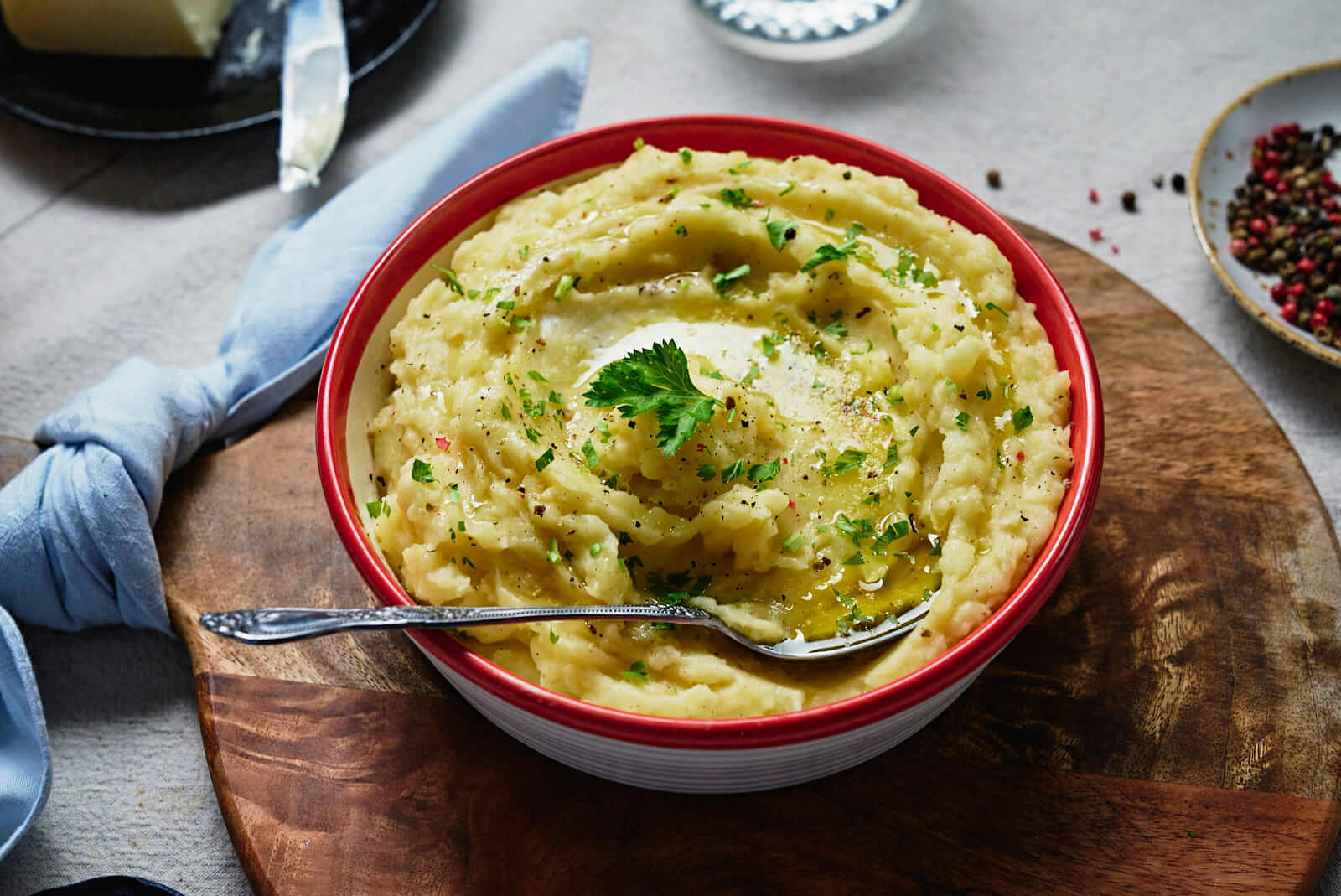 Easy Traditional Mashed Potatoes Recipe
Fuss-free, very easy, with just a few basic ingredients, this traditional mashed potatoes recipe is full of flavor and a perfect recipe for beginners! Serve it alongside beef bourguignon, stuffed cabbage rolls (sarma), or your favorite meat or vegetable patties!
Print
Pin
Rate
Ingredients
800

g

peeled potatoes

(like Yukon Golds)

100

g

butter

(room temperature)

60

ml

whole milk

(room temperature)

1/4

teaspoon

ground nutmeg

1/3

teaspoon

ground black pepper

salt

(to taste)
Instructions
Put the peeled and cut potatoes into a pot with cold water. Add salt, bring to a boil and cook until the potatoes become completely soft to poke through with a fork, but be careful not to overcook.

When cooked, drain the potatoes from the water and return them to the pot. Add the diced butter, cover, and let it melt. Remove the lid, start adding milk and spices (it's best to add them gradually) and start mashing the potatoes with a potato masher until you get a smooth, creamy consistency.

Transfer the mashed potatoes to a serving bowl and sprinkle with some freshly chopped chives or parsley leaves. Serve immediately.
Nutrition
Serving:
1
serving
|
Calories:
344
kcal
|
Carbohydrates:
36
g
|
Protein:
5
g
|
Fat:
21
g
|
Saturated Fat:
13
g
|
Polyunsaturated Fat:
1
g
|
Monounsaturated Fat:
5
g
|
Trans Fat:
1
g
|
Cholesterol:
56
mg
|
Sodium:
179
mg
|
Potassium:
874
mg
|
Fiber:
4
g
|
Sugar:
2
g
|
Vitamin A:
655
IU
|
Vitamin C:
39
mg
|
Calcium:
50
mg
|
Iron:
2
mg