Sarma (cabbage rolls) are an absolute favorite of all generations and one reason more that gather us all around the table during the winter. This is an old and very traditional recipe from my grandma.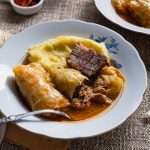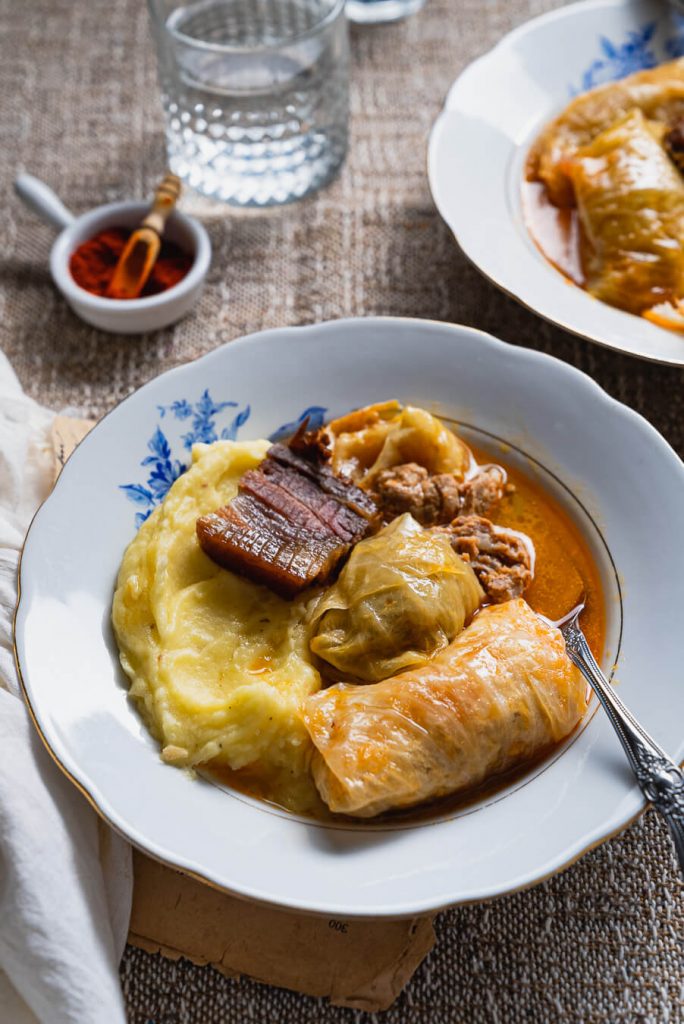 What is Sarma Exactly?
Sarma is a dish that has always intrigued me. Here, in my country, everyone thinks they know everything about sarma and there isn't a single person in Croatia who isn't ready to give some advice on how to make it.
These sauerkraut cabbage rolls, which successfully combine sweet, spicy, savory, and sour flavors, are like a family hug, real comfort food in the Balkans way.
On the other hand, I simply decided to share my grandmother's recipe for our Slavonian sarma here on the blog, and everyone knows at least one thing about grandma's recipes – they are holy and should not be changed.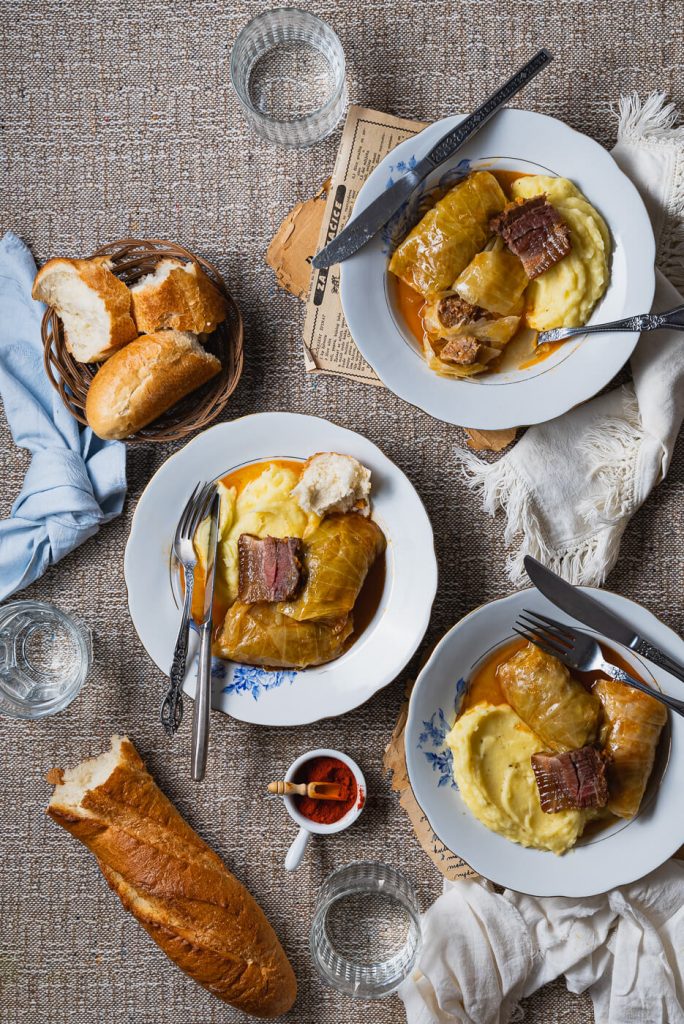 Tips & Tricks For The Best Sarma Rolls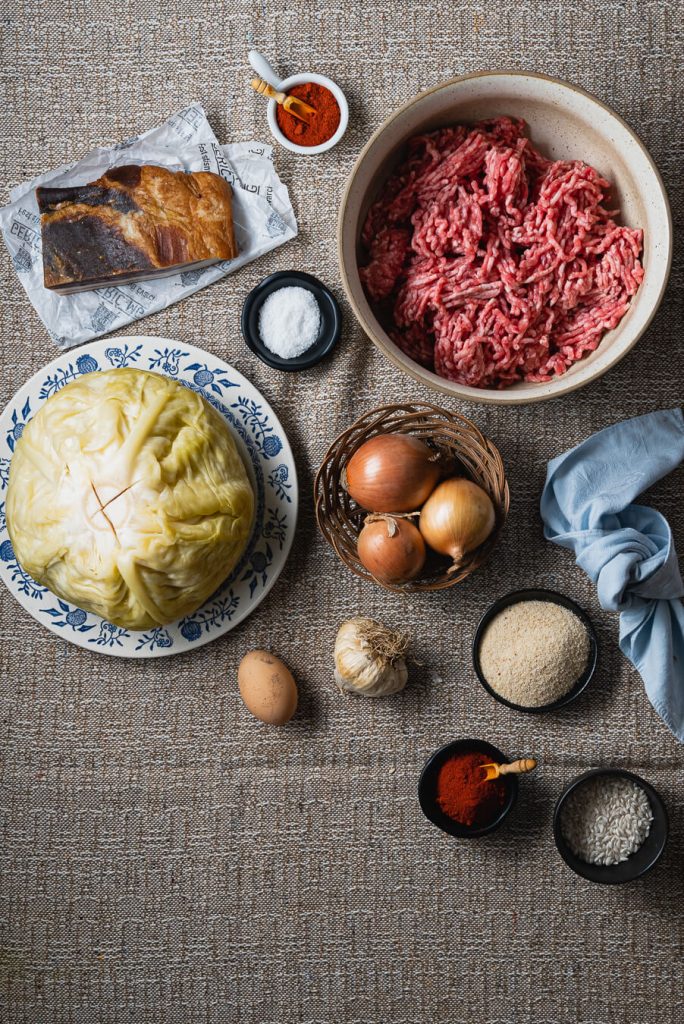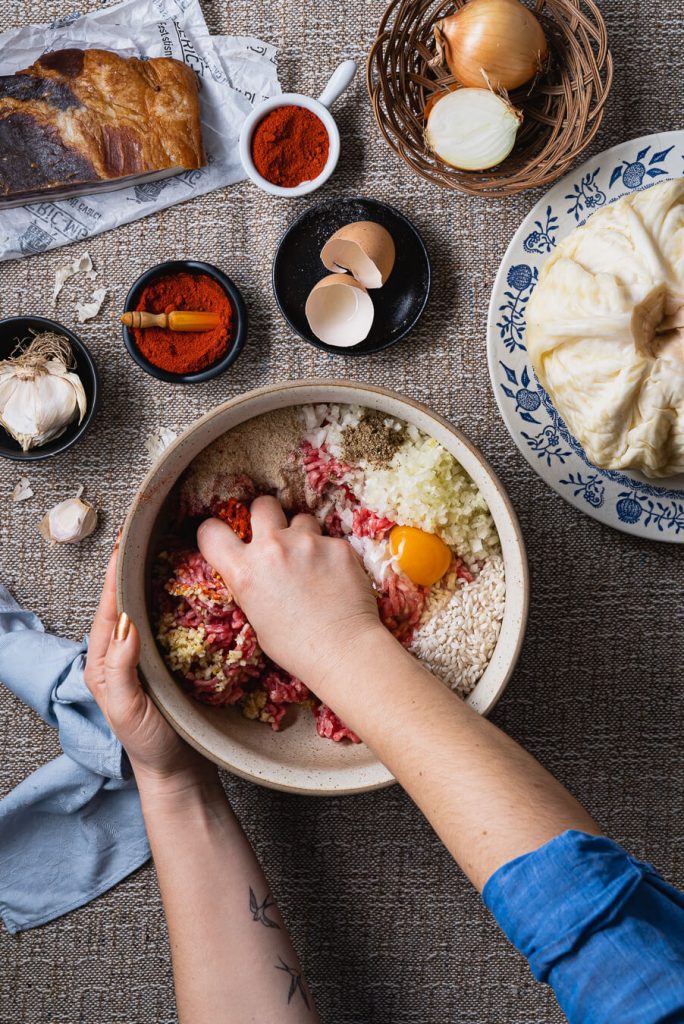 For the meat filling, don't use only pork – it can often be fattier than other types of meat, so it's better to mix it with another type of meat, such as beef or veal. As for the ratio, I usually use ground pork and beef in a 50:50 ratio, although you can definitely adjust it to your liking.
For fuller flavor, cook sarma with a piece of smoked, cured meat – A small piece of delicious bacon or dried smoked ribs will add so much umami flavor! If you don't have or don't want to add any dry cured meat, it's ok. The sarma rolls will still taste good. If you decide to add some meat, don't add too much (no more than 250 g on the amounts in this recipe) otherwise the sarma could be too salty. Also, you can briefly boil the dry cured meat separately before putting it in the pot with sarma. Know that the meat will release some extra fat, so if you, at the end of the cooking, notice a lot of fat floating on the surface, remove the excess with a spoon.
Rinse the sauerkraut leaves with cold water – this step is very important if the cabbage head you have is very salty/sour. You don't need to keep the cabbage submerged in the water; just rinse it under a stream of cold water and then drain it so that it's ready for the next step.
For easier rolling, thin the cabbage root – there are several types of cabbage: some have thicker leaves and thinner roots, while others have thicker, fleshy leaves with pronounced roots. In general, it will be easier to make a cabbage roll if that part is thinned or trimmed with a knife. If the leaves are very long and large, you can cut off the bottom part, put it aside and use it for covering the bottom of the cooking pot.
Don't stir the sarma during the cooking – just shake the pot gently from time to time. If you try to stir it, you risk unwrapping the rolls and you definitely don't want that.
Make it the day before – a well-known rule here in Croatia for preparing and cooking sarma is that it tastes better on the second, even third day. This actually makes sense because the flavors have enough time to develop and deepen, so if you plan to make sarma for a larger family gathering, you can easily make it the day before. Also, in that case, I suggest making the roux the next day.
How to Make Stuffed Cabbage Rolls
Rolling the sarma may seem a bit intimidating for someone who wants to do it for the first time, but it's actually a fun part of the recipe that acts as some kind of…. therapy and relaxation.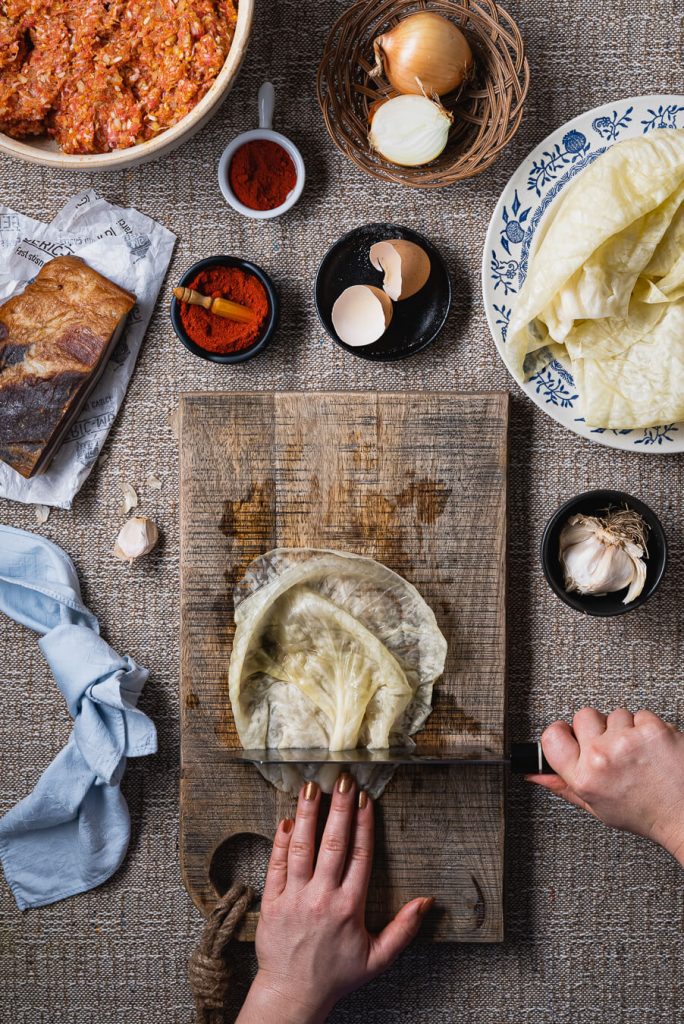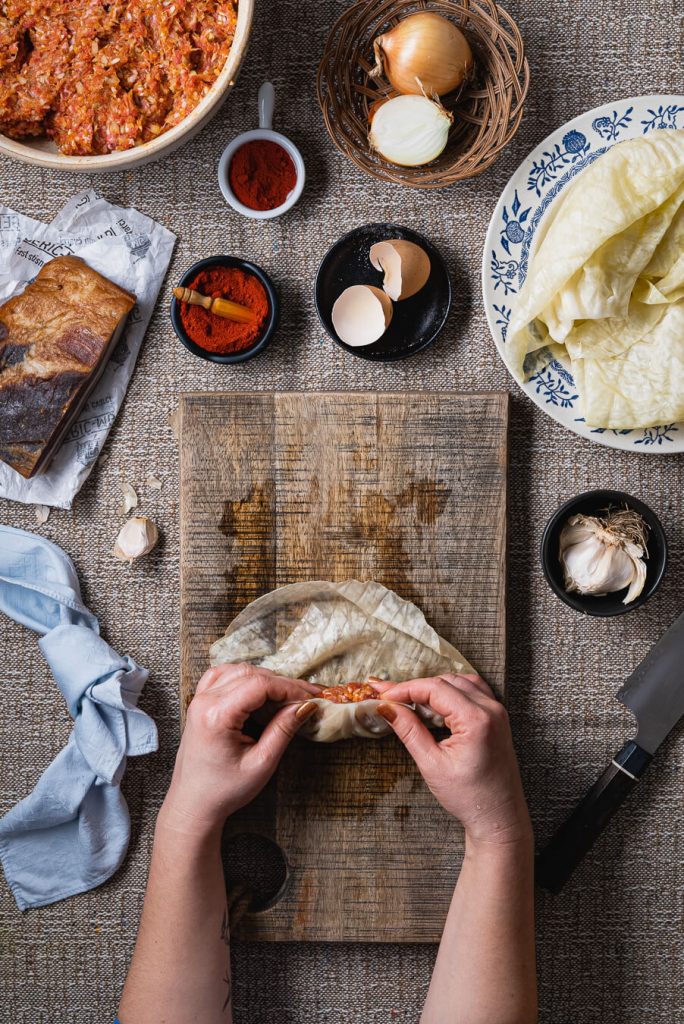 How To Prevent Sarma From Burning
After we layer sarma firmly next to each other, cover it with water, and start the cooking process, stirring the cabbage rolls with a wooden spoon will become impossible. That's why the bottom of the cooking pot needs to be protected with something, otherwise, they can easily burn and have a slightly bitter, not-so-yummy taste.
This can be done in several ways, and one of the most practical ways is to layer the excess sauerkraut leaves that won't be used for making the rolls (torn leaves, the hard parts we removed, too small leaves, etc.) and put it on the bottom of the greased cooking pot.
Works every time!
How to prevent Stuffed Cabbage Rolls from Unwrapping
No matter how carefully and firmly you place the sarma rolls next to each other, it can happen that during the cooking process the rolls start to move around in the pot, especially if you cook it at a higher temperature. But, worry not because I have a solution for this problem!
This can be prevented by putting some load on the rolls, something heavier. You can use an old plate (not your grandma's rare vintage porcelain, please) or even a smaller lid. It's essential that is slightly smaller in diameter compared to the pot in which the sarma is cooked.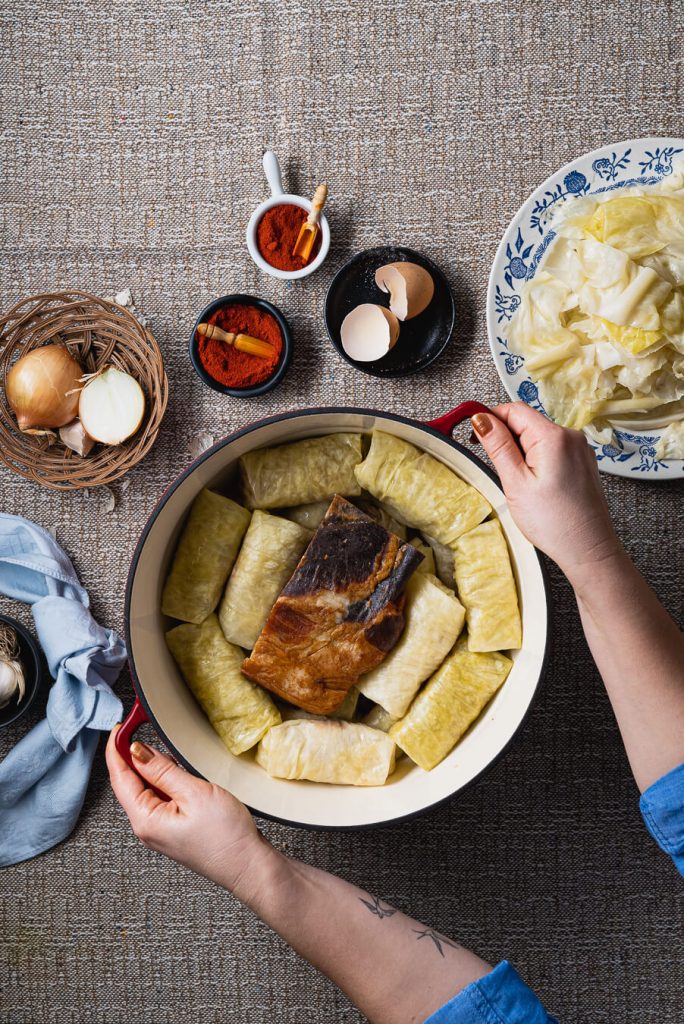 Roux for Sarma
To make the roux for sarma or not to make it, amongst cooking enthusiasts this debate is ongoing. Personally, I like to finish my sarma with roux. It's a dish that we eat on special occasions, and my family likes it this way.
This is how I make it: I fry the flour on some melted lard or sunflower oil until it starts to turn golden. Then, I take it off the heat, add some sweet and hot paprika powder (I make sure it doesn't burn), stir everything, and add to the sarma that has been cooking on the stove.
After adding the roux to the sarma, cook it on low heat for additional 10-15 minutes.
If you don't want to, you don't have to make roux when making these Croatian cabbage rolls; instead, thicken it with some cornstarch or finish it with passata.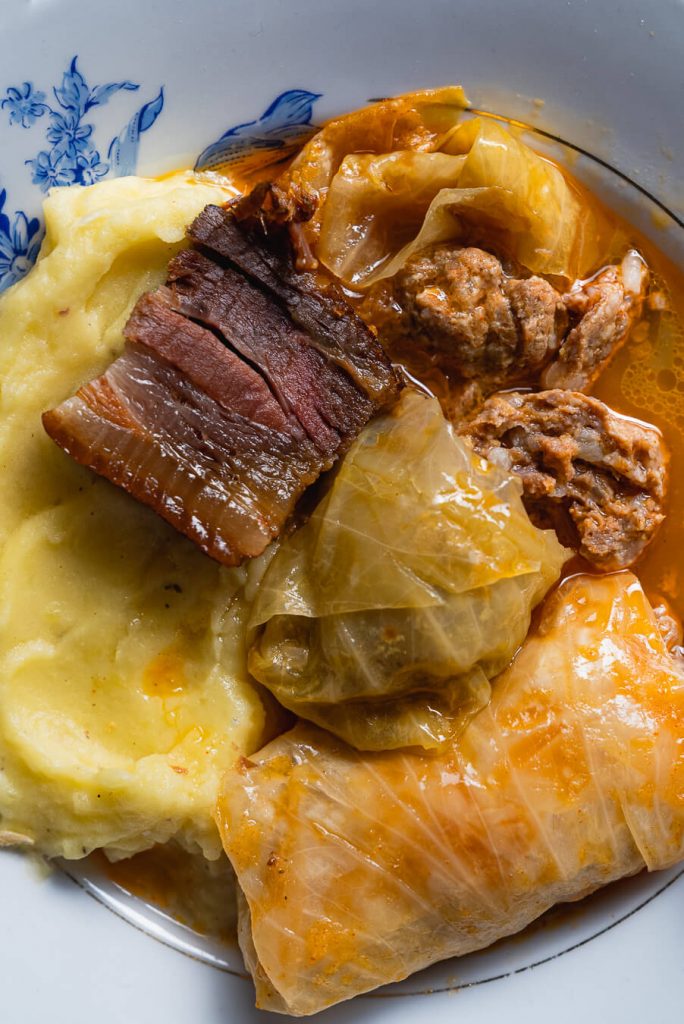 What to Serve with Sarma
Freshly baked homemade bread or focaccia will absorb all that yummy liquid in your plate perfectly. This is the simplest, perhaps even mandatory part of serving and eating sarma.
Creamy, mashed potatoes for a bit fancier serving.
Can you freeze Sarma Cabbage Rolls?
Yes, you definitely can!
This is a dish that freezes very well. This is how I do it: those cabbage rolls that I'll freeze, while the sarma is still lukewarm, I separate into plastic containers (that way the liquid in which sarma was cooked will remain cohesive) and leave them open until sarma cools completely. Then I tightly close the lid and simply put them in the freezer.
Sarama cabbage rolls, frozen like this, try to use within 2 months. When you decide to thaw it, just put the container into the fridge the night before and heat it up the next day in a pot on low heat.
If you prefer to learn how to cook from video recipes, I suggest you take a look at how to make this recipe on my Youtube channel:
Are you looking for inspiration for more lunch ideas? Here are my suggestions:
Do you have any secrets for making great stuffed cabbage rolls? Great, write me all about it in the comment section below or on my Instagram, I would love to hear from you! If you try to make this or some other recipe from my blog, be sure to send me a photo of your creation or tag @foodandmoodblog on social media.
If you prefer video recipes, don't forget to subscribe to my Youtube channel.
Cook with love,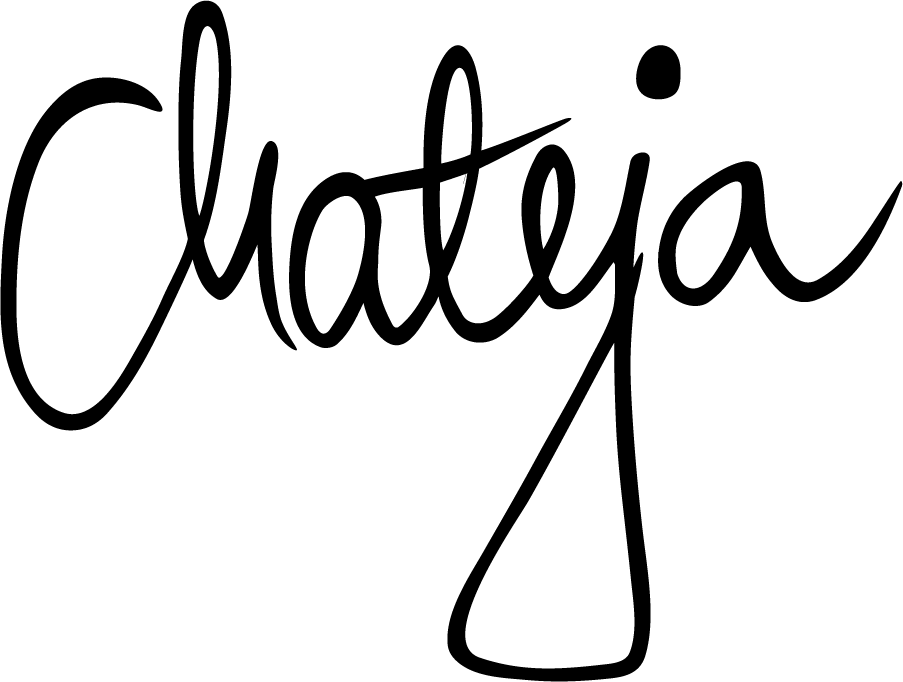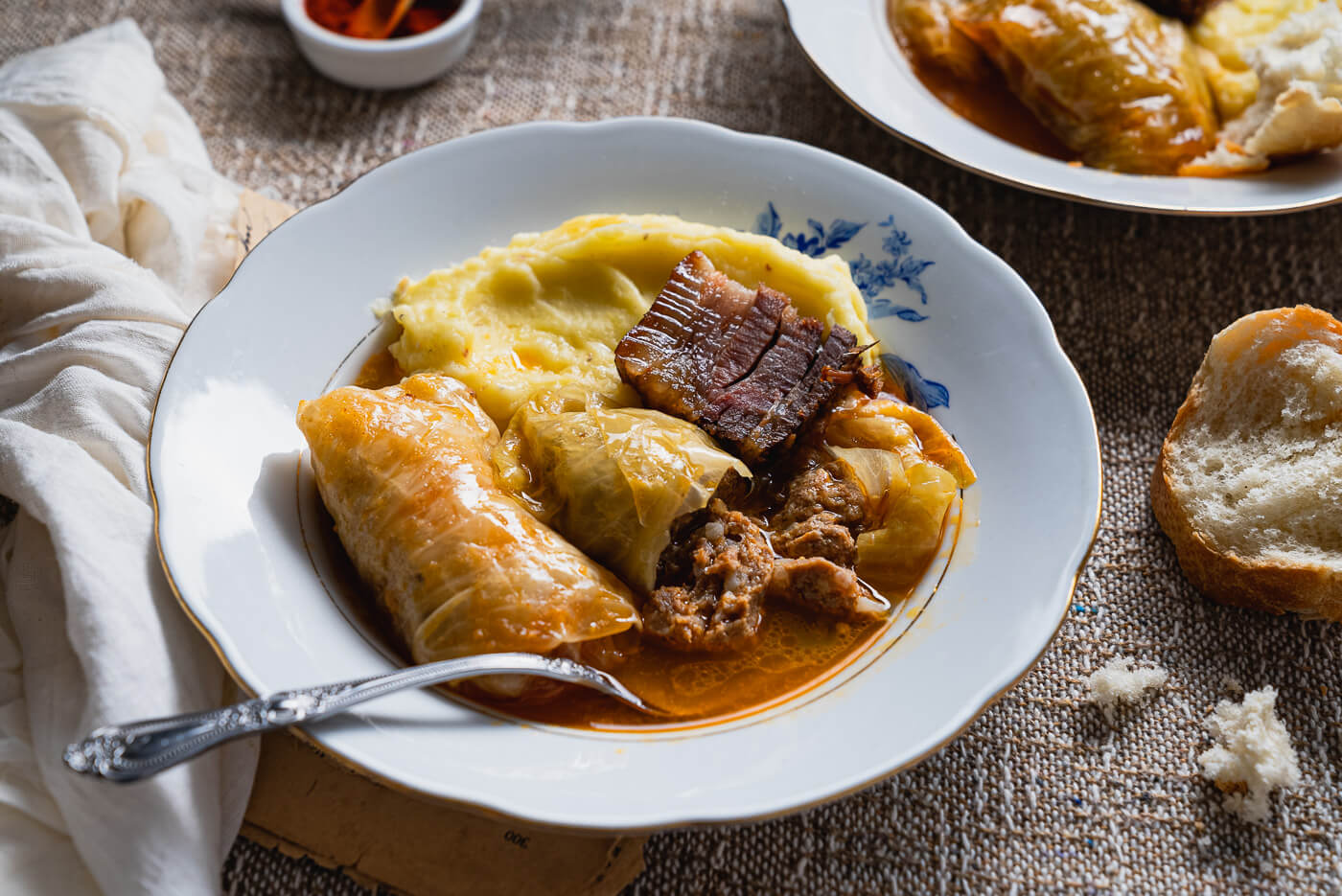 Sarma - Croatian Cabbage Rolls (Grandma's Recipe)
Sarma (cabbage rolls) are an absolute favorite of all generations and one reason more that gather us all around the table during the winter. This is an old and very traditional recipe from my grandma.
Print
Pin
Rate
Servings:
20
cabbage rolls
Ingredients
For cabbage rolls
1

whole sour cabbage head

(cca 1,8 kg)

850

g

ground meat

(beef + pork)

1

yellow onion

3

cloves

garlic

1

egg

60

g

white rice

35

g

bread crumbs

12

g

salt

1/3

teaspoon

ground black pepper

2

teaspoon

sweet paprika powder

1/2

teaspoon

hot paprika powder

lard

smaller

piece of smoked meat

(smoked dry pork ribs, smoked bacon etc.)
For the roux
1,5

tablespoon

lard

1,5-2

tablespoon

all-purpose flour

1/2

teaspoon

sweet paprika powder

1/2

teaspoon

hot paprika powder

(you can put less or more, depending on how spicy it is)

salt

(quantity of salt depends on how salty are the cabbage and dried meat)
Instructions
Carefully separate the fermented cabbage leave. Depending on how small or big cabbage rolls you want to make, you will need about 15-20 cabbage leaves + some extra shredded leaves for covering the bottom of the cooking pot. If the cabbage is very sour and/or salty, wash the leaves briefly under cold water. After that, if you notice that cabbage leaves have pronounced hardy veins, remove them with a sharp knife. Repeat this step with all the leaves.

Prepare a bigger cooking pot by coating the bottom with a thin layer of lard. Chopp roughly the leftover and torn cabbage leaves that won't be used for making the rolls and spread them on the bottom of the cooking pot. This step will prevent the sarma from burning during the cooking.

Mince the onion and garlic and add to a bowl with ground meat, rice, eggs, bread crumbs, salt, black pepper, and sweet and hot paprika powder. Mix everything well using your hand. Take a piece of the meat stuffing, place it on the bottom part of the cabbage leaf and wrap it tightly in a roll. Repeat this with the rest of the stuffing and cabbage leaves.

When you finish rolling up all of your sarma rolls, layer them tightly next to each other seam-side down in the cooking pot. Add a piece of dried meat (if using) take 2-3 additional cabbage leaves and cover the rolls. Put some load on it, like a smaller lid or an old ceramic plate, which will prevent the sarma rolls unroll during the cooking. Pour over the water so that the sarma is completely covered with it and bring it to a boil.

Reduce the heat and let it cook for at least 2-2.5 hours, adding more water if necessary.

When sarma is cooked, make your roux. In a small saucepan add lard and let it melt. Stir the flour with a whisk or wooden spoon for a few minutes over low heat. When the roux gets a light golden color, turn off the heat and stir in sweet and hot paprika powder. If necessary, you can add some salt too. Add the roux to the sarma and let it simmer for about 10 minutes. Serve with homemade bread or mashed potatoes.