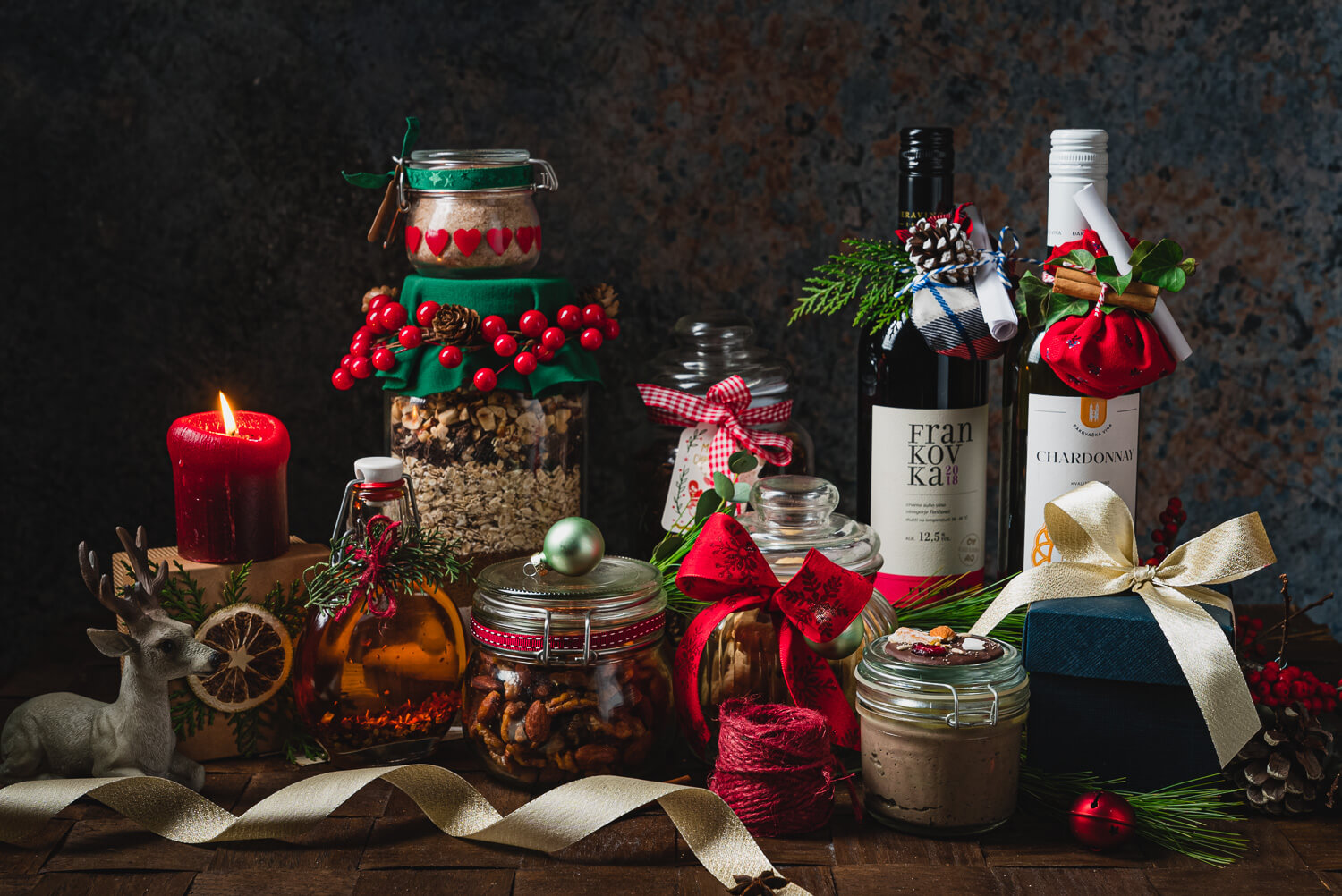 Not really the type of person who enjoys Christmas crowds? Annoyed by ten (or more) people in line at the store in front of you? Or you're just kind of sad when you see how commercialized Christmas has become? Maybe you're just looking for last-minute DIY edible Christmas gifts for your favorite foodie?
Don't worry, I got your back, and today present you 8 ideas for edible Christmas food gifts that are inexpensive and reasonably easy to make.
Let's get started!
1. MULLED WINE SPICE MIX
Mulled wine is one of my family's favorite winter drinks and one of the few things we all equally love. While it's cooking, it fills the room with its wonderful citrus, and warm, winter spices aroma. One time when I was making the mulled wine, it occurred to me: why not take all spices for mulled wine, wrap it in a lovely Christmas sachet and wrap it around the bottle of red or white wine?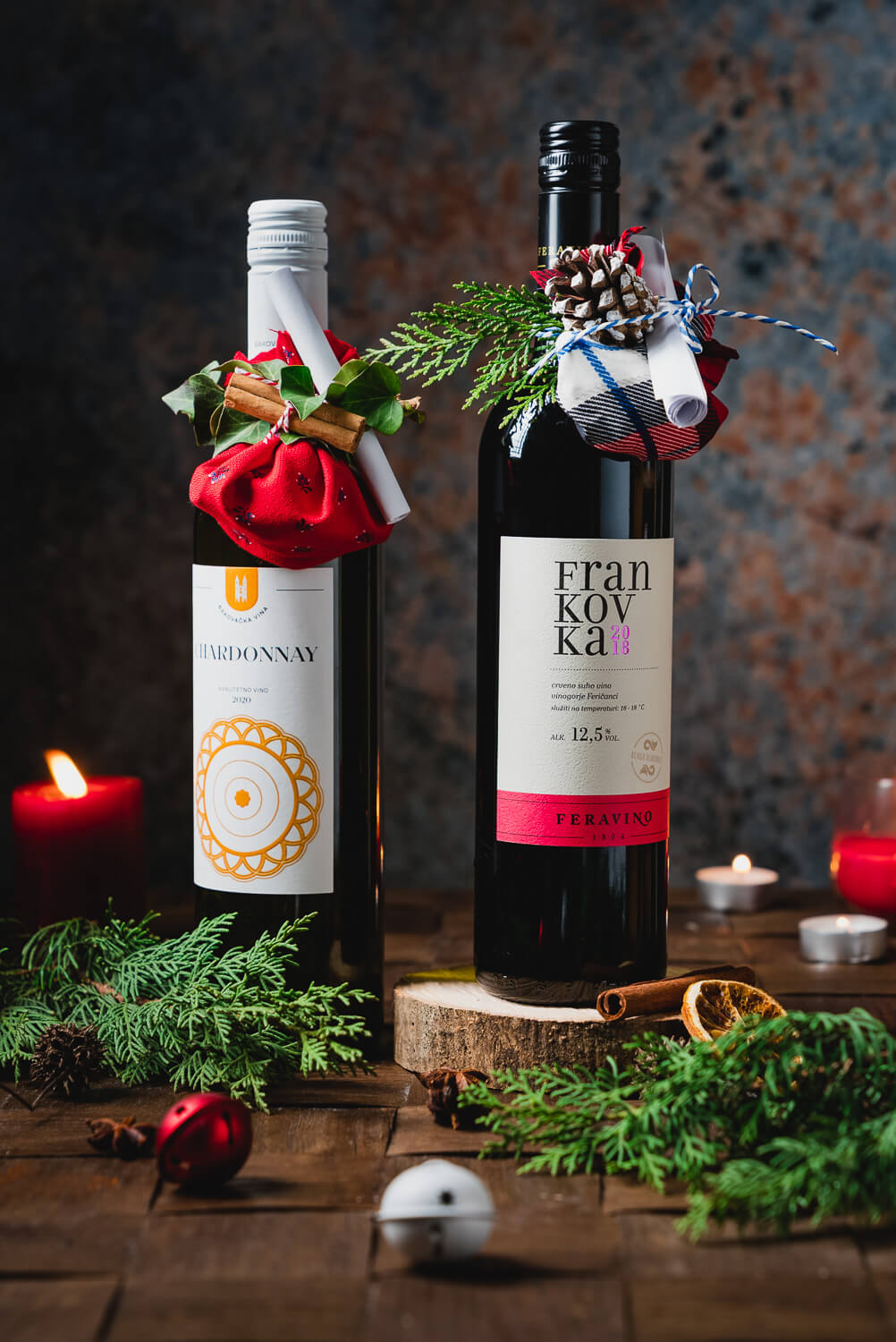 Along with the mulled wine spice mix, you can print out the recipe for mulled wine, roll it up in a note and tie it to the bottle together with the sachet. I guarantee you that this is a gift that will not collect dust for too long.
For mulled wine spice mix you will need:
muslin fabric, cheese-cloth, or empty tea bag
decorative fabric
slightly thicker thread, like kitchen twine
decorative ribbon
spices for mulled red wine (cinnamon stick, 4-5 cloves, 3-4 cardamom seeds, 1 star anise)
spices for white mulled wine (cinnamon stick, 4-5 cloves, small root of fresh ginger)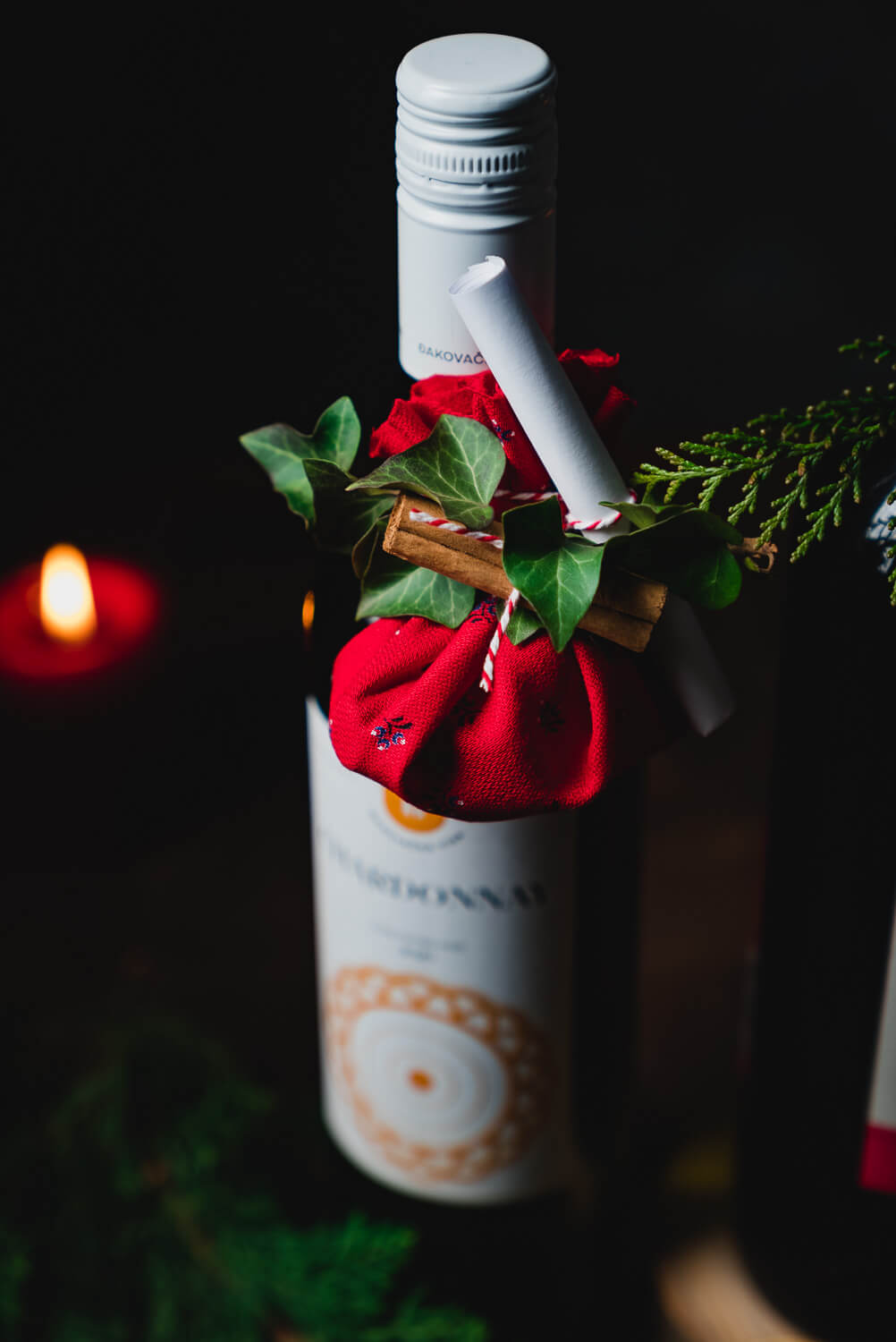 Instructions:
Cut a piece of clean, double muslin cloth with a diameter of approx. 15 cm. Place dry spices in the middle of the fabric, wrap and tie with kitchen twine.
Then cut a piece of decorative fabric with a diameter of 20 cm. Put the bag with spices in the middle of the fabric and tie it with a decorative ribbon around the wine bottle. If you wish, you can add some decoration to the bag, such as a dried orange, a fir branch, or perhaps a cinnamon stick. Along with this gift, I print out my recipe for mulled red wine so that the person knows what other ingredients to add, such as fresh fruit and the exact amount of sugar.
2. CHOCOLATE TAHINI GRANOLA
Chocolate granola or any other kind of granola that I make at home is somehow always better than store-bought varieties. Since I always have oats in my stash, I make granola at least 1-2 times a month in larger quantities, store it in a large jar, and then when I need a quick, nutritious meal, I mix it with a little yogurt, kefir or milk, add fruit and that's it!
I made the granola according to my recipe for chocolate tahini granola, but you can opt really for any granola recipe that you like.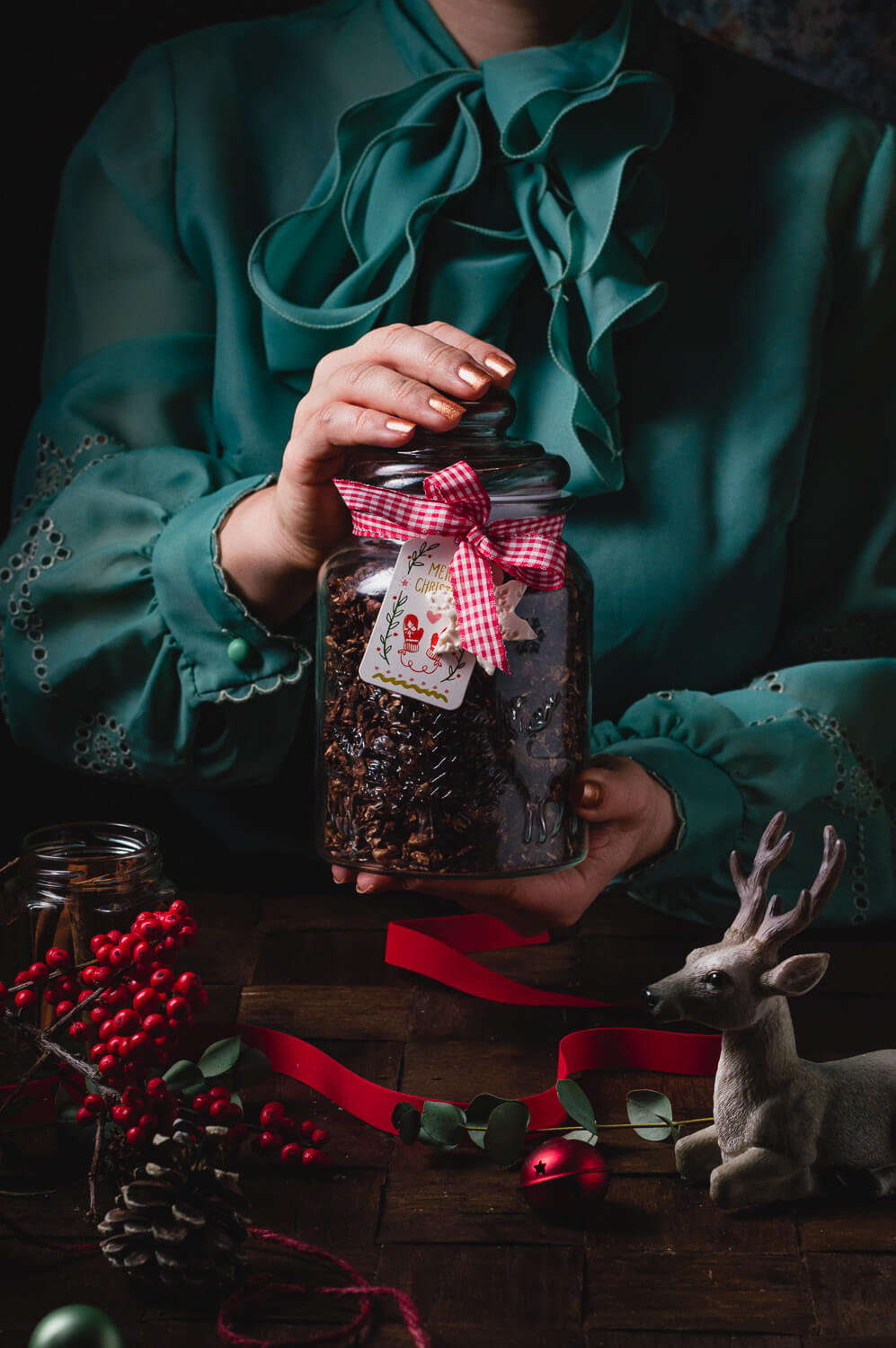 Although I was planning to use just a regular jar I had at home, I found a really cool Christmas-themed jar at one of our local shops and I just couldn't resist buying it! After I baked it in the oven and waited for it to cool completely, I stored the granola in a jar and decorated it with a nice ribbon and a Christmas tag.
Additionally, you can write a list of the ingredients in the granola and attach it to the gift jar so that the person knows what is in it (in case of allergies or sensitivities to certain foods).
Simple and beautiful, right?
3. HOMEMADE CHILI OIL
I'm sure that we all have at least one person in our circle of people who simply cannot live without spicy food. At our house, it's my husband.
I got the idea for this spicy chili oil when we were in a pizzeria with friends. There was this similar oil on the table, which we drizzled on the pizza and enjoyed so much! Although there are different, complex (not to say complicated) ways to make chili oil, I tried to simplify this recipe as much as possible, and still get a very good result.
For this flavored chili oil, you will need ground chili peppers (aka chili flakes), such as pepperoncini. You can use several dried chilis for a more complex aroma. Regarding which oil to use, I recommend using a more neutral one, like refined sunflower oil.
The hotness of the chili oil will mostly depend on the amount and type of chili peppers themselves. The ones I used were not very hot, so I added a little more.
It's best to try them first.
Chili oil
Ingredients:
200 ml of sunflower oil
2-3 teaspoons of chili flakes
a pinch of salt
Instructions:
In a small pot, start heating the oil. It doesn't need to reach the smoking point. moreover, it should be hot enough so that bubbles begin to appear when you immerse the handle of the wooden cooking spoon in the oil.
When it's warm enough, remove it from the heat, add chili flakes and a pinch of salt, and stir everything well. Leave aside for the oil to cool completely
If you want, you can filter the chili oil or you can leave it like this with the chili flakes inside (I prefer the second option). Pour the oil into a clean, dry, and pre-sterilized glass bottle and close it tightly.
For a Christmas touch, decorate the bottle with a pretty ribbon or a cypress branch.
Chili oil can be used in so many different ways: preparing salad dressings, and pasta dishes, in making homemade croutons from stale bread. I also like to add it to marinades for meat, add a few drops over open sandwiches with eggs, or on pizza.
4. CHOCOLATE MENDIANTS
Mendiants are small chocolate discs studded with pieces of nuts, seeds, and candied fruit. They are characteristic of France and are traditionally eaten and gifted at Christmas time.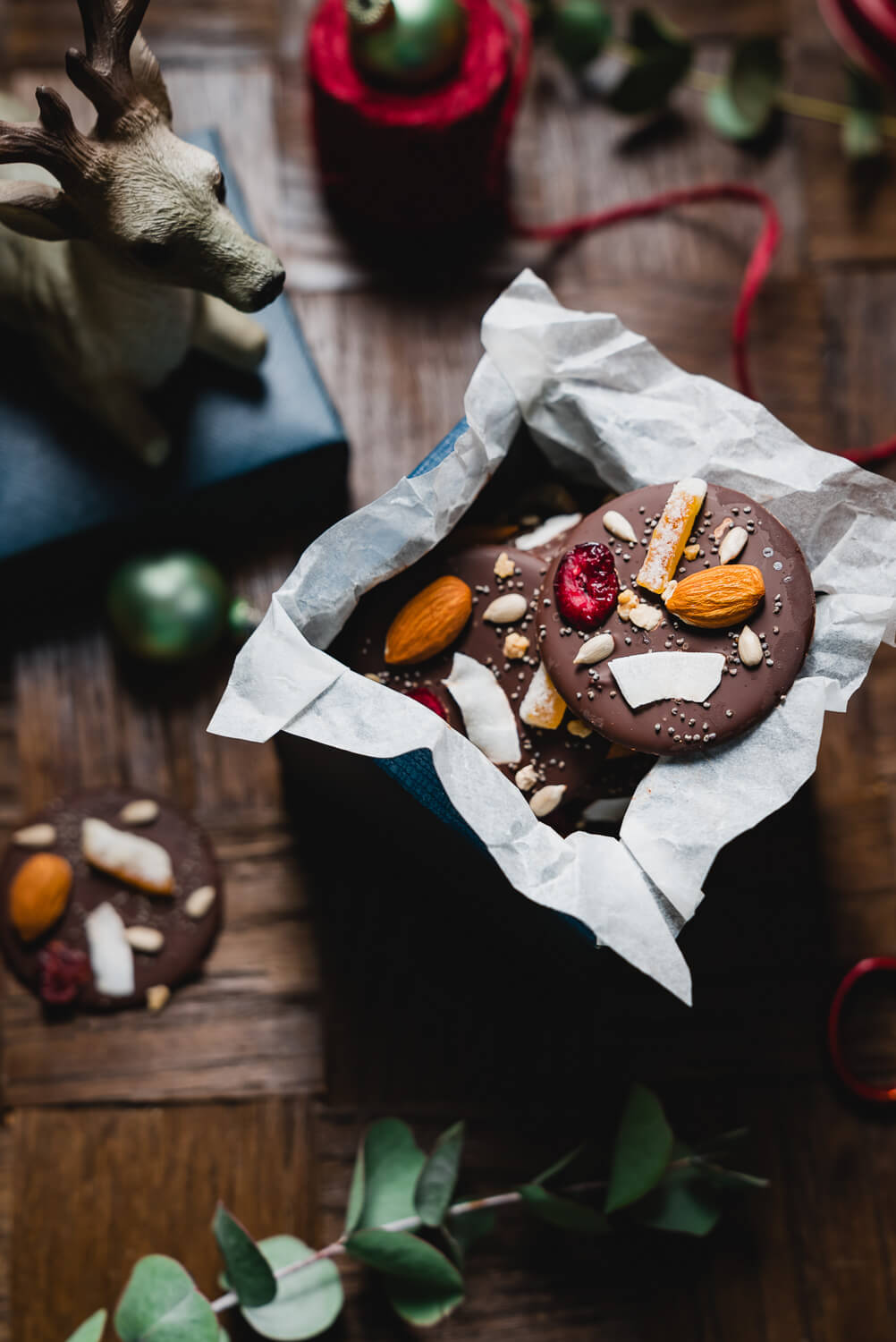 They are made from tempered chocolate of your choice (I used dark with 70% cocoa). For dried fruit, you can use arancini, dried cranberries, candied ginger, dried plums, or figs, for nuts almonds, walnuts, or hazelnuts. I like to add sunflower or pumpkin seeds, too.
Dried coconut will give a nice visual contrast, and if you want to give your mendiants a special finishing touch, sprinkle it with some Fleur de sel.
Instructions:
Chop the chocolate into small pieces and put it in a double boiler to melt. I used 200 g. Leave part of the chocolate aside for tempering. When it's melted, remove it from the heat and add the rest of the chocolate, stirring until everything is completely melted and combined.
Prepare a resealable plastic bag and pour all the chocolate into it. Prepare a shallow pan or any other flat surface and place silicone mats or baking paper on it. Snip off the corner of the bag, and pipe out the chocolate in the shape of a circle.
When you have used all the chocolate, tap the pan a few times to flatten and spread the mendiants. Add pieces of nuts, fruit, and seeds and wait for the chocolate discs to cool completely.
After they have hardened they are ready to be packed!
In paper shops, you can find nice boxes cheaply in which these mendiants can be packed. In mine, I added a piece of parchment paper to prevent the box from getting chocolate stains.
Another beautiful bow and voilà, the gift is ready!
5. PUMPKIN PIE SPICED SUGAR
During fall and winter, I have a habit of making sugar flavored with lemon or orange zest, so it once occurred to me that a similar thing could be made with a combination of dried spices.
This spiced sugar contains warm notes of cinnamon, ginger, star anise, cardamom and other spices characteristic of the pumpkin pie spice mix, and can be used instead of regular sugar in coffee, tea, Christmas cookies, hot chocolate, pancakes, or mulled wine.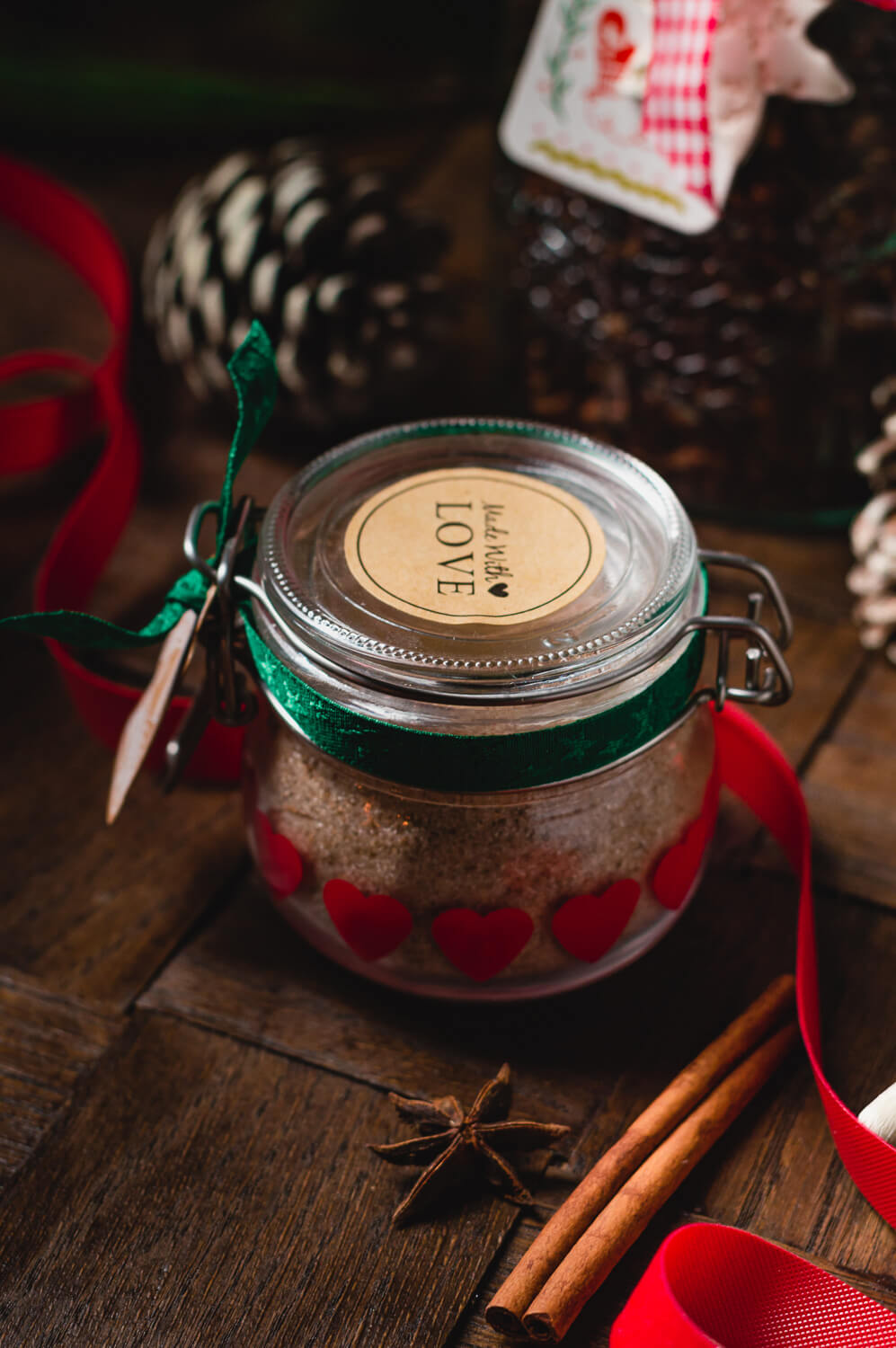 You will need:
10 g of pumpkin pie spice mix
100 g of white sugar
decorative jar and ribbon
Simply, in a slightly larger bowl, mix the sugar and ground spices so that they are well combined. Put the sugar into a smaller jar and decorate it with a lovely ribbon. You can attach a personalized note in which you will write the name of the person to which you are giving this spiced sugar, where can it be used, and what spices it has.
Additional idea: find a cute teaspoon and tie it to the jar as part of the gift.
Simple, effective, and done in no time!
6. EASY CHICKEN LIVER PÂTÉ
I have absolutely nothing against store-bought pates, but homemade ones can be much better. There, I said it and I meant it.
Usually, every time I make chicken liver pâté, I like to experiment with some other additions and spices. This time I decided to enrich it with the flavors of pink peppercorns, thyme, and orange peel. Just have in mind that you don't need to use much zest, otherwise, the pâté can get a bitter taste.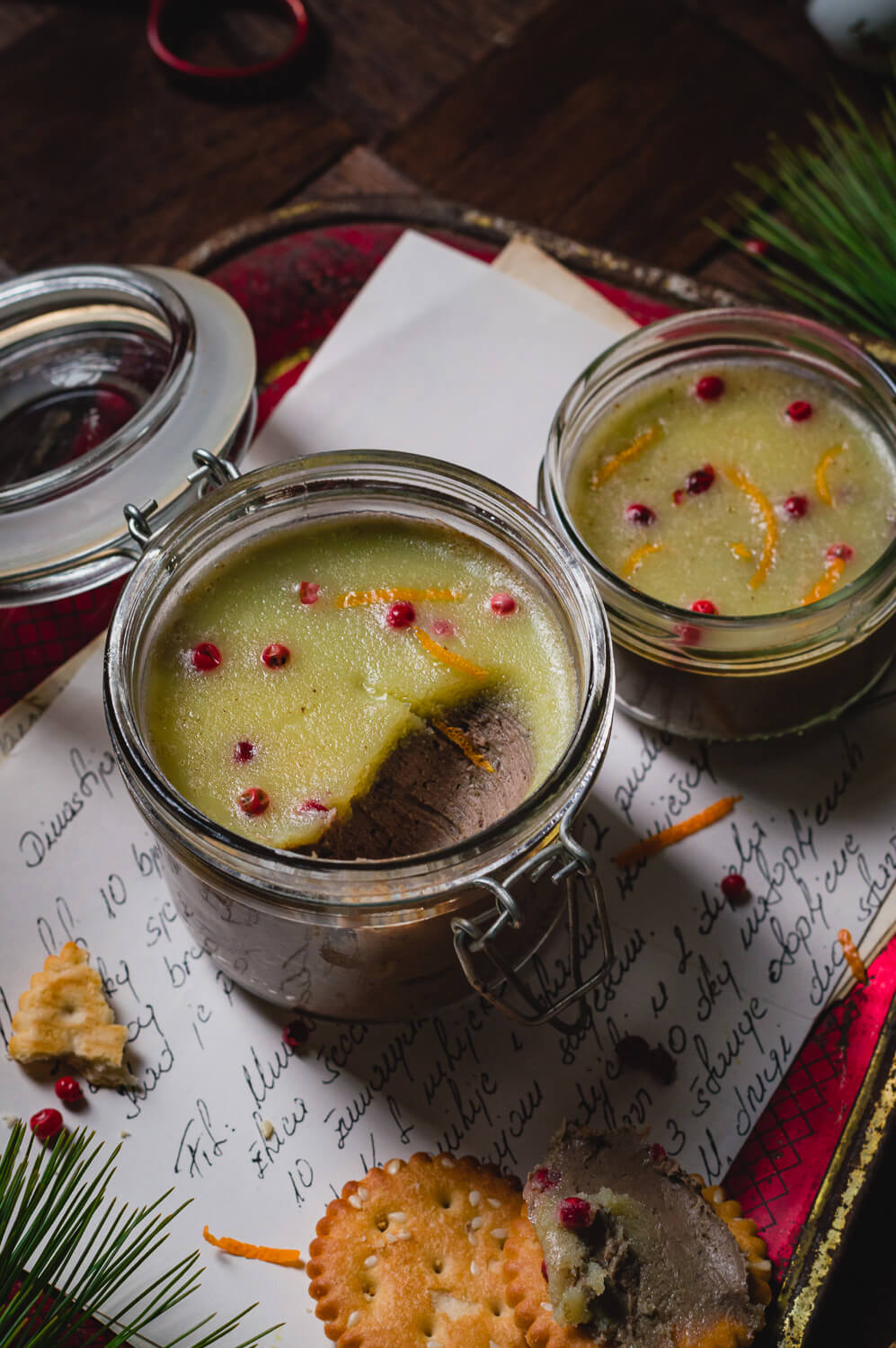 Ingredients:
2 tbsp of olive oil
1 large onion
2 cloves of garlic
300 g of chicken liver (without stringy sinews)
2 sprigs of fresh thyme
¼ teaspoon of ground cloves
1 tablespoon of balsamic vinegar
2 tablespoons of whiskey
Zest of 1/3 of an orange
Salt, ground red peppercorns
30 g of butter
For the protective layer:
20 g of butter
About 15 whole red peppercorns
some freshly grated orange peel
Instructions:
Cut the onion into half-moons, finely mince the garlic and cook in olive oil together with fresh thyme, until the onion and garlic are softened and golden yellow.
Add the chicken liver and fry it for a few minutes. The inside should remain slightly pink (not bloody). When the liver is almost done, pour whiskey over it, and add balsamic vinegar, ground cloves, and red peppercorns to your taste. Remove from the heat and prepare the food processor.
Season with salt and transfer everything to a food processor. Add room temperature butter cut into cubes and start mixing until you get a smooth pâté. Towards the end, if desired, grate some orange zest.
Immediately transfer the pâté into clean, dry jars, level the surface, and cover with a little plastic film (otherwise it will oxidize). Let it cool down.
In the meantime, melt some butter in a pan, remove the foil from the pate and pour the melted butter over it. If desired, for a nicer look and taste, you can add a few whole red peppercorns and some freshly grated orange zest. Store in the fridge so that the pâté cools completely. Take it out at least 30 minutes before serving from the fridge.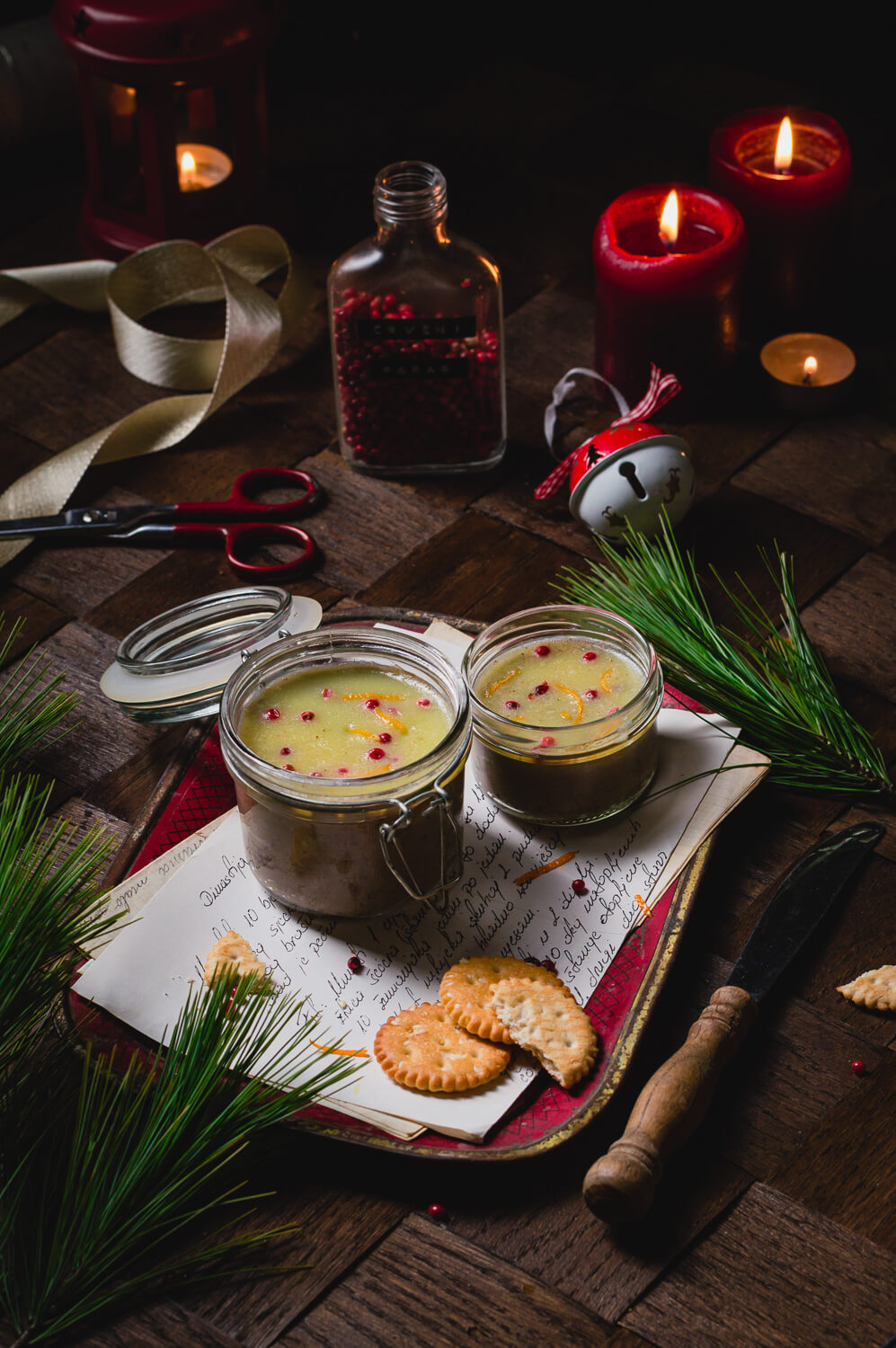 7. COOKIE MIX IN A JAR
I've seen this idea all over the internet and I just had to try it!
Cookie mix in a jar is the right choice for a person who appreciates a decent cookie with coffee or tea but may not have the habit or time to bake cookies at home.
How does this idea work? Very simple.
First, you have to choose which cookie recipe you will use for making this Christmas edible gift. In the image below, I used my recipe for dark chocolate hazelnuts oatmeal cookies but you can choose another recipe, of course.
When choosing a recipe, pay attention to the ingredients – this idea works by layering dry ingredients such as flour, sugar, chocolate chips, nuts, etc. in a jar. The jar will be visually more attractive if the layers are different in color and texture – here at the bottom I have a layer of spelt flour mixed with salt and baking powder, then coconut sugar mixed with spices, oatmeal, chocolate chips, and chopped hazelnuts.
Also, when stacking, place the ingredients carefully in the jar so that the layers look neat and even.
You can press them a bit with a measuring spoon. Be sure to include a recipe with this kind of gift so that the person knows what else they need from the wet ingredients, what procedure they should follow, and at what temperature the cookies should be baked.
When it comes to decoration, you can really let your imagination run wild! If you are going to gift a cookie mixture for a recipe that requires some kind of cookie cutter, tie a cute cookie cutter to the jar.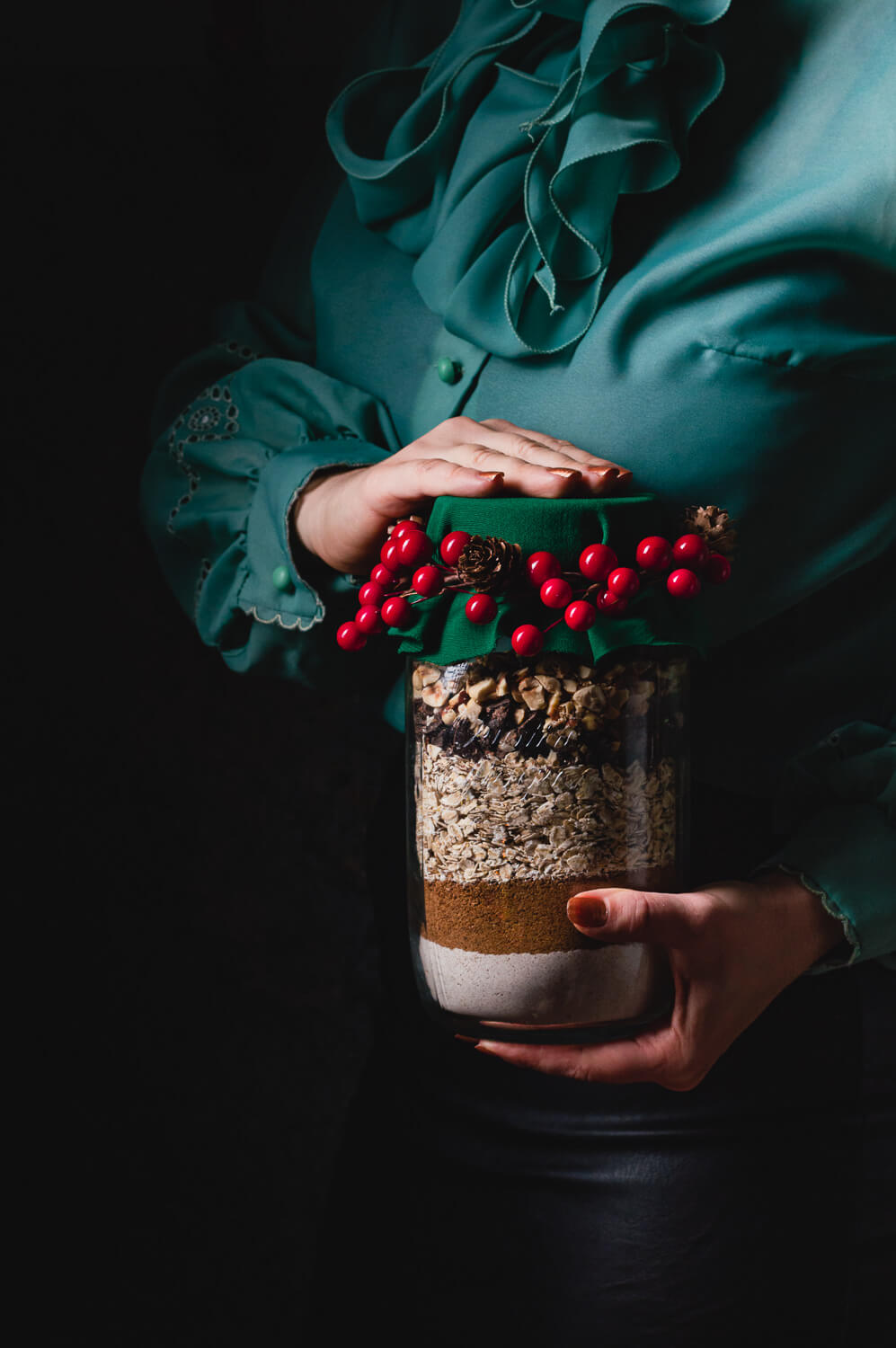 8. CHRISTMAS COOKIES
And finally, when talking about edible Christmas gifts, you simply can't go wrong with any homemade cookies made with lots of love and high-quality ingredients.
Every year I promise myself that I will not exaggerate the number of cookies I bake for Christmas, but somehow, well, I forget to stick to this plan. So, when I'm already baking many different cookie recipes, I gladly pack some of them and take them as a gift to the people I care about.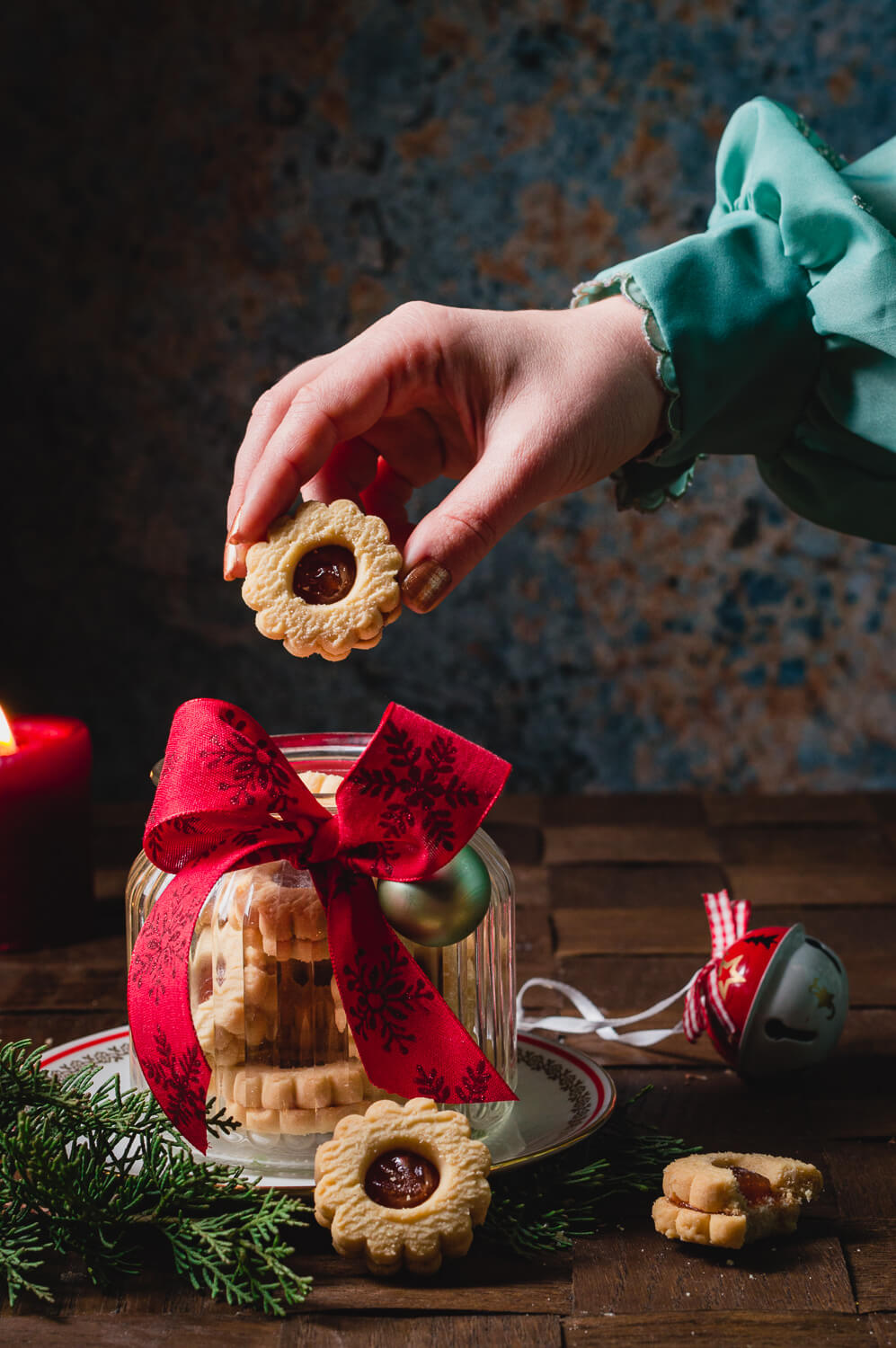 Try to find out what the person you're gifting cookies likes – maybe chocolate chip cookies, linzers or biscotti. Just avoid soft layered cookies that can't be stored a room temperature for a long time – leave those for serving on a cookie tray when your guests come for a visit.
In this Christmas guide, I wanted to present ideas for gifts that will include a minimum of single-use plastic, so I've also opted for a glass here – I carefully arranged them in a clean decorative jar, decorated them with a red ribbon, and added one Christmas decoration. I guarantee you that this is a gift that will bring a smile to everyone's face.
Also, the jar can always be used again for the same or a different purpose.
Here are my favorite cookie recipes from the blog that you can bake and gift to your loved ones:
How do you like these edible Christmas gift ideas? Write to me by e-mail, in the comments below this post, or on Instagram! If you try any of these ideas, be sure to send me a photo of your creation or tag @foodandmoodblog on social media. If you enjoy learning about food and recipes from videos, be sure to subscribe to my Youtube channel!
Until the next post,