Tender, airy, and soft on the inside, with a crispy surface, a mix of different seeds, and finest black olives, this no-knead overnight whole wheat focaccia is what my bread dreams are made of. For even more fluffiness and richer flavor, it's left in the fridge overnight so we could start our morning the proper way: with warm, delicious bread. Also, it's excellent for sharing with friends and family and for making the most delicious sandwiches ever!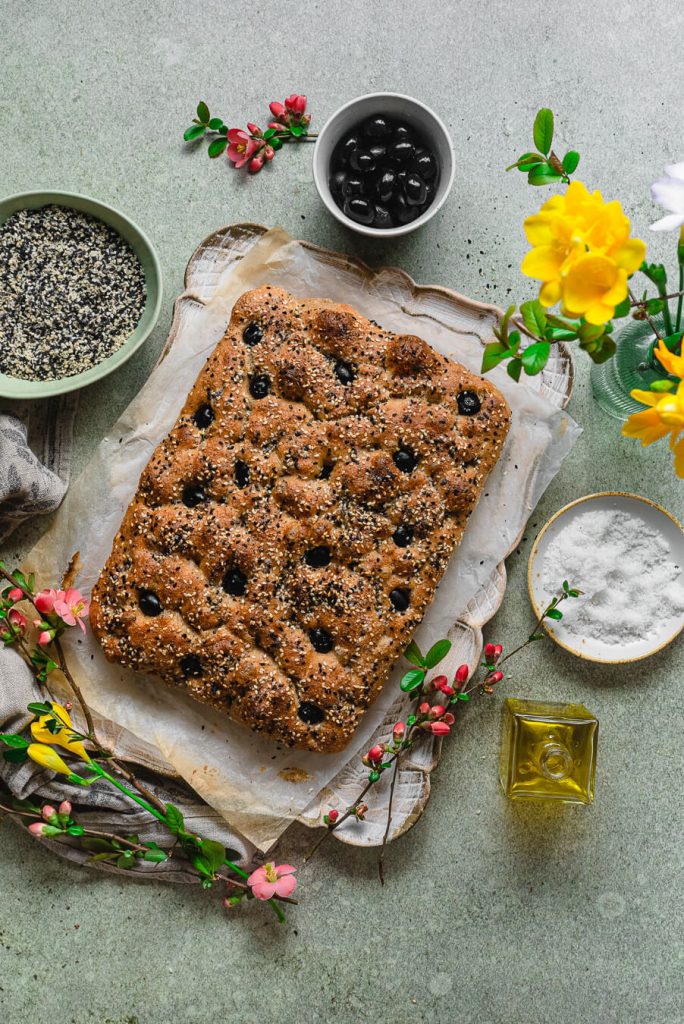 "Does this world really need another focaccia recipe?" – I thought to myself as I was putting this bread in the oven a few days ago.
All my dilemmas went away as soon as this beauty was baked: golden brown crispy crust, full of various seeds, with lots of small dents in which the finest black olives were hiding. And the crumb, oh the crumb! Soft, airy with loads of tiny bubbles.
"Oh, it definitely needs!" – the answer came to me naturally.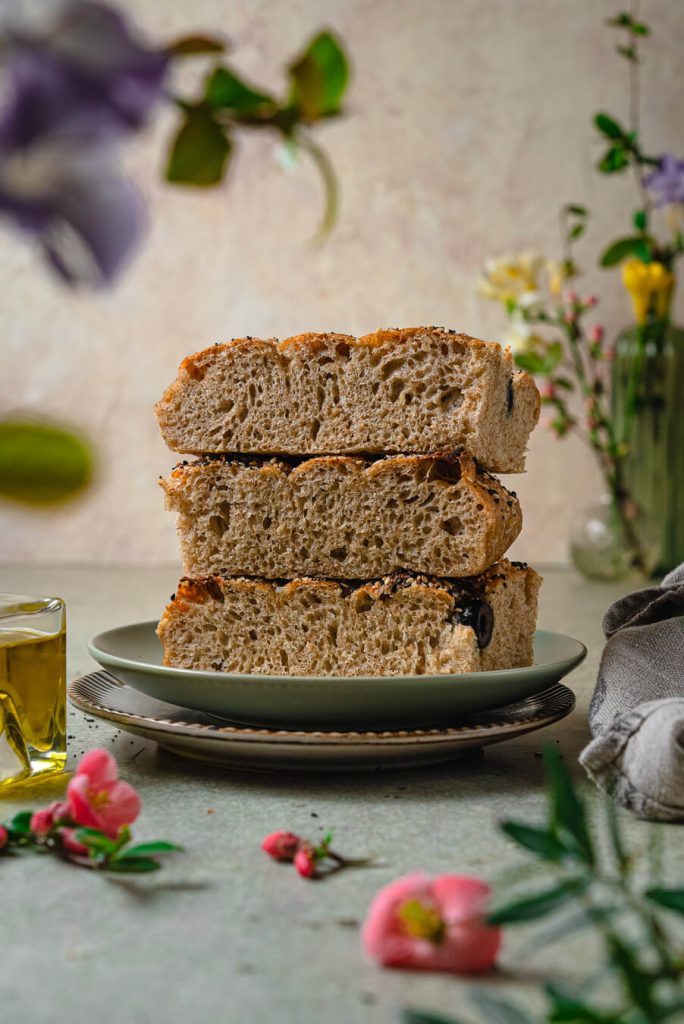 What is Focaccia And Its Characteristics
Focaccia is a wonderful Italian yeast bread enriched with olive oil. When talking about ingredients and preparation, it's kind of similar to pizza. I like to consider its sister which, in the last few years, became quite popular outside Italy.
The two biggest differences between pizza and focaccia are the following:
Pizza often has a rich topping based on the red or white sauce with a bunch of other ingredients. The topping for focaccia is more simple and can vary from olives, different herbs, or cherry tomatoes to some other vegetables, cheese, anchovies, etc. Additionally, when talking about pizza, most people prefer a thinner crust with a chewy texture, while the focaccia is more often slightly softer and its thickness can vary from 1 – 4 cm thickness.
At least, that's how I like my focaccia bread.
Focaccia can have a round or square shape, thinner or thicker crust, with no other additions than good flaky salt and olive oil. For all those people who would like to start baking their bread at home and aren't sure which recipe to start with, this overnight whole wheat focaccia is a great start.
And that's why I love this bread so much!
Ingredients For The Whole Wheat Focaccia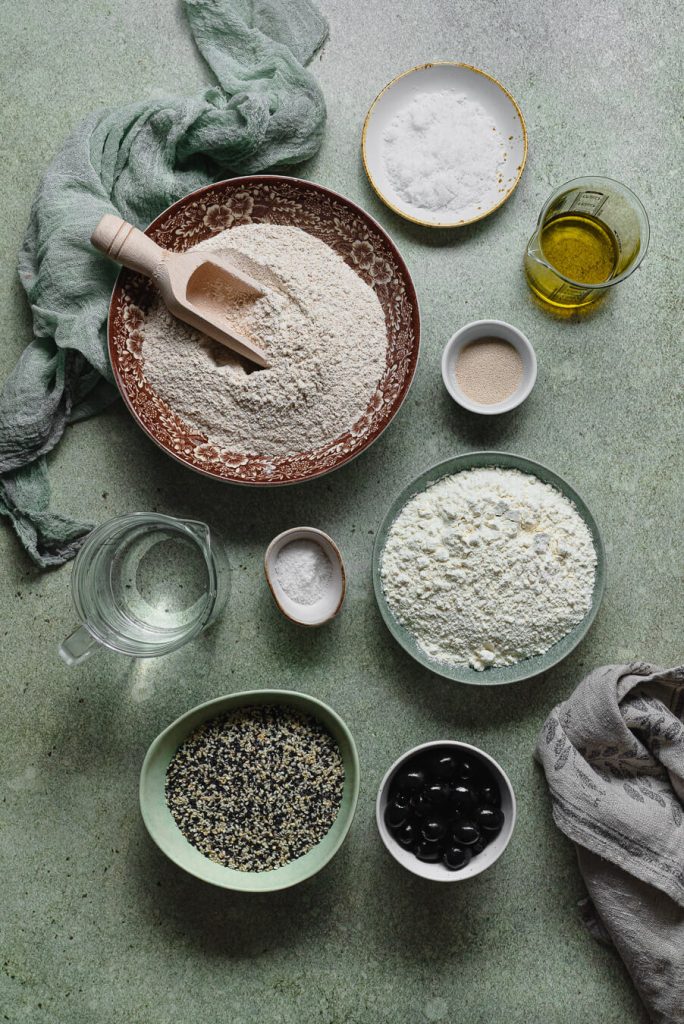 Instant dry yeast – I'm using instant dry yeast here. I like to add it to wet ingredients before mixing with the dry ones (although that's not completely necessary) just to be sure that the yeast is still alive and ready to do some job. Instead of using 7 g of instant dry yeast, you can use 20 g of fresh yeast.
Water – just regular tap water with a temperature around 30°C/86°F.
Flour – for this focaccia recipe, you're going to need unbleached all-purpose and whole wheat flour.
Salt – I'm using fine sea salt. This salt goes into the dough.
Extra virgin olive oil – is one of the most important ingredients in any focaccia. I recommend you to use the best high-quality extra virgin olive oil you can find. It will bring so much flavor! I've tried making this focaccia without adding the oil directly into the dough and I definitely prefer the focaccia which has olive oil in the dough itself. The reason behind this is rather simple: this kind of focaccia is softer, has more flavor, and stays fresh for a longer time.
Olives – I've chosen pitted black olives, but you can use the green ones, too. Or a mixture of both.
Fleur de sal – some focaccia recipes are using brine (a mixture of oil, water, and salt) and some are just using the method of sprinkling flaky salt on the top before baking. Both options have their advantages: the brine will better distribute on the focaccia surface, but it'll give a softer crust while drizzling the focaccia with just olive oil and sprinkling the salt separately will yield a crispier crust. I've used the second method in this recipe.
Seeds – although seeds are not that traditional in making focaccia, personally I cannot resist the aroma of roasted seeds. Here I've used black and white sesame seeds and some poppy seeds too. Delicious!
How To Make Whole Wheat Focaccia, Step by Step
This visual overview of this recipe is here to make this recipe easier for you to prepare it. The ingredient list and step-by-step instructions can be found at the end of the post in the recipe card.
1. Preparing the focaccia dough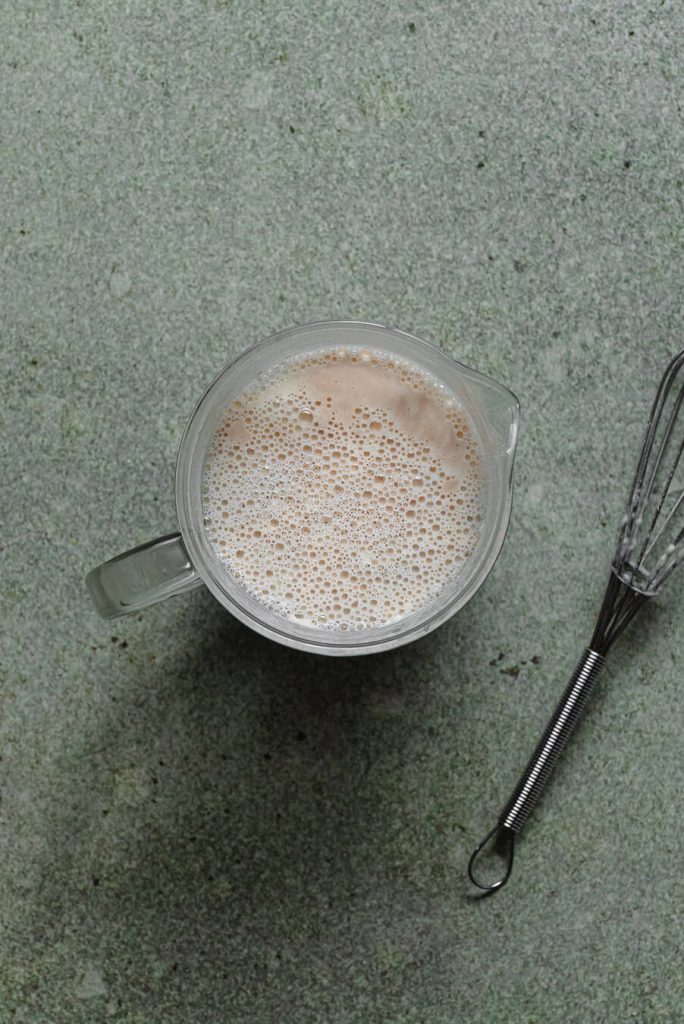 2. Stretch & fold technique
Before I developed this recipe, I was always wondering if this technique could work with baker's yeast and it turned out IT COULD.
This focaccia is different than other similar recipes mainly because it has a slightly higher hydration percentage. The addition of whole wheat flour gives it a really rich flavor and pillowy structure. High hydration yields very sticky dough so we won't be kneading it. Instead, we'll apply the stretch & fold technique which is often used in the sourdough world.
Don't worry, it isn't complicated as it may seem. I'll explain everything to you, just keep reading.
The stretch and fold method is a term that refers to stretching and folding the high hydration dough which helps to develop and strengthen the gluten network. It's used instead of classical kneading in those types of recipes in which the dough is practically, impossible to knead by hand.
So how stretch & fold technique is performed?
I've found my own way of doing this that works for me perfectly. You can see it in my photos below. Stretch & fold is usually done in 3-4 series, at intervals of 20 to 30 minutes. Before starting doing this, prepare a bowl with some water in which you will wet your fingers every time you feel the dough starts to stick to your hands.
The dough should be stretched as much as it allows us at that moment: if it starts tearing, you need to handle it more gently. In one stretch & fold series for this focaccia, it's enough to make 4-6 folds around the bowl.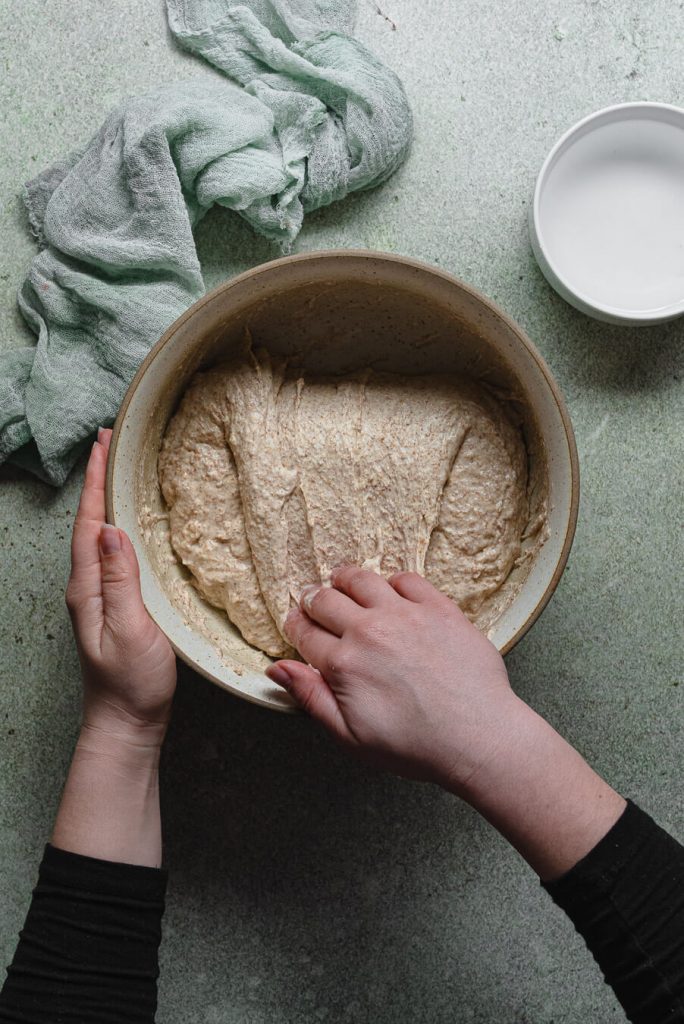 3. Transferring the focaccia dough to the tray and cold fermentation
After the dough rested after the last stretch and fold series, it's time to transfer it to the pan. To get as thick and fluffy focaccia as possible, I've decided to bake it in a quarter sheet, dimensions 23 x 33 cm/ 9 x 13 in.
I lined it with parchment paper which I coated with some olive oil (to get crispier bottom). Since the dough is quite wet and goes in the fridge overnight, parchment paper proved to be the safest option here. Otherwise, this dough would very easily stick to the bottom, no matter how much oil you put in at the bottom of the pan.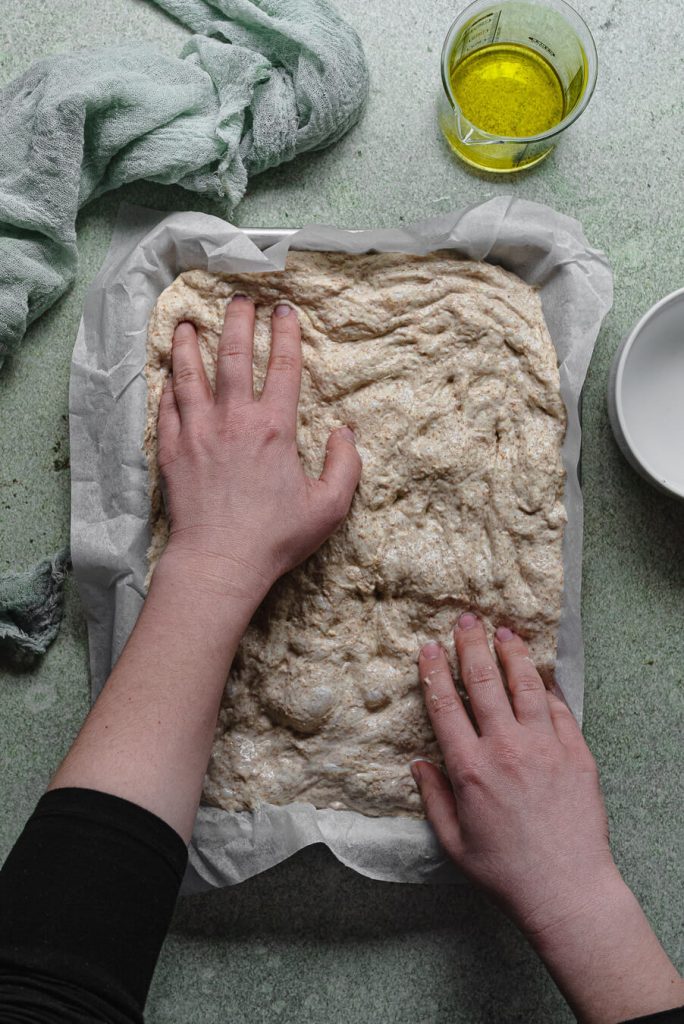 In order to prolong and slow down the fermentation time, I cover this whole wheat focaccia with a plastic lid (instead, you can use plastic wrap too) and leave it in the fridge overnight. This flavor, it gets a lovely, deeper flavor and incredibly airy structure which I absolutely love.
4. Preparing the focaccia dough for baking
The next morning, take the focaccia out of the fridge and leave it (still covered with plastic lid) at room temperature for half an hour. It should be full of tiny little bubbles and a few bigger ones.
Now, THE BEST PART: drizzle the dough with the rest of the olive oil, spread over the surface equally, and make dimples with your fingers. As much as this step can be fun, don't get carried away and make too many dimples, otherwise, you may interfere too much with the structure of the dough.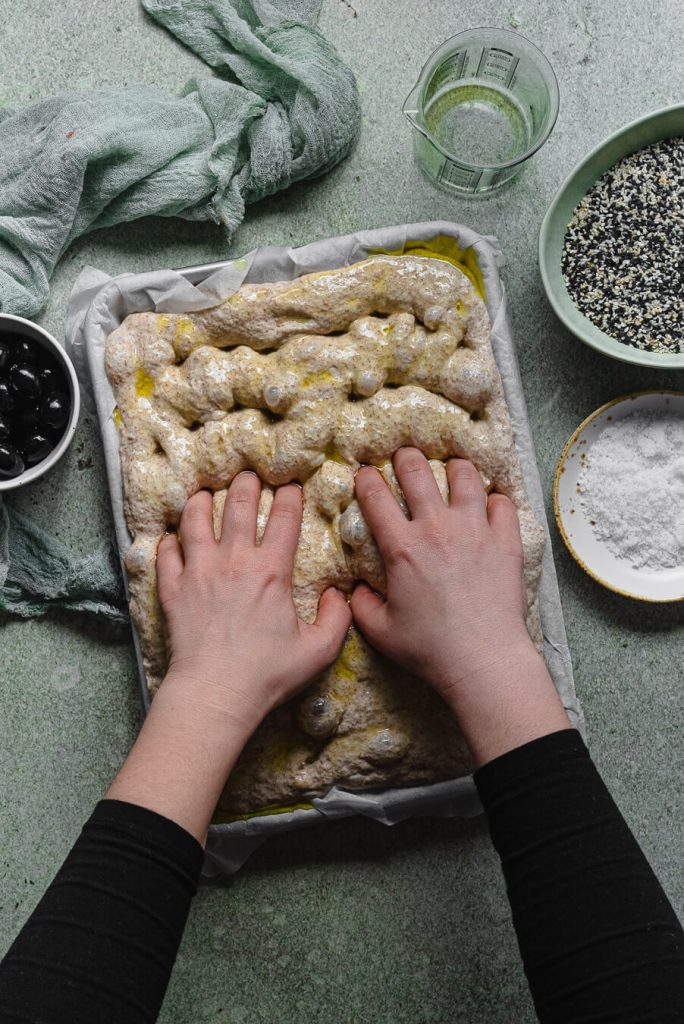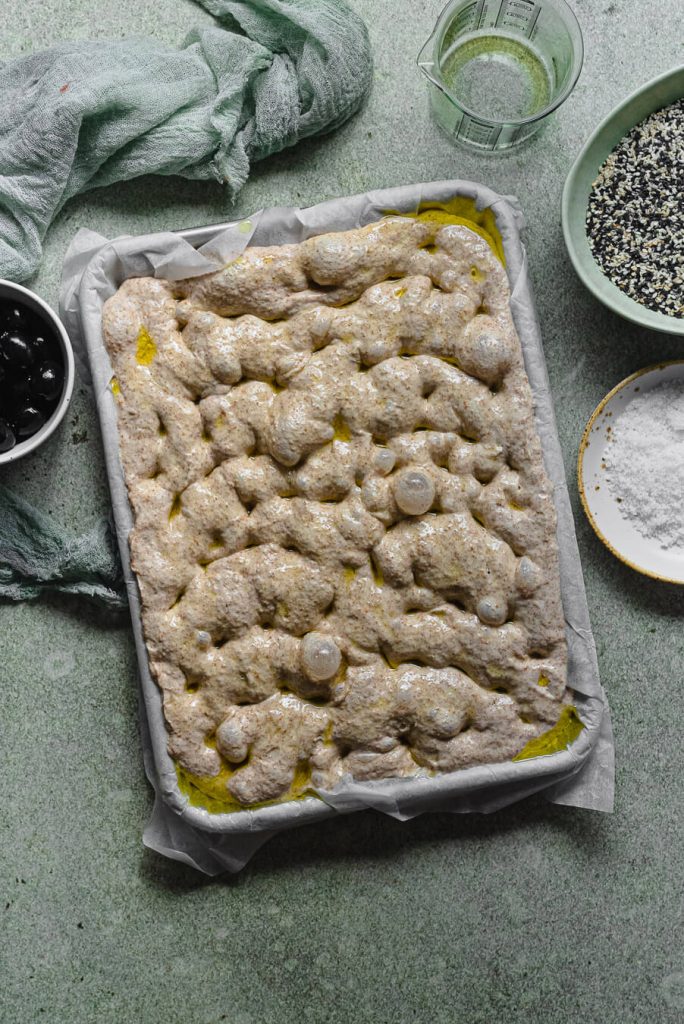 5. Baking focaccia and cooling down
Since we use parchment paper and the dough itself is quite thick, after coming out of the oven, the bottom of this focaccia won't be as crispy as its top, but personally, I don't mind it.
Place this whole wheat focaccia in an oven preheated to 230°C (446°F) and bake for 25-30 min, or until golden brown. Every oven is different, so your baking time might be different than mine. To get a crisper bottom, I recommend moving the baking tray to the lower rack for the last 10 minutes.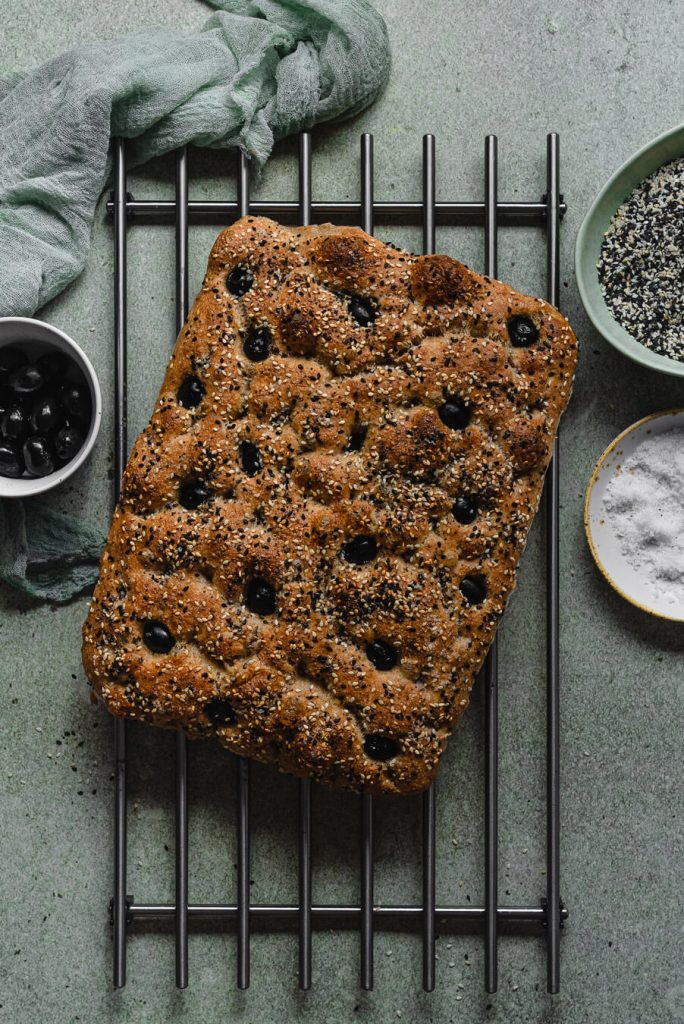 What To Eat With Whole Wheat Focaccia
I'm quite sure that focaccia bread is something you'll easily fall in love with. One of the reasons is that it can be served in many different ways!
Here are a few ideas on how to serve this no-knead overnight focaccia:
While still slightly warm, serve it with some top-quality extra virgin olive oil, with your favorite salad, or with a cheese platter. Sometimes, simple eating is the best!
This soft and airy focaccia is ideal for making any sort of vegan, vegetarian, or meat sandwich.
If you got some leftover focaccia, cut it into cubes, season, and make bread croutons (perfect for creamy soups and salads).
Make as savory bread pudding.
Try making homemade bread crumbs with leftover focaccia. Beware, this idea will work only with focaccia bread that has been made without any additions like veggies, etc.
How Long Will Whole Wheat Focaccia Stay Fresh
Focaccia is best to be eaten the very same day, but this one will still be good the next day too. It freezes well: just cut it into slightly larger rectangles, put them in a plastic zip-lock bag, squeeze out as much air as possible, seal it and freeze.
When you're ready to eat it, just take it out the day before and let it thaw at room temperature.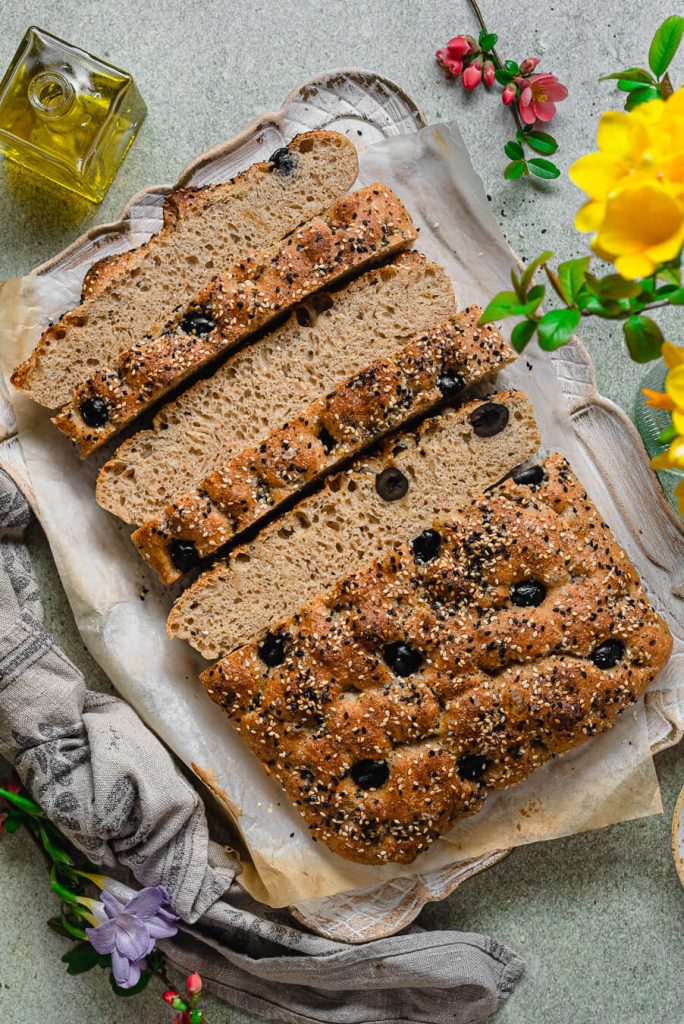 Looking for more inspiration for homemade bread? Then be sure to check some of the next blog posts:
What are your favorite whole wheat focaccia toppings? Let me know in the comments as I'm always looking for new recipe ideas to try out! If you make this or any other recipe from my blog, be sure to send me a photo of your dish on Instagram or tag @foodandmoodblog on social media.
If you prefer learning how to cook from video recipes, you should definitely check out my Youtube channel.
Bake with love,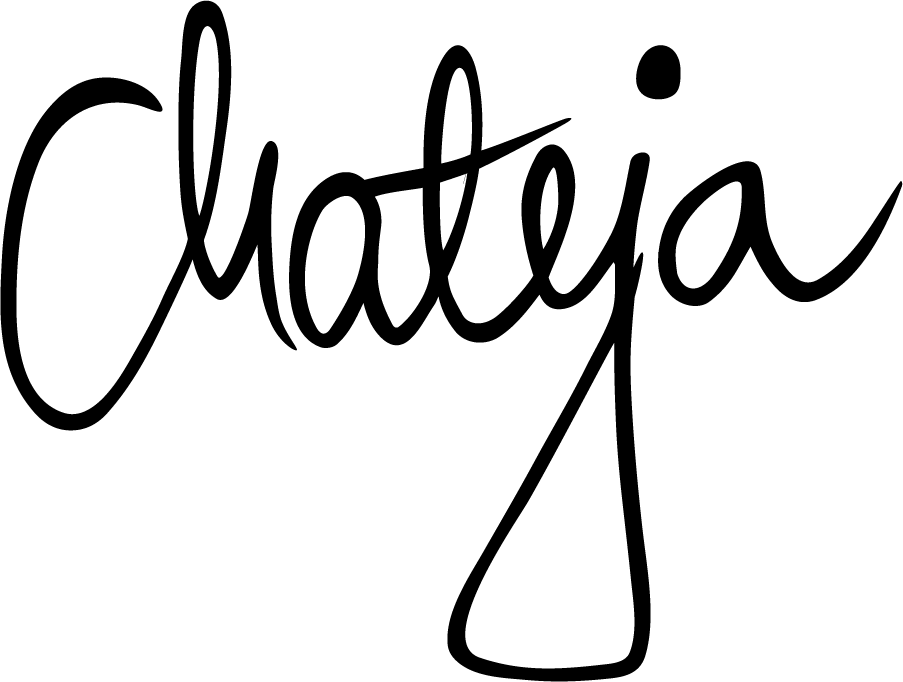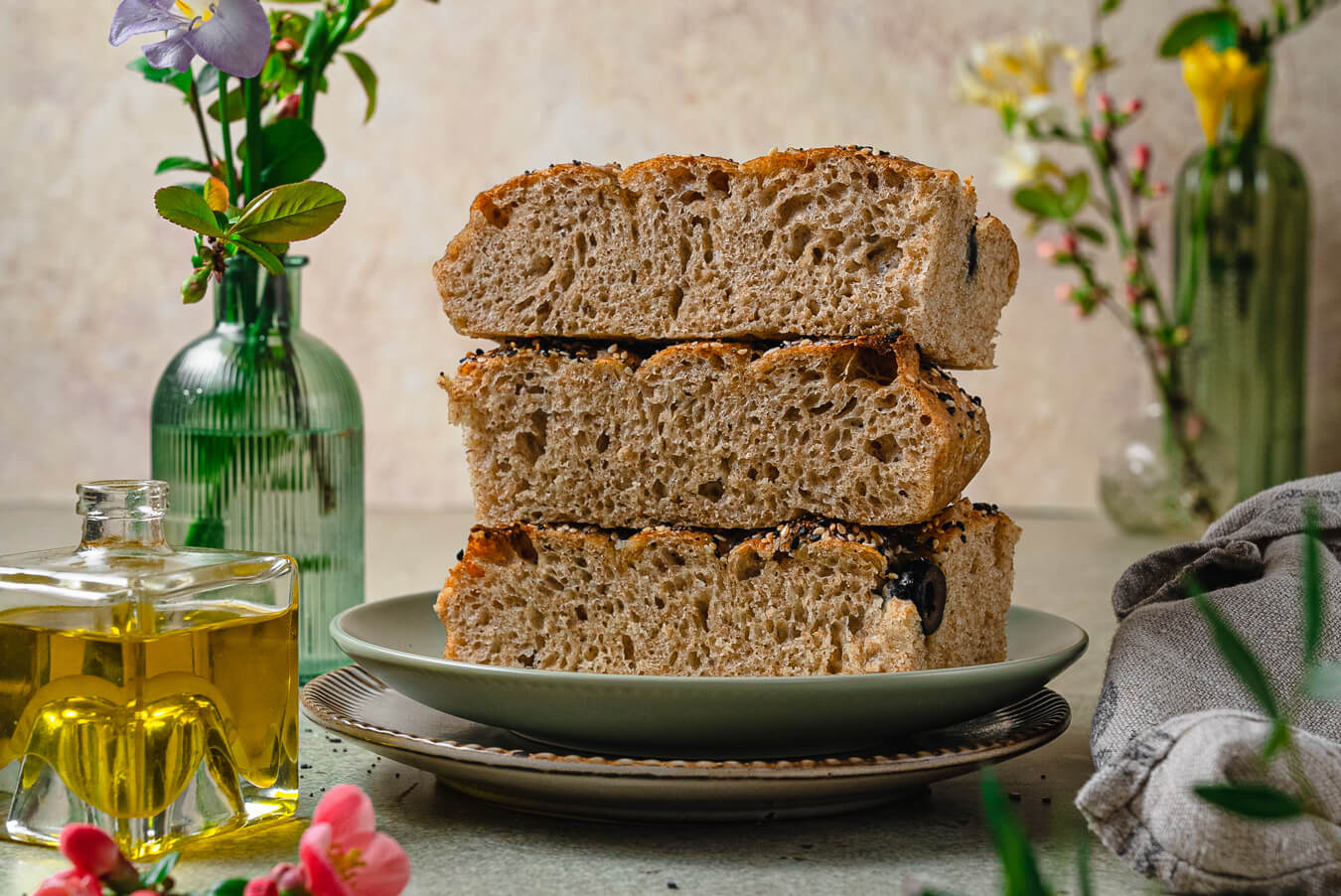 No-Knead Overnight Whole Wheat Focaccia
Tender, airy, and soft on the inside, with a crispy surface, a mix of different seeds, and finest black olives, this no-knead overnight whole wheat focaccia is what my bread dreams are made of. For even more fluffiness and richer flavor, it's left in the fridge overnight so we could start our morning the proper way: with warm, delicious bread.
Ingredients
7

g

instant dry yeast

500

ml

water

(about 30°C/86°F)

300

g

whole wheat flour

250

g

all-purpose flour

12

g

sea salt

70

ml

extra virgin olive oil

(30 ml for the dough + 10 ml for the bottom + 30 ml for drizzling)

15-20

black olives

(pitted)

2-3

teaspoon

seeds mix

(white and black sesame seeds, sunflower seeds, poppy seeds…)

Fleur de sel

(to taste)
Instructions
Bloom the yeast in tepid water with 2 tablespoons of flour (subtracted from the total amount of flour predicted for this recipe). Whisk well and let it stand covered for 10 min.

In a large bowl mix all-purpose and whole wheat flour with salt and make a well in the middle. When the yeast has activated, start adding the wet ingredient to the center of the bowl, stirring with a wooden spoon. Add olive oil and stir well until a wet dough is formed. Make sure there aren't any pockets of flour in the dough.

Cover with a plate and let the dough rest for the first 30 minutes.

After the first 30 minutes, prepare a small bowl with water on the side, and to the first stretch & fold 4-6 times. Repeat this step altogether 3-4 times at intervals of 20-30 minutes.

Line a baking tray with parchment paper, pour a bit of olive oil, and coat the paper with it. Then, after the last stretch & fold (after the dough has rested), gently transfer the dough to the tray and stretch it to the edges. Cover with a lid or protect with plastic foil and transfer the dough to the fridge to rest for 8 to 14 hours.

The next morning, take the focaccia out of the fridge and let it rest at room temperature for 30-45 minutes. Half an hour before you put the focaccia in the oven, preheat the oven to 230°C (without the fan on). Pour the rest of the olive oil evenly over the dough and make dimples with your fingers.

Add the olives, sprinkle with seeds, and Fleur de sel, and put it in the oven until golden brown on top, about 25-30 min.

After the focaccia has been baked, take it out of the oven and immediately carefully remove it from the tray onto a cooling rack (without parchment paper so it doesn't steam from below). Let it cool all the way through (I know, this is the hardest part), and then enjoy!
Nutrition
Serving:
1
g
Calories:
401
kcal
Carbohydrates:
63
g
Protein:
11
g
Fat:
14
g
Saturated Fat:
2
g
Polyunsaturated Fat:
1
g
Monounsaturated Fat:
9
g
Sodium:
936
mg
Potassium:
71
mg
Fiber:
9
g
Sugar:
1
g
Vitamin A:
39
IU
Vitamin C:
0.003
mg
Calcium:
66
mg
Iron:
3
mg